24 Feb
News


Benedict XVI tells faithful he is not abandoning church by retiring, amid claims of impropriety against UK cardinal.
Last Modified: 24 Feb 2013 14:43 GMT
US cardinal's role under scrutiny

 Around 3,000 prisoners refuse food after death of fellow inmate, as protesters clash with Israeli soldiers in Hebron.
Last Modified: 24 Feb 2013 12:56 GMT
Thousands rally for Palestinian prisoners

Sunday's announcement comes hours after two bombings targeting intelligence officials and police in Logar [AFP]
 Afghan government accuses US special forces in Logar and Wardak provinces of furthering "instability and insecurity".
Last Modified: 24 Feb 2013 15:38 GMT
Analysis: Insider attacks

Security officials were on the scene where a car bomb killed two people in Jalalabad [AP]
Taliban claim responsibility for one of two attacks in the east which targeted a spy agency facility and a police base.
Last Modified: 24 Feb 2013 14:59 GMT

Hanford was established during WWII as part of the Manhattan Project to develop the atomic bomb [WikiCommons]
 Leaks found in six underground storage tanks at Hanford nuclear reservation in US state "disturbing", officials say.
 Last Modified: 24 Feb 2013 03:08 GMT

With new pope's selection just days away, former LA Archbishop's moral authority faces loud questioning.One particular priest in the US has drawn especially loud criticism because of his role in a child-abuse scandal.
Survivors of church-related sexual abuse in California say Cardinal Roger Mahony, who was archbishop of Los Angeles for 25 years, has no moral authority due to his shielding abusive priests from criminal investigation and
civil suits
.
Al Jazeera's Rob Reynolds reports from Los Angeles.
 Assessing key nationalist political parties across the continent, including Italy, which is voting for a new parliament.

Opinion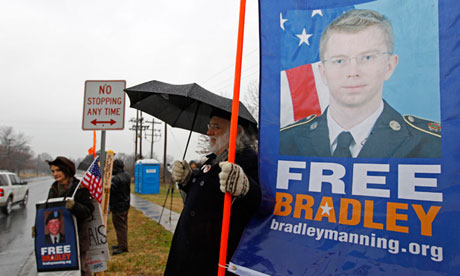 Ed Pilkington: The WikiLeaks suspect's prosecution has been conducted under opaque conditions and worrying implications for free speech
******************


Ian Millhiser: David Axelrod and Mitt Romney want to open the floodgates to political contributions, but the levees should stay shut