13 Mar
News
News Bulletin
The main headlines on Al Jazeera English, featuring the latest news and reports from around the world.


Cardinal Roger Mahoney has previously paid a $660m settlement with more than 500 victims of child molestation[AP]
The Roman Catholic Archdiocese of Los Angeles, Cardinal Roger Mahony and a former priest have agreed to pay a total of nearly $10m to settle four child sex abuse cases brought against them.
Lawyers for the victims announced the settlement on Tuesday, while Cardinal Roger Mahony took part in the Conclave to choose a new pope in Rome

With new pope's selection just days away, former LA Archbishop's moral authority faces loud questioning. ( 23-Feb-2013 )
Juvenile trial begins in Steubenville, Ohio, over highly publicised alleged rape of unconscious 16-year-old girl.
Last Modified: 13 Mar 2013 17:12 GMT

BHP reportedly spent millions of dollars on a major sponsorship deal for the 2008 Beijing Olympics [Getty Images]
Investigation launched into allegation that BHP bribed Chinese and foreign officials during 2008 Olympics.

Iraq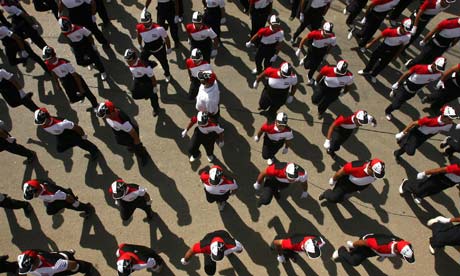 Members of the Mahdi army march in Baghdad's predominantly Shia suburb of Sadr city. Iraqis fear a return to the sectarian conflict between 2005-2008, when at its bloodiest height, 3,000 people died a month. Photograph: Ali al-Saadi/AFP/Getty
Shias and Sunnis increase attacks amid concern Syria war could raise violence to levels of deadliest period in nation's history