20 Jan
News and Analyses, A Foreign Perspective
Nearly all of these are English-edition daily newspapers. These sites have interesting editorials and essays, and many have links to other good news sources. We try to limit this list to those sites which are regularly updated, reliable, with a high percentage of "up" time.
Recommended:
Puerto Rican parrots, a tufted duck and a giant panda feature in this week's gallery
A red deer in the Polonezköy Nature Park, Istanbul. Food has been left out for animals due to the tough winter conditions.
Photograph: Onur Çoban/Anadolu Agency/Getty Images
Puerto Rican parrots huddle in one of the cages located in the Iguaca Aviary at El Yunque, where the US Fish & Wildlife Service runs a parrot recovery program. More than half the population of birds disappeared when Hurricane Maria hit Puerto Rico
Photograph: Carlos Giusti/AP

Teenagers from Covington Catholic High School filmed jeering at Nathan Phillips and chanting 'build that wall'
A Catholic school in Kentucky has condemned a group of its students after they were recorded harassing a Native American Vietnam veteran in a video that went viral on Saturday.
The students, many of whom were wearing "Make America Great Again" caps, from private, all-male Covington Catholic High School in Park Hills were in Washington for an anti-abortion rally on Friday when they were filmed surrounding Nathan Phillips and mocking the Native American's singing and drumming.
One teen in particular is seen standing in front of Phillips, staring into his face with a smile. Fellow students, many in hats and sweatshirts with President Donald Trump's "MAGA" slogan, cheered him on and chanted, "build the wall, build the wall", Phillips said.
The footage was shared online by organizers of an indigenous peoples' march that also took place on Friday.
The video prompted a torrent of outrage online. Actress and activist Alyssa Milano tweeted that the footage "brought me to tears", while actor Chris Evans tweeted that the students' actions were "appalling" and "shameful".
In a joint statement, the high school and Diocese of Covington condemned the actions of the students "towards Nathan Phillips specifically, and Native Americans in general".
"We extend our deepest apologies to Mr. Phillips," the statement read. "This behavior is opposed to the Church's teachings on the dignity and respect of the human person."
"The matter is being investigated and we will take appropriate action, up to an including expulsion."
Covington Mayor Joe Meyer, a Democrat, said the "appalling" footage had rightly inspired "a tidal wave of condemnation" and that his town was now being linked with "intolerance and ethnic intimidation" because of the boys' actions.
"The videos being shared across the nation do NOT represent the core beliefs and values of this city," he said in a statement.
In a separate video uploaded to social media, the 64-year-old Phillips, an elder of Nebraska's Omaha tribe, wiped away tears as he described the incident.
"I heard them saying 'build that wall, build that wall'. These are indigenous lands, we're not supposed to have walls," he said. "I wish I could see that energy of that young mass of young men, put that energy into making this country, really, really great, helping those that are hungry."
He told The Washington Post that while he was drumming, he thought about his wife, Shoshana, who died of bone marrow cancer nearly four years ago, and the threats that indigenous communities around the world are facing.
"I felt like the spirit was talking through me," Phillips said.
Phillips holds an annual ceremony at Arlington National Cemetery to honor Native American veterans, according to media reports.
He is a well-known Native American activist who was among those leading the Standing Rock protests in 2016-2017 against the construction of an oil pipeline in North Dakota.
Democratic US Congresswoman Deb Haaland, a member of New Mexico's Laguna Pueblo tribe, said on Twitter that Phillips had risked his life for his country, and that the students showed "blatant hate, disrespect, and intolerance".

Satellite images show glaciers in US and Canada, excluding Alaska, are shrinking four times faster than in previous decade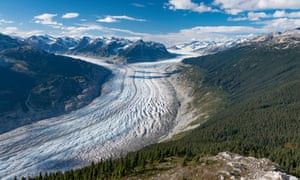 The Klinaklini glacier in British Columbia. Photograph: Brian Menounos
Glaciers in western North America, excluding Alaska, are melting four times faster than in the previous decade, with changes in the jet stream exacerbating the longer-term effects of climate change, according to a new study.
The retreat hasn't been equal in the US and Canada. The famous alpine ice masses in the Cascade Mountains in the north-west US have largely been spared from the trend.
"The losses we would expect were reduced because we got a lot of additional snow," said David Shean, a co-author at the University of Washington. "Moving forward we may not be so lucky."
The jet stream – the currents of fast-flowing air in the atmosphere that affect weather – has shifted, causing more snow in the north-western US and less in south-western Canada, according to the study released in Geophysical Research Letters, a publication of the American Geophysical Union. Changes in the northern hemisphere jet stream are increasingly firmly linked to global warming.
That warming from humans burning fossil fuels is also expected to continue to melt alpine glaciers, even under scenarios for more moderate greenhouse gas levels.
While some of the fourfold increase in the melting rate in western North America is related to manmade climate change, the researchers can't say with certainty how much.
"We're starting to understand these shorter cycles that have real impacts on how the glaciers are behaving and how much water is stored in the glaciers," Shean explained.
Alaskan glaciers get much of the attention in North America because Alaska is warming faster than the continental US. Mount Hunter in Denali national park, is seeing 60 times more snow melt than it did 150 years ago.
The North American glaciers analyzed in the new study are far smaller than those in Alaska, Asia and elsewhere, so they won't contribute much to sea-level rise as they melt. The authors say they offer critical lessons for water management, fisheries and flood prevention.
With shrinking glaciers, less water will be available for nearby river systems when rainfall is low. In some parts of the world, millions of people could lose their primary water supplies.
In the Pacific north-west US, if glaciers melted entirely, that could reduce the flow of certain watersheds by up to about 15% in dry months of August and September, Shean said.
"In our case that will have an impact, especially if we're having a drought year … but in general at least for the foreseeable future we should be OK here in Washington," he said.
Snow pack changes will be more important than glacier melt for water planners in the western US, Shean said.
Still, changes in water temperature could pose problems for fish. And the sediment that comes with melting glaciers could fall to the bottoms of riverbeds, making them overflow during heavy rains.
The authors got their data by comparing satellite images of glaciers from 2000 to 2009 and from 2009 to 2018. They estimated elevation changes, which can be difficult to assess with the smallest glaciers. Other researchers are attempting to get spy satellite and aerial photos from the 1950s and 1960s declassified so they can study longer-term changes, Shean said.

World Politics
Great Britain
Led by the DUP and the Tory right, Theresa May and her deal plunge to their doom

United States
As the president maintains his border wall demand, a handful of White House insiders and pundits may bear responsibility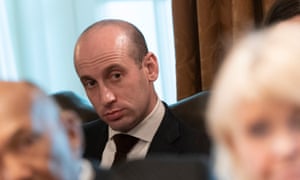 Observers said Stephen Miller's mark was clear on the president's Oval Office speech. Photograph: Rex/Shutterstock
I

t was Monday night and the university football champions were coming to dinner at the White House. Catering staff were furloughed due to the partial government shutdown. So naturally Donald Trump served up a banquet of fast food. "Trump bought food from McDonald's, Wendy's, Burger King and Domino's," observed the late-night TV host James Corden. "Or, as he calls them, his four most trusted advisers."
The US president's widely mocked decision to splash out $3,000 of his own money said something about his obstinacy during the shutdown, now the longest in American history and the result of political stalemate over his demand $5.7bn for a wall on the US-Mexico border. As workers are hit in the pocket, airport queues grow and his poll ratings slump . It also raised the question: who are his real "most trusted advisers" and why are they urging him down a path to apparent political suicide?
The likely answer is a combination of the "Trump whisperer" Stephen Miller, an anti-immigration hardliner; the acting White House chief of staff, Mick Mulvaney, who has ideological reasons to shut down the government; rightwing media pundits and Trump's own instinct to fight on an issue that he is being told will make or break his presidency.
Miller, 33, and 51-year-old Mulvaney have filled the vacuum in an administration where endless staff churn has left moderate voices marginalized or expelled. The pair have seemingly gained the upper hand over potential restraining influences such as Vice-President Mike Pence and Trump's senior adviser Jared Kushner.
Dan Cassino, an associate professor of political science at Fairleigh Dickinson University in Teaneck, New Jersey, said: "The anti-globalists are in the ascendant because there is no one else there."
Miller helped torpedo a previous immigration deal between the president and congressional Democrats as well as a bipartisan effort during the Obama administration. He is Trump's best-known speech writer, responsible for much of his inaugural address two years ago and currently working on his State of the Union speech for 29 January – itself jeopardized by the shutdown.
Republican leaders in Congress believed they had struck a deal to put off the battle over the wall for at least another month. But on 13 December, Miller appeared on Fox News to announce that the White House would take a stand to secure border wall funding.
In an interview on CBS News, Miller described the wall as "a very fundamental issue" that would help determine "whether the United States remains a sovereign country". Asked on CBS if "whatever is necessary" included a government shutdown, Miller replied: "If it comes to it, absolutely."
Earlier this month, when Trump addressed the nation from the Oval Office to make his case for the wall and blame Democrats for the shutdown, the speech was quickly hailed as a Miller classic. The Atlantic magazine observed: "All of the tics and tropes of Millerian rhetoric were on display. The scary immigrants ("vicious coyotes and ruthless gangs"). The gory anecdotes (a veteran "beaten to death with a hammer by an illegal alien"). The decidedly un-Trumpian flourishes ("a crisis of the heart, and a crisis of the soul").
Wendy Schiller, a political science professor at Brown University in Providence, Rhode Island, said: "Stephen Miller has become the singular voice on immigration in the White House. It does appear he has achieved the role he was blocked from by Steve Bannon, John Kelly and to an extent Jim Mattis. Now there is no one to block him."
Mulvaney is another key influence on Trump. According to the Politico website, he spent much of the Christmas holiday with his boss at the White House, "egging on the president" in the fight with Democrats.

Ann Coulter told Vice Trump was 'dead in the water if he doesn't build that wall'. Photograph: REX/Shutterstock
Chris Whipple, author of The Gatekeepers: How the White House Chiefs of Staff Define Every Presidency, commented: "If the reports are true, he's really reinforcing all of Trump's worst instincts. It is the job of the chief of staff to help the president govern; this is the opposite of that."
A former Republican Tea Party and Freedom Caucus congressman, Mulvaney is a true believer in small government. As director of the Office of Management and Budget, he told reporters that "a good shutdown" might be necessary and could create the political climate "that fixes Washington DC permanently".
Kurt Bardella, a political columnist and ex-spokesman and senior adviser for the House oversight and government reform committee, said: "Mulvaney was a Freedom Caucus member of the House and is now an extension of the Freedom Caucus in the White House. The entire crux of their philosophy is that government should be as small and limited as possible and so, in some ways, a government shutdown is a good thing."
The Tea Party wing was potentially emboldened when it forced a 16-day government shutdown over Barack Obama's healthcare reform in 2013 yet did not pay a political price in the midterm elections a year later. And this time the Freedom Caucus may be tempted to consider a partial shutdown, affecting 25% of government, as a pain that can be tolerated, even though 800,000 federal workers missed their first pay cheques last week.
Schiller said: "If you get can away with running the government at 75%, you have an argument for trimming the government. They see it as a moment when they can persuade the American people that they can get by with less government."
Miller and Mulvaney's whispers into Trump's ear are amplified by conservative media. When, in the week before the shutdown, the president seemed ready to accept a stopgap spending measure that would have kept the government open, there was a furious backlash from Rush Limbaugh, Ann Coulter and the hosts of Fox & Friends.
The Fox presenters Sean Hannity, Tucker Carlson and Lou Dobbs continue to pressure Trump to stand his ground, warning that he will otherwise lose the loyalty of his base and with it his hopes of re-election. Limbaugh said this week: "Trump is assuring everyone he's not gonna cave on this, and I hope he doesn't."
Coulter told Vice News Tonight: "He is dead in the water if he doesn't build that wall. Dead, dead, dead."
It was the kind of argument that seems to be working on Trump. Even one of Fox News's own political analysts, Juan Williams, said on air this week: "You should go listen to Sean Hannity, Rush Limbaugh and Ann Coulter, because they're running this government. And they have forced this president into a trap."
Cassino, the political science professor, said: "Fox News has been telling the president to stick to his guns and using the caravans in Central America as a chance to push that. We've also seen a lot of talk on Fox about Democratic divisions, suggesting that the Democrats are going to fold. Of course MSNBC and CNN are saying the opposite."
Owned by Rupert Murdoch, Fox News has reduced coverage of the shutdown over the past two weeks, Cassino noted, while Hannity spent two nights bashing Trump's election rival Hillary Clinton. "It suggests they're playing it down and don't see a way to make it positive for the president," Cassino said.
Often Fox seems to be regurgitating Miller and Mulvaney's talking points. Cassino observed: "It seems we have reciprocal causation. It's hard to tell which is the dog and which is the tail. People in the White House know one of the best ways to influence the president is to get on Fox."
Julian Zelizer, a professor of history and public affairs at Princeton University in New Jersey, suggested that Tea Party Republicans, Fox News, crowds at Trump's rallies and his love of fighting were all contributing to the current impasse.
"He likes the drama of it: a president taking a heroic stand on television. It influences him and might even make him dig in more. He does not want to turn on TV and read a chyron saying he's conceded. Then there are crowds he spoke to in the campaign. He's talked about this wall and boxed himself in. He hears those voices in his head and doesn't want to give in."