06 Feb
United States Wars, News and Casualties
Damn The War Criminals,

Bush,Cheney,Rice,Rumsfeld,Wolfowitz, Powell and Blair from England.
The war ended for those children, but it has never ended for survivors who carry memories of them. Likewise, the effects of the U.S. bombings continue, immeasurably and indefensibly.
Civilian casualties in the war in Afghanistan (2001–present)
During the war in Afghanistan (2001–present), over 31,000 civilian deaths due to war-related violence have been documented;[1][2] 29,900 civilians have been wounded.[2] Over 111,000 Afghans, including civilians, soldiers and militants, are estimated to have been killed in the conflict.[1] The Cost of War project estimated that the number who have died through indirect causes related to the war may be as high 360,000 additional people based on a ratio of indirect to direct deaths in contemporary conflicts.[3] These numbers do not include those who have died in Pakistan.
The war, launched by the United States as "Operation Enduring Freedom" in 2001, began with an initial air campaign that almost immediately prompted concerns over the number of Afghan civilians being killed[4] as well as international protests. With civilian deaths from airstrikes rising again in recent years,[5] the number of Afghan civilians being killed by foreign military operations has led to mounting tension between the foreign countries and the government of Afghanistan. In May 2007, President Hamid Karzai summoned foreign military commanders to warn them of the consequences of further Afghan civilian deaths.[6] The civilian losses are a continuation of the extremely high civilian losses experienced during the Soviet–Afghan War in the 1980s, and the three periods of civil war following it: 1989–1992, 1992–1996, and 1996–2001.
The McGlynn

War News
A Labour MP's grotesque take on Yemen war casualties serves only to show the sordid and politicised nature of body counts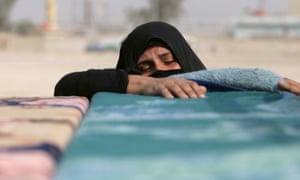 An Iraqi woman stands by the coffin of a relative during the funeral of people found in a mass grave in Karbala, south of the Iraqi capital Baghdad, in 2008. Photograph: Ahmed Alhussainey/AP
Counting the bodies in conflicts is a necessary, confusing and too often sordid business.
Body counts are necessary for obvious reasons. Numbers supply a moral reference point. They tell us about the scale of a conflict as well as if civilians were targeted and how. They provide evidence for different kinds of human rights advocacy in an international setting, and assist in setting policy for emergency assistance.
Where counting the bodies becomes sordid, however, is when the process becomes political and weaponised for a purpose; that is, when it is in hock to competing agendas.
Official UN statistics put the death toll in Yemen as of March 2018 at 6,592, with 10,470 people injured. International organisations say the number of deaths is somewhere between 56,000 and 80,000 deaths. Each side accuses the other of reducing or inflating numbers to suit their own agenda.
The problem – as the current conflict in Yemen is demonstrating, and the Iraq war showed before – is that counting the cost of war is a far from exact science. Not least when it comes to the often fraught reckoning of a figure that can include both direct casualties of violence and those who have died from conflict's secondary effects, such as limited access to health care.
From Iraq to Darfur, the Democratic Republic of the Congo, and now Yemen, accounting for mortality in conflict has become an evidential battlefield.
The issue was dramatised again this week by the clumsy and one-sided intervention of Graham Jones, the Labour chair of the Commons committees on arms export controls (CAEC), who unintentionally underlined the difficulty of estimating mortality in conflict – in this case, civilian deaths from Saudi-coalition airstrikes.
Accusing international NGOs of dishonesty in their reporting, Jones promptly demonstrated his own agenda by seeking to paint Iran, backer of the rebel Houthis, as the principal aggressor.
"It's disgraceful how NGOs and loony leftwing organisations have refused to back the UN's unanimous position," said Jones, provoking fury from aid groups.
"We desperately need peace in Yemen, not fantasy answers made in safe European homes."
And while Jones has complacently suggested that he feels far more comfortable with lower casualty tallies provided by "generals and the Ministry of Defence," it is significant that, across the Atlantic, the Pentagon was sufficiently concerned about the issue to launch a major exercise aimed at understanding why its own accounting of civilian deaths is so much lower than that of respected watch groups.
But if Jones' comments appear grotesquely one-sided – gifting the Saudi-led coalition apparent impunity for its role in the war's human toll – they do, at least, underscore a wider problem in Yemen: the huge disparity in estimates of the number of victims of the war.
As of late last year, those estimates ranged from about 10,000 dead to almost six times that number. Few believe the lower estimate, while for it's part Save the Children has claimed that 85,000 children under the age of five alone "may" have died from starvation during three years of conflict.
So who is getting it wrong?
The reality, as anyone who has studied the figures for malnutrition and mortality in Yemen, is that – like Iraq – the numbers offered for public consumption encompass a vast spread of estimates.
If Jones has a point, it is that historically some NGOs have undoubtedly been guilty of a process of misery inflation. This is because they have sometimes sought to dramatise crises with the aim of highlighting their own interventions.
The real problem is not simply bad faith, but the paucity of tools applied to estimate mortality, not least the lack of baselines for comparison that has in the past led to guesstimates described, in at least one case, as no better than "statistical anarchy".
Lack of continuous and accurate census and health data in numerous recent conflicts has made it difficult to effectively assess real increases in mortality.
That has left both UN agencies and NGOs to rely on far more fallible systems, to draw on methodologies open to error, bias and manipulation. The use of randomised household surveys designed to establish the number of deaths in conflict due to secondary causes is a case in point.
Some issues are painfully obvious: locations that cannot be visited because of security concerns leave holes in the data or, as in Yemen, require institutions allied with one of the warring parties to fill in the gaps. This leaves room to inject deliberate distortion.
Political considerations governing organisations operating in the field – not least UN agencies – can lead to uncomfortable trade-offs, not least over access.
Perhaps most difficult of all is unintended sampling biases. This was a contentious issue in the Lancet's estimate of deaths in excess of normal fatality rates in Iraq. The journal was accused of failing to account for "main-street bias" – relying too heavily on locations where, critics said, more violence took place. This was denied by the authors.
None of this is news to those who, having made it their business to study mortality estimates, have long warned of their vulnerability to misinterpretation and manipulation.
As long ago as 2005, Francesco Checchi and Les Roberts, who have studied the issue, warned of many of these problems in a paper for the Humanitarian Practice Network.
Writing about humanitarian emergencies, both natural and – like conflict – manmade, they warned: "Mortality data are extremely liable to misinterpretation and manipulation.". They added that "many would argue that recent years have seen the increasing use of relief as a tool for applying international political pressure or improving the image of occupying powers among the local population".
Ironically, perhaps, Jones' intervention is an urgent and overdue reminder that body counts need to be professional and unbiased, and that all actors – NGOs, UN agencies and influential MPs – must be transparent not only about what is known about the death toll in conflicts, but also about the limitations of their knowledge.
The alternative, as Checchi and Roberts argue, is a grim prospect, whether the problem is underestimation or its flipside.
"The consequences of bad science can be counted in human lives when, on the basis of incorrect findings, agencies or donors decide to scale down or abandon life-saving activities, or allocate them improperly."
The United Arab Emirates is recklessly arming militias in Yemen with advanced weaponry supplied by the US and other states, Amnesty International alleges.
Armoured vehicles, mortars and machine-guns are being diverted illegally to unaccountable groups accused of war crimes, according to a report.
The UAE is part of a Saudi-led coalition backing Yemen's government in its war with the rebel Houthi movement.
It has not commented on the report, but denies violating US arms exports rules.
A top US general said on Tuesday that officials would investigate whether weapons were being transferred to unintended recipients by the coalition.
Yemen has been devastated by a conflict that escalated in early 2015, when the Houthis seized control of much of the west of the country and forced President Abdrabbuh Mansour Hadi to flee abroad………………There was no response from the UAE. But on Tuesday a senior official was quoted by CNN as denying "in no uncertain terms that we are in violation" of US arms export controls, which do not allow the retransfer of equipment without prior US government authorisation.
Gen Joseph Votel, head of the US military's Central Command, expressed concern about the report at a Senate Armed Services Committee hearing on Tuesday.
"We have to look more closely at the allegations in this particular situation to find out what happened," he said. "We will have to examine that better."
Gen Joseph Votel, head of Central Command, warned Isis will continue to pose a threat following US withdrawal
The US military commander overseeing American troops in the Middle East has told a Senate hearing that he was not consulted ahead of Donald Trump's surprise decision in December to pull US troops out of Syria.
"I was not consulted," said Gen Joseph Votel, head of the US military's Central Command, who warned that Islamic State will continue to pose a threat following a US withdrawal.
Votel said on Tuesday that the militant group retained leaders, fighters, facilitators and resources that will continue to fuel a menacing insurgency.
The remarks represent the latest warning by current and former US officials about the risk of an Isis resurgence after US troops are withdrawn.
"We do have to keep pressure on this network … They have the ability of coming back together if we don't," Votel told a Senate hearing.
He added that territory under Isis control had been reduced to less than 20 sq miles (5,180 hectares) and would be recaptured by US-backed forces prior to the US withdrawal, which he said would be carried out in a "deliberate and coordinated manner".
Votel told the Senate hearing he was not consulted ahead of Trump's surprise decision to withdraw about 2,000 troops from Syria, which helped trigger the resignation of his defense secretary, Jim Mattis.
Trump's Syria withdrawal has fueled rare vocal opposition from within his own Republican party.
WASHINGTON (Reuters) – President Donald Trump told Americans on Tuesday his administration had accelerated talks for a political settlement in Afghanistan and would be able to reduce U.S. troops there as negotiations advance to end America's longest war.
"Great nations do not fight endless wars," Trump said in his annual State of the Union address to Congress, in which he also said U.S. troops had nearly defeated Islamic State militants in Syria and it was time to bring them home.
After 17 years of war in Afghanistan, Trump praised "the unmatched valor" of U.S. forces.
"Thanks to their bravery, we are now able to pursue a possible political solution to this long and bloody conflict," Trump said.
BAGHDAD (AP) — Iraq's most senior Shiite cleric has expressed his criticism of President Donald Trump's recent statement that U.S. troops should stay in Iraq to keep an eye on neighboring Iran.
Grand Ayatollah Ali al-Sistani is the latest Iraqi official to criticize Trump's remarks made to U.S. media in which he said U.S. troops are needed in Iraq so that America can "watch Iran.?
Al-Sistani says Iraq rejects serving as a launching pad to harm any other country. He spoke on Wednesday, during a meeting with U.N. Iraq envoy Jeanine Hennis-Plasschaert at the cleric's base in the city of Najaf.
He says Iraq aspires to have good and balanced relations with all neighboring countries, without interference in its internal affairs.
Both Iraq's president and prime minister have hit back at Trump's statements.
KABUL, Afghanistan (AP) — The Taliban launched a pre-dawn attack on an army base in northern Afghanistan on Tuesday, killing 26 members of the security forces, a provincial official said, the latest brazen assault by insurgents amid stepped-up efforts to resolve the country's protracted war.
The raid on the base in northern Kunduz province came as representatives of the Taliban were to hold meetings in Moscow with prominent Afghan figures, including former President Hamid Karzai, opposition leaders and tribal elders — but not Kabul government officials.
The insurgents have refused to negotiate with Ghani's government, calling it a U.S. puppet. The Taliban have been staging near-daily attacks, inflicting heavy casualties on the embattled Afghan army and security forces. Both sides in the conflict say they want to strike hard militarily to bolster their position at the negotiating table.
In the Kunduz attack, the Taliban stormed the base, located on the outskirts of the provincial capital, Kunduz city, around 2 a.m., said Mohammad Yusouf Ayubi, head of the provincial council. There were at least 23 soldiers and three members of the local police force among those slain.
According to Ayubi, 12 troops were wounded in the Taliban onslaught, which lasted for over two hours until reinforcements arrived at the besieged base and the attackers were repelled.
"Day by day, the security situation is getting worse in and around Kunduz city," said Ayubi, adding there are fears the city could again fall into the hands of the Taliban as it did briefly on two occasions in recent years — in September 2015 and in October 2016.
Taliban spokesman Zabihullah Mujahid issued a statement to the media saying the Taliban were behind the Kunduz attack, claiming the insurgents had overrun three police checkpoints as the attack unfolded.
Earlier Tuesday, Afghan officials reported two more Taliban attacks that left 21 people dead, including 11 policemen killed when the insurgents stormed a checkpoint in northern Baghlan province's Baghlani Markazi district.

C

asualties, Exclusive of Civilians
Recent Casualties:
Color Denotes Today's Confirmation
The Department of Defense announced today the death of a soldier who was supporting Operation Freedom's Sentinel.
Staff Sgt. Joshua Z. Beale, 32, of Carrollton, Virginia, died Jan. 22, 2019, as a result of injuries sustained from enemy small arms fire during combat operations in Tarin Kowt, Uruzgan Province, Afghanistan.
Beale was assigned to 1st Battalion, 3rd Special Forces Group (Airborne), Fort Bragg, North Carolina.

The Department of Defense announced today the deaths of one soldier, one sailor and one DOD civilian who were supporting Operation Inherent Resolve.
The deceased are:
Army Chief Warrant Officer 2 Jonathan R. Farmer, 37, of Boynton Beach, Florida. Farmer was assigned to 3rd Battalion, 5th Special Forces Group (Airborne), Fort Campbell, Kentucky.
Navy Chief Cryptologic Technician (Interpretive) Shannon M. Kent, 35, of upstate New York. Kent was assigned to Cryptologic Warfare Activity 66, based at Fort George G. Meade, Maryland.
DOD civilian Scott A. Wirtz of St. Louis, Missouri. Wirtz was assigned to the Defense Intelligence Agency as an operations support specialist.
Farmer, Kent and Wirtz died Jan. 16, 2019, in Manbij, Syria, as a result of wounds sustained from a suicide improvised explosive device.

The Department of Defense announced today the death of a soldier who was supporting Operation Freedom's Sentinel.
Sgt. Cameron A. Meddock, 26, of Spearman, Texas, died Jan. 17, 2019, in Landstuhl, Germany, as a result of injuries sustained from small arms fire during combat operations on Jan. 13, 2019, in Jawand District, Badghis Province, Afghanistan.
Meddock was assigned to 2nd Battalion, 75th Ranger Regiment, Joint Base Lewis-McChord, Washington.
War Casualties By Name
More
Care for Veterans:
PTSD: National Center for PTSDPTSD Care for Veterans, Military, and FamiliesSee Help for Veterans with PTSD to learn how to enroll for VA health care and get an assessment.
All VA Medical Centers provide PTSD care, as well as many VA clinics.Some VA's have programs specializing in PTSD treatment. Use the VA PTSD Program Locator to find a PTSD program.
If you are a war Veteran, find a Vet Center to help with the transition from military to civilian life.
Yemen War Children
Please do not forget the children.
The McGlynn