25 Aug
English Online International Newspapers
Nearly all of these are English-edition daily newspapers. These sites have interesting editorials and essays, and many have links to other good news sources. We try to limit this list to those sites which are regularly updated, reliable, with a high percentage of "up" time.
Recommended:

In São Paulo, the protests accused Bolsonaro of attempting to create a dictatorship
Thousands of people took to the streets late Tuesday to protest President Jair Bolsonaro's education policy and cuts in the area in a protest organized by the student movement and central trade unions. There were demonstrations in Sao Paulo, Rio de Janeiro, Brasilia, Belo Horizonte, Curitiba, Porto Alegre, and Recife, among other cities.
According to the National Student Union (UNE), protests happened in 204 cities, squares, and university campuses and attracted 900,000 people across the country. At the May 15 protest, UNE had identified protest events in about 220 cities.
Demonstrators criticized the Future-se program, which encourages private funding by federal universities. In an act in São Paulo, a banner read: "Terminator or Future-deceiver."
This is the third wave of acts against Bolsonaro's education policy taking several cities.
In Sao Paulo, the protest somewhat deflated on a cold and rainy afternoon; people also protested Social Security reform and other governmental flags. The demonstration did not spare the president from calling the protestors "idiots." Opposition politicians accused him of trying to "implant a dictatorship" in Brazil.
RIO DE JANEIRO
In Rio, protesters gathered in front of the Candelaria Church in the center.
Groups of public students chanted, "I'm a student, I won't give up Social Security and education" and "Worker, I'm on your side, our future will not be privatized."
The protesters walked from Candelária to the Petrobras building, about 1 km away, where they defended the valorization of the state company. Around 7 pm, rain accompanied by strong gusts of wind pushed people to disperse.
BRASILIA
In Brasilia, the guidelines were the same: against cuts in education, the Future-se project, and the pension reform.
Organizers estimated that 10,000 people participated. Among them, two thousand indigenous people who are camped in the city. The federal police estimated 4,000 participants.
Translated by Kiratiana Freelon

Endangered white rhinos, breeding cycads and fires in the Amazon rain forest
Najin, one of the last two northern white rhinos on the planet, in her enclosure at Ol Pejeta Conservancy, Kenya. This week at the Cites conference in Geneva, South Africa won permission to almost double the number of black rhinos that can be killed as trophies after arguing the money raised would support conservation of the critically endangered species
Photograph: Ami Vitale/AP
A bald eagle is pictured perched in a tree in Baddeck, Nova Scotia, Canada
Photograph: Carlo Allegri/Reuters
President watches rightwing comic as pre-recorded speech to nation on fighting fires airs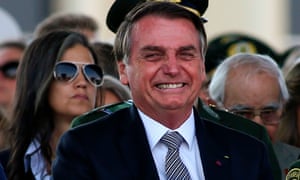 Far-right president Jair Bolsonaro spent his Friday night watching rightwing Christian comic Jonathan Nemer. Photograph: Sergio Lima/AFP/Getty
While the Amazon burned and Brazilians demonstrated their outrage, Brazil's far-right president Jair Bolsonaro went to a comedy club.
As the president's pre-recorded speech to the nation explaining how he planned to use the army to fight the fires – while simultaneously insisting that the rate of burning of the forest was nothing out of the ordinary – was broadcast on television on Friday night, he was at a standup show in Brasília by right-wing Christian comic Jonathan Nemer.
The Amazon fires crisis has taken on international dimensions. It could jeopardise a trade deal between the European Union and South American trade bloc, Mercosur, that took 20 years to complete, and it will be discussed at this weekend's G7 summit. Yet on Friday, as the O Estado de S Paulo newspaper revealed, Bolsonaro took a break from the rising pressure by listening to Nemer's jokes.
The UOL site calculated that Bolsonaro was at the show at the same time as his broadcast aired. And Nemer himself posted a photo with a beaming Bolsonaro and first lady Michelle before the show on his Instagram.
"Standup in Brasília is always a success, always full, but today we have the presence of someone very special … Bolsonaro!" he said in a video that he posted, before leading the chant of "Legend, legend" that is popular among Bolsonaro supporters.
Nemer demonstrated his pro-Bolsonaro stance in one standup show before the second round of voting in last year's presidential election, playing losing leftist candidate Fernando Haddad as possessed by the devil of imprisoned former president Luiz Inácio Lula da Silva, who had come to "finish Brazil off".
Nemer also appears to share Bolsonaro's scatological obsession. One video on Nemer's YouTube channel is called Fart in Public and features him walking around in public pretending to break wind before revealing that it is a prank. "Did it seem real?" he asked one giggling woman in a clothes shop, showing off an electronic fart gadget. "No smell at all."
Bolsonaro exposed himself to worldwide ridicule in March when he tweeted a video of a performer urinating on another on top of a bus shelter during Carnival to expose "what many street carnival groups have become" at Brazil's biggest street party. In another tweet, he then asked: "What is a golden shower?"
On 16 August the Poder 360 (Power 360) political news site published five videos from this month alone in which the president used the word "cocô" – "poo" in Portuguese – five times in interviews.
In one, he told a reporter to defecate every other day to help the environment. In a speech, he said: "We are going to end the poo in Brazil. The poo is this race of corrupt and communists." And in a freewheeling Facebook Live broadcast, he provided an impression of boiling faeces in a chemical toilet in 45C heat as he criticised a fine handed to a businessman for not providing a chemical toilet to employees.
At a press conference on Saturday, Bolsonaro's defence minister, Fernando Azevedo e Silva, and environment minister, Ricardo Salles, explained how the army would fight the fires, stressing how important it was for Amazon states to cooperate. At the same time, at the G7 summit in Biarritz, the French president Emmanuel Macron called for the international community to help Brazil and its neighbours fight the fires.
Bolsonaro tweeted a link to an old television interview with Gen Eduardo Villas Bôas, in which the former commander of the army described his surprise when one of his officers found the king of Norway in a village in the Yanomami indigenous reserve during a past operation.
"In the words of General Villas Bôas, the real international interest is the Amazon. It hurts the soul to see Brazilians not seeing the fabricated campaign against our sovereignty in the region," he tweeted.
An ambitious agenda by the March for Our Lives activists may be the first time the majority of Americans get real representation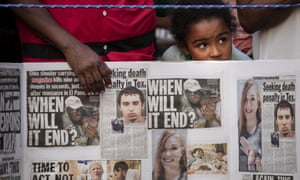 A young girl looks on as she attends a vigil for the victims of the recent mass shootings in El Paso, Texas, and Dayton, Ohio. Photograph: Drew Angerer/Getty Images
March for Our Lives, the national youth gun violence prevention movement founded by survivors of last year's school shooting in Parkland, Florida, released a sweeping gun reform agenda this week.
The agenda calls for significantly raising the standards for gun ownership in America, and reducing by about 100m the total number of guns in circulation.
It's a dramatic, ambitious plan. And it may represent the first time in decades that the majority of Americans will get any real representation in the gun control debate in Washington.
March for Our Lives' young activists endorsed an Australia-style mandatory government buyback and destruction of "assault weapons". They want to decrease the number of guns in circulation by 30% – which would mean roughly 100m fewer firearms in American hands. They proposed regulations that would dramatically raise the bar for who is allowed to purchase a gun, putting US law much more in line with European countries. And they want to revisit the 2009 supreme court decision, District of Columbia v Heller, which enshrined a pro-gun interpretation of Americans' second amendment right to bear arms.
These proposals are substantially more aggressive, and more ambitious, than anything the Democrats in Washington have fought for in years. In fact, for decades, gun control groups and progressive politicians have done a poor job at representing the majority of Americans in Congress when it comes to gun control.
A surprising void
Democrats have fought for minor new restrictions on gun buying – and been defeated by the Republican party's gun absolutists – but, fundamentally, the Democratic party has remained supportive of gun ownership.
Democratic lawmakers' efforts to "ban assault weapons", for example, have not meant an actual ban on these guns, but only a ban on future sales, meaning that Americans could keep the millions of military-style rifles they already own. President Obama's signature gun control legislation after the 2012 massacre at Sandy Hook Elementary School was a compromise bill that would have closed just a few of the gaping loopholes in the nation's background check system – a measure so weak it's doubtful whether it would have had any effect on gun violence at all.
The country's largest gun control groups, too, have made great efforts to portray themselves as pro-"gun safety", not anti-gun. They routinely advertise themselves as supporters of Americans' second amendment right to bear arms. And they have focused on "commonsense reforms", such as getting what activists see as particularly extreme weapons off the streets, or requiring a criminal background check before every gun sale.
This lack of any explicit anti-gun side in the American gun debate is strange.
Although many Americans may not realize it, gun owners are a minority in the United States. American civilians overall own an estimated 300m to 400m firearms, more than one gun per person. But this frequently cited statistic obscures how concentrated American gun ownership is.
In recent surveys, roughly 70% to 80% of Americans said they do not personally own a gun, and a majority said that nobody in their household owns a gun. Just 3% of American adults own half the country's guns, according to a definitive 2015 survey. This small group of gun super-owners have an average of 17 guns each.
Gun absolutists – the activists who oppose any gun control measures, who want Americans to be able to own any kind of gun, and carry them everywhere – are a minority within that minority. According to the best available estimates, fewer than 10% of American gun owners overall are members of the National Rifle Association.
There appear to be at least as many Americans who are vehemently anti-gun as there are NRA members.
Recent Gallup polls have found that 28% of American adults say they would support a law banning handgun ownership, except by the police and other "authorized persons". A 2017 Pew Research Center survey found that 9% of American adults believed that "almost no one" should be legally allowed to own guns – about the same proportion as the number of adults who believed that "almost everyone" should be able to own them.
A coalition of 9% of American adults would translate into more than 20 million people. That's a group four times larger than the NRA, which claims between 5 million and 6 million members.
Only a minority of Americans oppose most private gun ownership. But there's strong majority support for much tougher gun control laws than the ones currently on the books.
A 2017 Pew survey found 68% supported banning assault-style weapons. Seventy-one percent supported having a federal database to track all gun sales. A 2018 Gallup survey found 68% of respondents supported raising the legal age to buy certain guns. A Quinnipiac poll in May found 77% of respondents were in favor of requiring people to obtain a license before being able to purchase a gun.
It's not hard to find Americans who oppose the country's current gun culture. They show up at gun control rallies, holding signs that say things like "Repeal the Second Amendment". They live in neighborhoods burdened by decades of daily gun violence. They've lost family members or friends to shootings. They keep asking: why can't we just get rid of the guns?
But for years, these Americans' views have not been well represented by America's "gun safety" groups, and they have had virtually no representation in Congress.
This may finally be starting to change.
Moving the gun debate
In 2016, a progressive activist launched Guns Down America, a small organization that advocates not simply for "gun sense laws", but for "a future with fewer guns". Following the Parkland shooting, the young March for Our Lives activists have advocated unapologetically for bold reform, though they, like other American gun control activists, say they're not anti-gun and their proposals for stricter regulation represent the interests of "responsible gun owners".
It's not yet clear how much the 2020 Democratic presidential candidates will move towards embracing these majority opinions on gun control policy. But there's already been movement towards the actual middle of the debate.
In 2016, Obama argued in a CNN Town Hall that "issues like licensing, registration, that's an area where there's just not enough national consensus at this stage to even consider it". This year, the New Jersey senator Cory Booker made gun licensing the center of his 2020 gun control platform.
After the mass shooting targeting Latino families in El Paso, the former Texas congressman Beto O'Rourke said he endorsed not just an assault weapon ban, but a mandatory federal buyback of assault weapons. On Wednesday, he became the first Democratic 2020 candidate to tweet that he supported March for Our Lives' new policy agenda.
O'Rourke's campaign did not back away from the most controversial elements of the youth activists' plan, including their desire to revisit the supreme court's current interpretation of the second amendment, enshrined in the Heller decision.
"While Beto agrees with the court's holding that the second amendment allows for regulation, he does not agree with the entirety of the Heller decision," said Aleigha Cavalier, O'Rourke's national press secretary. "One piece of the Heller case Beto believes should be revisited is the court's decision to strike down DC's safe storage requirements."
America's gun debate may soon actually have two sides.
World Politics
Great Britain
Look who's trotting up to join climate change, global recession and war…
United States