30 Oct

News
News
At least two people reportedly killed in latest attack, raising Palestinian death toll to 11 and straining truce.
Last Modified: 30 Oct 2011 15:16 GMT
Anat Kamm sentenced to more than four years in jail for leaking documents linked to the killing of Palestinian fighters.
Last Modified: 30 Oct 2011 12:09 GMT
At least 17 people, including 13 NATO personnel, killed in capital Kabul in attack claimed by Taliban.
Last Modified: 30 Oct 2011 00:36 GMT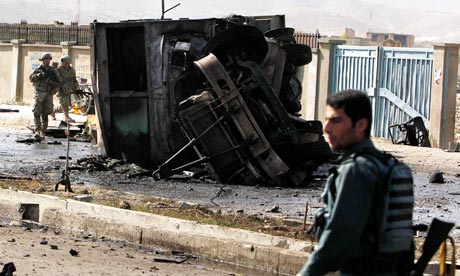 Foreign and Afghan forces arrive at the site of the attack in Kabul. Photograph: Omar Sobhani/Reuters
Deadliest insurgent blast in months leaves 17 dead, including troops, civilians and a police officer
US forces in Afghanistan suffered their deadliest insurgent attack in months on Saturday after a car filled with explosives rammed into the side of an armoured bus taking troops between Nato bases in Kabul.