30 May
Nearly all of these are English-edition daily newspapers. These sites have interesting editorials and essays, and many have links to other good news sources. We try to limit this list to those sites which are regularly updated, reliable, with a high percentage of "up" time.
Recommended:

World Politics
United States
Cartoons
The McGlynn:
Mr Mueller said on Wednesday that charging Mr Trump with any crime in court was "not an option" because of federal rules, but he used his first public remarks on the Russia investigation to emphasize

that he did not exonerate the president.
"If we had had confidence that the president clearly did not commit a crime, we would have said so," Mr Mueller declared.
The special counsel's remarks on indicting Mr Trump marked a counter to criticism, including by attorney general William Barr, that Mr Mueller should have reached a determination on whether the president illegally tried to obstruct the probe by taking actions such as firing FBI director James Comey.
Mr Mueller made clear that his team never considered indicting Mr Trump because the Justice Department prohibits the prosecution of a sitting president.
"Charging the president with a crime was therefore not an option we could consider," Mr Mueller said during a televised statement.
He said he believed such an action would be unconstitutional.
Mr Mueller did not use the word "impeachment" but said it was

the job of Congress, not the criminal justice system, to hold the president accountable for any wrongdoing.
The special counsel's statement largely echoed the central points of his lengthy report, which was released last month with some redactions.
But his remarks, just under 10 minutes long and delivered from a Justice Department podium, were extraordinary given that he had never before discussed or characterized his findings and had stayed mute during two years of feverish public speculation.
Mr Mueller said his work was complete and he was resigning to return to private life.
Under pressure to give evidence before Congress, Mr Mueller did not rule it out.
But he seemed to warn politicians that they would not be pulling more detail out of him.
Finally –

From The McGlynn

to Congress Impeach and to Pelosi Get the Hell out of the way!

Special Counsel Robert Mueller gave his first remarks about his team's report into the Russia meddling into the 2016 elections.

In his first comments since his report was released, Mueller underlined that responsibility for tackling presidential wrongdoing lies with Congress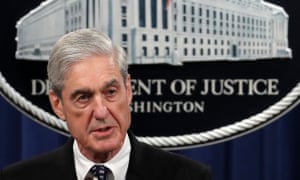 If Mueller's parting words as special counsel had a familiar ring, it is because they echoed, often verbatim, statements that appear in his lengthy report.' Photograph: Carolyn Kaster/AP
F

or those who hoped that Robert Mueller's first public comments since his report was released would do what it failed to – free us from a demagogue who has taken American democracy hostage – Wednesday must have come as a disappointment. If Mueller's parting words as special counsel had a familiar ring, it is because they echoed, often verbatim, statements that appear in his lengthy report.
And yet in his characteristically restrained manner Mueller did, I believe, seek to set the record straight on his report's most contested conclusion:
"If we had had confidence that the president clearly did not commit a crime, we would have said so. We did not, however, make a determination as to whether the president did commit a crime."
In the minds of many, the report's conditional form, "If we had had confidence …", suggested that Mueller and his team had failed to reach closure on whether Donald Trump had, in fact, obstructed justice. The language bespoke ambivalence – some actions by the president supported a finding of obstruction, others did not. The evidence was not dispositive. Reasonable persons could reach different conclusions.
This is precisely how the attorney general, William Barr, spun the report. Claiming to have carefully reviewed the full 448 pages of findings, Barr announced that the report did not make a case for obstruction. No matter that nothing in the Mueller report could possibly have led Barr to conclude otherwise. His memo of 8 June 2018, when Barr was essentially lobbying to replace Jeff Sessions as head of the justice department, makes clear that the would-be attorney general was not about to endorse Mueller's findings. Indeed, that's why he was chosen for the job.
The memo, noted by the press but barely analyzed, makes for extraordinary reading. Over 18 single-spaced pages, Barr attacks Mueller's "Obstruction" Theory – the scare quotes appear in the original – as "fatally flawed" and "legally unsupportable", liable to do "lasting damage to the presidency". For Barr, James Comey's firing was legally irrelevant, as would have been the ordered firing of Mueller. Indeed, no firing decision by the president – even if designed to derail an investigation of his own alleged crimes – can possibly qualify as obstruction for the simple reason that the president's powers over such matters are plenary.
And so, when Barr concluded, in his four-page memo on 24 March, that the Mueller investigation failed to support a case for obstruction, he had not, as some have suggested, caved in to pressure from the White House. He was simply repeating a conclusion he had boldly framed 10 months before the ink had dried on special counsel's report.
Alas, the report, once Barr permitted its released, appeared not to directly challenge this highly tendentious spin. By framing his conclusions in a conditional – "If we had had confidence" – Mueller let stand the notion that the evidence pointed in different directions and that no definitive conclusion could be reached on the matter.
On Wednesday, Mueller sought to correct matters – without actually saying anything new. In an age of hysterical megaphoning, Mueller's muted messaging sounded almost quaint. So what did we hear? Nothing we hadn't heard before – if we've been listening closely. But have we?
Mueller reminded us that his report "did not make a determination" as to whether the president committed a crime, but not because the evidence wasn't there. It was, and in abundance. The only reason Mueller did not seek indictment was because the special counsel's office "is part of the Department of Justice, and by regulation, was bound by that department policy". That policy holds that a president "cannot be charged with a federal crime while he is in office". Indicting the president was therefore "not an option we could consider".
This stunning statement was all there in the report, but it bears repeating. The only thing standing between Trump and an indictment is his status as president. The special counsel's refusal to take a position on the president's criminality had nothing to do with the quality of his evidence or the soundness of his theory. It merely reflected a stubborn, if untested, constitutional barrier to prosecution. No wonder more than 400 former federal prosecutors have signed an open letter saying Trump would face "multiple felony charges for obstruction of justice" if he were a private citizen. Their conclusion follows directly from Mueller himself.
Then there is Mueller's parting statement: "The constitution requires a process other than the criminal justice system to formally accuse a sitting president of wrongdoing." However elliptical the formulation, the message resonated with three more Democratic presidential hopefuls, who on Wednesday announced their support of impeachment hearings against Trump.
Whether it is politically wise for the Democrats to seek Trump's removal is an open question. Such political calculations appear foreign to Mueller. But on Wednesday he repeated his clear belief that it is their responsibility to follow the process that the constitution dictates.
Lawrence Douglas is the James J Grosfeld professor of law, jurisprudence and social thought, at Amherst College, Massachusetts

Three 2020 candidates and more than 40 representatives call for impeachment, but Pelosi reportedly says it's a 'fool's errand'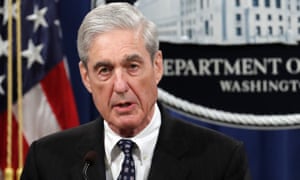 Robert Mueller speaks at the Department of Justice Wednesday in Washington. Photograph: Carolyn Kaster/AP
House speaker Nancy Pelosi is continuing to resist pressure to begin impeachment proceedings against Donald Trump, despite Robert Mueller's declaration that he could not clear the president of criminal activity.
Three prominent Democratic presidential candidates have joined more than 40 House representatives in calling for impeachment proceedings. But Pelosi tamped down expectations, reportedly describing the process as a "fool's errand".
Mueller broke his two-year public silence on Wednesday to deny that Trump is innocent of a crime. He said: "If we had confidence that the president clearly did not commit a crime, we would have said that."
Pelosi has long opposed impeaching Trump, and stood by that decision despite intensified demands for the House to bring charges.
She said on Wednesday: "You don't bring an impeachment unless you have all the facts."
Axios reported that Pelosi was even more defiant in private. One ally told the website that Pelosi felt as strongly as ever that impeachment would be foolhardy heading into the 2020 election.
Pelosi has said Trump is "goading" Democrats into impeaching him, since the president believes it would solidify his base support.
In a dramatic nine-minute statement, Mueller, whose report on Russian election interference and Trump campaign links to Moscow was published last month, contradicted Trump's claim of "exoneration".
In his first public remarks since the investigation began, Mueller said: "We make a determination as to whether the president did commit a crime." Mueller added that charging Trump with a crime was "not an option we could consider", because of justice department policy.
Many Democrats interpreted Mueller's comments as a go-ahead for Congress to begin the process of bringing charges against Trump.
Democratic 2020 presidential hopefuls Cory Booker, Kirsten Gillibrand and Pete Buttigieg for the first time called for the House to begin impeachment proceedings against Trump following Mueller's statement. Booker insisted there is now "one remaining path to ensure justice is served".
He said: "It is our legal and moral obligation to hold those who have committed crimes accountable. It's clear that the House must begin impeachment proceedings. No one is above the law."
Elizabeth Warren, Kamala Harris and Beto O'Rourke, along with other 2020 candidates, have previously called for the House to begin impeachment proceedings. About 40 House Democrats have publicly said Trump should be impeached, along with lone Republican Justin Amash.
In a statement, Gillibrand said the White House had "repeatedly stonewalled" Congress' investigations into Trump.
She said: "Combined with the fact that Robert Mueller clearly expects Congress to exercise its constitutional authority and take steps that he could not, it's time for Republicans and Democrats to begin impeachment hearings and follow the facts wherever they may lead."
But Pelosi lowered expectations following an event in San Francisco, telling reporters only 15% of House Democrats openly support impeachment. Though the Democrats hold a majority in the House, the Republicans hold the Senate.
She said: "We won't be swayed by a few people who think one way or another who are running for president, as much as I respect all of them and they have the freedom to be for impeachment.
"We have the responsibility to get a result for the American people and that's where we're going."
How to impeach a US president
With an almost constant flow of controversy coming out of the White House, the impeachment of Donald Trump does not seem completely out of the question.