12 Nov
English Online International Newspapers
Nearly all of these are English-edition daily newspapers. These sites have interesting editorials and essays, and many have links to other good news sources. We try to limit this list to those sites which are regularly updated, reliable, with a high percentage of "up" time.
Recommended:

Climate Visuals is a project that aims to create a new visual language for climate change. Images of polar bears, melting ice and factories do not convey the urgent human stories at the heart of the issue. Based on international social research, Climate Visuals provides insights for a more compelling visual language for climate change. It has recognised existing and outstanding images with impact for its inaugural photography awards. The project is run by Climate Outreach, Europe's leading climate communication organisation, which celebrated its 15th anniversary on 7 November
Runner-up: Infant Health by Siegfried ModolaA Mongolian mother, Obgerel, cries as she holds her baby daughter Suikhan in a pediatric emergency unit. Suikan suffers from a respiratory illness in one of the most polluted capital cities in the world, Ulaanbaatar. Date taken: 21/01/2019
Photograph: Siegfried Modola/2019 Climate Visuals Photography Award
Runner-up: Climate Refugees by Ricardo FunariA family of drought refugees from the semi-arid region of north-eastern Brazil known as Sertao, trying to escape to the distant Sao Paulo megalopolis. Date taken: 29/10/1998
Photograph: Ricardo Funari/2019 Climate Visuals Photography Award

My community deserves the unvarnished truth from me, its mayor. Ignorance and arrogance delivered us ashes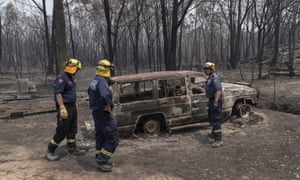 'Members of my family are in hospital. Two community members, my neighbours for decades, are lost to us.' Photograph: Brook Mitchell/Getty Images
H

eeding the advice of fire controllers and decades of scientific reports, Glen Innes Severn council last month declared a climate emergency. As the New South Wales government itself has now declared, those emergency conditions extend far beyond our shire borders and touch every community across the state.
Within our borders we have seen a magnificent, humane and unstinting response from the Rural Fire Service, State Emergency Service, Red Cross, Salvation Army, NSW Police, Glen Innes Severn council employees, fellow councillors, the deputy mayor, Dianne Newman, and hundreds of community volunteers who for months now have done everything from sweep gutters to pitch tents to butter bread for sandwiches.
The anger is real. The anger is justified. Because this disaster was all foreseen and predicted
Throughout this time, every effort has been made to prepare and defend both private and public properties in my community of Wytaliba, NSW, which last week succumbed to merciless physics that pay no heed to opinion, nor folklore, nor politics.
Members of my family are in hospital. Two community members, my neighbours for decades, are lost to us. We have lost dozens of homes beloved by hundreds of people. An entire community has been all but wiped off the map.
In the face of this tragedy already I have received a personal message of support from the NSW governor, Margaret Beazley, for whose humane and wise words I am most humbly grateful, and for whose leadership of the state of NSW we are together all indebted.
Alongside everyone in this community, I also welcome the commitment of our state member for Northern Tablelands, Adam Marshall, to the rebuilding of Wytaliba public school, a much-loved school which burned to the ground on the same day that the federal government announced that only private schools will share in $10m of drought support funding.
While all this is a personal tragedy for my family and myself, it is but one story within an unfolding statewide and global disaster, about which our community deserves nothing less than the honest and unvarnished truth.
There are already those who, following such statements, will aim to shoot the messenger. To those people I say this: take your best shot, for I have already been through hell and there is nothing you can say or do that can touch me now.
But for the sake of the future, for the sake of our community and the rising generation who will inherit this scorched Earth, one can only hope there will be enough people remaining who retain the common decency to listen, to heed the cries of those in harm's way, who will now together take decisive and collective action to save our ecosystem and our civilisation from collapse.
Already there are armchair experts ready with free advice about meeting with disaster. Let it be made perfectly clear that all the area that burned has already been a fire ground for two months. There were hazard reduction and backburns under state authority last month and last year. The properties were all well-prepared and extensively defended. People who have lived with fire risk for decades knew exactly what to do, and they did it. The full expertise and advice of fire controllers has been heeded at every turn.
I'll put my 20-year Rural Fire Service medal up against your free advice any day of the week.
The anger is real. The anger is justified. Because this disaster was all foreseen and predicted. For decades the link between a hotter, drier climate, land-clearing, excessive irrigation and increased fire risk have all been attested in scientific papers.
Equally for decades there have been those who insist they know better. Their ignorance and arrogance have delivered us only ashes – let these now be swept away.
Instead, we will turn towards the sober and sensible measures recommended by fire controllers, and by scientists. We will insist that governments at all levels take heed of that advice, for we have seen now up close the result when they do not.
We turn to those governments now to seek what support is needed and available to assist these devastated communities to get back on their feet. To protect these communities from future harm by curbing climate change. To commit to a saner, safer world where we measure our progress in terms of sustainability, and our wealth in terms of community.
In the face of disaster, everyone learns something about themselves and the people around them. What, I wonder, will be the lesson learnt from this disaster? That remains to be seen. But for now it is the words attributed to Winston Churchill that are salutary: "if you're going through hell, keep going."
•

Carol Sparks is the mayor of Glen Innes Severn council

World Politics
United States
The McGlynn:

A fool, following in his Dad's footsteps. Hell, what did you expect?!
Donald Trump Jr and his girlfriend, Kimberly Guilfoyle, were forced to cut short a launch event for his book, Triggered: How the Left Thrives on Hate and Wants to Silence Us, at the University of California, Los Angeles, because of loud booing from the audience.
The audience was angry that Trump Jr and Guilfoyle would not take questions.
Trump Jr tried to argue that taking questions risked creating soundbites that leftwing social media posters would distort
Trump falsely tweets that Daca covers 'hardened criminals'

Court to decide on status of 700,000 undocumented migrants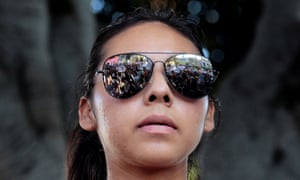 A crowd of Deferred Action for Childhood Arrivals (Daca) program supporters is reflected in Rosario Lopez's glasses during a protest on Olivera Street in Los Angeles, California, in 2017. Photograph: Kyle Grillot/Reuters
Crowds cheered and cars honked outside the supreme court on Tuesday morning, hours before the nation's highest court was to weigh a case that will determine whether 700,000 young undocumented immigrants can remain in the US under a program the Trump administration has sought to end.
Deferred Action for Childhood Arrivals (Daca) applies to undocumented migrants who were brought to the country as children. It was introduced by Barack Obama in 2012 and shut down by the Trump administration in September 2017.
The court will consider whether it has the jurisdiction to review the government's decision to end Daca and, if so, whether the Trump administration ended it lawfully.
Early on Tuesday, Trump incorrectly tweeted that some Daca recipients, who he has repeatedly expressed support for in the past, were "hardened criminals". The program bars convicted felons and others convicted of serious crimes.
The fate of Daca recipients, or Dreamers, has become a pawn in relations between Democrats in Congress and the Trump administration.
On Tuesday morning, Trump also wrote: "If supreme court remedies with overturn, a deal will be made with Dems for them to stay!"