03 Apr
A Foreign Perspective, News and Analyses
Nearly all of these are English-edition daily newspapers. These sites have interesting editorials and essays, and many have links to other good news sources. We try to limit this list to those sites which are regularly updated, reliable, with a high percentage of "up" time.
Recommended:
Global air pollution crisis is taking its greatest toll on children in south Asia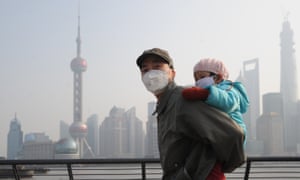 Toxic air can cause stunted lung development in children. Photograph: VCG via Getty Images
The life expectancy of children born today will be shortened by 20 months on average by breathing the toxic air that is widespread across the globe, with the greatest toll in south Asia, according to a major study.
Air pollution contributed to nearly one in every 10 deaths in 2017, making it a bigger killer than malaria and road accidents and comparable to smoking, according to the State of Global Air (SOGA) 2019 study published on Wednesday.
In south Asia, children can expect to have their lives cut short by 30 months, and in sub-Saharan Africa by 24 months, because of a combination of outdoor air pollution caused by traffic and industry, and dirty air indoors, largely from cooking fires. In east Asia, air pollution will shorten children's lives by an estimated 23 months. However, the life expectancy burden is forecast to be less than five months for children in the developed world.
"That the life of children is being shortened so much came as really quite a shock," said Robert O'Keefe, the vice-president of the Health Effects Institute, which produced the report. "There is no magic bullet but governments should be taking action."
Alastair Harper, the head of campaigns and advocacy at Unicef UK, which has warned repeatedly of the threat to children's health, said: "This adds to a bleak picture of how polluted air impacts the health of society's most vulnerable groups, particularly children. Evidence continues to mount showing a relationship between exposure to toxic air and low birthweight, reduced lung development and childhood asthma."
He added: "It's clear with better monitoring of global pollution data we will improve our understanding of the issue and how we can tackle it. The damage to children's health is happening right now."
Although young children face particular threats, such as stunted lung development that will last throughout their lives, older adults are also at risk: nearly nine in 10 deaths attributable to air pollution were in the over-50s. Ageing populations in many parts of the world are likely to increase the death toll for years to come, said O'Keefe.
Air pollution accounts for 41% of global deaths from chronic obstructive pulmonary disease, 20% from type 2 diabetes, 19% from lung cancer, 16% from ischaemic heart disease, and 11% of deaths from stroke, according to the report, described as the most systematic annual study of the health effects of global air pollution.
However, there are signs that actions taken by governments are working, including reducing forms of some particulate pollution in the developed world.
O'Keefe also pointed to China's levels of air pollution, which have bucked the developing world trend by starting to fall in the last several years. China's 2013 action plan set air quality targets and measures to reduce the reliance on coal and make industry cleaner, while controlling the number of vehicles in some cities and investing in clean energy. "They have kept on pursuing this, they have dispatched government officials to these places to enforce, and air pollution has begun to turn a corner in China," he said.
According to the report, south Asia had the highest level of exposures to PM2.5, a size of particulate that can cause breathing difficulties and cardiovascular problems, with the rate in Nepal and India nearly twice the rate of China's exposure to the particles. Among the countries with the lowest levels were the US, Norway, Canada, Sweden and New Zealand, though the Maldives, Brunei and Estonia also scored well on the measure.
Broadly, this disparity between less and more developed countries on this form of pollution is seen across the world, with developing countries suffering PM2.5 exposures that are four to five times those of more-developed countries.
Household air pollution is another key issue, with 3.6 billion people estimated to be exposed globally, with a "double whammy" for the health of those also exposed to high levels of outdoor pollution. In the developing world, reliance on solid fuels, such as biomass for cooking and heating, is the main source of indoor pollution.
The report also found ground-level ozone continues to be a major problem in rich countries, where it is produced in the atmosphere by nitrogen oxides and similar pollutants, emitted from traffic and some industrial processes. Breathing in the gas increases the likelihood of dying from respiratory disease and can exacerbate other respiratory problems.
Last year's SOGA study found dirty air was nearly ubiquitous among the global population, with more than 90% of people worldwide breathing in dangerous air, the result of industrial expansion, increasing traffic and exposure to indoor pollution from solid-fuel cooking fires.
Air pollution is an increasing concern across the world, with studies linking it to a wide range of effects on health, from dementia to miscarriage, and it has been described as a global emergency.
O'Keefe said measures to take included investing in electric vehicles, and renewable energy. But he warned that investing in some infrastructure, such as coal-fired power, could "lock in" air pollution for years to come.
More On The Environment:
World Politics
United States
During a meeting with the secretary general of Nato, US President Donald Trump continued his retaliation against the concluded Mueller investigation by calling for the media to look into its

'oranges'

, meaning origins. After repeating his claim that the report exonerates him from both collusion with the Russian government and obstruction of justice, Trump said his only disappointment with the report was that it didn't look into its own origins, which he claimed stem back to his presidential campaign announcement in June 2015. At another point in the meeting, Trump also claimed his father Fred Trump was born in 'a very nice part of Germany', when in fact his father was born in New York.
Former head of city's police board also becomes first openly LGBT mayor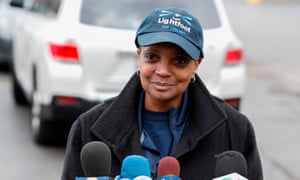 Chicago mayoral candidate Lori Lightfoot speaks to the press outside a polling place. Photograph: Kamil Krzaczy?ski/AFP/Getty Images
Lori Lightfoot made history on Tuesday as she defeated Toni Preckwinkle in a runoff election to become the next mayor of Chicago, becoming the first black woman – and first openly LGBT person – to hold the position in the city.
The reform candidate, who won in a landslide victory, will succeed Rahm Emanuel this spring.
"Together, we can and will finally put the interests of our people – all of our people – ahead of the interests of a powerful few," Lightfoot said in her victory speech Tuesday, vowing to bring an end to the city's gun violence, corruption and other problems. "Together, we can and will make Chicago a place where your zip code doesn't determine your destiny."
A crowd of supporters, who packed the ornate Hilton Chicago Grand Ballroom in downtown Tuesday evening, erupted in raucous cheers as outlets called the election for Lightfoot, less than an hour after polls closed. As the mayor-elect took the stage a little after 9pm local time, supporters – some of whom toted signs bearing her campaign slogan, "Bring in the Light" – chanted Lightfoot's name as she took the stage.
"Today, you did more than make history," Lightfoot said. "You created a movement for change."
Lightfoot, 56, has never held elected office, but has served in other roles in the city's government – most notably as the head of Chicago's police board and its police accountability taskforce, which was established by Emanuel in 2015 amid criticism of his administration's handling of the murder of Laquan McDonald by the former police officer Jason Van Dyke, who was convicted in 2018.
The race to replace Emanuel has been contentious, particularly in the weeks since Lightfoot earned the most votes of any candidate in the crowded field in February's election to force a runoff against Preckwinkle – who had, for months, seemed the favorite.
Preckwinkle's prospects, though, were probably hurt by the January indictment of Ed Burke, the city's longest-serving alderman. Preckwinkle and other top mayoral candidates were associated with Burke, opening the door to Lightfoot, who had made reforming Chicago's political machine a centerpiece of her campaign.
"[Burke's arrest] refocused the election," Dick Simpson, a political science professor and former alderman who endorsed Lightfoot, told the Guardian before the vote. "While Preckwinkle has some reform credentials … she isn't proposing the same kind of reform platform as Lightfoot."
The police board increased its disciplinary action against problematic officers under her leadership, and her panel criticized both Emanuel and Chicago police over the McDonald killing. But her association with law enforcement, with which many here in this racially and economically divided city have a fraught relationship, has been viewed with skepticism by critics and used against her by political opponents.
"The resounding voice [among activists] has been that they don't necessarily feel comfortable or safe going into a city where Lori Lightfoot sits on the fifth floor [of City Hall]," said Chance the Rapper, whose father ran Preckwinkle's campaign, in his endorsement of Preckwinkle, the Cook county board president, last month.
Still, Lightfoot went into election day Tuesday with a comfortable lead in polls and won in a resounding victory, defeating Preckwinkle by nearly 50 percentage points.
Voter turnout appeared low in the runoff, as it was in the initial election in February.
Both candidates have agreed to honor the Rev Jesse Jackson's calls for a post-election press conference focused on unity.
In her concession speech, Preckwinkle said: "This may not be the outcome we wanted, but while I may be disappointed, I am not disheartened." She told supporters that she would continue to serve as Cook county board president, calling it "a historic night".
Lightfoot, meanwhile, said of her opponent: "Our differences are nothing compared with what we can achieve together," adding: "I know we will work together for the city that we both love."
In electing Lightfoot, Chicago will become the largest US city to be led by a black female mayor. Harold Washington, who was elected in 1983, and Eugene Sawyer, who was appointed after Washington died in office in 1987, are the only two African-Americans to have served as mayor of the city. Jane Byrne is the only woman to have ever served in the role.
Lightfoot will take the reins at a precarious time for the city, which continues to face issues with its gun violence, education system, and pension crisis.
But at Lightfoot's crowded election night party, her enthusiastic supporters expressed confidence that the reform candidate would be a step forward for the city.
"I really hope that Lori can be the light for this city," said Shawanda Johnson, a resident of the city's Roseland neighborhood who began volunteering for Lightfoot after the February election. "I'm just glad to be part of history."
Non-violent University of Arizona demonstrators are accused of disrupting the officers' campus appearance and could face jail time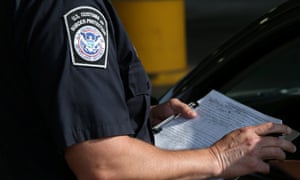 Denisse Moreno Melchor, 20, and Mariel Alexandra Bustamante, 22, were issued misdemeanor citations. Photograph: Loren Elliott/Reuters
The University of Arizona is facing criticism for its to decision to criminally charge two students for protesting an appearance of US border patrol officers at a campus event.
Denisse Moreno Melchor, 20, and Mariel Alexandra Bustamante, 22, allegedly disrupted an appearance of Customs and Border Protection (CBP) representatives at the university on 19 March. Both students were issued misdemeanor citations for "interference with the peaceful conduct of an educational institution" and Melchor was also cited for "threats and intimidation", a university spokesman said on Tuesday. The charges could carry up to six months of jail time.
The decision by university police to bring criminal charges over a non-violent demonstration has sparked a backlash from lawmakers, free speech advocates and immigrant rights' groups.
"They're making an example out of these students, and they are trying to ensure nobody will follow in their footsteps," Arizona state senator Martín Quezada told the Guardian. "The students should have the ability to express their opinions about what the government is doing," he added.
The border patrol agents had come to campus for a presentation at a student club event. A group of protesters chanted outside the meeting, calling the agents "murderers" and shouting "Murder Patrol", the Arizona Republic reported.
Melchor and Bustamante were charged on Monday. The students did not immediately respond to requests or comment. They were cited at the university police department and released, the spokesman, Chris Sigurdson, told the Guardian. He said the students were not accused of any violence.
Robert C Robbins, the university president, opened his letter on the incident by saying he wanted to "reaffirm" the university's "relationship" with CBP and said that the institution "has policies and protocols for behavior and expression".
"The student club and the CBP officers invited by the students should have been able to hold their meeting without disruption. Student protest is protected by our support for free speech, but disruption is not," he added.
He further wrote, "As a community of scholars, we need to be more thoughtful and deliberative in how we approach these issues."
But it's unclear how the student protests of the border patrol officers would have violated free speech protections.
State senator Quezada said he was disappointed to see the charges, and that the university was "doing a lot of harm to these young individuals who have bright futures ahead of them".
In recent years, there have been increasingly heated debates about free speech and protest activity on college campuses in America. Universities have repeatedly come under fire for allowing far-right figures to speak on campus and then aggressively targeting counterprotesters.
Protests against border patrol have also escalated across the country surrounding Trump's anti-immigrant agenda, including the family separation crisis, the detention of children, deaths of migrants in custody, and alleged sexual assaults by agents.
The student government association at the University of Arizona said that the presence of uniformed agents was troubling for many students. Their appearance on campus "especially without warning was, is, and will always be immensely harmful to our … undocumented community". The group's statement noted that there are Deferred Action for Childhood Arrivals (Daca) students on campus, referring to immigrants who were brought to the country as children and have protected status, despite Donald Trump's efforts to end the Daca program.
The group said that on the same day agents were on campus, a Tucson family was arrested and detained by border patrol, just miles away from the university.
Arizona has seen aggressive prosecution of activists who support immigrants. Humanitarian volunteers who help migrants have faced criminal charges, including for leaving water in the desert for people crossing the border.
A University of Arizona Daca group praised the protesters in a statement, saying, "Their action is to be applauded and admired because they put their community before themselves and acted to protect us."