09 Dec
English Online International Newspapers
Nearly all of these are English-edition daily newspapers. These sites have interesting editorials and essays, and many have links to other good news sources. We try to limit this list to those sites which are regularly updated, reliable, with a high percentage of "up" time.
Recommended:

The pick of the best flora and fauna photos from around the world, including a howling coyote and a baby alligator
Sharks, tuna, marlin and other large fish at risk from spread of 'dead zones', say scientists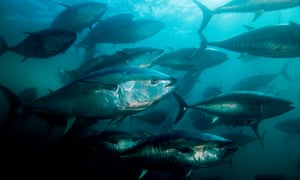 All fish need dissolved oxygen, but biggest fish such as tuna (above) are particularly vulnerable because they need much more to survive. Photograph: Mark Conlin/Getty Images
Oxygen in the oceans is being lost at an unprecedented rate, with "dead zones" proliferating and hundreds more areas showing oxygen dangerously depleted, as a result of the climate emergency and intensive farming, experts have warned.
Sharks, tuna, marlin and other large fish species were at particular risk, scientists said, with many vital ecosystems in danger of collapse. Dead zones – where oxygen is effectively absent – have quadrupled in extent in the last half-century, and there are also at least 700 areas where oxygen is at dangerously low levels, up from 45 when research was undertaken in the 1960s.
The International Union for the Conservation of Nature presented the findings on Saturday at the UN climate conference in Madrid, where governments are halfway through tense negotiations aimed at tackling the climate crisis.
Grethel Aguilar, the acting director general of the IUCN, said the health of the oceans should be a key consideration for the talks. "As the warming ocean loses oxygen, the delicate balance of marine life is thrown into disarray," she said. "The potentially dire effects on fisheries and vulnerable coastal communities mean that the decisions made at the conference are even more crucial."
All fish need dissolved oxygen, but the biggest species are particularly vulnerable to depleted oxygen levels because they need much more to survive. Evidence shows that depleted levels are forcing them to move towards the surface and to shallow areas of sea, where they are more vulnerable to fishing.
Some ocean areas are naturally lower in oxygen than others, but these are even more susceptible to damage when their oxygen levels are depleted further, the report's authors said. Species that can more easily tolerate low oxygen levels, such as jellyfish, some squid and marine microbes, can flourish at the expense of fish, upsetting the balance of ecosystems. The natural oceanic cycles of phosphorus and nitrogen are also at risk.
The world's oceans are already being overfished, and assailed by a rising tide of plastic waste, as well as other pollutants. Seas are about 26% more acidic than in pre-industrial times because of absorbing the excess carbon dioxide in the atmosphere, according to the Intergovernmental Panel on Climate Change, with damaging impacts on shellfish in particular.
Low oxygen levels are also associated with global heating, because the warmer water holds less oxygen and the heating causes stratification, so there is less of the vital mixing of oxygen-rich and oxygen-poor layers. Oceans are expected to lose about 3-4% of their oxygen by the end of this century, but the impact will be much greater in the levels closest to the surface, where many species are concentrated, and in the mid to high latitudes.
Intensive farming also plays a major role. When excess artificial fertiliser from crops, or manure from the meat industry, runs off the land and into rivers and seas, it feeds algae which bloom and then cause oxygen depletion as they decompose.
The problem of dead zones has been known about for decades, but little has been done to tackle it. Farmers rarely bear the brunt of the damage, which mainly affects fishing fleets and coastal areas. Two years ago, the meat industry in the US was found to be responsible for a massive dead zone measuring more than 8,000 sq miles in the Gulf of Mexico.
This year's UN climate conference, known as COP25, was originally billed as the "Blue COP", with a spotlight on the oceans for the first time in the history of the negotiations. The focus was chosen because of the original location in Chile, a country with more than 4,000km of coastline and a strong reliance on the marine economy.
But the move to Madrid, forced by political unrest in Santiago, has meant many of the planned events have been curtailed. Scientists and activists gathered in landlocked Madrid are trying to highlight the issues by demonstrating how vital the seas are in protecting us from climate chaos – as they absorb so much of the excess carbon dioxide, and excess heat, in the atmosphere – and how much they are at risk from its impacts.
Protecting marine life could help the oceans to function better, soaking up more carbon and providing barriers against sea level rises and storm surges, in the form of coral reefs and mangrove swamps.
"A healthy ocean with abundant wildlife is capable of slowing the rate of climate breakdown substantially," said Dr Monica Verbeek, the executive director of the group Seas at Risk. "To date, the most profound impact on the marine environment has come from fishing. Ending overfishing is a quick, deliverable action which will restore fish populations, create more resilient ocean ecosystems, decrease CO2 pollution and increase carbon capture, and deliver more profitable fisheries and thriving coastal communities."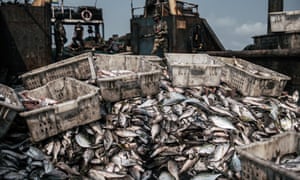 Campaigners says ending overfishing would restore fish populations, create more resilient ocean ecosystems and reduce CO2 pollution. Photograph: Rebecca Griffiths/Sea Shepherd
"Ending overfishing would strengthen the ocean, making it more capable of withstanding climate change and restoring marine ecosystems – and it can be done now," explained Rashid Sumaila, professor and director of the fisheries economics research unit at the University of British Columbia. "The crisis in our fisheries and in our oceans and climate are not mutually exclusive problems to be addressed separately – it is imperative that we move forward with comprehensive solutions to address them."
A study published at COP25 by Greenpeace International showed that restoring marine ecosystems could play a major role in tackling climate chaos.

World Politics
United States
Nadler: constitutional situation is 'Framers' worst nightmare'

Trump derides 'witch hunt' while boosting US economy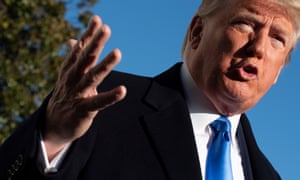 Donald Trump answers questions from the media as he leaves the White House on Saturday. Photograph: Eric Baradat/AFP via Getty Images
The House judiciary committee released a report on the constitutional grounds for impeachment on Saturday. Shortly after that, Donald Trump once again insisted the whole thing was a "witch-hunt" and "a total hoax".
"Read the Transcripts!" Trump tweeted, referring to White House versions of calls with the Ukrainian president, Volodymyr Zelenskiy.
In one such call, on 25 July this year, Trump appeared to make the release of military aid conditional on Kyiv investigating Joe Biden, a political rival, and a conspiracy theory about supposed Ukrainian interference in the 2016 US election. A White House meeting with Trump was also dangled in front of Zelenskiy.
House Democrats contend the 25 July call and testimony by diplomats and Trump advisers provide evidence of serious abuse of power, and thus grounds for the impeachment of the president and his possible removal from office.
"The Framers['] worst nightmare is what we are facing in this very moment," the House judiciary chair, Jerry Nadler, tweeted on Saturday, after releasing the 52-page report.
In contrast to the House intelligence committee's 300-page blockbuster released this week, which summed up bombshell testimony delivered in private and public hearings, the judiciary report was written by Democratic staffers for use in the drawing up of articles of impeachment.
President Trump abused his power, betrayed our national security and corrupted our elections, all for personal gain
It considered what those who wrote the US constitution in the 1780s meant when they provided for presidents to be removed.
"President Trump abused his power, betrayed our national security and corrupted our elections," Nadler wrote on Twitter, "all for personal gain. The constitution details only one remedy for this misconduct: impeachment."
A vote on articles of impeachment against Trump is expected before the end of the year. Trump's alleged attempts to obstruct the special counsel Robert Mueller's investigation of Russian interference in 2016, and links between Trump and Moscow, may also be considered.
Though some Democrats fear the party is moving too quickly, the president would expect to lose a House vote.
But he would expect to survive a trial in the Senate, which is held by a Republican party showing few signs of deserting a man with a tight grip on its base.
Some Democrats also worry a January trial will both tie up congressional business and complicate the countdown to the Iowa caucuses, the first contest in a presidential primary in which a number of senators are running.
That put him at odds with Richard Nixon and Bill Clinton. Nixon resigned before being formally impeached. Clinton survived his Senate trial.
In response, Nadler said Trump had been given "a fair opportunity to question witnesses and present his own to address the overwhelming evidence before us".
"After listening to him complain about the impeachment process," he added, "we had hoped that he might accept our invitation. Having declined this opportunity, he cannot claim that the process is unfair."
Republicans continue to claim just that, as Democrats attempt to show they are acting in accordance with the constitution.
Trump complained about the impeachment inquiry again later on Saturday, on leaving the White House for speaking engagements in Florida. He also said he did not know why former New York mayor Rudy Giuliani, his personal attorney, was currently in Ukraine.
Giuliani's attempts to further Trump's interests in Ukraine lie at the heart of the impeachment proceedings and are the subject of investigations by prosecutors in New York. Alarm at his extra-governmental activities loomed large in testimony to the House intelligence committee from key White House aides.
Trump also made a familiar claim, saying: "The numbers have totally swung our way. [The public] don't want to see impeachment. Especially in the swing states they've swung our way. I've never seen a swing like this. Because people realise it's a total hoax."
On Saturday the statistics website FiveThirtyEight put support for impeachment at 47.7%, to 43.8% against.
Nadler's committee will hold further public hearings next week. This week, it heard testimony from selected legal scholars. One, called by Republicans on the panel, said Trump should not be impeached.
On Friday, more than 500 more, from leading universities and law schools, signed an open letter on the matter. It began: "We, the undersigned legal scholars, have concluded that President Trump engaged in impeachable conduct. We do not reach this conclusion lightly."
In this case, the scholars added: "We take no position on whether the president committed a crime. But conduct need not be criminal to be impeachable. The standard here is constitutional; it does not depend on what Congress has chosen to criminalize."
Trump is accused of seeking an investigation of Biden, whose son had a position at a Ukrainian energy company, in order to benefit his own chances at the polls next year. The former vice-president is a frontrunner for the Democratic nomination.
Opponents of Trump also charge that Republicans' focus on supposed Ukrainian interference in 2016, as opposed to accepted Russian interference, leaves the US open to renewed efforts from Moscow on Trump's behalf in 2020.
Trump spent time on Saturday heralding the strong US economy, which many observers believe could help him win a second term after surviving a Senate trial.
"Impeachment is an especially essential remedy for conduct that corrupts elections," the legal scholars said. "The primary check on presidents is political: if a president behaves poorly, voters can punish him or his party at the polls.
"A president who corrupts the system of elections seeks to place himself beyond the reach of this political check."