17 Dec
English Online International Newspapers
Nearly all of these are English-edition daily newspapers. These sites have interesting editorials and essays, and many have links to other good news sources. We try to limit this list to those sites which are regularly updated, reliable, with a high percentage of "up" time.
Recommended:

Prof Joe LaCasce
University of Oslo
Hilary Evans and David Collins shed light on military-related emissions, Catherine Rowett gets behind Greta Thunberg and Prof Joe LaCasce clarifies the difference between global warming and heating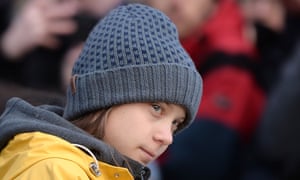 'I was delighted to see Greta Thunberg announced as Time magazine's person of the year,' says Green party MEP Catherine Rowett. Photograph: AFP via Getty
With reference to your report on the COP25 climate talks in Madrid (13 December), we have just returned from Madrid, where we displayed a large banner saying "War causes climate change and climate change causes war". Thousands of passing delegates expressed a great interest in, and approval of, the message.
Scientists for Global Responsibility estimates that 6% of global greenhouse gas emissions result from military-related activity – apart from the unfathomable human devastation – so at first sight it appears astonishing that the subject of war does not feature in the COP negotiations; nor are its emissions taken into account when reduction targets are set.
Perhaps this absence can be explained by the fact that military-related emissions have been excluded by some of the largest polluters from the global north whose delegates, as government officials, will naturally avoid jeopardising lucrative arms and military aid contracts, and whose people do not suffer the catastrophic wars and climatic devastation that directly affect the global south. Evidently we cannot rely on government negotiators to address the subject of war and militarism.
We have to stop believing that war is inevitable and accept that international climate finance offers better value in both resolving conflict and sustaining the environment than the equivalent spent on military operations.
Hilary Evans Movement for the Abolition of War
David Collins Veterans for Peace UK
•

I was delighted to see Greta Thunberg announced as Time magazine's person of the year (Report, 12 December). For me, after so many years of campaigning on environmental issues, it has been a huge relief that now, in 2019, the future of the planet has finally entered the political mainstream – and not a moment too soon.
This is thanks, in no small part, to the vision and actions of Greta herself, but also to those many others whom she has inspired to take up the fight. The world is realising the scale of the threat posed by every aspect of our destructive exploitation of our lovely planet.
Now we need to see some real political leadership so that the leading nations of the world, our own included, can ensure a real revolution in practice, to match the fiery ambitions that have been lit up in our hearts by this inspirational Swedish teenager.
Catherine Rowett
Green party MEP, East of England
•

I'm writing in reference to your use of the term "global heating". I understand the motivation is probably to draw attention to the fact that we are actively changing the climate, a laudable goal. However, the term should be used correctly. In an article about the disappointing results of the COP25 climate negotiations (Discord at climate talks branded a betrayal, 16 December) it was noted that: "Experts say more ambitious emissions cuts are needed globally if the Paris pledge to hold global heating to no more than 2C is to be met."
However, heating involves a change in energy and is measured in joules. Warming, on the other hand, is a change in temperature and is measured in degrees celsius. So "global warming" would have been more apt here.
I know that climate change deniers, some of whom have some knowledge of physics, keep a lookout for inconsistencies like this. Better not to give them any extra ammunition. Keep up the good environmental reporting – I'm a fan.


Pontifical secrecy 'no more an excuse' for church officials to refuse to share information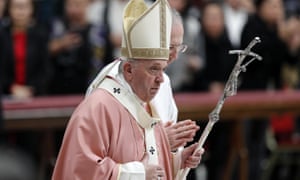 Pope Francis, who has vowed zero tolerance for sexual abusers, announced the changes in two documents issued on Tuesday. Photograph: Riccardo Antimiani/EPA
Pope Francis has announced sweeping changes to the way the Roman Catholic church deals with cases of sexual abuse of children, abolishing the rule of pontifical secrecy that previously covered them.
Two documents issued by the pope back practices that have been in place in some countries, particularly the US, such as reporting suspicion of sexual abuse to civil authorities where required by law.
The documents, which put the practices into universal church law, also forbid imposing an obligation of silence on those who report sexual abuse or allege they have been a victim.
"This is an epochal decision," Archbishop Charles Scicluna of Malta, the Vatican's most experienced sexual abuse investigator, told Vatican Radio.
The lifting of pontifical secrecy in sexual abuse investigations was a key demand by church leaders, including Scicluna and the German cardinal Reinhard Marx, at a summit on sexual abuse held at the Vatican in February.
They argued that secrecy in cases of child sexual abuse was outdated and that some church officials were hiding behind it instead of cooperating with authorities.
Scicluna said the new provisions opened up ways to communicate with victims and cooperate with the state.
"Certain jurisdictions would have easily quoted the pontifical secret … to say that they could not, and that they were not, authorised to share information with either state authorities or the victims," Scicluna said.
"Now that impediment, we might call it that way, has been lifted, and the pontifical secret is no more an excuse," he said.
One of the documents also raises the age under which pictures of individuals can be considered child sexual abuse images "for purposes of sexual gratification, by whatever means or using whatever technology" from 14 to 18.
Last year, a Vatican court sentenced a Catholic priest to five years in jail for possessing child sexual abuse images while he was based in the US as a diplomat.
On Tuesday, the pope accepted the resignation of Archbishop Luigi Ventura, the Holy See's ambassador to France, who has been accused of sexual molestation.
The Catholic church has faced repeated scandals involving the sexual abuse of children by priests around the world in the past 20 years. Francis has vowed zero tolerance for offenders but victims of abuse want him to do more and make bishops who allegedly cover up abuse accountable.
Both documents issued on Tuesday are known as rescriptums, in which the pope uses his authority to rewrite specific articles of canon law or parts of previous papal documents.

World Politics
United States
Congressman Jim McGovern, the chairman of the House rules committee, called on his Republican colleagues to criticize Trump's actions toward Ukraine.

"I get it – it's hard to criticize a president of your own party," McGovern said. "But that shouldn't matter here."

The Massachusetts Democrat went on to extol the virtues of American democracy, recalling how he handed out leaflets as a young man for former presidential candidate George McGovern. "No relation, by the way," McGovern joked

At this defining moment for America …

The need for a robust, independent press has never been greater.

Next year America will face an epic choice. The future of the White House and supreme court, abortion rights, climate policy and a range of other issues – all are in play, at the same time that misinformation makes rigorous reporting more important than ever. Across the world, similar challenges lie ahead: far-right populism, escalating inequality, and a growing number of autocrats in power.

Readers like you help the Guardian deliver high-impact journalism from our newsrooms in America and around the world. As we look to the challenges of 2020, we're hoping to raise $1.5m from our US readers by January. Your support allows us to keep our reporting and analysis free and accessible to all – and supports the global, progressive values we hold dear at the Guardian.

House rules committee's impeachment hearing begins

Congressman Jim McGovern, the chairman of the House rules committee, has gaveled in the panel's hearing on debate procedures for the impeachment resolution.

McGovern began the hearing by outlining the allegations against Trump, accusing the president of holding up military assistance to a key ally, Ukraine, to extract a political favor.

The House rules committee has gathered in its hearing room to start discussing debate procedures for the impeachment resolution, but senior Democratic aides say they have little sense of when the chamber-wide vote will take place.

Freshman congressman Anthony Brindisi, from a Trump-supporting district, announces backing for impeachment before tomorrow's vote

'It is our considered judgment,' the historians wrote, 'that if President Trump's misconduct does not rise to the level of impeachment, then virtually nothing does.' Photograph: Evan Vucci/AP

More than 700 American historians have called for the impeachment and removal of Donald Trump.

"We are American historians devoted to studying our nation's past," began an open letter posted to Medium, "who have concluded that Donald J Trump has violated his oath to 'faithfully execute the Office of President of the United States' and to 'preserve, protect and defend the Constitution of the United States'."

Two articles of impeachment will be voted on in the House of Representatives on Wednesday. They concern abuse of power, in Trump's attempts to have Ukraine investigate his political rivals, and obstruction of Congress, in his refusal to allow key aides to testify in impeachment hearings.

Despite extensive evidence laid out in those House committee hearings, the president denies any wrongdoing.

The articles are expected to be approved, virtually on party lines, setting up a trial in the Senate in January which Republican senators, nominally impartial jurors, have said will be swift and run in close cooperation with the White House and will ultimately acquit the president. Democrats have cried foul.

The president's offences … arouse once again the framers' most profound fears

Brenda Wineapple, author of The Impeachers, about the Johnson trial, signed the open letter, as did Rick Perlstein, author of Nixonland, and Sidney Blumenthal, a former Clinton aide and author of The Clinton Wars and so far three volumes of a five-volume life of Abraham Lincoln.

"President Trump's numerous and flagrant abuses of power are precisely what the framers had in mind as grounds for impeaching and removing a president," the historians wrote.

"Among those most hurtful to the constitution have been his attempts to coerce the country of Ukraine, under attack from Russia, an adversary power to the United States, by withholding essential military assistance in exchange for the fabrication and legitimisation of false information in order to advance his own re-election.

"President Trump's lawless obstruction of the House of Representatives, which is rightly seeking documents and witness testimony in pursuit of its constitutionally mandated oversight role, has demonstrated brazen contempt for representative government.

"So have his attempts to justify that obstruction on the grounds that the executive enjoys absolute immunity, a fictitious doctrine that, if tolerated, would turn the president into an elected monarch above the law."

The University of Liverpool historian Amanda Foreman, author of A World on Fire, a history of Britain and the American civil war, also signed the letter. So did Ken Burns, the documentary maker whose work on the civil war, the west, jazz, baseball, country music and Vietnam, among other subjects, has made him a pillar of US public life.

"Collectively," the historians wrote, "the president's offences, including his dereliction in protecting the integrity of the 2020 election from Russian disinformation and renewed interference, arouse once again the framers' most profound fears that powerful members of government would become, in Hamilton's words, 'the mercenary instruments of foreign corruption'."

The letter was co-ordinated by Project Democracy, an advocacy group which last month released a similar letter signed by more than 500 law professors.

"It is our considered judgment," the historians wrote, "that if President Trump's misconduct does not rise to the level of impeachment, then virtually nothing does."

More Politics