05 Jan
English Online International Newspapers
Nearly all of these are English-edition daily newspapers. These sites have interesting editorials and essays, and many have links to other good news sources. We try to limit this list to those sites which are regularly updated, reliable, with a high percentage of "up" time.
Recommended:


The pick of the best flora and fauna photos from around the world, from baby beavers to a coyote on camera
Oriental pied hornbills sit in a tree in Chitwan national park, Nepal, about 200km from Kathmandu
Photograph: Prakash Mathema/AFP via Getty Images
A robin rests on a fence post in Frankfurt am Main, western Germany
Photograph: Frank Rumpenhorst/dpa/AFP via Getty Images

Further steps have been taken to clean up beaches and seas in 2019 – but much more needs to be done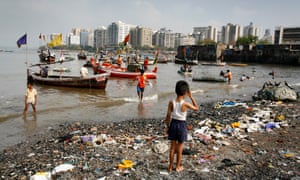 A polluted beach in Mumbai. Novel ways to collect plastic from rivers and oceans were introduced last year. Photograph: David Levene/The Guardian
T

he beach at Muncar on the island of Java was revolting. The 400-yard wide, mile-long stretch of sand was feet deep in foul-smelling sauce sachets, shopping bags, nappies, bottles and bags, plastic clothes and detergent bottles. Bulldozers had cleared away and buried some of the huge mat of plastic and sand two years ago, but every tide since then had washed up more rubbish from the ocean, and every day tonnes more plastic was washed down the rivers from upstream towns and villages. Now it was fouling the fishing boats' propellers.
"We fear for the future," one elderly woman said. She remembered Muncar only a decade ago as one of the most picturesque towns in Indonesia and a tourist hotspot. "If it carries on like this we will be buried in plastic. We have no choice but to throw plastic into the rivers. Now we are angry. Something must be done," she said.
That was January 2019. One year later, the beach heaves with plastic but the local government, working with well-funded international advisers, a recycling company and an army of volunteer collectors have worked to stem the tide of plastic reaching its beaches. It will cost millions of dollars and take years but Muncar may soon have its sand back.
But this small Indonesian town is the exception. 2019 was, for most of the world, the year the petrochemical industry and giant food, drink and beauty companies locked the world even further into fossil fuels, creating mountains of plastic for communities and future generations to deal with and making it almost too late to keep global temperatures in check.
Ultra-cheap shale gas from the decade-long US fracking boom continued to fuel a surge of billion-dollar investments in new cracking plants that separate ethane from gas to produce ethylene, the building block of most plastic. Since 2010 the petrochemical industry has invested about $200bn, and with $100bn more planned to be spent, plastic production is expected to grow 40% by 2030.

World Politics
United States
Donald Trump said the USA was prepared to take 'whatever action is necessary' if Iran targeted US citizens in response to the killing of its top general, Qassam Suleimani. Speaking at his Mar-a-Lago resort, Trump said Suleimani was responsible for 'acts of terror' that had destabilised the Middle East, but said that he was not seeking regime change in Iran
Fears of major conflict in Middle East as Iran vows to avenge killing of general

In the final part of our series on the American left we look at how marginalized groups in America are now asserting themselves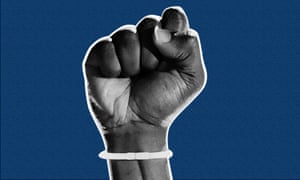 'We are central. Our demands. Our presence. Our voice. They can't win without us.' Illustration: Guardian Design/The Guardian
"H

owever rebellious children may be, they have their parents' genes; American radicals are Americans," wrote the late radical writer Andrew Kopkind in the New York Times in 1968. "They cannot easily cross class lines to organize groups above or below their own station. They are caught in the same status traps as everyone else, even if they react self-consciously."
What is true for class also goes for race, gender, age and a range of other affiliations: the American left are the products of the very society they are trying to change. As Trump has targeted women, black people, Latinos, Muslims and immigrants – to name but a few – so those groups have rallied and are asserting themselves while others, within the progressive coalition, have become more sensitized to their condition.
When they look to a party, and indeed a candidate, they want to see someone who will challenge the reactionary rhetoric and policies that have come from the White House. This forces conversations and, at time, confrontations that have always been present on the left, but rarely quite so acute.
This has already become evident among presidential contenders in early primary clashes whether it be over Joe Biden's intrusively tactile manner and history of opposing bussing, Pete Buttigeig's mishandling of the police shooting of a black man in his home town or Bernie Sanders inability to sufficiently appeal to African Americans in 2016. There were roughly as many black and Latina women who voted Democrat in 2016 as there were white men, although you wouldn't know that to hear the commentary or look at the candidates.

"There is no left without black people," said Stacy Davis Gates, the African American vice-president of the Chicago Teachers Union. "Every now and then you see someone try and include us as an afterthought. But we are central. Our demands. Our presence. Our voice. They can't win without us. And we get worn out having to keep on explaining that to them."
These ideological and strategic cleavages are not, as some suggest, simply a product of 'identity politics'. They are, to some extent, embedded in material differences that come with being black or poor or female in America.

Almost two dozen Democratic candidates are vying for the party's nomination to be the one to take on Donald Trump in the 2020 race for the White House, setting the stage for the most crowded and fiercely competitive Democratic primaries in decades.
Insurgent progressives, established moderates and everyone in between will be presenting their visions for America's post-Trump future. Here's where they stand on some of the most pressing issues of the era
On climate emergency
Democratic congresswoman Alexandria Ocasio-Cortez recently proposed a radical package of reforms known as the Green New Deal, which aims to avert the crises caused by the climate emergency and income and racial inequality. Several Democratic 2020 candidates have signed onto this plan, but others support more moderate action.
Supports Green New Deal
The climate crisis needs to be acted upon urgently and radically, with the aim of making the US carbon-neutral in 10 years.
More Progressive
Supports action
Climate change is important but it isn't the main issue we need to fix.
More Moderate
On healthcare
Americans endure the highest healthcare costs in the world, with some of the worst outcomes, leading to near-universal calls for reform. Some Democratic candidates propose expanding the Affordable Care Act (better known as "Obamacare"), while others argue the US should institute a European-style single-payer system for every American.
Medicare for All
Healthcare is a human right, and as such, the government should provide it to every American regardless of ability to pay. This would replace almost all private health insurance.
Public option
The government should provide healthcare to those who are unable to pay for private insurance. But those who want to keep private insurance would be able to do so.
Improve Obamacare
The Affordable Care Act, better known as Obamacare, fuses government subsidies and private health insurance. This is the right idea and should be built upon.
On abortion
Reproductive rights are being eroded at the state and federal level. While all Democratic 2020 candidates are pro-choice, some argue the federal government should only protect a woman's right to abortion. Others say the government should go further by providing federal funds to help women pay for the procedure.
Tom Steyer is yet to firmly declare their stance on this issue and has been omitted
Federal funds should pay for abortion
Women have a right to choose to have an abortion. Access should be protected and funded by the federal government.
Abortion should remain legal
The federal government should protect Roe v Wade, but public funds should not be used to pay for reproductive health.
Anti-abortion
The US should overturn the landmark 1973 Supreme Court ruling Roe v Wade, which made access to abortion legal.
No candidates support this position
On taxes
Rising income inequality has led many to question a tax system that disproportionately benefits the wealthiest Americans. In response, some candidates have proposed higher marginal tax rates, a repeal of the Republican tax law, and estate and wealth taxes.
Increase taxes on big companies and the most wealthy
The 1% are a major cause of America's problems and should be heavily taxed.
Increase taxes
Everyone needs to pay their way to help


This entry was posted on Sunday, January 5th, 2020 at 1:05 pm and is filed under General. You can follow any responses to this entry through the RSS 2.0 feed. Both comments and pings are currently closed.