05 Apr
A Foreign Perspective, News and Analyses
Nearly all of these are English-edition daily newspapers. These sites have interesting editorials and essays, and many have links to other good news sources. We try to limit this list to those sites which are regularly updated, reliable, with a high percentage of "up" time.
Recommended:
Our lighthearted campaign had an impact far greater than if the council or police had taken a formal enforcement route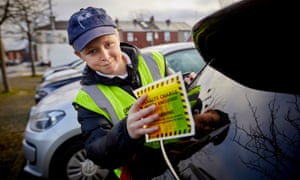 'Within a few days, the streets around school were free from parked cars, with families choosing to walk to school.' Bradley Roberts, 11, outside Russell Scott primary school. Photograph: Mark Waugh/The Guardian
A

ir pollution is making our children ill. It's shortening their lives. It's even killing them. And yet we continue to let cars pump out toxins at the school gates regardless. Government might sneer at children striking over global warming, but give them a voice and we might actually achieve change. At Russell Scott primary school in Denton, Tameside, in Greater Manchester, we are trying to do our bit to show that communities can help solve their own problems by taking direct action and involving children.
They began nagging their parents to shut their engines off well before the campaign had even begun
With the M60 and M67 motorways on our doorstep, and a major retail park with its associated traffic right next door, our children walk along very congested, polluted roads every day. These are the same roads that have been branded a "public health crisis" due to the harmful levels of nitrogen dioxide we are breathing in as we walk to school. This is only exacerbated by the parents who selfishly insist on parking as close to the school gates as they possibly can – competing for the best position, whether it be on double yellow lines, the school entrance or over pedestrian-dropped kerbs, because it's more convenient for them.
Episodes of Wacky Racers have been re-enacted at drop-off and pick-up times around schools up and down the country for years. It's endangering our children. All schools seem to have the same problems, and Russell Scott was no different. But it was the danger of vehicle emissions that drove us to do something about inconsiderate parking, and the use of cars around the school.
We began our campaign by holding an open meeting after school, to which we invited the parents, the community police officer and highways engineers. We suggested freshening up road markings and encouraging motorists to turn off their idling engines, and parents took the lead in asking traffic enforcement to crack down on the hazardous parking around the school. At the same time, all the children were spoken to in assembly by a traffic officer, police officer and the council's lead on clean air and pollution. The children were briefed on the danger of leaving engines running. This was pester power put to good use, as they began nagging their own parents to shut down their engines well before the campaign had even begun. Education or embarrassment, we don't mind – as long as it's successful.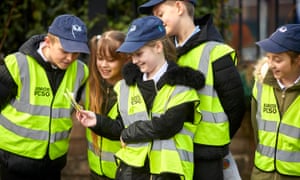 'The children's understanding and engagement was the key.' Russell Scott primary school pupils were recruited as 'junior PCSOs'. Photograph: Mark Waugh/The Guardian
The children's understanding and engagement was the key to our success; but equally important was educating the wider school community on the dangers to the children from car emissions. The UK has some of the worst death rates from asthma in Europe, with doctors shocked at the number of children ending up in hospital apparently as a result of air pollution. It is imperative for the health of the nation that we all take action.
On that first morning, our police officer, a police community support officer and traffic enforcement accompanied the children out on to the streets outside school. It needs commitment each morning and afternoon from senior members of staff to build up the rapport with the parents, to keep it lighthearted. The majority of parents are on your side, they certainly don't want to be part of the problem. With the children keen to offer advice in a charming and mature way, the parents listened and engaged.
And it worked. The vast majority of parents listened to their children with good grace, and turned off their engines or moved away from the front of school. Within a few days, the streets around school were free from parked cars, with the majority of families now choosing to walk to school. After a few weeks, the need for enforcement tickets was few and far between, so we swapped them with "Thank you" stickers for walking to school.
The reason this worked was because the school and the community was at the centre of the campaign: we started it. And it was an appeal directly to the cause of the problem – the parents. I don't think the council or police would have had anywhere near the impact we did had they gone down a formal enforcement route. It was education and engagement that won the day – perfectly apt coming from a school. Russell Scott has since helped Tameside council to create a pilot scheme at three other primary schools, which began during Road Safety Week. If it works, it will be rolled out to other schools across the borough. I hope many other schools in other cities, even other countries, will follow our lead and help end this problem for generations to come.
•

Steve Marsland is the headteacher of Russell Scott primary school
Fatou Bensouda wants to open investigation into alleged war crimes, including by US troops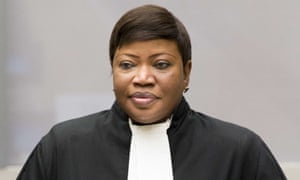 Fatou Bensouda will continue to pursue her duties 'without fear or favour', her office has said. Photograph: Jerry Lampen/EPA
The US has revoked the visa of the international criminal court's chief prosecutor in response to her intention to investigate potential war crimes by US soldiers in Afghanistan.
A statement from the office of Fatou Bensouda, a Gambian national, said she would continue to pursue her duties for the court, in The Hague, "without fear or favour".
Last month, the US secretary of state, Mike Pompeo, announced restrictions on any ICC staff who investigated US or allied personnel, in a hardening of America's policy of non-cooperation with the ICC.
The US has refused to recognise the ICC since its inception in 2002, weakening the court's authority and providing an excuse for other countries, most notably in Africa, to also pull their support. In 2017, Burundi became the first nation to leave the ICC.
Pompeo's move came as he delivered another snub to multilateralism by refusing to attend a meeting of G7 foreign ministers in France on Friday.
Bensouda's office said she had an "independent and impartial mandate" under the Rome statute governing the ICC. "The prosecutor and her office will continue to undertake that statutory duty with utmost commitment and professionalism, without fear or favour," it added.
The ICC said the US decision was not expected to affect Bensouda's trips to the UN in New York, where she gives regular briefings to the security council. The UN office is seen as covered by a form of diplomatic immunity.
Bensouda asked ICC judges in November 2017 for authorisation to open an investigation into alleged war crimes in Afghanistan by the Taliban, Afghan government forces and international forces, including US troops.
The investigation is also expected to examine CIA activity in detention centres in Afghanistan. The court has not yet decided whether to launch a full-blown investigation that would cover events after 2002.
Pompeo said on 15 March that the ICC was "attacking America's rule of law", as he announced a policy of imposing visa restrictions on "individuals directly responsible for any ICC investigation of US personnel".
"If you're responsible for the proposed ICC investigation of US personnel in connection with the situation in Afghanistan you should not assume that you still have, or will get, a visa or that you will permitted to enter the United States," Pompeo said.
Last September, the ICC pledged to continue to investigate war crimes "undeterred" by the Trump administration's earlier threat of sanctions against its judges.
Responding to a firebrand speech by the US national security adviser, John Bolton, that month, the UN-backed court said it would not be intimidated or dissuaded from its global mission.
Bolton's attack, delivered in Washington, had stressed the doctrine of American exceptionalism in contrast to the UN-supported, international legal order.
If the ICC proceeds with launching an investigation into alleged war crimes committed by US military and intelligence staff during the war in Afghanistan or pursues any investigation into Israel or other US allies, Bolton warned, the US would impose sanctions against the court and, where possible, prosecute its officials.
The court said then: "The ICC, as a court of law, will continue to do its work undeterred, in accordance with those principles and the overarching idea of the rule of law."
First arrests since Jamal Khashoggi killing include women's rights activists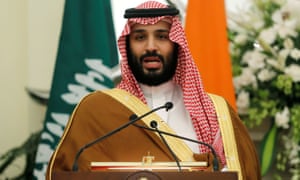 Crown Prince Mohammed bin Salman Photograph: Adnan Abidi/Reuters
Saudi Arabia has detained eight people, including two dual US-Saudi citizens, in a fresh round of arrests targeting supporters of women's rights and those with ties to jailed activists, a person with knowledge of the arrests has said.
The arrests are the first sweep targeting individuals perceived as critics of Crown Prince Mohammed bin Salman since the killing of writer Jamal Khashoggi in the Saudi consulate in Istanbul in October. The arrests come despite global outcry over Khashoggi's killing by Saudi agents in an operation directed by former aides to the crown prince.
The arrested individuals, nearly all of whom were detained on Thursday, are not seen as frontline activists. They are writers and advocates who quietly supported greater social reforms and most had ties to a group of women's rights activists currently on trial.
Those detained include a pregnant woman and seven men, among them two US-Saudi nationals: Badr al-Ibrahim, a writer and physician, and Salah al-Haidar, whose mother is the prominent women's rights activist Aziza al-Yousef, who was recently temporarily released from prison.
Al-Haidar has a family home in Vienna, Virginia, and lives with his wife and child in Saudi Arabia.
A third US-Saudi national, Walid al-Fitaihi, remains imprisoned in Saudi Arabia since late 2017, when the crown prince detained more than 100 businessmen, princes and officials in a purported anti-corruption sweep. Al-Fitaihi, whose family alleges that he has been tortured in prison, worked as a physician in the Boston area before he returned in 2006 to his native Saudi Arabia, where he helped found a hospital built by his family.
Nearly all of those detained on Thursday were taken from their homes in the capital, Riyadh. One individual was arrested in the eastern city of Dammam, according to the person with knowledge of the arrests, who spoke to the Associated Press on condition of anonymity for fear of retribution.
The individuals were not active politically on Twitter and were not widely quoted in foreign media. The group loosely had ties to one another, some as friends and others through intellectual circles, including with Saudi activists living abroad.
Those arrested include: Khadijah al-Harbi, a feminist writer who is pregnant; her husband, Thumar al-Marzouqi, also a writer; Mohammed al-Sadiq and Abdullah al-Dehailan, both writers; and Fahad Abalkhail, an activist who supports the right of women to drive.
Anas al-Mazroui, a lecturer at King Saud university, is believed to have been detained last month. He was not known to be actively involved in human rights work and appears to have been detained shortly after he mentioned the names of some of the detained women's rights activists during a panel discussion about human rights at a book fair in Saudi Arabia.
The person with knowledge of their arrests said the group was among 13 people placed under travel bans since February.
Meanwhile, the siblings of Loujain al-Hathloul, an activist detained since May, stated on Twitter this week they were being pressured to remain silent about her arrest and her claims of torture. The siblings live outside Saudi Arabia, but their father who resides in Saudi Arabia was previously briefly detained after tweeting about his daughter's imprisonment.
Al-Hathloul and Aziza al-Yousef are among nearly a dozen women on trial for charges related to their activism, which included campaigning for the right to drive before the ban was lifted last year and calling for an end to guardianship laws that give men the final say over a woman's right to marry or travel abroad.
Al-Yousef, a grandmother and former university professor, was released from prison last week along with two other women. Al-Hathloul and at least 10 other women activists remain imprisoned.
The women – some of whom have been held in solitary confinement for months – have told the court they were abused during interrogations, including being waterboarded, caned, electrocuted, sexually assaulted and threatened with rape and death.
Pliocene beech fossils in Antarctica when CO2 was at similar level to today point to planet's future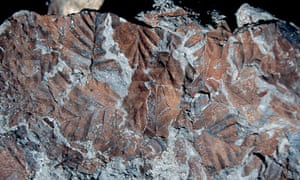 Leaves of the extinct southern beech (Nothofagus beardmorensi) found at Oliver Bluffs, in the Transantarctic mountains, Antarctica. Photograph: J Francis, A Ashworth
Trees growing near the South Pole, sea levels 20 metres higher than now, and global temperatures 3C-4C warmer. That is the world scientists are uncovering as they look back in time to when the planet last had as much carbon dioxide in the atmosphere as it does today.
Using sedimentary records and plant fossils, researchers have found that temperatures near the South Pole were about 20C higher than now in the Pliocene epoch, from 5.3m to 2.6m years ago.
Many scientists use sophisticated computer models to predict the impacts of human-caused climate change, but looking back in time for real-world examples can give new insights.
The Pliocene was a "proper analogy" and offered important lessons about the road ahead, said Martin Siegert, a geophysicist and climate-change scientist at Imperial College London. "The headline news is the temperatures are 3-4C higher and sea levels are 15-20 metres higher than they are today. The indication is that there is no Greenland ice sheet any more, no West Antarctic ice sheet and big chunks of East Antarctic [ice sheet] taken," he said.
Fossil fuel burning was pumping CO2 into the atmosphere extremely rapidly, he said, though it took time for the atmosphere and oceans to respond fully. "If you put your oven on at home and set it to 200C the temperature does not get to that immediately, it takes a bit of time, and it is the same with climate," Siegert said, at a Royal Meteorological Society meeting on the climate of the Pliocene.
He added that global temperature had already risen by 1C since the industrial revolution, when CO2 levels were 280 parts per million (ppm). CO2 was now at 412ppm and rising, suggesting the planet would be locked into rises of 3C-4C in the next few centuries. Ice melting, he said, took even longer and the huge sea level rises indicated by the Pliocene evidence would probably take a few millennia to come about.
In the Pliocene a variety of beech and possibly conifer trees grew at Oliver Bluffs, 300 miles from the South Pole. The tree remains had been unearthed as fossils, along with cushion plants and mosses.
Jane Francis, director of the British Antarctic Survey, said: "This is an amazing discovery. They found fossil leaves of southern beech. I call them the last forests of Antarctica. They were growing at 400ppm CO2, so this may be where we are going back to, with ice sheets melting at times, which may allow plants to colonise again."
The evidence showed summertime temperatures in the Pliocene were a tundra-like 5C near the Pole, compared with -15C to -20C today.
The presence of plants showed the Antarctic ice cap was much smaller in the Pliocene and the sea level much higher. "Twenty metres of sea level rise would have a major impact on our all our coastal cities and all our coastal areas where people live," Francis said.
Polar regions were especially important in understanding global climate, she said: "We know that is where the change happens first and where it is most dramatic."
About 100m years ago an even more extreme climate occurred. In the Cretaceous period CO2 levels were 1,000ppm. Antarctica still sat over the South Pole, but the region was warm and covered in great forests, the stumps and soil of which have been preserved as fossils in places like Alexander Island.
"If we keep carbon emissions going at the current rate, by the end of the century we will have 1,000ppm," said Siegert. The low 280ppm level of CO2 in the run-up to the industrial revolution was rooted in carbon being removed from the air by plants and animals and then buried. "It formed coal seams, gas and oil fields. And what we have been doing for the last 150 years is digging it all up and putting it back into the atmosphere, it's crazy."
One climate peril these emissions ruled out, said Siegert, was a return to an ice age, which had happened several times in the last million years; CO2 was now at too high a level for there to be any chance of a big freeze, said Siegert. "We've killed it."
World Politics
United States
Cartoon
Achievement!!!!!!!!!!!!!!
Senator will describe filibuster as 'a tool to block progress on racial justice' as change would allow bills to pass with simple majority