08 Jan
English Online International Newspapers
Nearly all of these are English-edition daily newspapers. These sites have interesting editorials and essays, and many have links to other good news sources. We try to limit this list to those sites which are regularly updated, reliable, with a high percentage of "up" time.
Recommended:

European Commission President Ursula von der Leyen has no shortage of challenges facing her as she begins her tenure. She spoke with DER SPIEGEL about Donald Trump, climate change and the state of democracs inside the EU.
DER SPIEGEL: Ms. President, when you spoke about the European Union with DER SPIEGEL in a 2011 interview, you threw your support behind the concept of a "United States of Europe." Is that still your goal now that you have become president of the European Commission?
Von der Leyen: The "United States of Europe" is a project for my children. The path to that goal is a long one. All member states will have to be ready to contribute to deeper integration. In my generation, the priority is that of putting Europe in a strong position. I want to further develop the leadership role in areas like climate policy and digitalization, for example.
DER SPIEGEL: You have said that Europe must be more self-confident on the world stage and have referred to the EU executive under your leadership as the "geopolitical Commission." What would you like to achieve?
Von der Leyen: Europe is in a strong position as an economic power, and we are seen around the world as a defender of the rule of law. But there are also moments when Europe must take strong, rapid action. We have to better prepare ourselves for those moments. Six years ago, Mali faced collapse in the face of terror, and there was a political will in Europe to do something to help. But we didn't have the necessary structures. If the French hadn't forcefully intervened, Mali would have ceased playing its role as a stabilizing element in the Sahel region.
DER SPIEGEL: Where do you see Europe from a geopolitical perspective? In third place behind the U.S. and China?
Von der Leyen: I don't see it as a vertical arrangement. I am convinced that fundamentally, we are on the same side of the table as the Americans, even if we may disagree on some issues internally.
DER SPIEGEL: You plan on visiting U.S. President Donald Trump in the coming weeks. During your tenure as German defense minister, you had harsh words of criticism for Trump on occasion – for his comments about NATO, for example, but also for his closeness with Russian President Vladimir Putin. Will you continue using the same tone with him?

Veganism might help and it's always good to avoid flying. But the answer to Earth's emergency must involve political, collective action – and there are countless ways to get active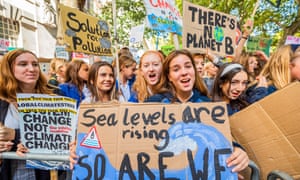 Protesters at last September's general strike for climate justice in London, organised by Extinction Rebellion, Greenpeace, Save the Earth and other groups campaigning for the environment. Photograph: Guy Bell/Rex/Shutterstock
T

he impact of the climate crisis is all too visible. Bushfires have killed more than 20 people in south-eastern Australia and forced thousands more to flee their homes. Floods and storms have left hundreds dead and many more destitute in Argentina, Uruguay, Zimbabwe, Mozambique and Malawi. And in the UK, record temperatures were seen last summer and this winter.
Last year, people across the world took to the streets to demand goverments act to slash greenhouse gas emissions. Did you watch and wonder what you could do to help the global climate movement?
If so, this year presents a remarkable opportunity. With the 26th Conference of the Parties UN climate conference taking place in Glasgow this November, there has never been a better time to add your voice to those calling for urgent action to end our reliance on fossil fuels, cut greenhouse gases and protect the planet from global heating.
At COP 26, world leaders will be under huge pressure to come up with an international, united and effective response to the climate emergency. Those involved in the recent wave of climate action believe much can be done beforehand to ensure nations take effective action. "There is no doubt 2020 is going to be a really big year," says Kim Bryan, of the US group 350.org."In Glasgow, nations will be expected to agree formal commitments to tackle climate change. And people pressure is really making a difference."
What group should I join?
A number of Scottish organisations are building their campaigns in the run-up to COP, including Stop Climate Chaos Scotland, a collection of more than 40 civil society organisations. But there have never been so many options for would-be activists, from traditional NGOs such as Greenpeace and Friends of the Earth, to more radical groups such as Extinction Rebellion (XR) and its youth section, the school strikes movement, run by the UK Student Climate Network, and grassroots organisations such as Onca in Brighton or Clean Air for Southall and Hayes. "There is going to be a mixture of mobilisation for the coming year, and hopefully a lot of it will be led by grassroots groups," says Guppi Bola of Wretched of the Earth, an activist coalition that supports the global south and people of colour seeking climate justice.
Do my choices as a consumer still matter?
With 40% of UK emissions coming from households, the independent Committee on Climate Change says what we do can play an important part in reducing emissions. From choosing renewable energy to heat their home, to improving household insulation and choosing an electric vehicle, individuals can cut their carbon footprint. Reducing your overall consumption – of clothes, household goods or toys – can also help reduce the UK's carbon emissions. The latest data reveals that in 2016 UK consumption represented 784m tonnes of CO2.
You could set up a local Friends of the Earth action group. The charity is supporting those who want to build community action groups to put pressure on councils to adopt climate action plans. The aim is to build upwards to push the government to adopt a national action plan that will put the UK on a path to net-zero emissions by 2045 by tackling transport, heating, energy and agriculture. "This will be the backbone of our campaigning this year," says Claire Norman of FOE.
Extinction Rebellion encourages anyone in an area without a local group to set one up. Creating a Facebook page or hosting a public meeting are ways to start off your group. "The basic idea is to inform and inspire new people and then get them into groups to take on roles and jobs so the whole mobilisation can grow quickly," says XR.
Which groups ensure BME and indigenous voices are heard?
Finding a group that embraces diversity may be hard. Craig Bennett, chief executive of Friends of the Earth, has warned of the environmental movement becoming stuck in "a white middle-class ghetto".
That said, Daze Aghaji of XR youth recommends her own organisation, "because we are extremely diverse. We have really worked on this because we know that XR was coming under criticism over lack of diversity. We are creating bonds with activists in the global south, and we are taking on topics that are hard to talk about, like mental health and climate change."
Bola, meanwhile, says that people of colour should join local groups where they feel comfortable doing so, and that many grassroots groups in metropolitan areas are more diverse and representative of society.
Clare Rodger of the UK Student Climate Network says: "There is more that we could be doing to make sure that everyone is equally valued and listened to. This includes encouraging more boys to get involved in the climate justice movement."
How can I campaign at work?
If you have a unionised workplace, ask your union to get involved. Petition or lobby your company to carry out an audit of its carbon footprint – from its energy emissions and transport to the staff canteen. Then push for it to commit to reducing its carbon emissions, moving to net zero.

Rocket strikes on US airbases in Iraq have intensified a regional crisis sparked by the US killing of an Iranian general. Our maps and graphics explain how we got here and what could happen next
The strikes overnight hit US bases in Iraq in Anbar province and in Erbil with more than a dozen short-range ballistic missiles. Iran claimed 80 US casualties, but the US, UK, Canada and Australia all said none of their troops had been injured or killed. The attacks began at just before 1.30am local time on Wednesday 8 January.
Why did Iran attack the bases?
Iran had been promising to retaliate since Friday 3 January, when its most senior military leader, General Qassem Suleimani was killed in an American airstrike at Baghdad.
The Iranian foreign minister said the strikes were "proportionate measures in self-defence … targeting the base from which a cowardly armed attack against our citizens and senior officials was launched".
An unmanned US drone killed Suleimani, and several others, in the early hours of Friday as he was being driven away from Baghdad international airport.
The strike was carried out by an American MQ-9 Reaper drone, a weapon made by California-based General Atomics that has been in use by the US military since it replaced the MQ-1 Predator in July 2017.
According to the US Air Force website, the MQ-9 Reaper's "significant loiter time, wide-range sensors, multi-mode communications suite and precision weapons" mean that it "provides a unique capability to perform strike, coordination and reconnaissance against high-value, fleeting, and time-sensitive targets".
How long has the crisis been brewing?
Tensions between Washington and Tehran had been escalating since a US contractor was killed on an Iraqi airbase near the city of Kirkuk on 27 December. The American citizen was killed in a rocket attack by the Shia militia group Kata'ib Hezbollah (KH). The group is backed by Iran.
The US then launched a series of retaliatory attacks on KH bases, three in Iraq and two in Syria. Iran and Russia condemned the attacks, which are reported to have killed at least 25 people.
Hundreds of protesters also stormed the US embassy inside Baghdad's Green Zone on 31 December. After declaring the embassy safe, Trump tweeted: "Iran will be held fully responsible for lives lost, or damage incurred, at any of our facilities. They will pay a very BIG PRICE! This is not a Warning, it is a Threat. Happy New Year!"
So is the Iranian missile strike the end of it?
Iran's foreign minister, Mohammad Javad Zarif, said that Iran "took and concluded proportionate measures" with the attacks and that "we do not seek escalation or war". This may mean that Iran feels Suleimani's death has been avenged and this matter is now closed. But on the one hand it has also said it does not mean to comply any more with a deal struck to end its nuclear development. On the other it has allies and proxies throughout the region who it will presumably continue to support in their struggles against the US and its allies.
World Politics
United States