10 Jan
English Online International Newspapers
Nearly all of these are English-edition daily newspapers. These sites have interesting editorials and essays, and many have links to other good news sources. We try to limit this list to those sites which are regularly updated, reliable, with a high percentage of "up" time.
Recommended:


The pick of the best flora and fauna photos from around the world, including long-eared owls and an injured koala
Failure to end investment 'would be a betrayal against life itself', say climate activists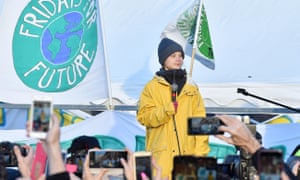 Thunberg speaking at a Fridays For Future rally in Turin in December. Photograph: Alessandro Di Marco/EPA
Greta Thunberg and fellow youth climate campaigners are demanding that global leaders immediately end the "madness" of huge ongoing investments in fossil fuel exploration and enormous subsidies for coal, oil and gas use.
The 21 young activists are also calling on the political and business leaders who will be attending the World Economic Forum in Davos to ensure investment funds dump their holdings in fossil fuel companies.
"Anything less would be a betrayal against life itself," said Thunberg and colleagues in an article in the Guardian. "Today's business as usual is turning into a crime against humanity. We demand that you play your part in putting an end to this madness."
The burning of fossil fuels is the biggest driver of the climate emergency. Scientists predict catastrophic impacts unless deep cuts in emissions are made rapidly, but global emissions are still rising.
"Young people are being let down by older generations and those in power," the climate strikers said. "To some it may seem like we are asking for a lot. But this is just the very minimum effort needed to start the rapid sustainable transition."
Much of the world's existing coal, oil and gas reserves must be kept in the ground to avoid the worst impacts of global heating. But investment in fossil fuel exploration and extraction remains high.
Since the Paris climate agreement in 2015, the world's largest investment banks have provided more than $700bn (£535bn) to fossil fuel companies to develop new projects, with the total investment estimated to be trillions of dollars. Fossil fuel companies argue that their products will be used for many years to come and that they have a pivotal role in shifting the energy system to zero emissions. But their investments in green energy are tiny compared with those in fossil fuels.
Subsidies for fossil fuels also remain high despite a G20 pledge in 2009 to eliminate them. The IMF estimates such subsidies run at $10m a minute, or $5.2tn a year. "The fact that [ending investment and subsidies] hasn't been done already is, quite frankly, a disgrace," said Thunberg and colleagues.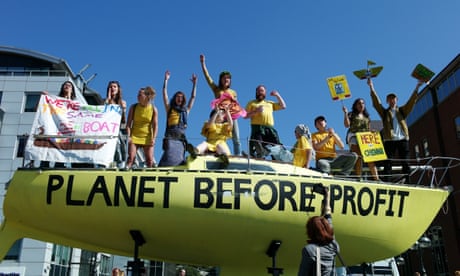 Investors managing funds totalling $12tn have already divested from coal, oil and gas, but the climate activists demand that "all companies, banks, institutions and governments immediately and completely divest from fossil fuels".
Mark Carney, the governor of the Bank of England, said in December that the financial sector was not cutting investments in oil and gas companies rapidly enough and warned that assets in the sector could end up "worthless". He said in October that companies and industries not moving towards zero-carbon emissions would be punished by investors and go bankrupt.
"It ought to be in every company and stakeholder's interest to make sure that the planet they live on will thrive," said the climate strikers, who come from nations across the world, including the US, Australia, Brazil, Russia, India and Nigeria. "But history has not shown the corporate world's willingness to hold themselves accountable. So it falls on us, the children, to do that."
The agenda for the 50th annual meeting of the World Economic Forum, which begins on 20 January in Switzerland, lists four "urgent and important" global issues. The first is "how to address the urgent climate and environmental challenges that are harming our ecology and economy".
The climate strikers said: "The world's leaders should invest their money in existing sustainable technologies, research and in restoring nature. Short-term profit should not trump long-term stability of life."
World Politics
United States
Judge said argument by Trump lawyer that New York court shouldn't handle the case wasn't properly backed up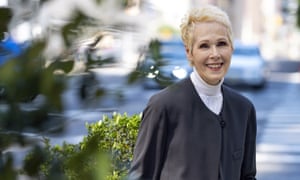 E. Jean Carroll in New York. Photograph: Craig Ruttle/AP
Donald Trump has lost a bid to block an advice columnist's lawsuit over his remarks that she lied in accusing him of rape.
In a decision this week, a Manhattan judge declined to order a hearing on the president's request to dismiss E Jean Carroll's defamation suit and to put evidence-gathering on hold in the meantime.
A lawyer for Trump, Lawrence Rosen, had argued the New York court shouldn't handle the case, saying that the president's statements weren't made in the state and that Trump currently lives in Washington, not New York, his longtime home.
Judge Doris Ling-Cohan said the argument wasn't properly backed up.
"There is not even a tweet, much less an affidavit by defendant Trump in support," Ling-Cohan wrote in a decision provided to lawyers in the case Thursday. An affidavit is an out-of-court statement under oath.
A request for comment on the decision was sent to Rosen.
Carroll's lawyer, Roberta Kaplan, said she was pleased with the ruling.
"We look forward to moving ahead in this case and proving that Donald Trump lied when he told the world that he did not rape our client and had not even met her," Kaplan said in a statement.
Carroll alleges in the suit that Trump smeared her and harmed her career. Many readers of her longtime Elle magazine column stopped writing to her for advice, according to the suit. It seeks unspecified damages and a retraction of Trump's statements.
In a New York magazine article and a subsequent book, Carroll said the two ran into each other, bantered and went to the lingerie department for Trump to pick out a gift for an unidentified woman. Then, she said, Trump grabbed her arm, maneuvered her into a fitting room and assaulted her.
Trump said in June that Carroll was "totally lying", calling the accusation "fake news". He said they had never met, though a 1987 photo shows them and their then spouses at a social event. Trump dismissed the picture, saying he was just "standing with my coat on in a line".