22 Jan
English Online International Newspapers
Nearly all of these are English-edition daily newspapers. These sites have interesting editorials and essays, and many have links to other good news sources. We try to limit this list to those sites which are regularly updated, reliable, with a high percentage of "up" time.
Recommended:

WARNING: GRAPHIC CONTENT OF DEAD ANIMALS
An estimated 1 billion animals have been killed during or as a result of Australia's catastrophic bushfire season, and experts fear some species now face extinction. Huge numbers of mammals, birds, reptiles, insects and other species have been lost, with images of burned koalas and kangaroos fleeing the fire front beamed around the world. Slow-moving native animals have been hit particularly hard.
'We really sleepwalked into this disaster,' says University of Sydney ecology professor Christopher Dickman, who explains what the crisis means for the country's wildlife and why it may take up to 100 years for the ecosystems the animals depend on to bounce back.

Opinion
Police say climate groups such as Extinction Rebellion are a 'threat'. They'd have done the same for the suffragettes and Martin Luther King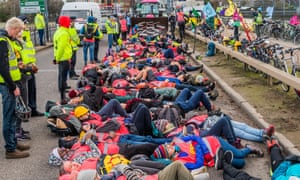 Extinction Rebellion protest at Heathrow airport, December 2019. Photograph: Guy Bell/Rex/Shutterstock
I

t's not an "error" or an "accident", as the police now claim. It's a pattern. First, the Guardian revealed that counter-terrorism police in south-east England have listed Extinction Rebellion (XR) and the youth climate strikes as forms of "ideological extremism". Then teachers and officials around the country reported that they had been told, in briefings by the anti-radicalisation Prevent programme, to look out for people expressing support for XR and Greenpeace.
Then the Guardian found a Counter Terrorism Policing guide to the signs and symbols used by various groups. Alongside terrorists and violent extremist organisations, the guide listed Greenpeace, XR, People for the Ethical Treatment of Animals, CND, the Socialist party, Stop the War and other peaceful green and left organisations. Then the newspaper discovered that City of London police had listed XR as a "key threat" in its counter-terrorism assessment.
There's a long history in the UK of attempts to associate peaceful protest with extremism or terrorism. In 2008, for example, the Association of Chief Police Officers (Acpo) produced a list of "domestic extremists". Among them was Dr Peter Harbour, a retired physicist and university lecturer, who had committed the cardinal sin of marching and petitioning against an attempt by the energy company npower (then RWE npower) to drain a beautiful local lake and fill it with pulverised fly ash. Acpo sought to smear peace campaigners, Greenpeace and Climate Camp with the same charge.
The police have always protected established power against those who challenge it, regardless of the nature of that challenge. And they have long sought to criminalise peaceful dissent. Part of the reason is ideological: illiberal and undemocratic attitudes infest policing in this country. Part of it is empire-building: if police units can convince the government and the media of imminent threats that only they can contain, they can argue for more funding.
But there's another reason, which is arguably even more dangerous: the nexus of state and corporate power. All over the world, corporate lobbyists seek to brand opponents of their industries as extremists and terrorists, and some governments and police forces are prepared to listen. A recent article in the Intercept seeks to discover why the US Justice Department and the FBI had put much more effort into chasing mythical "ecoterrorists" than pursuing real, far-right terrorism. A former official explained, "You don't have a bunch of companies coming forward saying 'I wish you'd do something about these rightwing extremists'." By contrast, there is constant corporate pressure to "do something" about environmental campaigners and animal rights activists.


World Politics
United States
2020 contender alleges Clinton made 'defamatory statements' in 'deliberate attempt to derail her presidential campaign'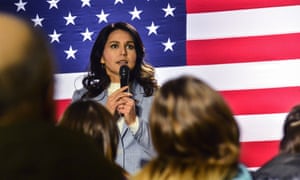 Tulsi Gabbard in New Hampshire on Tuesday. The lawsuit reads: 'Tulsi has suffered significant actual damages that are estimated to exceed $50m – and continue to this day.' Photograph: Kristopher Radder/AP
The Hawaii congresswoman and Democratic presidential candidate Tulsi Gabbard is suing Hillary Clinton for defamation, alleging the 2016 nominee described her as a "Russian asset" and claiming more than $50m in damages.
Gabbard, who sued Google in July 2019, also claiming $50m, filed the lawsuit in the southern district of New York. She claims that in October 2019 Clinton "falsely stated" that Gabbard "is a 'Russian asset'".
"Clinton's false assertions were made in a deliberate attempt to derail Tulsi's presidential campaign," the filing says.
The lawsuit claims: "The defamatory statements have caused Tulsi to lose potential donors and potential voters who heard the defamatory statements. Tulsi has suffered significant actual damages, personally and professionally, that are estimated to exceed $50m – and continue to this day."
Gabbard's allegations stem from an interview Clinton conducted with the Democratic strategist, author and podcaster David Plouffe in October 2019. Discussing the 2020 primary field, Clinton said of one candidate: "She is a favourite of the Russians.
"They have a bunch of sites and bots and other ways of supporting her so far. And, that's assuming Jill Stein [the Green Party nominee for president in 2016, who received favourable coverage from Russian state media] will give it up, which she might not because she's also a Russian asset. Yeah, she's a Russian asset."
Some observers say Stein cost Clinton victory over Donald Trump in key states in 2016. Such claims are fiercely debated.
A Clinton spokesman confirmed that Clinton was talking about Gabbard.
Before the interview, the New York Times reported that Gabbard had "supportive signs" from the Russian state news media, and said a hashtag supporting her "appeared to be amplified by a coordinated network of bot-like accounts". The Times said there was no evidence of coordination between these networks and Gabbard's campaign.
Gabbard claimed Clinton had said she was being "groomed" by the Russians. Though a number of media organisations did report that Clinton made that accusation, media factcheckers discredited Gabbard's interpretation of Clinton's statement about Russia, with the Washington Post awarding her three "Pinocchios".
Gabbard's lawsuit brushes over the "grooming" claim, focusing instead on the alleged damage of the "Russian asset" remark.
"Tulsi is not a Russian asset," the filing says. "No one – Russia or anyone else – controls her or her presidential campaign."
The lawsuit claims Clinton made the remark in "retribution" for Gabbard supporting Bernie Sanders in the 2016 primary and describes Clinton as a "cut-throat politician" who has "never forgotten this perceived slight".
At the time, Gabbard was in her second term in the House and was a vice-chair of the Democratic National Committee.
Gabbard sued Google in 2019, claiming the company suspended her campaign's advertising after the first Democratic debate in June. A hearing is reportedly set for 27 January.
There is little evidence Clinton's comments have had any impact on Gabbard's popularity. According to Real Clear Politics, the congresswoman was polling at 2.3% nationally at the time of the remarks. She currently has 1.7% of stated preferences.