07 Apr
A Foreign Perspective, News and Analyses
Nearly all of these are English-edition daily newspapers. These sites have interesting editorials and essays, and many have links to other good news sources. We try to limit this list to those sites which are regularly updated, reliable, with a high percentage of "up" time.
Recommended:
A three-toed skink's unusual birth, a dead whale full of plastic and young elephants stuck in the mud
Israeli prime minister's pledge seen as a rallying call in tight election race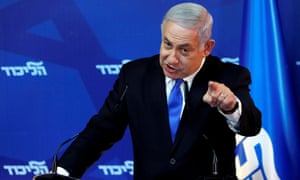 Israel's prime minister Benjamin Netanyahu promised not to dismantle a single Jewish settlement. Photograph: Ronen Zvulun/Reuters
Israel's prime minister, Benjamin Netanyahu, has pledged to annex Jewish settlements in the occupied Palestinian territories if he wins his country's election on Tuesday, a dramatic last-minute rallying call to his nationalist base.
Hundreds of thousands of settlers live in outposts in the West Bank, which Israel's military captured in a war more than half a century ago and continues to rule, controlling the lives of more than 2.5 million Palestinians.
World powers consider the settlements illegal under international law, built on land confiscated from Palestinian families and squeezing them into ever-smaller enclaves. Formally declaring the settlements part of Israel would also be seen as putting an end to fading hopes for a Palestinian state, as there would be little continuous land on which to create it.
Netanyahu is facing a tight race for re-election. Recent polls have shown his rightwing Likud party just behind the Blue and White party, run by a former Israeli army chief Benny Gantz. However, with support from smaller pro-settlement, far-right and ultranationalist parties, Netanyahu would have a better chance of forming a coalition government.
During Israel's last election, in 2015, Netanyahu was criticised for a poll-day statement, seen as incendiary and racist, to rally rightwing supporters by warning that Arab citizens in Israel were "heading to the polling stations in droves". Without certain victory in sight this year, many had been waiting for a similar stunt.
On Saturday night, Netanyahu gave an interview to Israel's Channel 12 TV. He pledged not to dismantle a single Jewish settlement, of which there are more than 100, from makeshift trailer parks on hilltops to huge townships indistinguishable from towns in Israel.
The interviewer asked why he had not already annexed some of the larger settlements. "Who says that we won't do it? We are on the way and we are discussing it," he replied. "You are asking whether we are moving on to the next stage – the answer is yes, we will move to the next stage. I am going to extend sovereignty and I don't distinguish between settlement blocs and the isolated settlements.
"From my perspective, any point of settlement is Israeli, and we have responsibility, as the Israeli government. I will not uproot anyone, and I will not transfer sovereignty to the Palestinians."
A so-called two-state solution, which envisions an Israel and a Palestine side by side, has long been the preferred peace option of most of the international community. But growing settlement construction has dashed hopes.
Donald Trump's recognition of Jerusalem as Israel's capital early in his term as US president further damaged the two-state ideal. The Palestinians see the occupied eastern section of Jerusalem as the capital of any future state, and cut contact with Washington after the declaration.
Last month, Trump recognised Israeli sovereignty over the Golan Heights, a plateau Israel captured from Syria in the same 1967 conflict and annexed in 1981. The move broke from the post-second world war international consensus that forbids territorial conquest during war, and Palestinians warned that it set a dangerous precedent for land grabs in the West Bank.
In Israel, Trump's announcement was viewed as an election gift to Netanyahu. On Saturday evening, Trump said he had made the controversial decision after getting a "quick" history lesson from his son-in-law Jared Kushner and his pro-settlement ambassador to Israel and former bankruptcy lawyer, David Friedman.
Trump said when he suggested US recognition, Friedman was thrilled and reacted like a "wonderful, beautiful baby" getting what he wanted. "He [Friedman] said: 'You would do that, sir?'" Trump told the audience to chuckles.
World Politics
United States
FBI Director Chris Wray has described white supremacist extremism as 'a persistent, pervasive threat' during a House committee appropriations hearing. According to congressman Jose Serrano, Wray did not mention the issue by name in his budget request to the House, but Wray reiterated the significance of the issue, describing the shift from organised white supremacist groups towards un-coordinated lone actors. His comments were in contrast to those of Donald Trump who, after the Christchurch shooting, said he 'didn't really' see white nationalism as a growing threat around the world but instead a 'small group of people with serious problems'.
There is growing alarm in the US that Capitol Hill's bonfire of the regulations has led to hundreds of deaths. It may be a turning point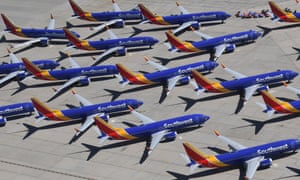 Grounded Boeings in California. Photograph: Mark Ralston/AFP/Getty Images
A

merica First nationalism, indulgent free market economics, Republican libertarianism and a political system in hock to corporate lobbying has just contributed to killing 356 innocent people. The more we know about the crashes of Boeing 737 Max 8 planes in Indonesia and Ethiopia – after anti-stalling devices locked both aircraft into unrecoverable nose-dives – the more shocking the story becomes.
It is not just Boeing, a once magnificent company, that is being condemned – it is the US's wider economic, political and regulatory structures. What is not required is a short-term software fix on the faulty MCAS system that automatically adjusts the plane's flight trajectory, along with an improved safety manual and training for pilots, which is Boeing's response so far. What is needed is a root-and-branch overhaul of the intersection between capitalism and democracy in the US. The current set-up – and the accompanying libertarian, anti-state, anti-regulation philosophy – literally kills people.
The story begins in 2011. Europe's new Airbus 320neo, with its superb fuel efficiency and low operating costs, had picked up 667 orders at the Paris air show, a record for a commercial aircraft. Worse, American Airlines had done the unthinkable: it had ordered 130 of the new Airbus and 130 of the older one. Boeing's relationship with American was foundational: it could always rely on the airline for its bedrock business, an insider, all-American affair. Now American had dared to buy European in unprecedented volumes: it was a competitive necessity to match rival airlines. Boeing had to respond. But instead of developing a whole new plane that could carry heavier, fuel-efficient engines, it made the fateful decision to bolt them on to a variant of its 737 series. Since the days of Orville and Wilbur Wright, the key to safe flying has been to organise the pitch of the plane so that its aerodynamics work to prevent stalling, a complex interrelationship between the angle and shape of wings, the distribution of weight and the power of the engines. If you intend to use a heavier, more fuel-efficient engine, it will throw everything out of kilter. Essentially, you have to design a new plane.
Boeing's initial and correct reaction had been to commit to just that, but the process is enormously expensive and takes up to 10 years. The company had to react faster and keep its share price up, so the Max 8 was born, going into service in 2017. The technical problem was obvious. With heavier engines, the pitch of a plane with wholly different dynamics could be disturbed in some flying conditions. Hence the sensor in the front of the plane that would recognise changes in pitch and automatically adjust the wings to keep the plane stable, not in principle a bad idea, but one that requires hyper-reliability and a way for pilots to override the system when necessary.
In the world of aerospace, such judgment calls should have required an entire recertification process and verification by a third party. That did not happen. For decades, regulation in the US has been hamstrung by the libertarian charge that government is inefficient and always wrong, taxes are a coercive infringement of individual liberty, and regulation inhibits private sector dynamism. The Federal Aviation Authority has an enviable technical reputation, but over the past decade it has suffered from successive budget cuts and government shutdowns as the Republican party has waged war on federal spending and federal agencies. Donald Trump, before the crashes, said he wanted to privatise the agency and scale it back even more.
In order to function at all, the FAA has had to delegate regulation to airlines and manufacturers – the fox looking after the chicken coop. Essentially, Boeing decided that the Max 8 did not need recertification and this decision was not challenged by the FAA. Moreover, Boeing undertook much of the safety work itself without any independent review, although as yet the outside world does not know to what degree. What we do know is that 1,000 Boeing employees are seconded to the FAA. Boeing then decided to market the Max 8 as part of the 737 family rather than as a plane with wholly different flight characteristics and a new automated software system that, crucially, did not allow pilots to override in an emergency using standard, practised techniques. Instead, they would need special training, which was not offered or provided.
When the first crash happened, Boeing did not ground all Max 8s; the FAA also failed to act. American prestige was at stake, along with Boeing's commercial interests. Tellingly, after the second crash, the US was the last to ground the aircraft. But then Boeing is one of the US's top 10 corporate lobbyists, contributing to Democrats and Republicans alike: juicy defence contracts, government backing for trade fights with Airbus and organising benign regulation costs money. But on safety it has backfired spectacularly.
Boeing is now enveloped in an existential crisis. The libertarian thinking the company exploited has caused a collapse in its reputation and reinforced a long-overdue reaction to the excesses of corporate America. In my Radio 4 documentary, Goliath, I report on the growing intellectual and political revolt against the US right's attempt to muzzle US policy on challenging monopolies. No, the market will not automatically correct them, the doctrine that has held sway since the 1980s. Companies as disparate as Amazon, Boeing and Facebook need challengers, constraints on their power and tough independent regulators.
The conventional wisdom is that Trump's re-election may be hard to stop. But it neglects growing alarm in the US about abuses of corporate power. The refrain is: "Let Donald Trump and his transport secretary, Elaine Chao (whose chief qualification for office is that she is the partner of the Republican leader of the Senate, Mitch McConnell), go on the first 300 test flights when the Max 8 goes back into service." Leading British Brexiters, so in love with all things American and distrustful of anything European, can fly with them. Until the US system changes, the rest of us may choose Airbuses.
•

Will Hutton is an Observer columnist. Goliath is broadcast on BBC Radio 4 on Tuesday 9 April at 8pm BST
Researchers believe Casimir Pulaski's skeleton indicates the 18th-century cavalry officer may have been female or intersex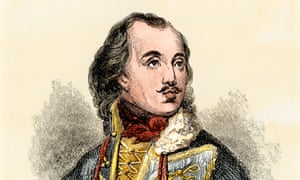 Casimir Pulaski with his signature. 'The skeleton is about as female as can be,' said one physical anthropologist. Photograph: North Wind Picture Archives/Alamy Stock Photo
Researchers believe a famed Polish general who fought in the American Revolutionary war may have been a woman or possibly intersex.
A new Smithsonian Channel documentary examines the history of Casimir Pulaski, a Polish cavalryman who became a protege of George Washington.
Researchers began their work when a monument to the general in Savannah, Georgia, was set to be removed. Pulaski's bones were contained in a metal box under the monument, which was erected in 1854. Charles Merbs, a forensic anthropologist at Arizona State University who worked on the case, said that allowed researchers to exhume the skeleton for study.
"Basically I couldn't say anything about what I found until the final report came out," Merbs told ASU Now. He worked with Dr Karen Burns, a physical anthropologist at the University of Georgia, and other experts.
"Dr Burns said to me before I went in, 'Go in and don't come out screaming.' She said study it very carefully and thoroughly and then let's sit down and discuss it. I went in and immediately saw what she was talking about.
"The skeleton is about as female as can be."
Another team member, Virginia Hutton Estabrook, a Georgia Southern University professor of anthropology, told NBC News: "One of the ways that male and female skeletons are different is the pelvis. In females, the pelvic cavity has a more oval shape. It's less heart-shaped than in the male pelvis. Pulaski's looked very female."
The most immediate question was whether the skeleton was indeed Pulaski. Previous researchers had failed to identify the bones, lacking DNA for a match.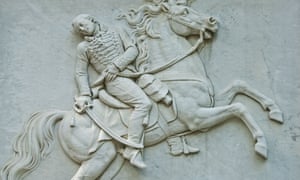 Monument to General Casimir Pulaski in Savannah, Georgia. Photograph: Don Klumpp/Alamy Stock Photo
Estabrook said: "It is remarkable that the will to persist in this project continued more than a decade after it was declared by a team of experts that this was as far as it could possibly go."
Estabrook said: "It is remarkable that the will to persist in this project continued more than a decade after it was declared by a team of experts that this was as far as it could possibly go."
This time, researchers were able to confirm the skeleton through the mitochondrial DNA of Pulaski's grandniece, known injuries and physical characteristics. The Smithsonian Institute funded the research.
Pulaski was raised as a man in an aristocratic Polish Catholic family, learning to fight and ride. He put those skills to the test against the invading Russians before leaving Poland in 1772 and finding his way to Paris. According to the Smithsonian documentary, the American delegation there sent him across the Atlantic with letters of recommendation from Benjamin Franklin.
Pulaski joined the American forces and on 11 September 1777 and fought the British at Brandywine, south of Philadelphia, probably saving Washington from capture in a damaging defeat. The Pole went on to formalize the American cavalry, demanding better resources and training.
He was fatally wounded at the Siege of Savannah in October 1779, dying aboard ship days later.
Researchers said contemporary accounts of the general painted him as private and deeply driven, a fierce fighter and skilled horseman. He never married or had children.
"I don't think, at any time in his life, did he think he was a woman," Merbs said. "I think he just thought he was a man, and something was wrong."
As much as 2% of babies may be born intersex, according to a survey of medical literature from Brown University. That means the children could be born with characteristics – genital, chromosomal or hormonal – that put them outside the "platonic ideal that for each sex there is a single, universally correct developmental pathway and outcome".
Pulaski is considered a Polish-American hero, honored each year at the Casimir Pulaski Day parade in New York City. The Pulaski Skyway in New Jersey is named for the general, as is the Fort Pulaski national monument in Georgia.
Speaking to NBC, the New York Pulaski Day parade president, Richard Zawisny, said he was "a little shocked" by the news Pulaski may have been a woman or intersex.
"But in this day and age," he added, "I don't think it will matter to most people."
The documentary about Pulaski is scheduled to be broadcast on Monday.