03 Feb
English Online International Newspapers
Nearly all of these are English-edition daily newspapers. These sites have interesting editorials and essays, and many have links to other good news sources. We try to limit this list to those sites which are regularly updated, reliable, with a high percentage of "up" time.
Recommended:

Wuhan hospitals need more staff and supplies as death toll passes that of Sars virus
Coronavirus: China completes emergency hospital build in eight days – video timelapse
Dozens more people have died in the city at the centre of China's coronavirus outbreak, where hospitals are severely undersupplied and understaffed and residents have described increasingly desperate conditions.
Chinese state media reported 57 new deaths on Monday, all but one in Wuhan, the capital of the central province of Hubei which has been under lockdown for almost two weeks as authorities try to contain the outbreak.
The foreign ministry issued an urgent appeal for protective medical equipment as the total number of casualties reached 361, surpassing deaths in mainland China caused by the 2002-03 Sars virus. The number of infections also jumped, passing 17,200.
"What China urgently needs at present are medical masks, protective suits and safety goggles," the foreign ministry spokeswoman Hua Chunying told a press briefing.
Authorities in provinces that are home to more than 300 million people – including Guangdong, the country's most populous – have ordered everyone to wear masks in public in an effort to contain the virus. But factories capable of producing about 20 million masks a day are only operating at between 60 and 70% of capacity, according to the ministry of industry.
Hua also criticised the US, where a ban on people travelling from China went into effect on Sunday. The US and other countries had "overreacted" to the outbreak and Washington had not given China any substantive help, instead only creating and spreading panic, Hua said.
A video apparently filmed in No 5 Wuhan hospital went viral showing body bags in a bus, and a man weeping next to his dead father. In the video, the person filming says: "So many people just died. There are so many dead bodies … they are still moving bodies."
The state news agency Xinhua said 68 medical teams of 8,300 staff from across China had been sent to Hubei. One of two new emergency hospitals built in the last 10 days to house patients infected by the virus was due to open on Monday. State media said 1,400 military medics would be sent to run the facility.
The virus has spread to more than 24 countries. Several, including allies of Beijing, have begun to close their borders to Chinese nationals and travellers from the country.
World Politics
England
Brexit is finally upon us. Really. Prominent Europeans share their messages to a country they love.
HANNAH MCKAY / REUTERS
Ursula von der Leyen
Peter Rigaud / DER SPIEGEL
I spent one year in London as a university student. It had quite an effect on me, especially because I didn't spend an undue amount of time in lecture halls and libraries, instead spending it in Soho and in Camden's record stores. I got to know London's warm, lively, colorful, multicultural social fabric – an energetic, open city like I had never before experienced. People of all kinds and all classes, enjoying lives and their freedoms to the utmost. I dove into this melting pot of cultures, tradition and music, and fell in love with this city and this country.
A strong-willed, open and large-hearted country. Proud and patriotic. Friendly, generous in spirit. Full of traditions and contradictions that remain visible to this day and are surely partly responsible for the referendum result. I will always retain my deep affection for the United Kingdom. But Europe will carry on. The European project is so much bigger and more important for our future. It remains the right approach to tackling global challenges together, issues like climate change, digitalization and migration. As a strong community of over 440 million Europeans, as a powerful economic bloc, as a unique union of culture, science and values: Europe offers the best chance for the success of ensuing generations. In the future, we will carry on as good neighbors to our British friends.
Jean-Claude Juncker, Ex-President of the European Commission

Jean-Claude Juncker
FRANCOIS LENOIR / REUTERS
I was not very surprised that the referendum went badly. If you spend 47 years depicting Europe in a negative light, you can hardly be surprised when most people have a negative view of Europe. The EU is not only an economic and political undertaking, but also one of solidarity and cohesion.
I had a good relationship with many British prime ministers – with John Major, for example, who was also ousted over the European question, and Tony Blair, even though I did not approve of his neoliberal ideas for the job market. Cameron then made the historical mistake of attaching so much importance to the issue of EU membership. It was not smart to construct a contradiction between British sovereignty and European cohesion. And with Boris Johnson, it is what it is: I like him a lot as a person, but he doesn't always act rationally.
United States
What the Republican party knows, but isn't saying…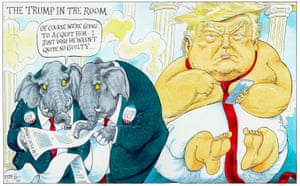 Donald Trump's impeachment. Illustration: Chris Riddell
The US Senate has voted against calling witnesses and collecting new evidence in the impeachment trial of Donald Trump, clearing the way for a near-certain acquittal. The Republican-controlled Senate voted 51-49 to block the Democrats' drive to hear testimony from witnesses including former national security adviser John Bolton. Only two Republicans, Mitt Romney and Susan Collins, supported the motion. Senate minority leader Chuck Schumer called the result a 'tragedy on a very large scale'.