05 Feb
English Online International Newspapers
Nearly all of these are English-edition daily newspapers. These sites have interesting editorials and essays, and many have links to other good news sources. We try to limit this list to those sites which are regularly updated, reliable, with a high percentage of "up" time.
Recommended:

Human Rights Watch says 138 Salvadorans were murdered from 2013 to 2019 and 70 others were abused or sexually assaulted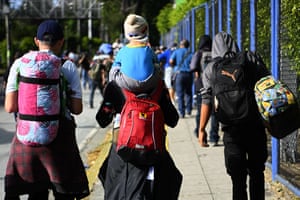 A Salvadoran family migrants start their journey towards the United States in San Salvador on 20 January 2020. Photograph: Marvin Recinos/AFP via Getty Images
At least 200 Salvadoran migrants and asylum seekers have been killed, raped or tortured after being deported back to El Salvador by the United States government which is turning a blind eye to widely known dangers, a new investigation reveals.
Human Rights Watch has documented 138 deported Salvadorans murdered by gang members, police, soldiers, death squads and ex-partners between 2013 and 2019. The majority were killed within two years of deportation by the same perpetrators they had tried to escape by seeking safety in the US.
El Salvador, the most densely populated country in Central America with just over 6 million citizens, has one of the world's highest rates of homicide and sexual violence. In addition, almost 11,000 people were registered missing during the last decade – more than the number of people who disappeared during the 1979-1992 civil war.
Authorities are largely ineffective in protecting the population from this violence, which is often perpetrated by street gangs which have 60,000 or so members across the country.
Amid widespread terror and impunity, the number of Salvadorans fleeing has soared, with asylum applicants in the US increasing by almost 1,000% in five years to 60,000 in 2017, according to UN figures.
The dire security situation is well documented, but despite this, the US continues to deport Salvadorans to face abuse and even death, according to HRW.
For instance, 17-year-old Javier escaped gang recruitment in 2010 and sought asylum in the US where his mother Jennifer had already fled. His asylum application was rejected, and Javier was deported in early 2017, aged 23. Four months later he was killed by members of the Mara Salvatrucha-13 gang.
"The United States has to have known this was happening because the cases were publicly reported and more importantly because Salvadorans make it clear in asylum applications that this is their reality. But this reality is ignored or not believed by US authorities," said Elizabeth Kennedy, co-author of the report.
International law prohibits the US from returning anyone to a country where they face serious risks to their lives or safety.
About three-quarters of the 1.2 million Salvadorans living in the US without citizenship lack papers or hold a temporary legal status making them vulnerable to deportation. Between 2014 and 2018, the US deported 111,000 Salvadorans, and granted asylum to just 18.2% of applicants – the lowest rate in the region.
Deportations – and violence against deportees – is not a new phenomenon. But the approval of asylum claims plummeted since the Trump administration rolled out a series of hostile policies including Remain in Mexico – officially known as Migration Protection Protocols – and imposed tight restrictions on gender-based and gang-related grounds for asylum.
"The attack on asylum is unique in the Trump administration, which has put even more Salvadorans – and others – at risk of deportation, and made it much less likely that they are able to even present their case to get effective protection," said Kennedy.
HRW researchers tracked and verified hundreds of press reports, and conducted 150 interviews with deportees, surviving family members, government and security officials, and US immigration attorneys.
The actual number of killings and attacks is probably significantly higher than reported as most crimes in El Salvador go unreported, state violence are covered up, and it's too dangerous for journalists to enter some neighbourhoods.
Alison Parker, managing director of HRW's US programme and co-author of the report, said: "Salvadorans are facing murder, rape and other violence after deportation in shockingly high numbers, while the US government narrows Salvadorans' access to asylum and turns a blind eye to the deadly results of its callous policies."

News comes as Hong Kong says it will quarantine all people coming from mainland China
The death toll from coronavirus is approaching 500, it was confirmed on Wednesday, as Chinese media reported that a baby had been diagnosed with the virus just 30 hours after birth, the youngest case recorded so far.
More than 24,500 people have now been infected globally, including the baby born in Wuhan, the centre of the outbreak. The baby's mother had tested positive for the virus before she gave birth, according to the Chinese state broadcaster CCTV.
Facing growing pressure from striking health workers, Hong Kong's leader, Carrie Lam, has stepped up measures to prevent the spread of the virus. From Saturday, all people entering from the mainland, including Hong Kong residents, will be required to undergo 14 days of quarantine, she said. Thousands of doctors and nurses have gone on strike demanding that the border with the mainland be completely shut.
On Wednesday, it was confirmed that 10 people on board a cruise ship in Japan had also tested positive, prompting authorities to instruct all passengers to remain inside their cabins. Thousands of people on the Diamond Princess face spending the next fortnight stuck off the Japanese port of Yokohama, as officials attempt to prevent further infection.
The ship had been prevented from sailing on Monday after an 80-year-old passenger who had travelled on the vessel late last month was found to have the virus after he arrived home in Hong Kong.
Of a further 273 people on board who have since been tested, 31 results had come back and of those 10 were positive, Japan's health minister, Katsunobu Kato, said on Wednesday. It is not clear whether more tests would be carried out. None of the 10 infected people – three each from Japan and Hong Kong, two Australians, one American and one Filipino crew member – had severe symptoms, public broadcaster NHK said.
Separately, health checks began on 1,800 passengers and crew on a second cruise ship docked in Hong Kong, after 30 staff members reported symptoms including fever, according to Reuters.
An evacuation flight sent by the British government to Wuhan is expected to leave in the early hours of Sunday morning local time, and land at RAF Brize Norton. A total of 165 Britons and their dependents remain in the wider Hubei province.
The US state department has said it may be staging additional evacuation flights on Thursday, while Japan said it would send a fourth chartered flight to bring back about 200 passengers.
On Wednesday, charter planes sent by Thailand and New Zealand both returned home, while Russia and Uzbekistan also evacuated hundreds of people.
On the Diamond Princess, passengers were told on Wednesday morning to remain in their rooms. Even before the announcement, most people had been staying isolated, said David Abel, a British passenger who has been on the ship for more than two weeks with his wife. "It was like a ghost ship. There were a few passengers at the bars having a drink, but it really was empty compared to how it had been over the past few days," he said.
Now, he added, people were not permitted to open their doors to the corridor. "They bring food to us – it's a knock on the door. For the first time ever, the crew are masked up," added Abel.
The couple were due to fly home to the UK on Monday, but had to cancel their flight after they were forbidden from leaving the ship.
World Politics
United States
Republican senator says it is 'the most difficult decision' he's faced

Help us cover the critical issues of 2020. Consider making a contribution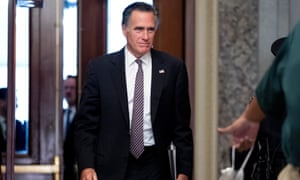 Mitt Romney in Washington DC, on 3 February. Photograph: Michael Reynolds/EPA