18 Feb
English Online International Newspapers
Nearly all of these are English-edition daily newspapers. These sites have interesting editorials and essays, and many have links to other good news sources. We try to limit this list to those sites which are regularly updated, reliable, with a high percentage of "up" time.
Recommended:

Explorer says halting imports would recognise the devastating impact of colonialism on wildlife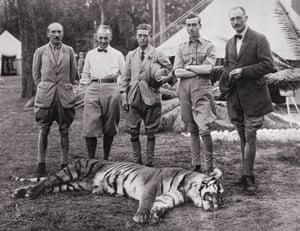 The then Prince of Wales, centre, poses with a tiger he shot on a hunting expedition in Nepal in 1922. Sir Ranulph Fiennes says trophy hunting was influenced by the British empire. Photograph: Underwood Archives/Getty Images
Banning the import and export of big game hunting trophies would recognise the destructive impact European powers have had on wildlife in former African and Asian colonies, Sir Ranulph Fiennes has said.
Speaking to the Guardian, the veteran British explorer said hunting endangered species such as rhinos, elephants and lions to keep their body parts as trophies should be viewed with the same scepticism as Chinese traditional medicine in terms of the damage it does to biodiversity.
The 75-year-old explorer, who spent a large part of his childhood in South Africa, has called for trophy hunting to be "stopped country by country" and said efforts to halt the extinction of wildlife around the world were hypocritical while big game hunting was still allowed.

Reflecting on his early years in Cape Town and the influence of the British empire on trophy hunting, Fiennes said: "Just as much as the Belgians in the Congo and the French elsewhere, they unleashed the plague of persecuting animals – not like the locals did to eat, but purely for the pleasure of killing. That started the devastating damage to many, many wonderful species."
Comparing trophy hunting with the demand for ingredients such as powdered rhino horn in traditional medicine in Asia, he added: "It's not medically proven in any way. And yes, it goes on. China is particularly guilty, as are South Korea and many other countries in that are
"You've got the empire lot and the weird medical quack lot both going on to this current day and it's got to be stopped country by country. We can stop it in the UK at least and thereby feel slightly less guilty because of our ancestors."
Fiennes's comments come during a consultation by the British government on applying controls to trophy hunting, including a proposal to ban imports, that was laid out in the Queen's speech. In the wake of the death of Cecil the lion in 2015, France, Netherlands and Australia introduced bans on the import of lion trophies.
Last year, the Guardian revealed lion bones, leopard skulls and an ottoman chair's elephant leather were among the 74 rare animal body parts legally brought into the UK in 2018.
Under international rules overseen by the Convention on International Trade in Endangered Species of Wild Fauna and Flora (CITES), trophies can be moved around the world if they do not affect the survival of a species.
Fiennes said: "Bearing in mind that climate change is helping to remove animals and in 50 years time probably humans as well, now is the time for us to get into a position without being hypocritical.
"We are all hoping that Boris will see that cruelty is what we're talking about – bullying bastards are involved and people who are vain sticking lovely dead animals on their walls."
In America, Donald Trump has previously spoken out against big-game trophy hunting despite Donald Trump Jr being a keen hunter. A week-long "dream hunt" with the US president's son was auctioned off earlier this month at an annual trophy hunting convention organised by Safari Club International (SCI), where it went for $150,000. Another lot offered the chance to shoot an elephant on a 14-day trip to Namibia.
Supporters of trophy hunting such as SCI argue that the practise supports conservation efforts for endangered wildlife. The organisation said it had written to the governments of Botswana, Mozambique, Namibia, South Africa, Tanzania, Zambia and Zimbabwe in relation to the proposed trophy hunting import ban in the UK.
When contacted by the Guardian about the trophy hunting consultation that ends on 25 February, a Defra spokesperson said: "Following the pre-election and Christmas periods, we are extending the trophy hunting consultation by one month to ensure all interested parties are able to have their say."
Permit issued after meeting with country's president

Argali sheep considered national treasure in Mongolia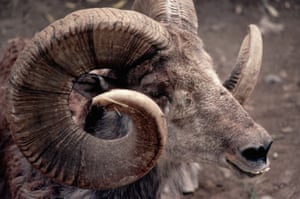 Argali sheep are a national treasure in Mongolia. A permit is required for their killing, which Donald Trump Jr is said to have obtained retroactively.
Photograph: Galen Rowell/Getty Images
On a hunting trip to Mongolia earlier this summer the US president's son Donald Trump Jr killed a rare species of endangered sheep. A permit for the killing was retroactively issued after Trump met with the country's president, according to new reporting from ProPublica.
Trump was accompanied by security from both the US and Mongolia on the trip, the outlet reported. The argali sheep, with its large horns, is considered a national treasure there, and permission to kill one is "controlled by an opaque permitting system that experts say is mostly based on money, connections and politics".
In between the killing and the issuing of the permit the month after he left the country, Trump is said to have met with the president, Khaltmaagiin Battulga, suggesting the possibility of special consideration being given to the son of the US president.
"Trump Jr shot his argali at night, using a rifle with a laser sight, the guides said," according to ProPublica. "He stopped the local hunting guides from dismembering it at the kill site, instead instructing them to use an aluminum sheet to carry the carcass so as not to damage the fur and horns, said Khuandyg Akhbas, 50, one of the guides. He also killed a red deer, which similarly required a permit.
In order to import trophies of animals on the endangered species list, a US hunter must show that its killing would be beneficial overall to the species at large. In 2017, the Trump administration pushed back against such restrictions on trophy hunting from the Obama era before reinstating the ban. A court ruling found thereafter it was done improperly, allowing imports to continue.
World Politics
United States
Judges will meet to address alarm over the president intervening in politically sensitive cases
A national association of federal judges has called an emergency meeting to address growing concerns about the intervention of Donald Trump and justice department officials in politically sensitive cases, according to US media reports.
Cynthia Rufe, a Philadelphia US district judge who heads the independent Federal Judges Association, which has more than 1,100 members, told USA Today the group "could not wait" until its spring conference to discuss the matter.
"There are plenty of issues that we are concerned about," Rufe told USA Today. "We'll talk all of this through."
The meeting comes after more than 2,000 former US justice department officials, including some of the top government lawyers in the country, called on the attorney general, William Barr, to resign in the wake of the Roger Stone scandal.
Alumni of the Department of Justice posted to Medium on Sunday a group letter that tore into Barr for "doing the president's personal bidding" in imposing on prosecutors the recommendation of a reduced sentence for Stone, a longtime friend of Trump who was convicted of lying to and obstructing Congress and threatening a witness in the Russia investigation.
Barr, the officials said, had damaged the reputation of the department for "integrity and the rule of law".
The spiralling constitutional crisis began last week when Barr imposed his new sentencing memo, slashing a seven- to nine-year proposed prison term suggested by career prosecutors. In the fallout, the four prosecutors who had handled the case resigned in disgust.
US district Judge Amy Berman Jackson, who is presiding over the Stone's case, has reportedly ordered both sides to participate in a conference call on Tuesday to discuss the status of the case.
Rufe voiced her strong support for Jackson, according to USA Today.
"I am not concerned with how a particular judge will rule," Rufe said. "We are supportive of any federal judge who does what is required."
It was not clear whether the FJA would issue a statement after the emergency meeting. The Guardian contacted the FJA for comment.
Candidate said in 2011 an 'enormous cohort of black and Latino men don't know how to behave in workplace'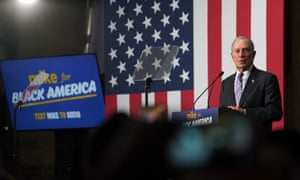 Democratic presidential candidate Michael Bloomberg attends a campaign event at Buffalo Soldiers national museum in Houston, Texas, on 13 February. Photograph: Go Nakamura/Reuters
Michael Bloomberg has been plunged into a new controversy over comments made on race, with the presidential candidate stating that there is an "enormous cohort of black and Latino males" who "don't know how to behave in the workplace" in a resurfaced 2011 interview.
The comments re-emerged as the multibillionaire media mogul faces scrutiny over his other past remarks on race and women, and as he secured a presence in the televised Democratic debates for the first time.
A NPR/PBS NewsHour/Marist poll published on Tuesday shows Bloomberg with 19% support among Democrats for the presidential nomination, a level of support meaning he will debate alongside other leading contenders in Las Vegas on Wednesday.
In the PBS interview, Bloomberg, who was then mayor of New York City, said he supported a program to boost employment prospects for minorities and lamented that "blacks and Latinos score terribly in school testing compared to whites and Asians. If you look at our jails, it's predominantly minorities."
Bloomberg said some progress had been made but "nevertheless, there's this enormous cohort of black and Latino males, age, let's say, 16 to 25, that don't have jobs, don't have any prospects, don't know how to find jobs, don't know what their skillsets are, don't know how to behave in the workplace where they have to work collaboratively and collectively."
The former mayor added that crime in New York City takes place in "minority neighborhoods", with victims and perpetrators of crime "virtually all minorities".
Bloomberg has achieved solid polling numbers despite several previous interviews and comments coming to light that have been viewed as highly problematic.
An audio clip of Bloomberg defending his "stop-and-frisk" approach to policing in New York from 2015 featured the former mayor attributing 95% of murders to "male minorities, 16 to 25". He added "You can just take the description, Xerox it and pass it out to all the cops".