24 Feb
English Online International Newspapers
Nearly all of these are English-edition daily newspapers. These sites have interesting editorials and essays, and many have links to other good news sources. We try to limit this list to those sites which are regularly updated, reliable, with a high percentage of "up" time.
Recommended:

The pick of the world's best flora and fauna photos, including chinstrap penguins and a koala up a tree
A badger in Yellowstone national park, Wyoming. Badgers were an alarmingly frequent topic of conversation in the White House during the early months of Donald Trump's presidency, according to Daily Beast's Lachlan Markay and Asawin Suebsaeng
Photograph: Barrett Hedges/Getty/National Geographic Image Collection RF
A purple swamphen ( Porphyrio porphyrio), also known as a purple coot, catches a frog on marshy wetland in a suburb of Colombo, Sri Lanka
Photograph: Chamila Karunarathne/EPA
World Politics
United States
Strong results in New Hampshire and Iowa helped the senator achieve a landslide victory. He is clearly in the lead to win the democratic nominations and take on Donald Trump in a presidential election. Sanders' rivals congratulated him but galvanised their supporters as they looked ahead to the South Carolina race and Super Tuesday in March, when 14 states will vote
.
Film mogul found guilty of a criminal sex act in the first degree and rape in the third degree, and acquitted on three further charges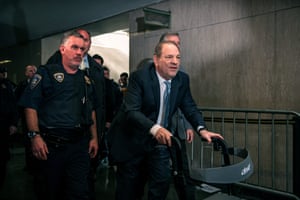 Harvey Weinstein arrives at court for his rape trial on 24 February 2020 in New York. Photograph: Scott Heins/Getty Images
Harvey Weinstein, the fallen titan of Hollywood whose sexual abuse of aspiring young female actors sparked the #MeToo movement, has finally been brought to justice after a New York jury found him guilty.
The jury of seven men and five women at the New York supreme court took five days to reach their verdict. They found the defendant guilty of a criminal sex act in the first degree for forcing oral sex on the former Project Runway production assistant Miriam Haley in 2006.
The count carries a minimum prison sentence of five years and a maximum of up to 25 years.
The jury also convicted Weinstein of rape in the third degree. This relates to him raping a woman the Guardian is not naming, as her wishes for identification are not clear, in a New York hotel in 2013. This count carries a maximum sentence of four years in prison and no minimum, though it requires Weinstein to register as a sex offender.
Weinstein was acquitted of three further charges, including the two most serious counts of predatory sexual assault which carried a possible life sentence and an alternative count of rape in the first degree.
After the verdict Weinstein was handcuffed and remanded into custody ahead of sentencing on 11 March. His lawyers requested that he be kept in a jail infirmary while awaiting sentencing.
The movie mogul's epic fall from grace is now complete, toppled from the pinnacle of independent cinema where he helmed films such as Pulp Fiction and Shakespeare in Love, amassing a total of 81 Oscars. The glamorous Manhattan and Los Angeles lifestyle he once enjoyed will soon be replaced by a New York state prison cell.
The conviction marks the final comeuppance for a towering figure who wielded his power in the movie industry – as well as his commanding physical presence – over vulnerable young women seeking his help.
Though Judge James Burke cautioned the jury not to see the case as a referendum on #MeToo, Weinstein's conviction is certain to have far-reaching consequences for gender relations in the workplace, in Hollywood and far beyond. The world of powerful men who deploy their seniority as tools of sexual control is much less secure in its wake.
Calls for firing of Chris Matthews after widespread anger

Sanders, a self-proclaimed democratic socialist is Jewish
MSNBC host Chris Matthews compared Bernie Sanders' victory in the Nevada caucuses on Saturday to the Nazi invasion of France, spurring calls for his firing.
"I was reading last night about the fall of France in the summer of 1940 and the general, Reynaud, calls up Churchill and says, 'It's over,'" Matthews said on air on Saturday night.
"And Churchill says, 'How can that be? You've got the greatest army in Europe. How can it be over?' He said, 'It's over.'"
"So I had that suppressed feeling," Matthews also said.
Sanders, a senator from Vermont and self-proclaimed democratic socialist, is Jewish.
He won the Nevada caucuses easily, helping solidify his status as the frontrunner for the Democratic presidential nomination in a primary split between moderates and progressives. Sanders' win came in the wake of a strong showing in Iowa and victory in New Hampshire.
Matthews' words prompted widespread anger.
"Bernie is Jewish and his family was killed by the Nazis," tweeted David Sirota, a Sanders speechwriter and former Guardian contributor. "None of this is OK."
"This is absolutely disgusting on [Matthews'] part," tweeted Parker Molloy, editor-at-large at Media Matters for America. "Retire, get fired, whatever. Bottom line is that Matthews needs to be out of a job."
On air, Matthews said Republicans would disclose opposition research on Sanders that would "kill him" in the general election against Donald Trump.
"It looks like Bernie Sanders is hard to beat," Matthews said of the primary, adding: "I think it's a little late to stop him, and I think that's the problem."
MSNBC did not immediately respond to a request for comment.
And then there is the Jackass Chuck Todd
The McGlynn:

Chuck Todd has a problem…. he's not a journalist, and it shows in the way that he conducts himself. He certainly is the target of a lot of online criticism, but he has earned it. So of course he has to whine about it because he is not a journalist.