28 Feb
English Online International Newspapers
Nearly all of these are English-edition daily newspapers. These sites have interesting editorials and essays, and many have links to other good news sources. We try to limit this list to those sites which are regularly updated, reliable, with a high percentage of "up" time.
Recommended:

A Guest Editorial By Deniz Utlu
All those murdered by the Nazis are also victims of the state's failures — and of society's unwillingness to reflect on what happened. Listen inside yourself: What happened in your heart when the news about the racist mass killings in Hanau broke?
Flowers left behind by mourners at the scene of the murders in Hanau

Andreas Arnold/ dpa
It's already too late. Hanau is not an alarm to shake you into wakefulness, but rather the consequence of ignoring the shrill warning chimes of the last decade. It is too late because people are dead. There is no way to make this better again. Not today. Not tomorrow. Never. Nothing can bring them back, and no political measures taken now after the fact can change what has occurred.
A Turkish newspaper interviewed a young survivor in the hospital who introduced himself as Muhammet. He explained how he had been shot in the shoulder and fell onto another victim who was bleeding from the neck. He described how they lay tangled together. One beneath him. Others on top. The man wounded in the neck told him: "My brother, I can no longer feel my tongue. I cannot breathe. Say the prayer for me."
I didn't know the Turkish word that the young victim used for prayer: Kelime-i ?ehadet. I watched the video five times and called Turkish-speaking friends, because I wanted to understand what he was saying. He describes in the video how he and the other victim upon whom he lay cried out together for the others to say the prayer Kelime-i ?ehadet. But no answer came. They cried into the void: The others were already dead.
For those who would like to say this prayer to mourn these people as they had wished, the Turkish transcription of the Arabic verse available on the internet is as follows: E?hedü en la ilahe illallah ve e?hedü enne Muhammeden abdühü ve resulühü.
The least we can do now is to stand with the families of those who died. First and foremost this means — and it's a bitter pill that one even needs to mention this — that politicians, government organizations, and the media should not harass them, as they did for years with the relatives of victims of the National Socialist Underground (NSU). There should be a complaints office at the highest level of government for these relatives to report every incident of discrimination, every attempt to downplay or ignore, every impatience — for them to determine the relevance of their grievances and immediately receive aid. In addition, such solidarity must mean politically that it is their voices which matter now. Whatever they have to say: We must listen with sincerity.
These are things which would be self-evident in a unified and solidary society. But this is not a solidary society, but rather one which has never shown serious interest in breaking from the fascist continuity of this land.
It is a society which pathologizes Nazis wherever possible and downplays their violence, a society which bargains over every memorial to their victims—be it Amadeu Antonio in Eberswalde, one of the first victims of far-right violence after German reunification, or Halit Yozgat in Kassel, who was murdered by the NSU. A society which always sees hate and the potential for violence in others. In "others" who are construed discursively as "foreigners" and are retained this way for the projections of mainstream society. These are not foreigners. But it is a sign of one's own estrangement to view them as such. It's all been said before: Racism is deeply anchored in the mainstream of our society, and Nazis don't simply rain down out of a clear, blue sky in Germany.
They grew up here; they've found fertile pastures here on which to thrive. They could and they still can exist for years unchallenged in the underground scenes of this country: networking with one another, but also with the police, military and the domestic intelligence service that is supposed to be tracking them.
Was It Just Another Day?
All of this is already known. And yet the files on the NSU remain locked away and classified by Hesse's state domestic intelligence agency. So-called democrats gesticulate rhetorically — at least since the last parliamentary elections — to learn how to talk with Nazis, rather than learning how to listen to their victims. No, flowers and candles are not enough. Addressing racism is the great and urgent duty of this state. The entire security apparatus must be directed toward uncovering Nazi networks and providing maximum protection for those potentially threatened by their actions — no matter what resources this might require.
Every person murdered by Nazis in this country also dies because the state has not fulfilled its duty to protect them adequately and because the status quo of our society fails to reflect upon itself.
Every single individual can ask themself: What happened in your heart when the news from Hanau broke? Nothing? Something? What exactly? Apathy? Fear? Fear of what? Anger? Anger at what? Who felt empathy for the dead and for those who survive them? Who rubbernecked? Who was impatient? Who had no clue that anything happened at all? Did you talk about it in the office or was it simply just another day?
Teenage activist tells huge crowd: 'We will not be silenced because we are the change'
'We will not be silenced': Greta Thunberg joins young climate activists in Bristol – video
Tens of thousands of people, many of them children skipping school, braved heavy rain to join a climate strike headed by Greta Thunberg in Bristol city centre.
The vast crowd fell silent as the 17-year-old activist told them governments were acting like children and so it fell to young people to be "the adults in the room".
Police said there were more than 15,000 people at the Bristol Youth Strike 4 Climate event, while Thunberg estimated the figure as at least 30,000.
As Thunberg spoke, onlookers clambered on to bus shelters and up trees and hung out of windows to catch a glimpse.
Criticising governments and the media, she said: "Once again they sweep their mess under the rug for us – young people, their children – to clean up for them. We must continue and we have to be patient. Remember that the changes required will not happen overnight."
Thunberg arrived in Bristol by train and was driven to the climate strike in a red Nissan Leaf electric car.
Wearing a yellow raincoat and woolly hat – a look copied by some of her devotees – she took to the stage to chants of "Greta, Greta" from schoolchildren and teenagers.

Greta Thunberg among climate activists marching through Bristol. Photograph: Leon Neal/Getty Images
She told them: "We will not be silenced because we are the change, and change is coming whether you like it or not. This emergency is being completely ignored by the politicians, the media and those in power.
"Basically, nothing is being done to halt this crisis despite all the beautiful words and promises from our elected officials. So what did you do during this crucial time? I will not be silenced when the world is on fire."
Thunberg flagged up the recent decision by north Somerset council to oppose Bristol airport expansion as an example of what could be achieved if activists worked together.
The Swedish teenager went on to join protesters on a march through the city centre accompanied by a samba band. She waved at well-wishers and at one point consoled a child who was clearly overwhelmed by the experience.
Avon and Somerset police had warned of the potential for protesters to be hurt and urged parents not to allow children to go unaccompanied.
Bristol Cathedral, which sits on College Green, was ready to open its doors to anyone needing refuge but the organisers insisted they had put enough measures in place to make sure nobody was hurt.
Ash, along with other detritus, from Australia's fierce bushfire season is being washed into rivers by heavy rainfall, depriving the rivers of oxygen, killing fish and turning the waters an inky, silty black
World Politics
United States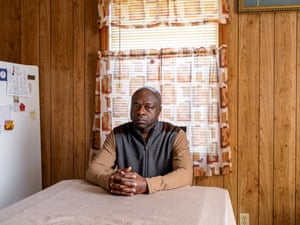 Alfonzo Tucker photographed at his home in Tuscaloosa. Photograph: Johnathon Kelso/The Guardian
I

n 2018, with the midterm elections approaching, Alfonzo Tucker Jr was particularly eager to vote. The mayor of Tuscaloosa, Alabama, Tucker's hometown, was running for governor, and the year before he had canvassed for Doug Jones, a Democrat running in a closely watched US Senate race.
But Tucker wasn't able to cast a ballot – state officials refused to even let him register. It wasn't until weeks later that he learned why he had been deprived of the right to vote.
He owed the state $4.
The US is founded on the promise of democracy and fair representation, but it is also the country where minorities are frequently disenfranchised for political gain. Among the most vulnerable are millions of Americans, disproportionately African Americans, like Tucker, who have been entangled in America's racially biased criminal justice system, and losing civil liberties like voting as a result.
The barriers facing Americans like Tucker, advocates say, are modern adaptations of poll taxes and other devices which were designed to keep people from the voting booths during the Jim Crow era – when white politicians used the law to curb the civil rights of African Americans. Alabama is one of 30 states that requires people with felony convictions to pay back the financial obligations associated with their sentence before they can vote again.
Tucker's case is particularly glaring. He lives less than a hundred miles north-west of Selma, the birthplace of the voting rights movement in America. This week, civil rights leaders are commemorating the 55th anniversary of the Selma to Montgomery marches led by Martin Luther King Jr and civil rights activists as they protested against laws preventing African Americans from voting. Many were brutally beaten in Selma during the protests.
The specific policy that had ensnared Tucker dates back to the turn of the 20th century when Alabama leaders, openly seeking to preserve white supremacy, stripped anyone convicted of a crime of "moral turpitude", among other offenses, of the right to vote.
"What is it that we want to do? Why, it is within the limits imposed by the federal constitution, to establish white supremacy in this state," John Knox, the chair of the convention, said at the time. "If we would have white supremacy, we must establish it by law – not by force or fraud," he added.
Tucker said the legacy of that discrimination affects the lives of people like him today.
"I read about the challenges during the 60s, 50s, that black people had to overcome just to vote," Tucker said. "It's the same thing going on in 2020."
Tucker, who sometimes goes by Zo, speaks softly and deliberately. He has lived in Tuscaloosa his whole life, now in a modest house 10 minutes outside of downtown. He says he would have left the city where he grew up, but never had the money.