09 Apr
A Foreign Perspective, News and Analyses
Nearly all of these are English-edition daily newspapers. These sites have interesting editorials and essays, and many have links to other good news sources. We try to limit this list to those sites which are regularly updated, reliable, with a high percentage of "up" time.
Recommended:
Revealed: federal support to research centers cut off as scientists fear years of successful work will go 'down the drain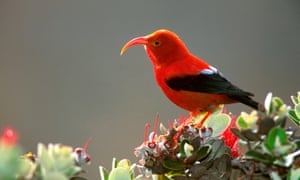 Work by one Landscape Conservation Cooperative helped the i'iwi, an endemic Hawaiian honeycreeper, listed as 'threatened' under the federal Endangered Species Act. Photograph: Jack Jeffrey/AP
Scientists and officials around the US have told the Guardian that the Trump administration has withdrawn funding for a large, successful conservation program – in direct contradiction of instructions from Congress.
Unique in scale and ambition, the program comprises 22 research centers that tackle big-picture issues affecting huge swaths of the US, such as climate change, flooding and species extinction. They are known as Landscape Conservation Cooperatives – or were, because 16 of them are now on indefinite hiatus or have dissolved.
"I just haven't seen anything like this in my almost 30 years of working with the federal government," said a scientist at the Fish and Wildlife Service who worked for one of the LCCs and wished to remain anonymous, because federal employees were instructed not to speak with the Guardian for this story. "There is this lack of accountability."
"Congress approved $12.5m for the existing 22 landscape conservation cooperatives," said Betty McCollum, chair of the House interior-environment appropriations subcommittee, at a recent hearing with an interior department official. "[But] we are hearing disturbing reports from outside groups and concerned citizens that the LCC program is being altered and may not receive any federal funding."
McCollum requested a full accounting of the situation so her committee could investigate.
The LCCs were established under the Obama administration in 2010 and staffed by the Fish and Wildlife Service, and appeared to be achieving their goals. In Hawaii, a center found that many native Hawaiian forest birds would not have any suitable habitat remaining by the end of the century, which helped get one of the birds listed as "threatened" under the federal Endangered Species Act. In flood-prone areas of the Gulf coast, work by an LCC has resulted in more residents getting access to flood-insurance discounts. Another created the "California Climate Commons", a website that aggregates studies, data visualizations and maps on how climate change will affect the state.
"No other federal program is designed to address landscape conservation needs at a national scale" in this way, according to a 2016 review by the National Academy of Sciences.
Donald Trump made it clear from the beginning that the LCCs – and science funding in general – were not a priority for his administration. His first budget proposal as president eliminated funds for the LCCs, and for other applied research programs run through the interior department. Ensuing budget requests followed the same pattern.
But Congress decides the federal budget, and it can disregard a president's proposals. It has consistently rejected these cuts. In 2017, a consortium of NGOs, state fish and wildlife agencies, and tribal groups came together to convince Congress that LCCs were crucial. The Congress for American Indians passed a resolution in support of the LCC network, stating that "they have played an important role in advancing western science and traditional knowledge with our local communities that are continually struggling to adapt to increasingly unpredictable and dangerous environments due to climate change".
These petitions were successful and since then Congress has continued to fund LCCs at the same level – about $12m.
Even so, in 2017 LCCs across the country began to receive the news that they would no longer receive federal support.
"With this administration, very few things come out on email or on paper. There's very little paper trail. It's just, this is the way it's going to be," said another Fish and Wildlife Service scientist who worked for one of the LCCs.
The scientist said that federal support for the LCC program appeared to dry up after the start of an unprecedented political review of scientific research at the interior department, of which the Fish and Wildlife Service is a part. It was led by Steve Howke, a high school friend of the former interior secretary Ryan Zinke. When this review began, said the Fish and Wildlife Service scientist, "it was known that nothing associated with LCCs, would be funded" and they "basically had to kind of wind everything down".
There was also resistance to the centers within the interior department, several scientists associated with the LCCs said, because some officials did not like the loss of control that came with their collaborative approach.
"For most of us in the program, it was pretty disappointing. We put a lot of blood, sweat and tears into getting to where we were," says Greg Wathen, the former coordinator for the Gulf Coastal Plains and Ozark LCC. "I always felt like we were right on the cusp of making some real good progress."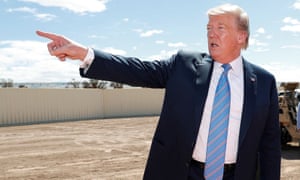 Donald Trump has made it clear that science funding is not a priority for his administration. Photograph: Kevin Lamarque/Reuter
"That kind of architecture is now lost, and takes time to build up and it takes training the people and positioning the resources," he said. "We've lost time, we've lost money, and we've lost momentum."
According to information compiled by the FWS and shared confidentially with the Guardian, six LCCs are on hiatus, and 10 have officially dissolved. Another six continue to operate thanks to support from other sources. The California LCC is now hosted and funded by the state, for instance, and the Aleutian and Bering Sea Islands LCC in Alaska is now run by the Alaska Conservation Foundation.
A Fish and Wildlife Service representative conceded that it "no longer provides dedicated staff, administrative functions and funding for the Landscape Conservation Cooperatives (LCCs)".
The first anonymous scientist is in despair. "I'd say there could be five to six years [of work] down the drain."
More On The Environment:
World Politics
Israel
Main rival Benny Gantz tells voters the prime minister is 'not an irreplaceable legend'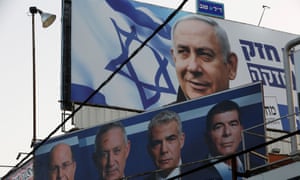 A Likud party election campaign billboard with an image of Benjamin Netanyahu is seen above a billboard featuring Benny Gantz, leader of Blue and White party, in Petah Tikva, Israel. Photograph: Nir Elias/Reuters
Israelis have begun voting in a tight election race viewed as a referendum on Benjamin Netanyahu, who hopes to extend his decade-long stretch in power to become the country's longest-serving prime minister.
Tainted by accusations in three separate corruption cases that he denies and will have to fight if he wins, the 69-year-old energised his ultranationalist rightwing base in recent days, vowing to envelop Israeli sovereignty over Jewish settlements in the occupied West Bank and end dreams of a Palestinian state for good.
His main rival, the former army chief Benny Gantz, has sought to capitalise on anxiety over where he accuses Netanyahu of taking the Jewish state: poisonous, divisive politics; a battered judiciary; a leader focused on his own survival. In the run-up to the election, Gantz said Netanyahu was "not the messiah, nor an irreplaceable legend".
More than 6.3 million people are eligible to vote at polling stations that will close at 10pm (8pm BST) on Tuesday, after which exit polls will be reported. The party with the most seats in the Israeli parliament, the Knesset, will be tasked with forming a coalition government.
Gantz voted in his hometown of Rosh HaAyin, central Israel, alongside his wife, Revital, calling on Israelis to vote and "take responsibility" for their democracy.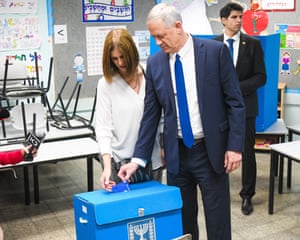 Benny Gantz, the Blue and White leader, casts his vote alongside his wife, Revital. Photograph: Anadolu Agency/Getty Images
"Go to vote. Choose whoever you believe in. Respect each other and let us all wake up for a new dawn, a new history," he said.
Netanyahu cast his ballot shortly after in Jerusalem, alongside his wife Sara, urging all Israelis to vote, saying it was a "sacred act".
Final opinion polls, released four days ago, showed mixed results. Netanyahu's Likud party was slightly behind Gantz's Blue and White, but had a better chance of forming a coalition with allies contending seats with far-right and religious electorates.
Those include Jewish Power, admirers of a deceased militant exploiting anti-Arab sentiment, and Zehut, an ostensibly libertarian party fighting for cannabis legalisation but one that also wants to forcefully take control of religious sites sacred to Jews and Muslims in the Old City of Jerusalem.
In preparation for election day, the military said it had closed all crossings with the West Bank, where more than 2.5 million Palestinians live under Israeli military rule but cannot vote, and Gaza, where 2 million more live under blockade.
Inside Israel, where a fifth of the population is Arab and has the right to vote, there have been calls for an election boycott, a longstanding symbolic protest against the country's treatment of Palestinians.
The election has been marred by overtly anti-Arab campaigns waged by major political parties. Last year, Israel passed a law affording Jewish people the "unique" right to self-determination that many Palestinian citizens of Israel said formally acknowledged their status as second-class citizens.
Weeks from election day, Netanyahu exacerbated those fears. "Israel is not a state of all its citizens," he wrote online. "Israel is the nation state of the Jewish people – and only it."
Tuesday morning's Hebrew media framed the election as a referendum on Netanyahu. "Bibi or not Bibi, that is the question" was the headline of an op-ed in the leading Yedioth Ahronoth newspaper.
Its author, Sima Kadmon, wrote a takedown of the prime minister, asking whether Israelis even had the imagination to vote for someone else.
"Have we lost faith in the possibility that things can be different? That this isn't a decree of fate? That this need not be the reality we live in – the cacophony, the culture of lying, the endless scandals, the incitement and sowing divisions, the reign of power and hedonism?"
United States
The former president says he's worried about 'purity' tests in the Democratic party. What he's really worried about is his surrogates losing control of the party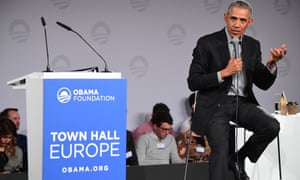 Former president Barack Obama during a town hall meeting at the European School of Management and Technology (ESMT) in Berlin, on 6 April. Photograph: Clemens Bilan/EPA
B

arack Obama is worried about the Democratic party. This weekend, he told a crowd at an Obama Foundation event in Berlin that the party is becoming a "circular firing squad" targeting those "straying from purity" on certain issues.
Leading figures around the party have indeed moved to the left since he left office two years ago. Thanks in no small part to the Bernie Sanders campaign and the rise of Alexandria Ocasio-Cortez, Medicare for All, free public higher education, a $15 minimum wage, and action on climate change have become mainstream positions.
The self-described "political mainstream" hasn't caught up to this new reality, however. Obama's former vice-president, Joe Biden, hasn't announced his presidential candidacy yet, and is getting attacked not just for his behavior toward women but for a decades-long record that includes support for military interventions, mass incarceration, immigrant deportations, and more. The subtext of Obama's remarks is this undermining of Biden.
Are things getting meaner? Maybe, the internet is a pretty terrible place. But few campaign seasons were more vitriolic than the 2008 Democratic primaries. Hillary Clinton called Obama "elitist and out of touch", who couldn't reach "hard-working Americans, white Americans". For his part, Obama campaign's negative ads about Clinton were recirculated by Trump in 2016.
By comparison, Bernie played softball in 2016. But he certainly gave voice to grassroots anger. People are fed up with the status quo, and they're starting to demand more of their politicians. Incumbents used to moving to an imaginary center are running up against the fact that their "center" is an illusion. When most Americans support Medicare for All and a jobs guarantee, when they want an end to overseas wars, welcome unions, and even are starting to get comfortable with the idea of socialism, is it really "centrist" to stubbornly oppose all these things?
The Democratic party has been transformed. Formerly fringe ideas are now winning ones
Of course, Obama retorts, "You have to recognize that the way we've structured democracy requires you to take into account people who don't agree with you, and that by definition means you're not going to get 100% of what you want." But the real problem the Democrats faced in 2016 wasn't that they were too strident in putting forward a purist progressive vision. Rather, Clinton ran a campaign mostly about shielding Americans from the nightmare of Trumpism and not presenting dreams for the future. When people say they have been falling behind for the last 30 years and your retort is: "I can fix that, I'm experienced, I've been in politics for 30 years," you might end up losing an election.
This primary, Sanders and Warren are actually giving people a positive, comprehensible agenda to vote for, one that can speak to the justified rage of so many who are not willing to settle for a world destroyed by climate change, another year without basic healthcare, or continued precarious employment feel. For Obama, "We have to be careful in balancing big dreams and bold ideas with also recognizing that typically change happens in steps." But incrementalism during the Obama years was small steps to nowhere, ones that far from cementing a new progressive majority actually helped open the door to the populist right.
Obama says that "if you skip too many steps you end up having bad outcomes", but we're now seeing what happens when you go into a negotiation – like he did with the health insurance companies – with an already compromised position. Bernie says "Medicare for All" and he means it, but even if you only wanted a public option, wouldn't that be a better position to start from anyway?
Like those who think "Uncle Joe" Biden is our only way to stop Trump, Obama is stuck in the past. The Democratic party has been transformed. Formerly fringe ideas are now winning ones. Obama and the centrist Democrats he backs are something like the old "Rockefeller Republicans" of the 70s and early 80s. They didn't realize how out of step with the times they were until it was too late.
Like Reagan did in 1980, the stage is set for Bernie Sanders to fundamentally realign the Democratic party, wielding together a coalition that can unite working people across the country behind a social democratic agenda for jobs and justice. Barack Obama isn't afraid of that kind of Democratic party losing to Trump. He's afraid of it winning.
Bhaskar Sunkara is the founding editor of Jacobin magazine and a Guardian US columnist. He is the author of The Socialist Manifesto: The Case for Radical Politics in an Era of Extreme Inequality