17 Mar
English Online International Newspapers
Nearly all of these are English-edition daily newspapers. These sites have interesting editorials and essays, and many have links to other good news sources. We try to limit this list to those sites which are regularly updated, reliable, with a high percentage of "up" time.
Recommended:

Columnist
Corona, corona, corona. You wouldn't know whether to laugh, scream, or stockpile cyanide pills in case the mass outbreak of stupidity becomes too intolerable, no matter how much you self-isolate.
No loo roll left in supermarkets — what are we going to do, mummify ourselves in three-ply? Stuff it in our head cavities to ward off airborne microbes? Build an Andrex fortress to hide inside?
What nobody seems to have been stockpiling is common sense or perspective. A woman in China was hospitalised after eating 1.5kg of raw garlic to boost her immunity; the poor love must have muddled her microbes with her vampires. Maybe she should have tried echinacea, or basic sanity. Maybe she could consider the following: Corona virus has so far killed less than 4,000 people.
A 100-year-old man in China has already made a full recovery. Yet globally, starvation kills around 25,000 people every day. Guess which one gets 24/7 media coverage and has caused stock markets to crash? Hint — it's not the 9 million plus who die annually of hunger, but hey, let's all lose our minds about the corona virus and scare the crap out of our kids as we're at it.
Corona virus is not the greatest threat to the continued existence of humanity, not by a long shot — that'll be climate change. Imagine if the media got stuck into climate change with the same fervour and intensity, via constant updates, banner headlines, death tolls, risk factors, demands to know what steps political leaders are taking, and making sure everyone takes it so seriously that Greta Thunberg could take an afternoon off.
Go to a movie, put her feet up.
Obviously Corona virus is frightening because it threatens not only medically vulnerable people, but our idea of what the world — that is, our safe wealthy developed world — should look like.
It hasn't been our finest moment. Xenophobia, blame, recrimination, fear-mongering, hysteria, greed, selfishness, stupidity – corona virus has activated them all. Politicians remain blustering, clueless, fearful – do nothing and be accused of inaction, shut everything down and be accused of over reaction. Or do a Trump, and blame Europe. (He has been exposed to it. Maybe he can bore it to death).
As a freelancer, I will continue with my long term policy of remote working. Combined with stringent social distancing and self isolation, and I can almost forget that there are eejits out there panic buying bog roll.
Happy remote St Patrick's Day!
Jerusalem: Benny Gantz, the centrist former army chief battling to depose Prime Minister Benjamin Netanyahu of Israel, on Sunday won the endorsements of a narrow majority of lawmakers, earning him a fresh chance to form a government and break Israel's yearlong political deadlock.
The surprise majority for Gantz, 60, who earned the backing both of Arab lawmakers often accused of sympathising with terrorists and from ultranationalist lawmakers often called rabidly anti-Arab, puts him in a stronger-than-expected position to try to pry loose Netanyahu's 11-year grip on power.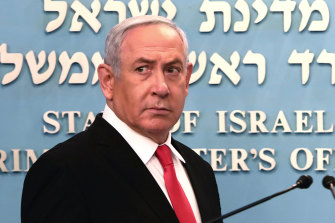 Prime Minister Benjamin Netanyahu at his Saturday announcement of a coronavirus lockdown.

Credit:

AP
Israel's President, Reuven Rivlin, said he would formally assign Gantz, of the Blue and White party, the mandate to form a government at midday Monday.
But Rivlin also summoned Gantz and Netanyahu, 70, to his residence Sunday night for an "urgent conversation" about the possibility of bringing their parties together in a national unity government to contend with the emergency posed by the coronavirus pandemic. After about 90 minutes, Gantz and Netanyahu emerged and promised that their aides would continue the talks.
The momentous goings-on came on an extraordinarily tumultuous day. With much of the country grinding to a halt or stuck at home, Israeli citizens were still absorbing news of draconian measures that Netanyahu's caretaker government was considering to fight the virus, including an idea to deploy secret surveillance tools now used to hunt terrorists to identify people who should be quarantined.
Then, early Sunday, came word that the court system had been effectively shut down in a middle-of-the-night decree by Netanyahu's hand-picked justice minister, and that, a few hours later, Netanyahu's criminal trial on bribery and other corruption charges, which was set to open Tuesday, had been pushed off at least until late May.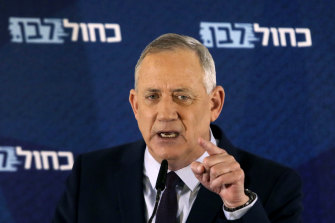 Blue and White party leader Benny Gantz.

Credit:

AP
The unexpected postponement set off a wave of criticism from Netanyahu's opponents. "We have the Italian mafia here, and how," Yariv Oppenheimer, a former director of Peace Now, wrote on Twitter.
"Courts and parliamentary operations must not be suspended, even in emergencies," said Nitzan Horowitz, leader of the left-wing Meretz party.
Netanyahu, Israel's longest-serving premier, is accused of bribery, fraud and breach of trust in three cases in which prosecutors say he traded lucrative official favours with Israeli media tycoons who rewarded him with expensive gifts and with obsequiously positive news coverage.
He failed on March 2 to win a new term outright after he again fell short of a majority in parliamentary elections, the third inconclusive ballot in less than a year.

Anti-Netanyahu forces led by Gantz won a slim majority in Parliament, but until a government is formed, Netanyahu's holdover coalition of right-wing and religious parties remains in charge.
But the caretaker government is wanting for public legitimacy, a problem that has become critical as Netanyahu has ordered drastic action to curtail the routines of daily life in response to the coronavirus.
As Israel's coronavirus caseload topped 200 Sunday morning, the government ordered the closing of all leisure venues, including cafes, restaurants, gyms, day care centres and cultural institutions. Public gatherings are limited to 10 people, and workers must work from home if possible. Netanyahu tested negative for the virus Sunday, officials said.
In a first, all 15 members of the combined slate of predominantly Arab parties, the Joint List, joined lawmakers from several Jewish parties in recommending Gantz to Rivlin.
Leaving the president's residence Sunday, Ayman Odeh, the Joint List's leader, said it had recommended Gantz in part out of concern for Israeli democracy. "We see fascism in the regime," he told reporters, "not in the society, but in the one who heads the government, Benjamin Netanyahu."
Among the Jewish parties backing Gantz was the seven-seat, ultranationalist party Yisrael Beiteinu, led by Avigdor Liberman, a onetime ally of Netanyahu who has made it his mission to end the prime minister's career.
Both Liberman and leaders of the Joint List had kept their intentions in doubt right up until their meetings with Rivlin.
The most surprising support for Gantz came from the three lawmakers belonging to Balad, an Arab-nationalist faction in the Joint List that opposes the idea of Israel as a Jewish state. Mtanes Shehadeh, the party's leader, said Balad had initially planned to abstain from recommending Gantz, but endorsed him "in order to topple the leadership of the largest generators of incitement against the Arab society and its leadership."
Gantz remains a great distance away from ousting Netanyahu. His ability to play hardball politics is constrained by the virus emergency and by an almost universal public aversion to a fourth election. And he will need to hold together his motley collection of supporters, who are anything but natural allies, in the face of an anticipated onslaught from Netanyahu and his defenders.
Still, in contrast to last fall, when he and Netanyahu each took a turn trying to form a government without success, Gantz holds important new advantages.
Crucially, he now has the backing of an absolute parliamentary majority, however thin. That gives Gantz the initiative, and his supporters say Netanyahu will have to either acquiesce to Gantz becoming prime minister or stand in the way — at a time when the public health emergency has created grave political risks for any lawmaker seen as obstructing the response to it.
Moreover, the funding crunch that is being felt by recipients of government largesse after more than a year without a national budget could eventually encourage even some of Netanyahu's staunchest allies — the ultra-Orthodox parties, whose constituents rely heavily on such benefits — to relent, supporters of Gantz said.
Gantz is said to prefer a unity government under his leadership in which Blue and White is joined by Netanyahu's secular, right-of-centre Likud party. The two parties, Israel's largest, would enjoy a healthy 69-seat majority in Parliament and, polls show, broad popular support. But Likud has adamantly rejected the idea until now, insisting that Netanyahu continue as prime minister in any deal.
With Rivlin assigning Gantz the mandate, however, Blue and White on Sunday signalled its intent to force a vote on a new speaker of Parliament, a key office now held by Netanyahu's Likud party. That would free Blue and White to appoint committee leaders and get Parliament up and running again, among other things to provide oversight to the Netanyahu government's response to the virus.
A new speaker would also allow Blue and White to control the legislative process — which could help it pressure Likud, for example by advancing legislation to impose term limits or other measures that could prevent Netanyahu from running if a fourth election becomes necessary.
The Joint List's endorsement of Gantz aside, Arab lawmakers are not about to join a new Israeli government: They are loath to share responsibility for the Israeli occupation of the West Bank or for future military action against their fellow Palestinians in Gaza, among other things.
But the prospect that the Joint List could side with Gantz in potential no-confidence votes, as Arab parties did for Yitzhak Rabin in the 1990s, could be helpful to Gantz in negotiating with other potential coalition partners.
For his part, Netanyahu worked feverishly Sunday to bolster his chances of holding on.
Shortly before the start of the party leaders' consultations with Rivlin, he announced that he had again asked Gantz to "join a national emergency government headed by me." He said he had proposed to lead such a government for two years and then to allow Gantz to take over as prime minister.
But opponents of Netanyahu have spurned his previous overtures about such a rotation agreement on the grounds that they do not believe he would keep a promise to step aside.
Gantz responded witheringly to the idea. "Netanyahu, let's not manipulate the public," he wrote on Twitter. "If you're interested in unity, why postpone your trial at 1 a.m. and send an 'emergency unity' outline to the press, instead of sending your negotiating team to a meeting? Unlike you, I will continue to support every appropriate governmental measure, leaving political considerations aside. When you get serious, we can talk."
Even before the postponement of Netanyahu's criminal trial, his opponents had accused him of exploiting the pandemic to consolidate his power and to try to force the establishment of a national unity government with himself at its head.
"Everyone who criticised us when we warned that we were turning into Erdogan's Turkey should acknowledge and internalise the cynical exploitation of the coronavirus crisis for the personal political interests of a defendant before a trial," Moshe Yaalon, another former army chief who is a leader of Gantz's party, wrote on Twitter just before midnight Saturday.
After the shutdown of the court system, Yaalon added: "Blue and White has enlisted to eradicate the coronavirus, unconditionally and without political interests. Blue and White cannot be complicit in the elimination of democracy in our country by a defendant running away from justice."
World Politics
United States
Of course I want him to choose a woman as his running mate. But his grand gesture feels more like pandering than policy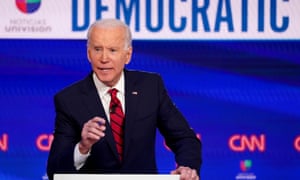 Joe Biden at a debate with Bernie Sanders on Sunday. Photograph: Kevin Lamarque/Reuters
Stacey Abrams? Kamala Harris? Elizabeth Warren? Nobody knows for sure whom Joe Biden will choose as a running mate if – as is almost certain – he wins the Democratic nomination, but we do know it will be a woman.
"I'll pick a woman to be vice-president," Biden promised during Sunday's presidential debate with Bernie Sanders. "There are a number of women qualified to be president tomorrow." While none of those eminently qualified women will be president any time soon, one lucky lady may have the privilege of playing second fiddle to a gaffe-prone white guy. To cement his position as intersectional male feminist of the year, Biden also promised to appoint an African American woman to the supreme court.
Don't get me wrong, I am pleased Biden will pick a female running mate. Apart from anything else, there is normally a vice-presidential debate, and I would love to see Mike Pence, who refuses to eat dinner alone with a woman other than his wife, get eviscerated by a member of the "second sex". However, Biden's reveal also made my eyes roll; it felt a lot like pandering. Representation is important – but not as important as policy. I am with Sanders, who did not commit to a female running mate, but said: "For me, it's not just nominating a woman; it's making sure we have a progressive woman."
Sadly, pandering gestures tend to be more politically effective than principled stances. Sanders says what he believes, not what will make an expedient soundbite. His uncompromising integrity is his biggest strength, but it is also his biggest flaw. It is the reason he has built a grassroots movement of devoted followers and it is the reason he will lose to Biden.
Arwa Mahdawi is a Guardian columnist
This entry was posted on Tuesday, March 17th, 2020 at 1:00 pm and is filed under General. You can follow any responses to this entry through the RSS 2.0 feed. Both comments and pings are currently closed.