24 Mar
English Online International Newspapers
Nearly all of these are English-edition daily newspapers. These sites have interesting editorials and essays, and many have links to other good news sources. We try to limit this list to those sites which are regularly updated, reliable, with a high percentage of "up" time.
Recommended:
A leopard in Gir national park, also known as Sasan Gir, in Gujarat, India
Photograph: Ajit Solanki/AP
World Politics
United States
Students invited back to Christian school as Falwell incorrectly said young people 'don't have conditions that put them at risk'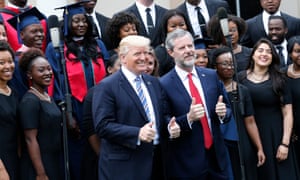 Donald Trump poses with Jerry Falwell Jr in front of a choir during commencement ceremonies in Lynchburg, Virginia, on 13 May 2017. Photograph: Steve Helber/AP
Up to 5,000 students will be allowed to return to Liberty University's campus after school officials confirmed the conservative Christian school based in Lynchburg, Virginia, will reopen this week.
Liberty's president, Jerry Falwell Jr, defied nationwide calls for mandatory school closures, inviting students to return amid a worsening coronavirus pandemic. Falwell is a major and vocal backer of Donald Trump and evangelicals are a core part of the president's support base.
Trump has in recent days appeared to balk at a growing US shutdown in the face of the virus and claimed the US would reopen soon – alarming many health professionals.
At Liberty residence halls will reopen, and despite most classes moving online, faculty members were directed to report to campus.
"I think we, in a way, are protecting the students by having them on campus together," Falwell said. Falwell then invoked a since disproven theory that young people "don't have conditions that put them at risk"
On Monday, Trump questioned whether restrictions recommended by health experts to curb the coronavirus outbreak were going too far, citing the outbreak's growing threat to US and global economies.
Despite health guidelines, Trump promised the country would "be open for business very soon".
Falwell, one of Trump's most loyal supporters, called the decision to reopen a "responsibility to students" to "enjoy the room and board they've already paid for".
Health experts rebuke suggestions to defy stay-at-home orders, including from the president.
Some opponents have even called for a nationwide general strike in response to the Texas lieutenant governor, Dan Patrick, implying to Fox News's Tucker Carlson that older Americans should not "ruin this great American dream" by resisting getting "back to work", something experts say puts them at risk.
Anthony Fauci, director of the US National Institute of Allergy and Infectious Diseases, has offered blunt contradictions of Trump's comments on the coronavirus. He told Science magazine Trump "could lead to some misunderstanding about what the facts are about a given subject".
One subject is the vulnerability of young people, despite Falwell's insisting they aren't at risk, data shows 20% of the hospitalized patients and 12% of the intensive care patients are millennials, or between the ages of 20 and 44.
Critics, including Liberty University faculty, lashed out at Falwell's decision. Marybeth Davis Baggett, an English professor, said Falwell was putting "the Lynchburg community", their "health and lives at risk".
"Liberty is not a bubble where the virus would be contained," she told the News & Advance, adding she refused to return to campus during the course of the pandemic.
How will the postponement of the 2020 Tokyo Olympics because of coronavirus affect an event thought to cost £10bn?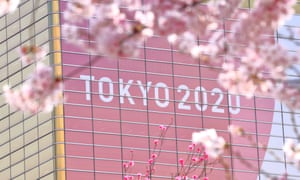 A banner for Tokyo 2020 on display in Asakusa. Coronavirus means the Games will take place next year, with a spring 'Cherry Blossom Games' one suggested alternative. Photograph: Aflo/Shutterstock
When will the Olympics now be held?
Among several options considered by the organising committee in recent days has been short-term postponements, by two months or even just one. That possibility has now been rejected, with the joint statement released on Tuesday by the IOC and the Tokyo organising committee saying the event will now commence on "a date beyond 2020 but not later than summer 2021". Shinzo Abe, Japan's prime minister, said his favoured option was "to postpone for about a year" but there has been some talk of holding a "Cherry Blossom Games" next spring. There are several obstacles to that happening: according to the Japanese Meteorological Agency, in 2019 the average temperature in Tokyo was a chilly 10.6C in March and 13.6C in April, and the first month in which they reliably exceed an outdoor-sport-friendly 20C is June; more important, the Olympics would struggle to attract star names from the NBA before their season ends in June, from European football before their season ends, presumably in May (with a rescheduled Euro 2020 to follow) and from golf if it is run at the same time as the US Open in June 2021 or the Open in July. World Athletics has already indicated its willingness to move the 2021 world championships, which were to be held in Eugene, Oregon in August.
What will they do about ticket sales?
Since last June tickets have been made available domestically, and to international fans through authorised resellers appointed by national Olympic committees, though they have often been bundled with travel, hotels or hospitality. As of 1pm GMT on Tuesday afternoon most, including Britain's Team GB Live and CoSport in the USA (CoSport also handles sales in Australia, Bulgaria, Croatia, Greece, Jordan, Norway and Sweden), were selling tickets and packages online as normal. Around 5.08m of the total 7.8m tickets have already been sold. The next phase of ticket sales, in which they would be available directly from the 2020 Tokyo Games to customers worldwide, was due to start in May but will now be rescheduled. Refunds are likely to be offered to those who have already bought tickets: when in February the decision was taken to move the marathons to Sapporo, 800km from Tokyo, all existing ticket holders were immediately offered refunds (though depending on the new timing of the Olympics, the marathons may now be moved back to Tokyo as originally planned).
What are the financial and logistical implications of the decision?
The total cost of the Tokyo Olympics has been put at almost £10bn and there were projections that an outright cancellation could cause Japan's GDP to shrink by 1.5%. Clearly, this potential impact has been mitigated by the postponement, but it will still cause major disruption both to finances and planning. Millions of hotel bookings will have to be rearranged and athletes' accommodation, much of which is contracted to fall into private hands in August this year, will either have to be requisitioned or rearranged.
Why can't they rename it Tokyo 2021?
So much has already been designed, printed or manufactured with the existing logo on – including around 5,000 medals, made in part from recycled consumer electronics – that a full-on renaming would be prohibitively wasteful and expensive.