11 Apr
A Foreign Perspective, News and Analyses
Nearly all of these are English-edition daily newspapers. These sites have interesting editorials and essays, and many have links to other good news sources. We try to limit this list to those sites which are regularly updated, reliable, with a high percentage of "up" time.
Recommended:
Assange arrested following the withdrawal of asylum by the Ecuadorian government
WikiLeaks founder taken into custody on US extradition warrant and for failing to surrender to bail
Police have forcibly removed the WikiLeaks founder, Julian Assange, from the Ecuadorian embassy in London and arrested him, after the Ecuadorian government withdrew asylum.
Assange, 47, was taken into police custody for failing to surrender to bail and on a US extradition warrant, after Metropolitan police officers were invited into the Knightsbridge embassy. He had taken refuge there for almost seven years to avoid extradition to Sweden, where authorities wanted to question him as part of a sexual assault investigation.
He was being held on Thursday on a warrant issued by Westminster magistrates court on 29 June 2012, when he failed to surrender to the court.
Footage showed Assange, heavily bearded, shouting and gesticulating and being carried out in handcuffs by plainclothes officers and put in a police van shortly after 10am.
Assange had refused to leave the embassy, claiming he would be extradited to the US for questioning over the activities of WikiLeaks.
Scotland Yard said: "He has been taken into custody at a central London police station where he will remain, before being presented before Westminster magistrates court as soon as is possible.
"The MPS [Metropolitan Police Service] has a duty to execute the warrant, on behalf of Westminster magistrates court, and was invited into the embassy by the ambassador following the Ecuadorian government's withdrawal of asylum."
Speaking to parliament, Theresa May thanked the Met and the Ecuadorian government and said: "this goes to show that in the United Kingdom no one is above the law".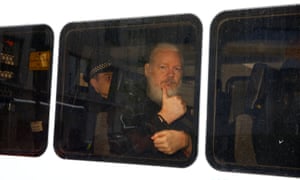 Julian Assange is seen in a police van after was arrested by British police. Photograph: Henry Nicholls/Reuters
The Home Office confirmed the US request for Assange's extradition was for an alleged "computer-related offence". A Home Office spokesperson said: "We can confirm that Julian Assange was arrested in relation to a provisional extradition request from the United States of America. He is accused in the United States of America computer-related offences."
Sweden's chief prosecutor, Ingrid Isgren, said in a statement the arrest was "news to us" and they were following developments. A preliminary investigation can be resumed as long as the suspected crime is not subject to the statute of limitation, she added. In this case, the suspected crime would be subject to statue of limitations in mid-August 2020.
The president of Ecuador, Lenín Moreno, said on Twitter: "In a sovereign decision Ecuador withdrew the asylum status to Julian Assange after his repeated violations to international conventions and daily-life protocols."
WikiLeaks said the Ecuadorian government had acted illegally in terminating Assange's political asylum "in violation of international law".
Outside the Ecuadorian embassy a group of reporters were interviewing an Assange supporter wearing a placard reading "free Julian Assange" around his neck.
Kyle Farren, 22, from Knightsbridge, said: "I think I might have arrived just as he was taken. He was taken at around 10.30.
"When I arrived there was three vans all parked out here and there was a semi-circle of police around the entrance, and a policewoman asked me to move on."
A police van filled with officers that was outside the door of the embassy left soon after the Guardian arrived. Across the road several dozen broadcast news journalists set up their cameras and lights. But only a single Assange supporter, Farren, remained outside, manning a shrine to the publisher and taking interviews with reporters from around the world.
An arrest warrant was issued for Assange in 2010 for two separate allegations – one of rape and one of molestation – after he visited Sweden for a speaking trip. He launched a legal battle against extradition to Sweden but when that failed entered the embassy in Hans Crescent and requested political asylum.
Elisabeth Massi Fritz, a lawyer for one of the two women who accused Assange, welcomed the arrest. "My client and I have just received the news that Assange has been arrested. That what we have been waiting and hoping for for almost seven years has now happened is clearly a shock to my client. We will do everything we can to ensure that the prosectors resume the Swedish preliminary investigation so that Assange can be extradited to Sweden and prosecuted for rape."
Assange's arrest comes one day after WikiLeaks accused the Ecuadorian government of an "extensive spying operation" against him, during which they claimed meetings with lawyers and a doctor inside the embassy over the past year were secretly filmed.
The arrest was welcomed by the foreign secretary, Jeremy Hunt, who tweeted: "Julian Assange is no hero and no one is above the law. He has hidden from the truth for years. Thank you Ecuador and President Lenín Moreno for your cooperation with the Foreign Office to ensure Assange faces justice."
The so-called Blue Dog Coalition of centrist Democrats want to prohibit federal deficit – and kill the Green New Deal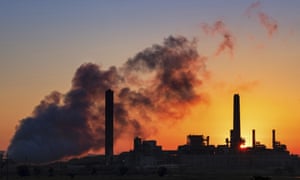 'There's nothing inherently dangerous about a growing deficit.' Photograph: J David Ake/AP
U

tah representative Ben McAdams, a Democrat, warned ominously this week that a "day of reckoning is coming". It's the kind of sober language typically used to describe a climate crisis which – if we continue on with business as usual – could end human civilization as we know it. McAdams, though, was describing a decidedly less grave threat, if it can be considered a threat at all: the federal deficit.
He and 26 other members of the so-called Blue Dog Coalition – centrist and fiscally-conservative Democrats – are pushing for a constitutional amendment that would prohibit the federal government from running a deficit if there isn't a war or recession happening. Social security and Medicare would be spared from the brutal spending cuts the amendment would bring about … but that's it.
At a time when scientists are calling for governments to adopt a "wartime footing" to address the existential threat of climate change, the proposal isn't just a stupid play into Republican hands. It's climate denial.
McAdams' proposal emerged after a lengthy fight between those so-called moderate Democrats and the 90 member Congressional Progressive Caucus over a proposed budget measure, which House Democratic leadership moved to cancel a vote on Tuesday afternoon amidst rising tensions. Progressive wanted more domestic spending and less for our already bloated military. Moderates – radically – want to curb spending overall.
And for what? There's nothing inherently dangerous about a growing deficit; vigilante bondholders are not going to come knocking on America's door threatening our sovereignty. And a country that issues debt in its own currency like the US is never going to face the kind of sadistic punishment the Troika visited upon Greece several years back. Deficits do matter, of course. But what's important isn't their dollar value. It's whether the things that public money is pouring into are actually putting the economy on a stronger footing.
Republicans know this all too well. Famed small government deficit hawk Ronald Reagan ran up the third largest debt of any US president, after Franklin D Roosevelt and Barack Obama. And today's Republican party didn't bat an eye before passing $2tn worth of tax cuts that mainly benefit the wealthy.
Centrist Democrats, meanwhile, paint themselves as the fiscally responsible wing of their party out to curb waste on both sides of the aisle. Yet what's so responsible about kneecapping the government's ability to avert $32bn worth of infrastructure damage, $118bn from sea level rise and $141bn in costs due to heat related illness, according to the National Climate Assessment?
If there were some foreign invader threatening to inflict this much damage on the US, neither conservative Democrats nor Republicans would bat an eye before throwing as many resources as possible toward fighting them off. Because the threat is posed by climate change – and these politicians' fossil fuel executive donors – their response has ranged instead from indifference to outright denial. They may not all quibble with the scientific consensus on global warming, but they're doing everything they can to sabotage reasonable responses to it.
Most recently, they've taken to pushing back on calls for a Green New Deal – the only proposal on the table that remotely matches the ambition science demands. While Republicans fabricated a $93tn price tag for the Green New Deal, it's impossible to predict how much any suite of programs will cost until you have something concrete to look at and cost out.
What is clear, however, is that any earnest response to the climate crisis will require significant federal investment to do things like electrify large swaths of the economy, scale up renewable energy and invest in communities likely to be hardest hit by a transition away from fossil fuels. Done right, these investments could radically improve Americans' quality of life and salvage our chance for a livable future. A balanced budget amendment would take away the best tools we have to make one possible.
As Republicans pick and choose when to fearmonger about the deficit, Democrats like McAdams continue to describe its growth in apocalyptic terms – all the while ignoring the actual apocalypse the climate crisis could bring about. "It is clear we are on a dangerous and unsustainable course," he wrote in the Deseret News. "The decisions won't be easy, but our children and our grandchildren are counting on us to make this right."
If McAdams and other centrist Democrats were actually worried about their children and grandchildren, they'd throw out their amendment and back the Green New Deal that so many young people have rallied behind. For now, they're more interested in screwing them over.
He and 26 other members of the so-called Blue Dog Coalition – centrist and fiscally-conservative Democrats – are pushing for a constitutional amendment that would prohibit the federal government from running a deficit if there isn't a war or recession happening. Social security and Medicare would be spared from the brutal spending cuts the amendment would bring about … but that's it.
At a time when scientists are calling for governments to adopt a "wartime footing" to address the existential threat of climate change, the proposal isn't just a stupid play into Republican hands. It's climate denial.
Equivalent of 11,000 new cases a day occur worldwide due to toxic air from traffic, researchers say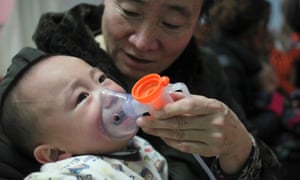 A baby with respiratory disease at a hospital in Beijing. 'Governments must act now to protect children', one expert said. Photograph: China Daily/REUTERS
Four million children develop asthma every year as a result of air pollution from cars and trucks, equivalent to 11,000 new cases a day, a landmark study has found.
Most of the new cases occur in places where pollution levels are already below the World Health Organization limit, suggesting toxic air is even more harmful than thought.
The damage to children's health is not limited to China and India, where pollution levels are particularly high. In UK and US cities, the researchers blame traffic pollution for a quarter of all new childhood asthma cases.
Canada has the third highest rate of new traffic-related asthma cases among the 194 nations analysed, while Los Angeles and New York City are in the top 10 worst cities out of the 125 assessed. Children are especially vulnerable to toxic air and exposure is also known to leave them with stunted lungs.
The research, published in the journal Lancet Planetary Health, is the first global assessment of the impact of traffic fumes on childhood asthma based on high-resolution pollution data.
"Our findings suggest that millions of new cases of paediatric asthma could be prevented by reducing air pollution," said Prof Susan Anenberg, at George Washington University in the US. Asthma can cause deadly seizures.
The key pollutant, nitrogen dioxide, is produced largely by diesel vehicles, many of which emit far more than allowed on the road even after the Dieselgate scandal. "Improving access to cleaner forms of transport, like electrified public transport, cycling and walking, would reduce asthma, enhance physical fitness, and cut greenhouse gas emissions," said Anenberg.
"This landmark study shows the massive global burden of asthma in children caused by traffic pollution," said Prof Chris Griffiths, at Queen Mary University of London and the co-director of the Asthma UK Centre for Applied Research, who was not part of the research team. "Asthma is only one of the multiple adverse effects of pollution on children's health. Governments must act now to protect children."
The new study combined detailed NO2 pollution data with asthma incidence rates and population numbers. Many large studies have already shown a strong link between traffic pollution and childhood asthma and that pollution causes damaging inflammation. This data on risks was used to calculate the number of new cases around the world.
"From the weight of evidence, there is likely a strong causal relationship between traffic pollution and childhood asthma incidence," said Ploy Achakulwisut, also at George Washington University and the lead author of the new study. "So we can be confident that traffic pollution has a significant effect on childhood asthma incidence."
The epidemiological evidence for NO2 being the key pollutant is the strongest. However, researchers cannot rule out that other pollutants also pumped out by vehicles, such as tiny particles, are also a factor as it is not possible to experiment directly on people.
"Childhood asthma has reached global epidemic proportions," said Prof Rajen Naidoo, at the University of KwaZulu-Natal in South Africa, and not involved in the study. It indicates that one in eight of all new cases is due to traffic pollution. "An important outcome from this study is the evidence that the existing WHO standards are not protective against childhood asthma."
The country with the highest national rate of childhood asthma attributed to traffic pollution is South Korea, with almost a third of all new cases blamed on vehicles. Japan and Belgium are in the top 10, along with six Middle Eastern nations, including Saudi Arabia.
Due to their high populations and pollution levels, the top three countries for the total number of new children getting asthma each year are China (760,000), India (350,000) and the US (240,000). The scientists said their research may underestimate the true levels in many poorer nations where asthma often goes undiagnosed.
"While it is important for parents to try to reduce individual exposure, maybe by avoiding highly congested roads as much as possible, not everyone can do this," said Achakulwisut. "So it is important to call for policy initiatives to tackle pollution at city, state and national levels."
"The good news is that a transition to zero-emission vehicles is already underway," she said. Some countries and cities are pledging to phase out internal combustion engines and policies such as London's new ultra-low emission zone are being rolled out. "But this transition needs to become global, and it needs to happen faster. Each year of delay jeopardises the health of millions of children worldwide."
Penny Woods, chief executive of the British Lung Foundation, said: "We used to think the only real danger roads posed to children was the threat of a car accident. However now we can see there's an equally deadly risk: breathing in air pollution. Rightly, there's been a huge effort to reduce road accidents and we need to see an equal commitment to reducing toxic air."
More On The Environment:
World Politics
United States
Trump's decision to recognise Israeli sovereignty over territory it seized from Syria sets a troubling precedent, experts fear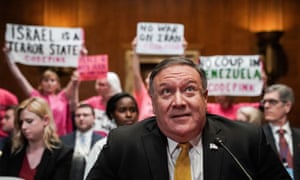 The US secretary of state, Mike Pompeo, told senators he didn't have time to explain an international law doctrine justifying Israel's annexation – perhaps because none exists. Photograph: Jeenah Moon/Reuters
Under intense questioning about why the Israeli annexation of the Golan Heights was good but the Russian seizure of Crimea was bad, the US secretary of state, Mike Pompeo, told senators that there was an "international law doctrine" which would be explained to them later.
It turned out there was no doctrine. The state department's clarification of Pompeo's remarks contained no reference to one, and experts on international law said that none exists.
Donald Trump's decision last month to recognise Israeli sovereignty over the Golan, captured from Syria in 1967, took the state department by surprise, and it has been struggling to catch up since.
Pompeo has provided several justifications for the move, from ancient Jewish roots on the plateau, to the justness of the Israeli cause in the "six-day war", and the blunt force of "facts on the ground".