11 Jun
English Online International Newspapers
Nearly all of these are English-edition daily newspapers. These sites have interesting editorials and essays, and many have links to other good news sources. We try to limit this list to those sites which are regularly updated, reliable, with a high percentage of "up" time.
Recommended:
Opinion
A focus on accountability for police treatment of black people should be our first priority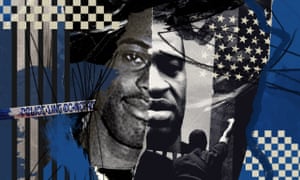 Illustration: Eleanor Shakespeare/The Guardian
O

utrage at the killing of George Floyd by a police officer in Minneapolis has spread across the world in recent weeks. The horrific images of a man killed by a knee to his neck have resonated with cases of lethal injustice closer to home. In Britain, among the names that come to mind is that of Stephen Lawrence, the black teenager whose murder by white youths and the bungled investigation into it exposed the racism of our most powerful police force. But earlier this week Neville Lawrence, Stephen's father, spoke publicly to remind us not only why that case was so important, but also of the danger of losing focus on what it taught us.
It is not surprising that many of the most important moments in US and UK race relations in the last 50 years have been triggered by racist mistreatment of black people by police. Interaction with the police – where life itself can be at risk – is where the most vivid, tragic and incendiary incidents often occur.
Despite that, there are still some who mistakenly suggest that events in the US have no relevance to the UK. They will point out that while black deaths from police contact occur often in the US, they are comparatively rare in the UK. But that analysis misses the point: black people in the US and UK share very similar experiences of policing and racism, in the context of racial profiling, disproportionate stop-and-search, and excessive use of force. Just as importantly, they also suffer as a result of the perception in wider society that black people are threatening and dangerous. It is an ugly, deeply entrenched stereotype that blights the lives of black people in both places. For those white British people who look at George Floyd's death and think, "That's tragic, but it's nothing to do with how black people are treated here," just look at the thousands who have attended marches in London, or ask some black British people and see what they say. They will tell you that his death means something here because the problems in the relationship between black people and police in both countries is similar and is in urgent need of resolution.
One of the great legacies of the Stephen Lawrence case is that now, when issues of racism gain public attention in the UK, many of us reach for what we learned from the Stephen Lawrence inquiry. It was chaired by Sir William Macpherson, and concluded in 1999, six years after Stephen's death. It gave us a new vocabulary and a new way to understand how "institutional racism" permeated the police, many public bodies and much of modern British society. It taught us that what happened to Stephen, both at the hands of the racists that murdered him and the police who failed in their investigations, was actually part of a much broader problem with society as a whole.
But perhaps in a well-intentioned effort to put those lessons into effect, British society's reaction to George Floyd's killing has moved almost immediately from what should be a call to action on tackling accountability and racism in the context of policing to a much wider, broader discussion about racism in all its forms. On TV, radio and online, George Floyd has prompted general conversations about diversity and inequality. Following the toppling of the statue of notorious slave trader Edward Colston in Bristol, debates on the monuments of empire and colonialism have resurfaced. In contrast, conversations about racism in policing, and specifically how it affects black people like George Floyd in the UK, are in danger of getting lost.
Going quickly to the bigger picture can feel like a sophisticated understanding of the wider implications of the Stephen Lawrence inquiry. In reality, it misunderstands how the inquiry approached its task and what made its findings so powerful. The inquiry only got to those broader issues at a later stage. Its first priority – that remained a touchstone throughout – was to focus on the investigation of Stephen's death and racism in the specific context of black people and policing, before moving on to wider issues of racism in society as a whole. Its detailed recommendations, that led to lasting change, only occurred because of that initial focus.
Opinion
The slave trader's figure loomed over Bristol for 125 years. Now a multiracial protest has achieved what past campaigns couldn't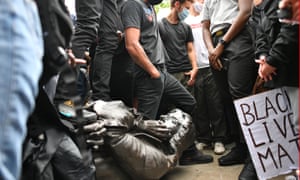 Protesters with the statue of Edward Colston in Bristol, 7 June 2020. Photograph: Ben Birchall/PA
F

or people who don't know Bristol, the real shock when they heard that the statue of a 17th-century slave trader had been torn from its plinth and thrown into the harbour was that 21st-century Bristol still had a statue of a slave trader on public display. For many watching the events unfold on social media, that was the real WTF moment.
Edward Colston, the man in question, was a board member and ultimately the deputy governor of the Royal African Company. In those roles he helped to oversee the transportation into slavery of an estimated 84,000 Africans. Of them, it is believed, around 19,000 died in the stagnant bellies of the company's slave ships during the infamous Middle Passage from the coast of Africa to the plantations of the new world. The bodies of the dead were cast into the water where they were devoured by the sharks that, over the centuries of the Atlantic slave trade, learned to seek out slave ships and follow the bloody paths of slave routes across the ocean. This is the man who, for 125 years, has been honoured by Bristol. Put literally on a pedestal in the very heart of the city. But tonight Edward Colston sleeps with the fishes.
The historical symmetry of this moment is poetic. A bronze effigy of an infamous and prolific slave trader dragged through the streets of a city built on the wealth of that trade, and then dumped, like the victims of the Middle Passage, into the water. Colston lies at the bottom of a harbour in which the ships of the triangular slave trade once moored, by the dockside on to which their cargoes were unloaded.
Slave ship captains were often permitted to bring one or two enslaved people back to Britain and sell them privately for their own profit. The practice offered successful captains an additional bonus and the Africans enslaved in this manner were called "privilege negroes". Many were young boys who were sold as exotic servants: fashion accessories. They appear as commodities for sale in advertisements in 18th-century Bristol newspapers, publications that also carried notices offering rewards for the recapture of enslaved people who had absconded from the grand homes of the city's elite. Metres from where Colston's statue now rests runs Pero's Bridge, named after Pero Jones, one of those enslaved people who lived and died in Bristol. A man who may well have taken his first steps on British soil on the docks from which Colston's statue was hurled.
The crowd who saw to it that Colston fell were of all races, but some were the descendants of the enslaved black and brown Bristolians whose ancestors were chained to the decks of Colston's ships. Ripped from his pedestal, Colston seemed smaller: diminished in both size and potency. Lying flat, with his studied pensive pose, he looked suddenly preposterous. It was when the statue was in this position that one of the protesters made a grim but powerful gesture. By placing his knee over the bronze throat of Edward Colston, he reminded us of the unlikely catalyst for these remarkable events.
The fact that a man who died 299 years ago is today on the front pages of most of Britain's newspapers suggests that Bristol has not been brilliant at coming to terms with its history. Despite the valiant and persistent efforts of campaigners, all attempts to have the statue peacefully removed were thwarted by Colston's legion of defenders. In 2019, attempts to fix a plaque to the pedestal collapsed after Bristol's Society of Merchant Venturers, the high priests of the Colston cult, insisted on watering down the text, adding qualifications that, it was felt, had the effect of minimising his crimes. Yet what repulsed many about the statue was not that it valorised Colston but that it was silent about his victims, those whose lives were destroyed to build the fortune he lavished upon the city.
Opinion
Columnist
Let's talk about racism. As a white person – even as the mother of two brown people – I am not and never will be qualified to talk about racism, so let's hear from those who are. Let's try to guess which country this young law graduate is talking about, and apologies in advance for the language used, but these are her tweets, verbatim:
"I moved to ________ as a six-year-old girl and I can hand on heart say I've experienced horrible racism in this country. I consider it my home but others don't…because of the colour of my skin, and I'm sure many other black men and women can say the same.
"I've been called a nigger by grown men. Been told I'm pretty 'for a black girl', told to go back to my country at an International Night in [my university], been told I don't belong here, called a dirty black cunt. Those experiences broke me at times."
Here's another young black woman: "___________ was a scary place to grow up in. My parents bought a house in 2006 – we were the only black family on the street. Eggs would be thrown at our house regularly, neighbours would spew abuse daily….we moved after one year."
And here's a young black man: "Growing up in ___________ was mad, especially when you were the only black family in a crazy estate….waking up in the middle of the night because your windows had all been smashed up or your car was on fire, we really went through it, and the police did fuck all to help."
Where are they – Trump's America? Brexit Britain? A LePen stronghold in France? A Salvini corner of Italy? Orban's Hungary? Nope. These are black Irish citizens. They spoke out on Twitter as we witnessed the 8 minutes 46 seconds it took a white American cop to murder George Floyd in broad daylight on camera. Our horror was visceral. That could never, ever happen here. We're not like that.
Yes, we are. Racism is a spectrum that ranges from othering to murdering, but it's all racism. The UN published a report last December, unambiguously titled Ireland Needs To Do More To Tackle Racism. It specifically mentioned the "cumulative discrimination and racism experienced by people of African descent, and particularly women of African descent".
Irish racism is overt (see above), insidious ("a bit of craic"), institutional (the state racism of Direct Provision, leaving people to rot on €38.80 a week) and baked into our speech patterns ("non-nationals" is merely a politer way of saying "illegal aliens").
There is no such thing as 'reverse racism'. There is only white privilege. "George Floyd and I were both arrested for allegedly spending a counterfeit $20 bill," tweeted a white Texan academic the day after the murder. "For George Floyd, a man my age with two kids, it was a death sentence. For me, it's a story I sometimes tell at parties. That, my friends, is white privilege."
Opinion
Washington: Protesters are pushing to "defund the police" over the death of George Floyd and other black Americans killed by law enforcement. Their chant has become a rallying cry – and a stick for President Donald Trump to use on Democrats as he portrays them as soft on crime.
But what does "defund the police" mean? It's not necessarily about gutting police department budgets.
What is the 'defund the police' movement?
Supporters say it isn't about eliminating police departments or stripping agencies of all of their money. They say it is time for the country to address systemic problems in policing in America and spend more on what communities across the US need, such as housing and education.
State and local governments spent $US115 billion ($178 billion) on policing in 2017, according to data compiled by the Urban Institute.
"Why can't we look at how it is that we reorganise our priorities, so people don't have to be in the streets during a national pandemic?" Black Lives Matter co-founder Alicia Garza asked during an interview on NBC's Meet the Press.
Activists acknowledge this is a gradual process.
The group MPD150, which says it is "working towards a police-free Minneapolis", argues that such action would be more about "strategically reallocating resources, funding, and responsibility away from police and toward community- based models of safety, support, and prevention".
"The people who respond to crises in our community should be the people who are best equipped to deal with those crises," the group wrote on its website.
What are politicians saying?
Senator Cory Booker said he understood the sentiment behind the slogan, but it's not a slogan he would use.
The New Jersey Democrat told NBC's Meet the Press that he shared the view of many protesters that Americans are "over-policed" and that "we are investing in police, which is not solving problems, but making them worse when we should be, in a more compassionate country, in a more loving country".
California Democrat Karen Bass, chairwoman of the Congressional Black Caucus, said part of the movement was really about how money is spent.
"Now, I don't believe that you should disband police departments," she said in an interview with CNN. "But I do think that, in cities, in states, we need to look at how we are spending the resources and invest more in our communities. Maybe this is an opportunity to re-envision public safety."
Trump and his campaign view the emergence of the "Defund the Police" slogan as a spark of opportunity during a trying political moment. Trump's response to the protests has sparked widespread condemnation. But now his supporters say the new mantra may make voters, who may be otherwise sympathetic to the protesters, recoil from a "radical" idea.
Trump seized on the slogan last week as he spoke at an event in Maine.
"They're saying defund the police," he said. "Defund. Think of it. When I saw it, I said, 'What are you talking about?' 'We don't want to have any police,' they say. You don't want police?"
Trump's 2016 campaign was built on a promise of ensuring law and order – often in contrast to protests against his rhetoric that followed him across the country. As he seeks reelection, Trump is preparing to deploy the same argument again – and seems to believe the "defund the police" call has made the campaign applause line all the more real for his supporters.
Is there any push to actually defund police departments?
Yes, or at least to reduce their budgets in some major cities.