17 Apr
A Foreign Perspective, News and Analyses
Nearly all of these are English-edition daily newspapers. These sites have interesting editorials and essays, and many have links to other good news sources. We try to limit this list to those sites which are regularly updated, reliable, with a high percentage of "up" time.
Recommended:

France will invite architects from around the world to submit their designs for rebuilding the Notre-Dame cathedral spire that toppled dramatically during a devastating blaze, Prime Minister Édouard Philippe said Wednesday.
France will be looking for "a new spire that is adapted to the techniques and the challenges of our era", Philippe told reporters, a day after President Emmanuel Macron vowed to rebuild the cathedral "even more beautifully" within five years.
Thousands of Parisians and tourists watched in horror Monday as flames engulfed a monument that has symbolised Paris for nearly a millennium, toppling the spire and gutting a large part of the roof.
No sooner had firefighters extinguished the flames than pledges of donations towards rebuilding it began to pour in. Within 24 hours, the pledges had reached more than €800 million ($900 million), with French business magnates and corporations jostling to outshine each other with displays of generosity.
Nearly $1 billion in total has been pledged so far.
But the slew of announcements raised eyebrows in France, with some leftist politicians arguing that the ultra-rich could best help protect the country's cultural heritage by fully paying their taxes – or by helping the "human cathedral" of people in need.
François-Henri Pinault, the billionaire CEO of the Kering luxury goods empire, announced he would forfeit the tax breaks offered on donations. French corporations are eligible for a 60-percent tax rebate on cultural donations.
"The donation for Notre-Dame of Paris will not be the object of any tax deduction. Indeed, the Pinault family considers that it is out of the question to make French taxpayers shoulder the burden," Pinault said in a statement.
Pinault had led the pledges of donations starting Monday night with a promise of €100 million.
The government on Wednesday increased the rebate on individual donations for Notre-Dame of up to €1,000 to 75 percent. Bigger private donations would qualify for the standard 66 percent rebate.
Billionaire Bernard Arnault and his LVMH luxury conglomerate, Total oil company and cosmetics giant L'Oreal also each pledged €100 million or more, while US tech giant Apple said it would give an unspecified amount.
Rebuilding for 2024 Olympics
Macron has set out an ambitious timeline for rebuilding the cathedral, an enduring symbol of Paris that had survived revolutions and wars throughout the ages.
"We will rebuild the cathedral even more beautifully and I want it to be finished within five years," Macron said in an address to the nation, in which he hailed how the fire had shown the capacity of France to mobilise and unite.
Notre Dame's rector, Bishop Patrick Chauvet, said Wednesday the cathedral would likely remain closed for "five to six years".
In a sign of the monument's resilience, the copper rooster that topped its spire was found Tuesday in the rubble from the partly collapsed roof, "battered but apparently restorable" according to a spokesperson for the culture ministry.
The walls, bell towers and the most famous circular stained-glass windows at France's most visited tourist attraction also remain intact.
But the floor of the nave was left covered in rubble and scorched beams from the fallen roof.
Macron's announcement of a five-year timeframe indicates he wants the reconstruction to be completed by the time Paris hosts the Olympic Games in 2024.
But some experts have warned a full restoration could take longer, with one of the biggest tasks involving replacing the precious oak "forest" of beams that held up the roof.
"I'd say decades," Eric Fischer, head of the foundation in charge of restoring the 1,000-year-old Strasbourg cathedral, told AFP.
Germany, Italy and Russia are among the countries to have offered expertise.
In France, meanwhile, political parties continued to observe an unofficial truce after months of mutual finger-pointing over the violence that has marked the Yellow Vest protest movement.
Macron said the dramatic fire had brought out the best in the country, showing the French to be "a nation of builders".
The bells of French cathedrals will sound at 6:50pm local time (4:50 GMT) on Wednesday, exactly 48 hours after the fire started.
'Long, complex' investigation
Investigators trying to determine the cause of the blaze are questioning workers who were renovating the steeple, an operation suspected of accidentally triggering the blaze.
The police have already spoken to around 30 people from five different construction companies.
Meanwhile, work to secure the cathedral continued Wednesday.
Junior Interior Minister Laurent Nunez said Tuesday that although "some weaknesses" had been identified, overall the building was "holding up OK".


PM says rebuilt cathedral could reflect 'techniques and challenges of our times'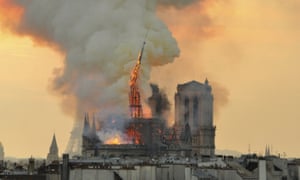 The spire of Notre Dame Cathedral is captured as it topples. Photograph: Thierry Mallet/AP
France will launch an international architectural competition to redesign the roofline of Notre-Dame cathedral after a huge fire gutted the oak-beamed structure and sent its 300-foot spire crashing into the nave, the prime minister has said.
Edouard Philippe said the competition would give the 850-year-old monument "a spire suited to the techniques and challenges of our time". No estimation of the cost of rebuilding the cathedral, for which French billionaires, multinationals and private citizens have so far raised €880m (£763m) project, had yet been made, he said.
President Emmanuel Macron promised the nation on Tuesday night that Notre-Dame, a powerful symbol of France's history and culture and the point from which the country's road distances are measured, would be rebuilt – and be "more beautiful than before" – within five years, a timetable many experts consider impossible.
As the Paris prosecutor's office said investigators looking into the causes of the fire have still not been able to look inside the cathedral, Notre-Dame's rector, Bishop Patrick Chauvet, said he expected the building to remain closed to the public for five to six years. "A segment has been very weakened," Chauvet said.
Drone footage shows Notre Dame Cathedral fire damage – video
A fire service spokesman said there was no immediate danger the structure, which lost two-thirds of its roof in the fire, would collapse. But it was not yet considered secure enough for investigators to enter and start examining the source of the fire in situ, the prosecutor's office said…………………"The end of the fire doesn't mean the edifice is totally saved. The stone can deteriorate when it is exposed to high temperatures and change its mineral composition and fracture inside."
Companies specialising in the restoration of historic monuments also warned they would have trouble finding enough skilled workers and apprentices. "We'll have to recruit 100 masons, 150 woodworkers and 200 roofers," said Jean-Claude Bellanger of France's Compagnons du Devoir.
"The problem is that these manual crafts are undervalued and don't attract many people," Bellanger said. "We have the firms and the expertise, but there's a serious lack of young people for this work."
Shopkeepers and cafe and restaurant owners in the vicionity of the cathedral have said they, too, are worried about their futures in the wake of the disaster. Notre-Dame welcomes about 13 million visitors a year, on whom many local businesses depend for their income.
The Ile de la Cité on which the cathedral stands is still sealed off and Patrick Lejeune, the president of the local business association, said the group's 150 members were alarmed. "No one is talking about us," he said. "I don't even have access to my office."
London protesters have also blocked road junctions and disrupted Canary Wharf trains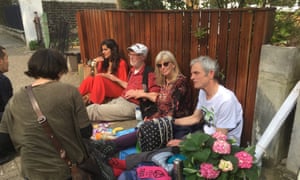 Extinction Rebellion protesters outside Jeremy Corbyn's London home. Photograph: Matthew Taylor/The Guardian
Climate activists have chained themselves outside Jeremy Corbyn's house in the latest escalation of the civil disobedience protests that have been blocking road junctions and iconic landmarks in the capital since Monday.
At about 2pm four protesters – including one local Labour councillor – arrived at the Labour leader's north London street and chained and glued themselves to the fence outside his home. Corbyn did not appear to be at home.
One of the protesters, David Lambert, 60, who walked from Stroud to join the Extinction Rebellion protests, said they were all supporters of the Labour leader.
"We are here because we are supporters of Jeremy Corbyn and he is the best hope this country has got to get us out of this. But we need system change and a transformation of our consumer economy and we know he is a person who has the authority and power to deliver that."
The group said they had been heartened by Labour's declaration of a climate emergency and its plans for a transformative "green industrial revolution" but added they were here as "critical friends" to urge the party to go further.
Local councillor Skeena Rathor, also from Stroud, said: "Jeremy Corbyn is the only leader that can deliver these things for us and we are here to support that."
Earlier in the day, Extinction Rebellion activists glued themselves to the top of a train carriage at Canary Wharf station on the Docklands Light Railway, bringing services to a halt in the financial hub.
The man and woman unfurled a banner reading "Climate Emergency – Act Now" and glued themselves to the top of the train. Other activists glued themselves to the train. Within minutes of the action, Transport for London's website reported "delays between Bank and Lewisham due to a customer incident at Canary Wharf".
One man who was glued to the train, who gave his name as Mark, was removed by officers at 11.45am. Two protesters remained glued to the roof of the train. One, Cathy Eatburn, 51, said she was taking part for her teenage daughters' futures.
"I don't want to be here today and I'm really sorry for the disruption but I feel I have been forced to do this," she said. "I have two daughters and I can't sit by while their future is threatened … The government is doing nothing – we have to force them to act."
The two protesters who had glued themselves to the roof of the train were finally removed by police at 12.40pm.
Gail Bradbrook, an Extinction Rebellion co-founder who was at the scene, explained why Canary Wharf had been chosen for the protest.
"This is the heart of the system that is bringing us to our knees causing huge disruption and chaos around the world … so we want people to pause and reflect," she said.
Bradbrook described the protest as relatively small and said the group would reflect on its success before decide whether to escalate the transport demonstrations in the coming days.
Climate protesters climb on top of train at Canary Wharf – video
Peter, who works in financial services in Canary Wharf and did not want to give his surname, was watching from the platform as police tried to remove the protesters.
"I think it's a great thing," said the 30-year-old. "It's raising awareness and it's made me think about this issue and made me come out here away from my desk and engage with what is obviously a very serious issue."
Thousands of people have taken part in the protests, blockading four landmarks in London in an attempt to force the government to take action on the climate crisis.
On Wednesday afternoon, the four sites – Marble Arch, Waterloo Bridge, Parliament Square and Oxford Circus – remained under the control of protesters, causing delays and diversions in the surrounding areas.
Almost 300 arrests were made in the first two days of the protest. Further arrests were made on Wednesday at the Oxford Circus and Waterloo Bridge sites.
Police arrested about nine people at Waterloo Bridge just after rush hour on Wednesday morning, according to an Extinction Rebellion activist at the scene.
"We are all noticing that they [the police] are not well staffed," said Sarah Pethybridge, 65, from Cornwall, who had been there since 8.30am. "The police haven't got the kind of numbers that we would expect. I don't know, but [I think] the fact that we are spread out spreads their work, and we just get the feeling that they have to work very tactically because they don't have enough people to come down hard."
'If this is what it takes': London? reacts to the Extinction Rebellion ?'shutdown' – video
By midday the atmosphere on the bridge was relaxed, with some people watching a string ensemble playing at a stage, while others danced to pop music blaring from a small sound system.
As the Guardian watched, a call went out from the stage for activists to make their way to Oxford Circus, where police were making more arrests.
After arresting about a dozen people before 1pm, police returned in force at about 2pm and started making more arrests. The Guardian witnessed at least half a dozen protesters carried away by squads of officers, who first attempted to persuade their targets to leave of their own accord, then to walk away with them on foot, before picking them up or, in some cases, half dragging them to waiting vans.
Extinction Rebellion protesters, activists and legal observers said that some arrestees are being taken to police stations outside of London, lending credence to persistent rumours that the Metropolitan police's holding cells are being filled to capacity by the numbers of arrests during the protests. Several people said they had heard that people were being taken to Luton, while others mentioned Brighton and Essex as locations arrested protesters were being taken.
More On The Environment:
World Politics
Great Britain
Maybe if we hold our noses tight, we can help choose the next Conservative leader. Not that there's much choice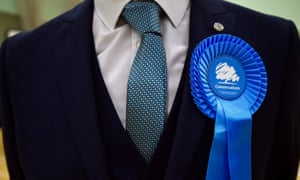 'We could hold fringe meetings in ironic burgundy trousers. Who's in?' Photograph: Hannah McKay/PA
T

he thought of another unelected Tory prime minister – and this time in all likelihood a rightwing fanatic – is almost too much to bear. If a general election isn't called before 2022 (the date set by the Fixed Term Parliaments Act), then we face the prospect of our next prime minister being one of the following: a serial liar, out only for himself; a man who gambled the life of a newborn baby to appease populist zeal; a guy who managed to piss off almost the entirety of our NHS workforce; a woman whose rise remains unfathomable but who is definitely, unmistakably, a mother; and Michael Gove, being his stubborn best. It's like being offered a Revel, but only the coffee ones are left.
It is no wonder that much national opinion oscillates between disbelieving despair and incredulous laughter at our current political class. Perhaps then, we – the sensible on the left, or centre, or centre left – should hold our noses and do something spectacular: join the Conservative party. I understand this is about as enjoyable a prospect as taking a dip in a sewer, but shall we sabotage from the inside? We could hold fringe meetings in ironic burgundy trousers. Who's in?
Conservative membership now stands at 124,000, or just double the capacity of Tottenham Hotspur's new stadium
The Tory party elects its leader differently to the Labour party. Labour altered its rules under Ed Miliband to one-member-one-vote. An electoral college system giving a third of votes each to MPs, unions and members was abolished: part of the reason why Jeremy Corbyn could become leader. Candidates need the support of 10% of the parliamentary Labour party and, in newer rules, 5% of union or constituency party preference.
Conservative MPs choose a final two contenders, and then it is up to the membership to elect their favourite. This is a tricky situation at present, given the opinion of the parliamentary party (CLP) is disparate from that of members. Boris Johnson for instance, is not a popular choice with Tory MPs – some have even said they would leave the party should he become leader – but he is popular with the grassroots, often polling as favourite.
Given the level of attention given to entryism into the Labour party in the past few years, with it widely believed that far-left activists joined en masse, perhaps a sneaky and sassy takeover of the Tories is overdue.
This idea has been taken up by the far right. Arron Banks and Andy Wigmore, of Leave.UK, made no secret of their desire to join the Tories in a bid to influence the next leadership election. Wigmore said he wanted to join to "ensure that if there is a leadership contest then I can influence the type of leader the country and the Tory party need". Banks announced that he had applied to join, received a favourable response from chairman Brandon Lewis, and then was flatly rejected. Gutted, mate.
Tory grandees have become unsettled by this prospect of former Ukip members and affiliates joining the party – which, sorry lads, you were basically done over by Ukip when you called the referendum. William Hague, who two decades ago was responsible for giving members that deciding vote between the final two, has warned that individuals who don't subscribe to Conservative "values" might bring the party into "disrepute". (I'd argue that a party responsible for a mass housing crisis, rising levels of food poverty and homelessness, and a Home Office that wrongly detains people, would have difficulty becoming less reputable).
Rather brilliantly, Hague has said that he regrets changing the rules because Tory members and activists are "not remotely representative of society at large or even of their voters". Which seems quite a stunning admission to make. It was also his intention to boost membership with the change, although it now stands at 124,000, or just double the capacity of Tottenham Hotspur's new stadium. The Labour rule changes meanwhile, boosting its own membership to more than half a million. (Although there are recent reports of droves of members leaving – up to 150,000 – over Corbyn's Brexit stance).
Unless the Tories in Parliament support a vote of no confidence brought by Labour (and that would be extraordinary – she has already survived one), we are stuck with Theresa May as prime minister for now. She doesn't seem close to stepping down (May said she would go if her deal passed but, obviously, her deal did not pass. And now the "flextension" lasts until October. Personally I feel she will have to be scraped off that front bench like chewing gum). And because those who wrote to the 1922 Committee made their move prematurely, so that May also survived an internal no-confidence movement, she can now not be challenged by her colleagues until December under party rules. Rules that the Committee is now looking at changing. They cannot stand the sight of that padded twofer jacket any longer.
So let's all join the Tory party – purely for the banter. Rock up to constituency meetings and ask questions, very slowly, about whether there is possibly anything else to be hunted instead of foxes; cough wildly into paisley Barbour handkerchiefs at key points; block the car parks with ostentatious 4x4s, despite the fact the town is almost entirely flat and the roads the width of canoes. Would this sort of roguery really be such a leap from the current messy contours of British politics and a Parliament that is quite literally crumbling? I mean, isn't everyone else treating our democracy as a joke?
On second thoughts, I honestly don't think I could bring myself to do it. And in the end, anointing, say, Dominic Raab to keep Johnson out would be quite the Pyrrhic victory. I guess it's not actually that much fun to mess around if the playground you choose is truly rancid.
•

Hannah Jane Parkinson is a Guardian columnist
United States
In an effort to speak to Trump voters, the Democratic frontrunner Bernie Sanders went on Fox News to front a town hall. Sanders is the first Democratic presidential candidate to appear on the network for such an event. Hosts Bret Baier and Martha MacCallum tried their best to undercut the Vermont senator but with each question he seemed to come out on top with rapturous applause from the Pennsylvania audience. From healthcare to immigration, climate change, abortion and the minimum wage, Sanders impressed the audience and frustrated the hosts