Schoolchildren around the world are joining a global strike against climate change this week. But they're not the only everyday people inspired to take action. We talk to 10 UK activists on the frontline of our most serious environmental issues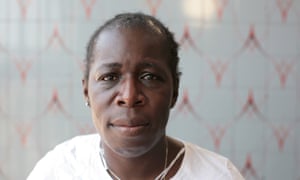 'We should be told more about air pollution – we have a right to know' … Rosamund Adoo-Kissi-Debrah. Photograph: Martin Godwin/The Guardian
Rosamund Adoo-Kissi-Debrah, London
Air pollution advocate
Founded the Ella Roberta Family Foundation, in memory of her nine-year-old daughter who died in 2013. She is campaigning for a new inquest into her daughter's death, which she believes is linked to air pollution.
My daughter suffered terribly – she would stop breathing, have seizures and I would take her to A&E – but no one could explain why it was happening. When she died, I wanted answers. I wanted to know how she became so ill, so quickly; how she died so quickly.
She died of an asthma attack, but all the doctors could come up with as a trigger was "something in the air". She was allergic to pollen, but the consultant said there was no way that her seizure was an allergy to pollen. The first inquest did not come up with any answers.
I did not think of air pollution. This was new to me. If you're a scientist and this is your specialist area, it might not be surprising, but I didn't know about particulates and nitrogen dioxide.
Awareness is key, and so is education – I would say that, as I am a teacher. We should be told more about monitoring air pollution. We have a right to know. So many children are at risk – we believe that the deaths of 16 children in the past 18 months are linked to air pollution. Children continue to get ill, to die. Voices are not being heard. If parents could speak about their experiences – telling a politician not just, "I am worried about my children", but that "My child had to be resuscitated in A&E last night" – it might make a difference.
Two weeks ago, my friend went to buy a new car, and they tried to sell her a diesel car – they told her it was "green". Who is allowing people to say this in 2019?
I continue to be devastated [by Ella's death], it is still unbearable. What I am learning is how I can use what I have been through to help other young children. I don't feel like giving up. I feel very strongly that people should shout about this. FH

Holly Gillibrand (centre) leading a climate protest in Fort William. Photograph: Iain Ferguson
Holly Gillibrand, Fort William
School striker
It took about a month to persuade my parents that striking was a good idea. I'm 13 and I had seen a video of Greta Thunberg on Twitter, and I thought that was something I could do too. I asked some of my friends, but only one joined me; now we're averaging about four students and 15 adults .
At the first strike, it was quite scary because I didn't know what people's reactions would be. It really helped having my friend there. We tried to ignore the people in cars, sitting and pointing at us, but there were a lot of people beeping in support.
My mum phoned my headteacher about a week before I started. He can't support it and he says my school has a lot of climate and environmental education, but I don't think it does. I get laughed at quite a bit. I've met quite a few climate-deniers in school. It makes me really annoyed because people don't understand, or they don't care when you try to explain it to them.
I'm surprised at how the movement has taken off. Education is valued and if children are sacrificing that, it must be important. The government's response has been pitiful. At the climate change debate, 610 MPs skipped it – that's a shocking representation of how little our political leaders care about the very existence of life on this planet.
I think there will be hundreds of thousands [of children striking on the 15th]. I wish people knew that we can't change this unless everyone is working together. ES

'People forget that we are animals, too' … Mya-Rose Craig. Photograph: Handout
Mya-Rose Craig, Somerset
Wildlife and environmental diversity campaigner
A birder and activist from the Chew Valley, she campaigns for endangered wildlife and organises nature camps for inner city minority ethnic teenagers
I'm 16 and my parents have taken me birdwatching since I was a baby. It has always been part of my life. When I was seven, my parents heard that the first ever eastern crowned warbler had been seen in Britain. Luckily, I had a day off school, and we drove five hours to see it. It was around the edge of a huge quarry like an amphitheatre and I was amazed to see so many people cared about this little brown bird.
I've been very lucky to travel around the world. During half-term in Spain recently, I saw my 5,000th bird species in the world. It was a rock bunting, which is a brilliant bird.
My parents have always been very open about what is going on in the world. I was 12 or 13 and had built up a relatively large online following when I started campaigning. The first proper campaign I launched was to save the spoonbill sandpiper in Bangladesh, where my mum is from. I also campaigned over the 2014 oil spill in the mangrove forests of the Sundarbans.
In 2015, I read an American Birdwatching Association article about how the environmental sector is incredibly white. It made me stop and think. I knew I was the only one like me as a kid. I just felt sad because others should have that opportunity. Since then I've campaigned to bring diversity into wildlife conservation. In three-and-a-half years, I've seen so much change.
People forget that we are animals, too. The NHS has started prescribing going out into nature because it is good for our mental health. If we care for nature, it's not entirely altruistic. We get benefits, too. PB