24 Apr
A Foreign Perspective, News and Analyses
Nearly all of these are English-edition daily newspapers. These sites have interesting editorials and essays, and many have links to other good news sources. We try to limit this list to those sites which are regularly updated, reliable, with a high percentage of "up" time.
Recommended:


Forty-three percent of Americans live in places where they're breathing unsafe air, according to American Lung Association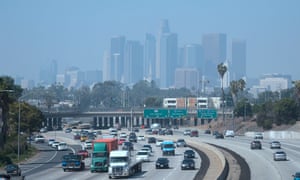 High-rise buildings in downtown Los Angeles, California, on a hazy morning on 21 September 2018. Photograph: Frederic J Brown/AFP/Getty Images
An increasing number of Americans live in places with unhealthy levels of smog or particulate air pollution – both of which are being made worse by climate change, according to a new report.
Air quality in the US has been improving since the 1970s, but that progress may be backsliding and 43% of Americans are now living in places where they are breathing unsafe air, according to the American Lung Association report.
As temperatures rise, wildfires are getting worse and spewing smoke across the west. And more smog, or ozone, is forming on warmer days.
For the three hottest years on record, 2015 through 2017, about 141 million people lived in US counties that saw unhealthy levels of particle pollution, either in a single 24-hour period or over a year, or unhealthy levels of smog. That is 7 million more people than in the group's last report.
"We're seeing in this year's report the impacts of climate change on air quality in really stunning terms," said Paul Billings, a vice-president for the association.
Eight communities set records for days with spikes in particle pollution, surpassing the group's data back to 2001, Billings said.
Western wildfires might be to blame for much of the uptick, and next year's report counting 2018 is expected to be even worse, he said.
In California, Bakersfield and the Fresno area had among the worst air quality in the country, according to all three measurements. Los Angeles continued to rank worst for smog. Fairbanks, Alaska, ranked third for particle pollution, probably because so many people burn wood to heat their homes.
The report is the health advocacy group's annual assessment of government data.
Both smog and particle pollution are linked with breathing problems, lung and heart complications and early deaths. Smog occurs when sunlight reacts with gases from cars and power plants. Particle pollution also comes from burning fossil fuels, as well as from burning wood in fireplaces or stoves, and from wildfires.
The federal government's National Climate Assessment explains that smog levels can increase with warmer days and both smog and particle pollution can increase when weather is stagnant. Worse droughts could also lead to more wind-blown dust.
Air pollution has fallen for decades in the US, due to pollution laws like the 1970 Clean Air Act and the use of less coal and more natural gas.
One 2018 study found that deaths from air pollution in the US were cut in half between 1990 and 2010. But they still accounted for one out of every 35 deaths – more than from traffic accidents and shootings combined.
In comparison, more than 5.5 billion people worldwide, 75% of the population, live in places that do not meet the World Health Organization standard for limiting particle pollution, according to the University of Chicago.
The Trump administration has sought to roll back Obama-era environmental progress, including on air and climate pollution regulations, such as rules for power plants and cars.
Miles Keogh, the executive director for the National Association of State Air Agencies, said weakening air standards would mean "walking away from a winning strategy".
"We've got the tools here," Keogh said. "We've got to use them to shore it up, adapt them to a changing climate and not walk away from things that work."
Climate activists say pressure growing on politicians to act as donations flood in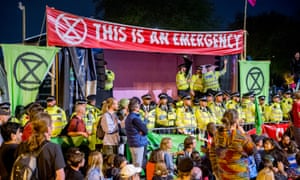 The Extinction Rebellion camp at Marble Arch in central London. Photograph: Ollie Millington/Getty
Support for Extinction Rebellion in the UK has quadrupled in the past nine days as public concern about the scale of the ecological crisis grows.
Since the wave of protests began more than a week ago, 30,000 new backers or volunteers have offered their support to the environmental activist group. In the same period it has raised almost £200,000 – mostly in donations of between £10 and £50 – reaching a total of £365,000 since January.
The group said the figures showed the public was waking up to the scale of the crisis, adding that pressure was growing on politicians to act.
"What this shows is that Extinction Rebellion has spoken to people who have been wanting to act on this for such a long time but haven't known how," said a spokesperson for the group. "The debate on this is over – ordinary people are now saying it is time for politicians to act with real urgency."
Diane Abbott backed the demonstrators in a speech to the eco-activists in Parliament Square on Wednesday.
The shadow home secretary told a crowd of up to 100 protesters – one of whom towered above the group on six-foot stilts while others wielded banners – that she acknowledged a "climate emergency", one of the group's key demands.
Abbott also emphasised that MPs needed to come together to host a "broad conversation" on one of the activists' requests to bring the country's greenhouse gas emissions to net zero by 2025.
She said: "I wouldn't be in politics if I didn't think change was possible. If things can change on the issues that I campaigned on when I was a very young woman, I think that things can change … on climate change and we can move towards the 2025 target."
Abbott suggested meeting Extinction Rebellion for a detailed discussion of policy aims – a proposal met with rapturous applause. She reiterated her commitment to learning and listening to protesters and said that, in the long term, climate change was more important than Brexit.
The group's organisers said the number of people on the streets for the protests had dwindled from a high over the Easter bank holiday weekend but that the number of people who had signed up to support future demonstrations had risen from 10,000 before the protest to 40,000 by Wednesday morning.
The Extinction Rebellion spokesperson said the group was also becoming more diverse – attracting more working-class and black and minority ethnic supporters. "But that is definitely a work in progress – there is still more work to do in that area," she added.
The figures came a day after Greta Thunberg, the 16-year-old Swedish student who sparked a global youth-based movement when she began a "climate strike" outside Sweden's parliament last year, visited Westminster.
In a speech to MPs, she said: "You lied to us. You gave us false hope. You told us that the future was something to look forward to. You don't listen to the science because you are only interested in solutions that will enable you to carry on like before."
Extinction Rebellion's youth group wrote to MPs on Wednesday, as parliament restarted after the Easter break, pleading with them to act swiftly to address the crisis.
Extinction Rebellion: a week of protest in three minutes – video
The letter states: "We are writing to ask you to hear the science, to feel the public's change of heart and to act now to save our futures … Now the time has arrived to stand up and be counted – you are our elected representatives and we need your help."
More than 1,000 Extinction Rebellion activists have been arrested in the past week in a campaign of mass non-violent direct action to highlight how little time there is to halt manmade ecological breakdown.
Protesters occupied four sites across the capital and staged acts of civil disobedience including blocking roads, disrupting a train line and conducting a protest at Heathrow.
On Tuesday, the group said it intended to carry out further action in the next few days – including blocking roads in and around the City of London on Thursday. It is debating how and when to stop this stage of the protests.
On Tuesday, senior Labour figures backed the protesters, likening them to the Chartists, suffragettes and anti-apartheid activists.
Speaking in response to an urgent question in the Commons, the shadow energy minister Barry Gardiner said alongside the school strikes, the Extinction Rebellion protests were reminiscent of previous struggles.
"All of those victories were won by citizens uniting against injustice, making their voice heard. And Extinction Rebellion and the school climate strikers are doing just that," he said.
Inside the chamber, the former Labour leader Ed Miliband said the government must declare a climate emergency and introduce a "green new deal".
Responding for the government, Claire Perry, the energy minister, rejected the idea of a climate emergency – "I don't know what that would entail" – and said she had reservations about the Extinction Rebellion protests.
She said though she was glad such arguments were being heard, they had caused "disruption for many hundreds and thousands of hardworking Londoners and had required a heavy policing presence.
"I worry that many of the messages we are hearing ignore the progress that is being made, and as such make people fearful for the future rather than hopeful."
More On The Environment:
World Politics
United States
President's remarks to Washington Post come as White House battles subpoenas and treasury misses deadline to provide tax returns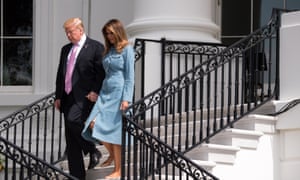 Donald Trump told the Washington Post: 'I don't want people testifying to a party.' Photograph: Kevin Dietsch/Pool/EPA
Donald Trump has said he is opposed to current and former White House aides testifying to congressional committees about special counsel Robert Mueller's report on Russian election interference.
In an interview with The Washington Post, the US president claimed his administration cooperated with Mueller's investigation and did not need to comply with congressional committees examining possible obstruction of justice on his part.
"There is no reason to go any further, and especially in Congress where it's very partisan – obviously very partisan," Trump told the Post. "I don't want people testifying to a party, because that is what they're doing if they do this."
The remarks pointed to a deepening power struggle between the White House and Congress as shock waves from the Mueller report continue to reverberate in Washington.
The House oversight committee has been investigating security clearances issued to senior officials, including Trump's son-in-law Jared Kushner, former national security adviser Michael Flynn and former White House aide Rob Porter.
The committee subpoenaed Carl Kline, a former White House personnel security director, following testimony from a whistleblower that dozens of people in the administration were granted security clearances despite "disqualifying issues" in their backgrounds. But on Tuesday Kline, following White House instructions, did not turn up for a scheduled deposition.
Congressman Elijah Cummings, chairman of the committee, said the administration has adopted the "untenable" position that it can ignore requests from Democrats, who assumed the majority in January.
"It appears that the president believes that the Constitution does not apply to his White House, that he may order officials at will to violate their legal obligations, and that he may obstruct attempts by Congress to conduct oversight," Cummings said in a statement.
Cummings is consulting with other members and staff about scheduling a vote to hold Kline in contempt of Congress. He told the MSNBC channel: "We will hold a vote of our committee shortly to hold him in contempt and then we will check with House counsel … to see where we go from there."
The White House has blocked the oversight panel in various investigations. On Monday, Trump and his business organisation sued Cummings to prevent a subpoena that seeks years of the president's financial records, arguing that it "has no legitimate legislative purpose".
Cummings said the White House "has refused to produce a single piece of paper or a single witness" in any of the committee's investigations this year.
A spokesman for the top Republican on the oversight panel, Jim Jordan, said Cummings was choosing confrontation over cooperation. "Chairman Cummings rushed to a subpoena in his insatiable quest to sully the White House," Russell Dye told the Associated Press.
Officials also said the administration plans to fight a subpoena issued by the House judiciary committee chairman Jerry Nadler for ex-White House counsel Donald McGahn by asserting executive privilege over his testimony, according to the Post. The Mueller report chronicles how McGahn ignored many of Trump's directions to obstruct justice and fire Mueller.
Hogan Gidley, the White House deputy press secretary, told Fox News's America's Newsroom: "What I am concerned about … is that Democrats like Jerry Nadler continue to try to attack this president and attack members of this administration repeatedly.
"He's not going to learn anything else about Don McGahn or this administration that Bob Mueller didn't find in two years of wasted time and energy. The only thing he is going to gain quite frankly, are maybe some political allies at the far left who are conspiracy theorists and think somehow it was a sham."
On yet another front, the White House defied a demand from the ways and means committee chairman, Richard Neal, to turn over six years of Trump's tax returns by the close of business. In a letter to Neal, the treasury secretary, Steven Mnuchin, asked for more time and said he would give the panel a final decision by 6 May.
Mnuchin is consulting with the justice department "due to the serious constitutional questions raised by this request and the serious consequences that a resolution of those questions could have for taxpayer privacy", he wrote.
The White House and Congress could be digging in for a long battle all the way to the courts. Speaking at the Time 100 Summit in New York, House Speaker Nancy Pelosi said: "Now we see the administration engaging in stonewalling of the facts coming to the American people."