30 Apr
A Foreign Perspective, News and Analyses
Nearly all of these are English-edition daily newspapers. These sites have interesting editorials and essays, and many have links to other good news sources. We try to limit this list to those sites which are regularly updated, reliable, with a high percentage of "up" time.
Recommended:

Kidnapped Yazidis are being reunited with their families following the victory over Islamic State. They include children who have been deeply traumatized. While in captivity, IS brainwashed them to think their parents were evil.
Younes Mohammad / DER SPIEGEL
Alan, a Yazidi boy from Sinjar, was held in captivity by the Islamic State for four and a half years.
Alan Ezdo, an 11-year-old with deep rings under his eyes, sits alone in his parents' living room in Sinjar, a Yazidi town in northern Iraq. His legs twitch restlessly and he has a somber gaze. He alternately pulls on the ribbons of his hoody or sucks on the eyelets. He ignores his little brother, who is waiting for even a slight gesture of affection.
In the morning, Alan briefly recognized his father and hugged him. Dakhin Ezdo, a tall man with a mustache, stands next to his son and talks happily about the encounter. Alan, on the other hand, has long since gone silent and become very withdrawn.
On this day in March, Alan had only been back with his parents for a week. Following his abduction by the Islamic State (IS), he had been separated from them for the past four and a half years. The last time he saw them was on Aug. 3, 2014, the day IS militias invaded his hometown.
His parents had tried to protect him at that time and had sent him ahead with his cousins, but the group ran straight into IS. Alan, who was 7 years old at the time, was kidnapped together with his cousins. His parents and their two youngest sons took a different path and escaped. The Kurdish autonomy government says IS kidnapped a total of 6,417 Yazidi children and women. In most cases, the men who were captured were immediately massacred, with a total of at least 1,293 killed.
A Trail of Death and Destruction
The list of crimes committed by the Islamic State is long and shocking. Yet the murder and enslavement of thousands of Yazidis in the Sinjar region still occupies a special place in history. The jihadis dismissed them as "infidels" who could be freely raped, enslaved and murdered.
IS almost wiped out the Yazidi community in the Sinjar region in what the United Nations has described as "genocide." Of the roughly 550,000 Yazidis who lived in Iraq before the terrorists' invasion, around 360,000 now reside in refugee camps. It's estimated that 100,000 emigrated, including to Germany, where special programs for Yazidi victims of IS have been set up in various states, but also to Canada and Australia.
The IS "caliphate," once as big as Jordan, has since fallen. A month ago, the largely Kurdish fighters with the Syrian Democratic Forces (SDF) liberated Baghuz, the last village in Syria under the jihadis' control. Some 200 Yazidi women and children were recently able to escape IS' clutches, including 50 from Baghuz.
Alan Ezdo was among those trapped in Baghuz, together with his cousin Lina Ezdo, a pale 12-year-old with black hair. They first fled to the Al Hawl camp, where most of the civilians are now staying, Lina says. Alan had remained silent during the security check by the Syrian-Kurdish led militias, who were fighting IS. But Lina told them in Kurmanji, her Kurdish mother tongue, that she and her cousin were Yazidis. The militias separated them from the IS supporters and brought them back to Iraq.
Perfidious Tactics
"I was so happy to see my parents again," says Lina. She no longer wears a headscarf and has put on gold earrings that she was never allowed to wear when held by the Islamic State. And yet she also still doesn't seem to be sure what is right and what is wrong. Whereas Alan usually remains silent, Lina is mostly evasive when her relatives ask her about the years with IS. It's almost as if she feels obliged to her kidnappers and doesn't want to betray them.
During their time with IS, the children were tricked into believing their parents were wicked and that infidel Yazidis were damned to hell. The children were forced to convert to Islam, pray five times a day and, in doing so, find salvation. Alan still insists he's a Muslim and not a Yazidi, his father says. And the first thing Lina asked after her return was: "Is it true that Yazidis enter into eternal fire when they die?"
It was a perfidious tactic: The children were made to distrust their own parents, forget their religious identity and shed every ounce of what made them Yazidi. The IS proceeded similarly with the girls and women who had been raped. They were often told that they were no longer Yazidi and that their families would kill them if they returned.
The Yazidi community has long been regarded as being very insular. Women who entered into a relationship with people of other faiths were rejected; "honor killings" were not a rarity. But after the IS massacres, the Baba Sheikh, the Yazidis' religious leader, decided that people who got kidnapped would be accepted back into the community. He even invented a ritual: In the village of Lalish in northern Iraq, the Yazidis' most important pilgrimage site, water is poured on returning women in a baptism-like rite. Afterward, they are considered clean again.
A woman who conducts the baptisms says that at the moment, at least one child or young woman comes by Lalish every day. But children who have been born to Yazidi women raped by IS are considered Muslims. Some of the liberated Yazidi women have even had to abandon their children in order to be allowed to return to their relatives.
'We Had Very Hard Lives'
The parents of Alan and Lina still know little about what their children experienced in IS captivity. They know only that they were both with the same family and that the father was called Abu Alaa. In the morning, Alan and Lina had to get up before everyone else, prepare breakfast, clean and help with the cooking. "We had very hard lives," says Lina. Sometimes Alan would play with the children of the IS family. How many children did the family they lived with for four and a half years have? "I don't know," says Lina.
The IS family must have been from Syria, because Lina and Alan now speak Syrian Arabic fluently. Other freed Yazidi children often switch to English, Russian or Egyptian Arabic upon their return. Alan, meanwhile, has forgotten Kurmanji, his mother tongue. He still understands it, but he's no longer able to speak it. Lina often finds herself interpreting for the boy and his parents.
The parents don't know if Lina got raped like so many Yazidis or whether Alan was given weapons training like some of the kidnapped boys. Alan's mother Leila Ezdo doesn't want to talk about these questions. "The children will forget," she says. For the most part, she's just relieved. She explains how she thought she had found her son a year ago when a boy named Alan surfaced in Baghdad who resembled her son. "I was sure: That's my Alan," she says. But a DNA test resulted in disappointment — it turned out to be the wrong Alan. A DNA test for this Alan is still pending, but Ezdo is sure he is her son. "Because of Lina. Because they came back together," she says.
Alan's mother is pleased with the small progress made in recent days. For the past two nights, her son has been lying in bed with her and he no longer wants to sleep alone on the floor. She is also happy that he sleeps both a lot and deeply, apparently without any nightmares. And that he wants a bicycle.
"He pointed at a bike yesterday and then at himself," she says. "He said he was responsible for repairing them while he was with IS." But that's not true, counters Lina. "He was in the house with me the whole time."
'He Wasn't Like That Before'
Alan is supposed to go back to school again soon once his return has been registered with the Kurdish autonomous government in northern Iraq. "I hope it will calm him down," Ezdo says. "He's such a fidgeter now. He wasn't like that before," his mother says.
The SDF fighters who captured Baghuz have reported that IS beheaded and buried dozens of Yazidi girls and women in one of its final atrocities in the village. They claim they have uncovered mass graves with the corpses of decapitated women. Britain's Daily Mail newspaper also reported that British special forces had discovered the severed heads of around 50 women in trash bins in Baghuz.
In mid-March, officials began exhuming the first of 73 Yazidi mass graves in the Sinjar region in Kocho. It's the home village of Nadia Murad, the Yazidi recipient of last year's Nobel Peace Prize for her work in the fight against sexual assault and violence. IS terrorists also kidnapped Murad and held her for weeks.
'It's Getting Harder to Find Them'
Most of the men in Kocho were massacred, but Idris Bashir Sallo is one of the few survivors. After getting shot during the raid, the 46-year-old businessman crawled into a ditch before the terrorists returned with an excavator to cover the bodies. An Arab friend drove Sallo to the hospital in Mosul, where he lay next to a wounded IS fighter. His friend then took him to the secure Kurdish region. Sallo has since taken on the task of rescuing abducted Yazidi women and children — 216 so far. There's still no trace of more than 1,500 people.
"Many of the kidnapped women and children are scattered," says Sallo. "They disappear among the civilians. It's getting harder and harder to find them." He says there are also bands of gangsters operating a criminal trade with the abductees. Sallo is using his former business contacts with Arab tribes to try to track down kidnapped people. "In the past, we usually paid around $300, sometimes up to $10,000 to get someone back, but now it's always more than $10,000," he says.
His two wives and five daughters were among the abducted. He found them one by one, and they are now living in Germany. "They can get better treatment there," he says. He stayed back in northern Iraq on his own. He says he wants to bring back the rest of the people who are still missing.


Revealed: federal support to research centers cut off as scientists fear years of successful work will go 'down the drain'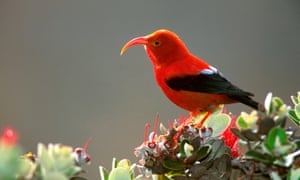 Work by one Landscape Conservation Cooperative helped the i'iwi, an endemic Hawaiian honeycreeper, listed as 'threatened' under the federal Endangered Species Act. Photograph: Jack Jeffrey/AP
Scientists and officials around the US have told the Guardian that the Trump administration has withdrawn funding for a large, successful conservation program – in direct contradiction of instructions from Congress.
Unique in scale and ambition, the program comprises 22 research centers that tackle big-picture issues affecting huge swaths of the US, such as climate change, flooding and species extinction. They are known as Landscape Conservation Cooperatives – or were, because 16 of them are now on indefinite hiatus or have dissolved.
"I just haven't seen anything like this in my almost 30 years of working with the federal government," said a scientist at the Fish and Wildlife Service who worked for one of the LCCs and wished to remain anonymous, because federal employees were instructed not to speak with the Guardian for this story. "There is this lack of accountability."
"Congress approved $12.5m for the existing 22 landscape conservation cooperatives," said Betty McCollum, chair of the House interior-environment appropriations subcommittee, at a recent hearing with an interior department official. "[But] we are hearing disturbing reports from outside groups and concerned citizens that the LCC program is being altered and may not receive any federal funding."
McCollum requested a full accounting of the situation so her committee could investigate.
The LCCs were established under the Obama administration in 2010 and staffed by the Fish and Wildlife Service, and appeared to be achieving their goals. In Hawaii, a center found that many native Hawaiian forest birds would not have any suitable habitat remaining by the end of the century, which helped get one of the birds listed as "threatened" under the federal Endangered Species Act. In flood-prone areas of the Gulf coast, work by an LCC has resulted in more residents getting access to flood-insurance discounts. Another created the "California Climate Commons", a website that aggregates studies, data visualizations and maps on how climate change will affect the state.
"No other federal program is designed to address landscape conservation needs at a national scale" in this way, according to a 2016 review by the National Academy of Sciences.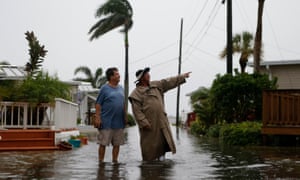 Flood water inundates a town along Florida's Gulf coast during a tropical storm. Work by LCCs helped more residents access flood-insurance discounts. Photograph: Brian Blanco/Getty Images
Donald Trump made it clear from the beginning that the LCCs – and science funding in general – were not a priority for his administration. His first budget proposal as president eliminated funds for the LCCs, and for other applied research programs run through the interior department. Ensuing budget requests followed the same pattern.
But Congress decides the federal budget, and it can disregard a president's proposals. It has consistently rejected these cuts. In 2017, a consortium of NGOs, state fish and wildlife agencies, and tribal groups came together to convince Congress that LCCs were crucial. The Congress for American Indians passed a resolution in support of the LCC network, stating that "they have played an important role in advancing western science and traditional knowledge with our local communities that are continually struggling to adapt to increasingly unpredictable and dangerous environments due to climate change".
These petitions were successful and since then Congress has continued to fund LCCs at the same level – about $12m.
Even so, in 2017 LCCs across the country began to receive the news that they would no longer receive federal support.
"With this administration, very few things come out on email or on paper. There's very little paper trail. It's just, this is the way it's going to be," said another Fish and Wildlife Service scientist who worked for one of the LCCs.
The scientist said that federal support for the LCC program appeared to dry up after the start of an unprecedented political review of scientific research at the interior department, of which the Fish and Wildlife Service is a part. It was led by Steve Howke, a high school friend of the former interior secretary Ryan Zinke. When this review began, said the Fish and Wildlife Service scientist, "it was known that nothing associated with LCCs, would be funded" and they "basically had to kind of wind everything down".
There was also resistance to the centers within the interior department, several scientists associated with the LCCs said, because some officials did not like the loss of control that came with their collaborative approach.
"For most of us in the program, it was pretty disappointing. We put a lot of blood, sweat and tears into getting to where we were," says Greg Wathen, the former coordinator for the Gulf Coastal Plains and Ozark LCC. "I always felt like we were right on the cusp of making some real good progress."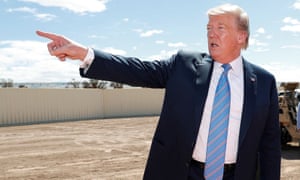 Donald Trump has made it clear that science funding is not a priority for his administration. Photograph: Kevin Lamarque/Reuters
Gary Tabor, a member of the LCC Network Council, a group that provided leadership for all 22 centers, said the LCCs had created a framework for the nation to address existential challenges, like natural disasters.
"That kind of architecture is now lost, and takes time to build up and it takes training the people and positioning the resources," he said. "We've lost time, we've lost money, and we've lost momentum."
According to information compiled by the FWS and shared confidentially with the Guardian, six LCCs are on hiatus, and 10 have officially dissolved. Another six continue to operate thanks to support from other sources. The California LCC is now hosted and funded by the state, for instance, and the Aleutian and Bering Sea Islands LCC in Alaska is now run by the Alaska Conservation Foundation.
A Fish and Wildlife Service representative conceded that it "no longer provides dedicated staff, administrative functions and funding for the Landscape Conservation Cooperatives (LCCs)".
The first anonymous scientist is in despair. "I'd say there could be five to six years [of work] down the drain."
More On The Environment:
Queen Wilhelmina tried to broker pact via Vatican for Leopold III, war diaries reveal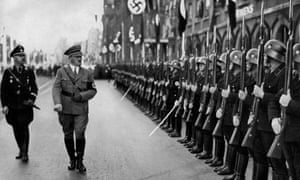 Adolf Hitler inspects Nazi troops, Germany, 1935. Photograph: Print Collector/Getty Images
Queen Wilhelmina of the Netherlands sought to broker a deal via the Vatican in which senior Nazis at the end of the second world war would be helped to escape Europe in return for Germany releasing the Belgian king, according to newly discovered documents.
Diaries of her war-time foreign minister, Eelco van Kleffens, suggest that Wilhelmina, the great-grandmother of the current Dutch King, Willem-Alexander, ordered her government in March 1945, two months before the end of the war in Europe, to scope out whether top Nazis could be offered an escape route as a trade.
King Leopold III, who had refused to go into exile with his government at the time of the German invasion in 1940, had by this time been moved as a result of the D-Day landings from house imprisonment in the royal chateau in Laeken, Belgium, to a villa in Strobl, Austria, where he was under the guard of the Waffen-SS.
Wilhelmina, who was vehemently anti-Nazi, sought to devise the rescue plan after a conversation with the Belgian Queen Mother, Elisabeth, who was still in Brussels and feared that the Germans would liquidate the Belgian royals in the last months of the war.
The outcome of the queen's orders, made to Van Kleffens, one of the few Dutch ministers she trusted, are revealed in a newly published history of the period.
The Belgian king and his wife, Mary Lilian Baels, a London-born non-royal whom he met while under German guard, were eventually liberated by US troops when they accidentally came across the couple on 7 May 1945, on the day of Germany's unconditional surrender.
Leopold's conduct during the war, including his refusal to join his exiled government, his surrender of the Belgian army after two weeks without the consent of ministers, and a visit to see Adolf Hitler at the German führer's Berghof retreat in the Alps, led to persistent rumours that the king held Nazi sympathies.
Leopold's war record was vilified by both the French prime minister Paul Reynaud and the former British prime minister David Lloyd George, who claimed that in the "black annals of the most reprobate Kings of the earth" there was not "a blacker and more squalid sample of perfidy and poltroonery than that perpetuated by the King of the Belgians".
Leopold did not return to Belgium immediately on his liberation instead naming his brother, Prince Charles, as regent while he moved to Switzerland.
It was only after a 1950 referendum in which 72% of Flemish speakers and 42% of Francophones voted for his return to the throne that he came back. The controversy over Leopold's record continued, however, leading to riots, and his eventual abdication in 1951 in favour of his 20-year-old son, Baudouin.
Relations between Leopold and the British royal family were cool in the postwar years until Queen Elizabeth II invited Leopold to visit her in Buckingham Palace in May 1956. He died on 26 September 1983, aged 81, following a heart attack. He was laid to rest at the Royal Crypt of Laeken, among other Belgian kings.
World Politics
United States
Many Democrats believe the Mueller report gives ample justification to start impeachment proceedings – but others maintain it might help Trump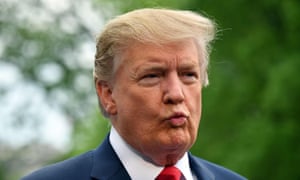 Lawmakers return to Washington on Monday with the question of impeachment more prominent – and more plausible – than at any point in Trump's presidency. Photograph: Mandel Ngan/AFP/Getty Images
W

hen special counsel Robert Mueller's exhaustive report on Russian meddling in the US presidential election was released to the public earlier this month, the House speaker, Nancy Pelosi, was in Ireland. Her caucus was spread across the globe on congressional trips abroad or in their home districts, preparing for Easter or Passover.
After a two-week recess that provided ample time to read the 448-page report – a devastating portrait of a presidential campaign eager to accept help from a foreign adversary and president intent on using the power of his office to protect himself, his family and his allies – Democrats return to Washington divided as the fate of Donald Trump's presidency shifts to Congress.
Pelosi has urged caution on impeachment, encouraging the Democratic committee chairs to use Mueller's report as a "road map" to continue investigating the president and see where the facts lead. Party leaders have largely agreed to the plan, even as several prominent liberals, lawmakers of color and a handful of 2020 candidates have called on Democrats to go further.
"Impeachment is the people's last instrument of constitutional self-defense against a president who is trampling the rule of law and acting like a king," said congressman Jamie Raskin, a Maryland Democrat and a constitutional law professor.
The decision to bring articles of impeachment against a president is "inescapably a question of both law and politics", Raskin said, noting that the founders had considered whether the process should be handled by the supreme court but ultimately decided it was best suited for Congress.
"We have to ask first whether there are high crimes and misdemeanors against the character of our government," he said. "And then, secondly, if it's in the best interest of the American people."
After a nearly two-year investigation into Russian meddling in the last presidential election, Mueller said there was insufficient evidence to conclude that Trump's 2016 campaign engaged in a criminal conspiracy with Russia. Trump has declared "total exoneration" by the Mueller report, though investigators explicitly stated that they did not reach that conclusion on whether the president obstructed justice.
The redacted version of the investigation's findings describes nearly a dozen episodes in which Trump attempted to impede or undermine the investigation and appeared to offer a guide for Congress to investigate whether the president violated the law.
Many Democrats, even those who have not stated so publicly, believe Trump's conduct meets the bar for impeachment. But there are sharply divergent opinions on whether it is the best course of action 18 months before a presidential election.
"Impeachment is one of the most divisive paths that we could go down in our country," Pelosi said, speaking in New York last week. "If the path of fact-finding takes us there, we have no choice. But we're not there yet."
Several Democrats are there already, however. At a CNN town hall last week, Elizabeth Warren, the first 2020 contender to endorse impeachment, said Congress had a constitutional duty to hold the president to account. In the wake of the abuses and misconduct outlined in the Mueller report, Warren said all members of Congress ought to take a position on the record.
"If there are people in the House or the Senate who want to say that's what a president can do when the president is being investigated for his own wrongdoings, or when a foreign government attacks our country," she said, "then they should have to take that vote and live with it for the rest of their lives."
Still, Bernie Sanders, who shares Warren's leftwing politics and is a rival in the 20-person race for the Democratic nomination, worries impeachment might strengthen Trump's electoral prospects.
"If all Congress is talking about is impeaching Trump and Trump, Trump, Trump, and Mueller, Mueller, Mueller, and we're not talking about healthcare, we're not talking about raising the minimum wage to a living wage, we're not talking about combating climate change, we're not talking about sexism and racism and homophobia … what I worry about is that works to Trump's advantage," he said, speaking after Warren at the CNN town hall.
In the aftermath of the Mueller report, congresswoman Alexandria Ocasio-Cortez announced her support for an impeachment resolution introduced by fellow freshman congresswoman Rashida Tlaib, who campaigned for Congress on removing Trump from office.
"Many know I take no pleasure in discussions of impeachment. I didn't campaign on it, & rarely discuss it unprompted," Ocasio-Cortez tweeted. "We all prefer working on our priorities: pushing Medicare for All, tackling student loans, & a Green New Deal. But the report squarely puts this on our doorstep."
Ninety percent of the calls and mail I'm receiving in my office support impeachment of Trump and so do I

Maxine Waters
The freshman joined a handful of prominent members Congressional Black Caucus and the Congressional Progressive Caucus in calling for Trump's impeachment. Among them is the California congresswoman Maxine Waters, the chairwoman of the financial services committee and a high-profile leader of the resistance movement to Trump.
"Ninety percent of the calls and mail I'm receiving in my office support impeachment of Trump and so do I," Waters wrote. Pressing for immediate action, she added: "The impeachment resolution must start with, and be taken up by, the judiciary committee."
But California congressman Brad Sherman, one of three members of Congress who have filed articles of impeachment against Trump, insisted his constituents were more concerned by local issues than impeachment. He said that just "5%" of the questions he received over the recess pertained to impeachment.
Sherman believes now, as he did in July 2017 when he first introduced articles of impeachment against Trump, that the president has obstructed justice. But he endorses Pelosi's methodical, investigations-first approach.
"You cannot remove a president without a two-thirds vote in the Senate. You can't get a two-thirds vote in the Senate without changing the public opinion and you can't change public opinion without getting all the facts in front of the American people," he said.
A Washington Post-ABC News poll released last week found that only 37% of Americans agreed that Congress should begin impeachment proceedings against the president, while 56% opposed the idea. Overall, support for impeachment declined slightly from a month ago, even as Trump's approval rating has fallen in the wake of the Mueller report.
Young Americans support impeachment at a higher rate than their older counterparts, while 69% of African Americans support the idea – the highest of any group in the survey.
"Legally, I'd like to draw the line," Sherman said. "But I think if the president were impeached and not removed, and then scored a political victory off of that effort [by winning re-election], we might be sending the exact wrong message."
Democrats are keenly aware of the history of impeachment: that public opinion can melt the partisan divide even in deeply polarized times, as it did during the Watergate scandal involving president Richard Nixon. They also know that attempting to remove a president without the support of both parties can cause self-inflicted wounds, as it did in the late 1990s when Republicans pursued impeachment against Bill Clinton.
William Galston, a former Clinton White House adviser and a governance expert at the Brookings Institution, said Democrats would repeat the mistakes made by Republicans when they impeached Clinton if they pursue impeachment against Trump.
"If you want to defend the constitution, make sure Donald Trump doesn't get re-elected," he said. "If you want to condemn his behavior, make sure a majority of the American people vote to remove him from power. Everything else is a sideshow."
Progressive groups like Indivisible are rallying their sprawling grassroots organization around impeachment. And Tom Steyer, the Democratic activist and billionaire whose Need to Impeach campaign has collected 8 million signatures, is urging members of Congress to act.
"There is a dramatic risk to doing nothing because if the system fails, people don't believe in the system and they don't vote," Steyer said. "And it raises the question: are we going to uphold the values of the system or not?"
Steyer is calling for "televised public hearings as quickly as possible". He said it was unfair to expect that Americans read a 448-page legal document to understand its findings. But watching the central actors testify before Congress would show its findings in a more accessible format.
Steyer believes testimony from former White House counsel Don McGahn, who was a chief witness to many of the most damning episodes of potential obstruction outlined in the Mueller report, could help to sway public opinion as it did when John Dean, the former White House counsel for Nixon, testified in 1973 during the Watergate investigations. When Republican lawmakers started to abandon Nixon, he resigned before being impeached.
But House Democrats are facing blanket resistance from the White House after Trump ordered past and present federal employees, including McGahn, to defy requests from congressional investigators.
"We're fighting all subpoenas," he told reporters at the White House last week.
The approach sharply undermines the ability of Congress to conduct oversight of a president who sees few limits to his executive power – and may add pressure on Democrats to trigger the ultimate legislative fail-safe.
Raskin said: "We have an obligation both to keep faith with the framers of the constitution and we also have a central duty to the people who are alive today and to future generations to set a standard for presidential behavior.
"In speaking with colleagues, I believe that the heavy weight of our constitutional responsibility has begun to settle on the shoulders of members of Congress."