02 May
A Foreign Perspective, News and Analyses
Nearly all of these are English-edition daily newspapers. These sites have interesting editorials and essays, and many have links to other good news sources. We try to limit this list to those sites which are regularly updated, reliable, with a high percentage of "up" time.
Recommended:


The Guardian's picture editors select photo highlights from around the world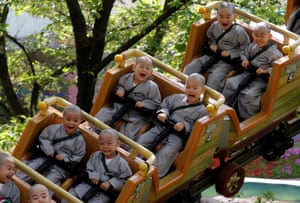 Yongin, South KoreaBoys who are staying in a temple for two weeks as novice monks enjoy a break at Everland amusement park
Photograph: Kim Hong-Ji/Reuters
Savanna LaFontaine-Greywind's murder sparked outrage in the US. A bill named after her aims to address the crisis of violence against native women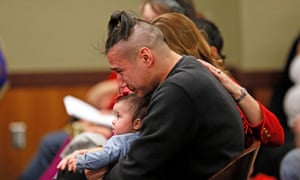 Savanna LaFontaine-Greywind's boyfriend Ashston Matheny holds their daughter, as victim impact statements are read during the sentencing of Brooke Crews. Photograph: David Samson/AP
There was heartbreak across Indian Country in August 2017 when the body of 22-year-old Savanna LaFontaine-Greywind was found duct-taped in plastic in the Red River.
The ribbon of water demarcates North Dakota from Minnesota, a tributary flowing northward across the Canadian border. It's where, a few years earlier, an Indigenous girl, 15-year-old Tina Fontaine, was discovered wrapped in a duvet cover and weighted down by rocks.
The tales of these two tragedies and the river itself are emblematic of a modern violence against one of the world's most vulnerable populations, Indigenous women and girls. It is a problem police and authorities in the US have been accused of ignoring.
The river, over the decades, has come to be seen by many in the Indigenous community as a dumping ground for discarded bodies, but their sense is that detectives don't take this seriously. Loved ones of the missing started to drag the Red on their own starting in 2014 after finding Fontaine. That year, advocates say they pulled seven bodies from the river.
Indigenous women in the United States and Canada are murdered, vanished or found dead without explanation at rates well above national per capita averages. Advocates on both sides of the border blame the crisis on a lack of specialized investigative policing as well as extreme gaps in government oversight.
Others are more blunt and call the problem something else: racism, a discrimination breeding distrust in authorities among Indigenous peoples. The discord suggests that whatever statistics are known are likely a disturbing undercount. Crimes are unreported and when they are, incidents often lack essential data and facts.
But unlike Canada, the US lags behind in awareness and action to curb the injustice. Fontaine, whose death is still unexplained, renewed calls by First Nations activists for a national inquiry into the broader issue – a cause the Canadian prime minister, Justin Trudeau, committed to in 2017. The nearly two-year investigation concluded in December. A report is expected to be released in June.
It's unclear just how extensive the problem is in the US. A review of the FBI's 2017 violent crime report lists incidents that occur on tribal lands but does not tell anything about the gender or ethnicity of the victims.
Statistics from the Centers for Disease Control and Prevention suggest that young Native American women are less likely than other women to be victims of homicide. Advocates argue that such statistics may reflect poor data collection, not less violence.
The murder of LaFontaine-Greywind sparked a national outrage in America, and last year, a bill named after her became the first in Congress to propose increasing coordination among federal, state and tribal law enforcement to curb the chronic rate at which Indigenous women go missing or are slain. However, passing Savanna's Act has been on an uneven path.
In August 2017, during her last month of pregnancy, LaFontaine-Greywind, whose Dakota name is "Where Thunder Finds Her", placed a pizza delivery order to her family's Fargo apartment before heading upstairs to see a neighbor. It was the last time her parents would see their daughter alive.
Kayakers found the Spirit Lake Nation woman eight days later. Her baby had been cut from her womb. Police had found the healthy newborn 72 hours earlier on the bed of her neighbor, Brooke Crews. The woman was arrested, pleaded guilty and was sentenced to life without parole. Her live-in boyfriend, William Hoehn, was also sentenced to life for conspiring to kidnap Savanna's baby, Haisley Jo.
Brooke Crews leaves Cass county district court in Fargo, North Dakota, on 2 February 2018. Photograph: David Samson/AP
Justice was swiftly served in the aftermath of LaFontaine-Greywind's death, a rare outcome. So many other cases have turned cold.
Family and mourners felt the Fargo police department had reacted too slowly to her disappearance. The chief of police, David Todd, indicated that the investigation may have gone differently if the force knew they were looking for someone who had died. Tribal leaders across the state demanded reform
Dave Flute is the chairman of the Sisseton-Wahpeton Oyate Nation and leads the United Tribes of North Dakota, a leadership coalition representative of the state's five-federally recognized tribal nations.
"During the gatherings and prayers for Savanna, we heard story after story from families who also have women in their families missing or with unsolved murders," said Flute in a letter addressed to North Dakota's congressional delegation in the weeks following LaFontaine-Greywind's death. "The murder of Savanna illustrates a much larger problem of epic proportions."
In the letter sent on behalf of the tribes, leaders outlined 10-points of action for lawmakers to consider. Today, it serves as an aspirational checklist to gauge progress on the violence faced by Indigenous women and girls.
Heidi Heitkamp, the former senator of North Dakota, wasted little time responding to the checklist.
"For too long, the disproportionate incidences of violence against Native women have gone unnoticed, unreported or underreported and it's time to address this issue head on," said Heitkamp on the day she introduced Savanna's Act on the Senate floor in Washington DC, just six weeks after LaFontaine-Greywind's body was pulled from the Red River.
A year later in the run-up to the midterm elections in November 2018, Heitkamp was defeated by Kevin Cramer, North Dakota's sole congressional representative. With the clock ticking on her time in Washington, Heitkamp doubled-down on her signature legislation.
Savanna's Act passed the Senate in the final days of the 115th Congress, but the bill was ultimately blocked by a single vote. The Republican congressman Bob Goodlatte of Virginia opposed certain provisions, which sent Heitkamp's proposal back to square one.
Heitkamp, who prosecuted sexual assault cases as North Dakota's attorney general and whose mother was a survivor of sexual violence, told the Guardian the failure left her with "heartache".
"We could have gotten it done at the end of last year. We'd be already, how many months into enforcement and implementation?" Heitkamp said.
The Senator Lisa Murkowski of Alaska reintroduced the bill in January. The proposed legislation would improve and increase access to data on Native American crime victims, establish police protocols and require annual reports to Congress on the number of missing and slain Native American women.
Amendments made to Savanna's Act also expanded its reach to include non-reservation based communities after the Urban Indian Health Institute pointed out that the bill was an incomplete solution because it did not include urban women – such as LaFontaine-Greywind herself. Nearly three-quarters of Native Americans do not live on reservations but in cities and border towns across the US.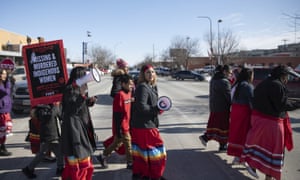 People march in downtown Rapid City, South Dakota, 14 February 2019, to call attention to missing and murdered Native American women and girls. Photograph: Ryan Hermens/AP
Those expansions outlined in Savanna's Act would mean that police resources – including vital funding – would work to include collaborative efforts across jurisdictions but without an increase in appropriations, which had been a key reason for Goodlatte's objection, he said.
Despite co-sponsoring Savanna's Act in January, Senator Cramer has also said he wanted changes made to the bill so it doesn't "disadvantage law enforcement agencies".
Should passage of Savanna's Act meet challenges again, there are several other pieces of pending legislation at the federal and state level which address gender violence against Indigenous women, including the recently introduced Not Invisible Act sponsored by Murkowski, a Republican, and Democratic senators Catherine Cortez Masto and Jon Tester.
Like Savanna's Act, the Not Invisible bill goes a step further in calling for an advisory committee of local, tribal and federal stakeholders to examine best steps in stemming violent crime and human trafficking of Native women. The namesake of the bill was inspired by a celebrity-driven #NotInvisible social media campaign initiated by Heitkamp in 2017, although few advocates in Indian Country have adopted the hashtag.
"Despite the narrative, it's still being shaped by those on the outside," said Abigail Echo-Hawk, the director of the Urban Indian Health Institute based in Seattle and a tribal citizen of the Pawnee Nation.
But Echo-Hawk gives credit to the congresswoman Deb Haaland of New Mexico – one of the first Native American women elected to Congress – for advocating for nuanced legislation more reflective of Indian Country. In the days leading up to a House vote approving the reauthorization of the Violence Against Women Act earlier this month, Haaland was able to add language which would provide victim advocate services to urban Indians in the state courts.
Indigenous political representation is a hopeful sign for advocates like Echo-Hawk who complain that policies impacting Indian Country have for too long resulted in half-measured solutions.
"The calls for various task forces to be set up and awareness days being implemented are great, but that's not enough," said Echo-Hawk.
Like many advocates across Indian Country who are invested in the "missing and murdered" advocacy movement, there is a watchful gaze on Canada and the anticipated national inquiry report inspired in part by Tina Fontaine.
Early indicators suggest poverty, unemployment and a lack of western education could be factors behind the violence, according to Marion Buller, the chief commissioner of Canada's National Inquiry into Missing and Murdered Indigenous Women and Girls.
"We're not seeing the inclusiveness the way we'd like," said Echo-Hawk referring to the kind of policymaking addressing gender violence across the country.
"It's time for real action and for real investment and we'll take nothing less than that."
World Politics
United States
Audio obtained by the Guardian shows Matt Shea said 'communists are lying in wait' and associate told audience to collect 'an AR-15' and 'rounds of ammo'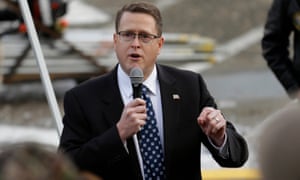 Representative Matt Shea said at the God and Country event in 2018: 'You all know that you should have an AR-15 and a thousand rounds of ammo, right?' Photograph: Ted S Warren/AP
Washington state Republican representative Matt Shea and several associates regaled an audience with conspiracy theories, separatist visions and exhortations for listeners to arm themselves ahead of a looming civil war, at a gathering at a remote religious compound in the north-east of the state last year.
In recordings obtained by the Guardian, Shea and Jack Robertson, also known as radio personality John Jacob Schmidt, invoked their visions and fears of a violent leftist revolt in speeches at the 2018 God and Country event in Marble.
The Guardian last week published leaked chat records in which Shea and Robertson were revealed to have discussed the use of surveillance, "psyops" and violence against liberal and leftist activists.
Recordings obtained by the Guardian show Republican representative Matt Shea and several associates telling an audience to arm themselves for a looming civil war. The audio was taken in a remote north-eastern religious compound in Washington state last year. In the recordings they can be heard saying 'How many of you have pulled the trigger on your AR-15 in the fight we are in yet?' and 'The war is here – the bad guy is here' AUDIO
Robertson – who aired fantasies of extreme violence against liberal activists in the leaked chats – told the audience at the 2018 event that they should be prepared for civil war.
In his speech at God and Country last June, which immediately followed Shea's speech, Robertson said: "Of course, you all know that you should have an AR-15 and a thousand rounds of ammo, right? Because Antifa is kicking up and getting ready to defend, right?"
Shea's speech flirted with themes of civil war, but mostly focused on the idea of separating eastern Washington out into a separate political entity, with the view of having "an entire geographic area repent".
He began by proposing "a simple idea that may make you cringe a little at first. And that idea is that liberty must be kept by force."
Shea said the reason America was no longer a "beacon of Christianity", was "because of compromise. And it's not knowing that the communists are training, they're planning, they're organizing and they are lying in wait."
He added: "If you don't believe that, then you don't understand what is really wrong with America."
The Guardian's revelations about the chat records prompted widespread condemnation from all levels of politics in Washington.
Governor and presidential candidate Jay Inslee, lieutenant governor Cyrus Habib, the state Democratic party, and House Democrats all condemned Shea's remarks, along with Spokane county's Republican sheriff, Ozzie Knezovich.
The state house Republican leader JT Wilcox condemned talk of violence in the chats, but stopped short of criticizing Shea. On Friday, Republicans reportedly announced that they would conduct a review of Shea's action at the end of the legislative session.
Shea first responded late on Monday night with a brief statement on Facebook calling the news "an extremely misleading hit piece", claiming that he had received death threats in the past, and a link to an Australian white nationalist website post which criticizes this writer. It came almost a week after he was first contacted by the Guardian for comment.
On far-right websites, podcasts, and in media interviews, Shea, Robertson and another participant in the chat, Anthony Bosworth, claimed that Shea did not see the parts of the chat where they threatened violence.
Of course, you all know that you should have an AR-15 and a thousand rounds of ammo, right?

Jack Robertson
However, the records show Shea to have been added at the beginning of the conversation, and to have posted immediately before and after the most elaborate evocations of violence.
In his 2018 speech, Robertson said the audience should prepare for the threat of civil war. "It's a fact that what we see on the political landscape and our cultural landscape are indicative of a coming civil war," he said.
Robertson is a close ally of Shea's. In a phone conversation with the Guardian earlier this month, he said: "I consider representative Shea to be a friend." The pair are regular guests on each other's broadcasts on a local Christian network, and often share a stage at "patriot movement" events.
Shea, who rarely talks to reporters, did not respond to requests for comment.
Asked earlier this month whether he still stood by his remarks at God and Country, Robertson said: "Oh, of course I stand by that statement. I think it's the duty of every American. From the beginning of this country every male was armed and had adequate arms and ammunition to defend himself and his community."
At Marble, Robertson blamed Democrats for the supposed impending insurrection, saying: "Maxine Waters says we need to take the struggle to them and get in their face and be confrontational and Antifa and the communists are responding to that message, are they not?"
But Shea mostly addressed his long-held plan to divide Washington, with the eastern half to be renamed "Liberty State". In more public presentations in the Liberty State campaign, Shea has often given economic, cultural, and political reasons for the separation. In this speech he appeared to propose a more radical vision, which was divinely ordained.
"Think about it. God has established the boundaries of the, what people call, The American Redoubt," referring to the political movement he is associated with, initiated by survivalist author James Wesley Rawles,which encourages "Christian patriots" to move en masse to the mountain west.
"I think it is our job just to implement it," he added.
God and Country has been held as an annual event at the private compound known as Marble Country, at Marble in Stevens county, Washington. The facility was developed to house an intentional community attached to a church, the Marble Community Fellowship, which was founded in 1991 and led ever since by Barry and Anne Byrd.
During the 1990s, the Byrds associated with adherents of the Christian Identity movement, which interprets the Bible as establishing a racial hierarchy, wherein Jews and blacks are enemies of the white race, who are the true Israelites.
Though it is not clear that the Byrds still embrace Christian Identity beliefs, they do still adhere to Dominionist theology, which holds that the United States should be a theocracy: governed by Christians, according to divine law.
In a broadcast immediately after Trump's election in 2016, Shea hosted Byrd on his radio broadcast and podcast, where they reflected on the opportunity the election presented.
"We're here to take dominion under Christ," Byrd reminded Shea at one point in the broadcast. "As you know, that has to do with government."
The former vice-president is dressing up his candidacy in a blue-collar costume. But he's never taken a political risk for workers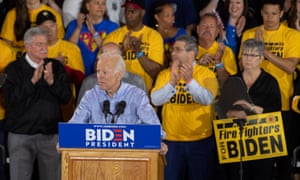 The former vice-president Joe Biden speaks at a campaign rally at Teamsters Local 249 union hall on Monday in Pittsburgh, Pennsylvania. Photograph: Jeff Swensen/Getty Images
I

n San Francisco there's a high-end boutique called "Unionmade". There you will find expensive work jackets and overalls, lit by bare bulbs and displayed on unvarnished metal shelves. The aesthetic could not convey its message any more clearly: buy these clothes, and access a bygone era of authenticity and American craftsmanship. But it's a lie – the clothes on offer are largely not union-made. "The unfortunate reality is that there are not many unions left in the garment industry and so the name was cultivated as a signifier of well-made and aesthetically timeless goods," explains a spokesperson.
As the industrial working class has faded, its afterimage has become available for appropriation in commerce, in culture and in politics. Such appropriation need not entail commitment to the workers' movement. Everyone from Levi's jeans to Donald Trump has made this move – and now, Joe Biden, the would-be candidate of labor.
Biden is the Unionmade of politicians. The former vice-president is taking great care to dress up his new candidacy in a blue-collar costume; as Andrew Epstein puts it, he is an "aesthetic populist". His kickoff rally was on Monday in a union hall in Pittsburgh, where the president of the United Steelworkers of America promised his members would be present "wearing their USW gear".
The International Association of Fire Fighters (IAFF), whose president has long been close to Biden, has endorsed him. Bob Casey, the Pennsylvania senator of the old New Deal variety (anti-abortion, pro-labor), chimes in that Biden has an "electric" connection with "old-school union guys".
When he was considering running in 2016, CNN observed, "Joe Biden's relationship with America's working men and women is at the core of his political soul." Yet the idea that Biden is some kind of working-class hero has no discernible substance. Like the myth on the right that Alexandria Ocasio-Cortez is an empty-headed idiot, it's pure projection – though one that he's at great pains to encourage.
To be sure, Biden is a nominally pro-union liberal. Like any Democrat, he won't cross a picket line. He loves to talk in union halls. He's always saying things like, "There's an old saying – all men are created equal but then a few became firefighters," and "The best place for me to be my whole career is surrounded by organized labor. And I know how to say 'union'."
The notional blue-collar appeal of Joe from hard-luck Scranton was widely understood to be one of the main reasons that Barack Obama – famously the effete "wine track" candidate – selected him as a running mate. But where does this appeal come from? Biden's not a scion of wealth, but he grew up in the middle class: his father was a used-car salesman, not a factory worker.
At no point in his career has Biden proven willing to take the slightest political risk on behalf of workers. His appearances in union halls occur when he needs something from labor. On the other hand, when Biden went to vacation in the Hamptons during the 2011 Verizon strike, workers in the area sought him out "just to possibly get a show of support, a thumb's-up, a head nod, anything" – to no avail. That same year in Wisconsin, labor leaders specifically asked Biden to come to rally their resistance to the brutal, ultimately successful attack by Scott Walker; Biden declined.
In fact, I can find reports of only two instances of Biden appearing on a picket line or otherwise supporting embattled workers at any point in his very long public life: once in Iowa, during his 1987 presidential campaign, and just this month in Boston. Now, his first major presidential fundraiser is being hosted by the founder of one of the country's leading anti-union law firms. The man running to be labor's champion is sponsored by someone who has made millions choking the life out of the labor movement.
Nor does Biden have a public policy record favorable to the working class. In 1977-1978, during unions' big push for labor law reform, he vacillated for months and sabotaged the proposal with public criticism. He voted for Nafta and supported the Trans-Pacific Partnership. He authored the punishing 2005 bankruptcy bill, a reward to creditors and punishment to debtors. Worse still, he has been one of the main legislative architects of mass incarceration, a regime that has devastated the heavily policed and punished American working class.
But this brings us to the real substance of the problem. Biden would surely not recognize the targets of mass incarceration as members of what he imagines as the "working class". As he put it in a speech to the IAFF in March, "In my neighborhood you grew up either to be a firefighter or a cop, a tradesman or a priest." This stratum is what has often been called the "aristocracy of labor". These occupations and their unions have historically been hostile to women and people of color and de facto segregated. They are more economically comfortable and politically conservative than the rest of the working class, and are notorious for pursuing their own immediate interests over broader working-class solidarity. The building trades, for instance, have played a central role in leading organized labor's opposition to the Green New Deal.
When Biden cracked a joke several weeks ago about his habit of touching women without consent, he was speaking to the International Brotherhood of Electrical Workers. While the IBEW today takes a strong public stand for workplace equality, both the union and the industry have deep histories of ignoring sexual harassment and racial discrimination. According to a 2013 study, only one-quarter of women in the building trades believe they are equally respected on the job. This context makes Biden's joking about the accusation of a Latina before that particular crowd seem altogether more insidious. Harassment, after all, is nothing if not a workplace issue. You'd only joke about it to a union crowd if you didn't think women were really workers.
But Biden's vision of a better deal for labor is, explicitly, to turn back the clock. "There used to be a basic bargain in this country," he is fond of saying. "All we're trying to do is get it back to where we were."
The unions that are considering supporting Biden are the blue-collar ones that were party to what he calls the "basic bargain" of mid-century. The leaders of those organizations were unnerved by how strongly Donald Trump ran among their members, and it is this anxiety that fuels their attraction to Biden, who they hope will do their persuasion work for them.
Unions closer to politicians than to their members are unions waiting to die. As labor's fortunes have declined, so has the imaginative scope of many labor leaders. Each year of shrinking membership has driven them to behave more narrowly and defensively, to abandon the initiative.
This is all the worse in a moment that invites broad and radical vision. More workers went on strike in 2018 than in any year since 1986. Over 90% of those who did worked in either healthcare or education – sectors that were not included in the mid-century "basic bargain".
What's remarkable is that Biden's proletarian minstrel act has worked for this long. When he dropped out of the 1988 presidential race, it was after getting caught plagiarizing a monologue by the British Labour party leader, Neil Kinnock, on his coalminer roots. Biden's spokesperson explained that, while Biden had no immediate relations who were coalminers, the "people that his ancestors grew up with in the Scranton region, and in general the people of that region were coalminers." In fact, Biden did have an ancestor in the coal industry, Patrick F Blewitt, who died in 1911. But he wasn't a miner – he was a boss.