06 May
A Foreign Perspective, News and Analyses
Nearly all of these are English-edition daily newspapers. These sites have interesting editorials and essays, and many have links to other good news sources. We try to limit this list to those sites which are regularly updated, reliable, with a high percentage of "up" time.
Recommended:


Scientists reveal one million species at risk of extinction in damning UN report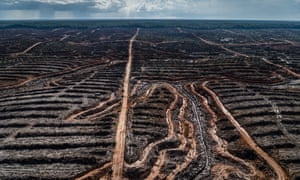 Forest clearance in Indonesia. Scientists have warned of the impact of deforestation on animals. Photograph: Ulet Ifansasti/Greenpeace
Human society is in jeopardy from the accelerating decline of the Earth's natural life support systems, the world's leading scientists have warned as they announced the results of the most thorough planetary health check ever undertaken.
From coral reefs flickering out beneath the oceans to rainforests desiccating into savannahs, nature is being destroyed at a rate that is tens to hundreds of times higher than the average over the last 10m years, according to the Global Assessment Report by the United Nations.
The biomass of wild mammals has fallen by 82%, natural ecosystems have lost about half their area and a million species are at risk of extinction – all largely as a result of human actions, said the study, compiled over three years by a team of more than 450 scientists and diplomats.
Bleached coral reef on the Great Barrier Reef in Australia. Photograph: Nette Willis/AFP/Getty Images
Two amphibian species in five are at risk of extinction, as are one third of reef-forming corals, while other marine animals by down by close to a third. The picture for insects – which are crucial to plant pollination – is less clear, but conservative estimates suggest at least 10% are threatened with extinction and in some regions, populations have crashed. In economic terms, the losses are jaw-dropping. Pollinator loss has put up to $577bn (£440bn) of crop output at risk, while land degradation has reduced the productivity of 23% of global land.
The knock-on impacts on humankind, including freshwater shortages and climate instability, are already "ominous" and will worsen without drastic remedial action, the authors said.
"The health of the ecosystems on which we and other species depend is deteriorating more rapidly than ever. We are eroding the very foundations of economies, livelihoods, food security, health and quality of life worldwide," said Robert Watson, the chair of the Intergovernmental Science-Policy Platform on Biodiversity and Ecosystem Services (Ibpes). "We have lost time. We must act now."
The warning was unusually stark for a UN report that has to be agreed by consensus across all nations. Hundreds of scientists have compiled 15,000 academic studies and reports from indigenous communities living on the frontline of change. They build on the Millennium Ecosystem Assessment of 2005, but go much further by looking not just at an inventory of species, but the web of interactions between biodiversity, climate and human well-being.
Over the past week, representatives from the world's governments have fine-tuned the summary for policymakers, which includes remedial scenarios, including "transformative change" across all areas of government, revised trade rules, massive investments in forests and other green infrastructure, and changes in individual behaviour such as lower consumption of meat and material goods.
Following school strikes, Extinction Rebellion protests, the UK parliament's declaration of a climate emergency and Green New Deal debates in the US and Spain, the authors hope the 1,800-page assessment of biodiversity will push the nature crisis into the global spotlight in the same way climate breakdown has surged up the political agenda since the 1.5C report last year by the UN Intergovernmental Panel on Climate Change.
"We tried to document how far in trouble we are to focus people's minds, but also to say it is not too late if we put a huge amount into transformational behavioural change," said David Obura, one of the main authors on the report and a global authority on corals. "This is fundamental to humanity. We are not just talking about nice species out there; this is our life support system."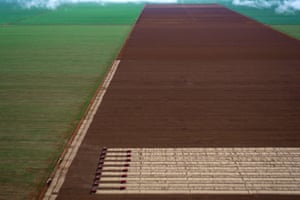 Combine harvesters crop soybeans in Mato Grosso, Brazil Photograph: AFP/Getty Images
The report paints a picture of a planet in which the human footprint is so large it leaves little space for anything else. Three quarters of all land has been turned into farm fields, covered by concrete, swallowed up by dam reservoirs or otherwise significantly altered. Two-thirds of the marine environment have also been changed by fish-farms, shipping routes, subsea mines and other projects. Three-quarters of rivers and lakes are used for crop or livestock cultivation. As a result more than 500,000 species have insufficient habitat for long-term survival. Many are on course to disappear within decades.
"We have been displacing our impact around the planet from frontier to frontier," said Eduardo Brondizio, an Ibpes co-chair from Córdoba National University, Argentina. "But we are running out of frontiers…If we see business as usual going forward, then we'll see a very fast decline in the ability of nature to provide what we need and to buffer climate change."………………………
The next 18 months will be crucial. For the first time, the issue of biodiversity loss is on the G8 agenda. The UK has commissioned Partha Dasgupta, a professor at Cambridge University, to write a study on the economic case for nature, which is expected to serve a similar function as the Stern Review on the Economics of Climate Change. Next year, China will host a landmark UN conference to draw up new global goals for biodiversity.
Cristiana Pa?ca-Palmer, the head of the UN's top biodiversity organisation, said she was both concerned and hopeful. "The report today paints quite a worrying picture. The danger is that we put the planet in a position where it is hard to recover," she said. "But there are a lot of positive things happening. Until now we haven't had the political will to act. But public pressure is high. People are worried and want action."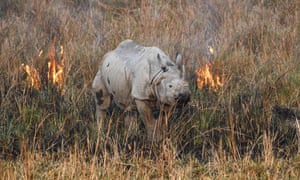 An Indian rhinoceros walks through a wildfire in a field at Pobitora wildlife sanctuary in Assam state, India. Photograph: Biju Boro/AFP/Getty Images
The report acknowledges that current conservation strategies, such as the creation of protected areas, are well-intended but inadequate. Future forecasts indicate negative trends will continue in all scenarios except those that embrace radical change across society, politics, economics and technology.
More On The Environment:
World Politics
Venezuela
United States
Recordings obtained by the Guardian show Republican state representative Matt Shea and several associates telling an audience to arm themselves for a looming civil war. The audio was taken in a remote north-eastern religious compound in Washington state last year. In the recordings they can be heard saying 'How many of you have pulled the trigger on your AR-15 in the fight we are in yet?' and 'The war is here – the bad guy is here'

'As far as arming teachers is concerned, I am so 100% against it until I can't see straight. It's the most dangerous decision I have ever heard.' Photograph: Jason Connolly/AFP/Getty Images
Teachers share their concerns after a bill allowing educators to carry guns in classrooms was approved by the state legislature, and awaits Republican governor's expected approval
V

ivid in Joy Jackson's memory is the sound of a bullet whistling just past her ear, fired towards her head during an incident at the Miami school where she is a teacher.
A teenage student with an emotional/behavioral disorder had brought the gun to campus, and as it was being secured by a police officer, the weapon accidentally discharged. Nobody was hurt but the incident a few years ago certainly alarmed Jackson.
"I felt the air coming close by my ear," she told the Guardian this week. "It was so close that the people in the office started screaming because they thought I was shot," she said. "And that was with a trained police officer [at the scene]. Can you only imagine it with a teacher that hadn't gone through all the training that officer had?"
"Imagine a student with an emotional behavioral disability with a gun, or a teacher that maybe has become afraid of a student – who says the student won't be able to disarm them?" said Jackson, 65, a teacher with more than four decades' experience working with special needs students.
"The first thing you do is pull out [a weapon]. Who's going to protect that educator if that gun goes off by mistake? As far as arming teachers is concerned, I am so 100% against it until I can't see straight. It's the most dangerous decision I have ever heard."
Jackson, who works at the Robert Renick educational center in Miami Gardens, a school for pre-kindergarten to 12th grade students with emotional and behavioral difficulties, sees the controversial bill as the work of powerful National Rifle Association (NRA) lobbyists in Tallahassee working with the state's Republican lawmakers.
"I know the NRA gives humungous money to lobbyists, I get it," she said. "But this is more than money. You can't pay for a life. If the NRA wants to do something, pay for more officers to be in these buildings, not someone who's not received the proper training."
Jackson was one of several Florida teachers sharing with the Guardian their concerns at the arming of teachers, opposed 57-40% in a Quinnipiac poll in March. The bill now awaits Republican governor Ron DeSantis's expected signature, to become law.
'Unrealistic' training goals
Kyle Savage, a 5th grade teacher at Cape View elementary school in Cape Canaveral, is a former military police officer with extensive experience in handling guns, and has a background that would seem to make him an ideal candidate for Florida's "armed guardian" programme.
But as he had testified to politicians, he doesn't believe teachers can fill the role of a professional armed presence on campus. "The training requirements aren't realistic," said Savage, 33.
"I'm OK with a highly trained cop, a school resource officer, it's a good thing, we need that. My fear is we're going to have under-trained teachers making life or death decisions that aren't going to turn out good."
Financing the programme is another concern of Savage, in a state that ranks 48th in the nation for teacher salaries, according to the National Education Association.
"In public education Florida we're finding obvious ways not to spend money, so I find it hard to believe now we're going to spend money to make sure a teacher can go the range, the teacher has the proper training, year in year out that teacher has the training they need," he said.
"I want my kids to know that I'm a teacher, I love them, I care for them, I don't want them to think, 'Well, my teacher has a gun on the side of his hip today.' It changes the whole environment in the classroom."
That separation is why Savage is reluctant to bring his military experience into his classroom. "I've thought about the question a lot," he said. "Do I think I could take down an active shooter? Yes, 100%. The question I ask myself is would I regret it afterwards? It conflicts me, I'll be honest."
Although the new law allows individual school districts to opt out – and several of the state's largest counties including Miami-Dade, Broward, Pinellas and Hillsborough have all stated their teachers will not be carrying guns in public schools – Florida has more than 3,000 private and charter schools that can decide individually. For example a charter school in Manatee county raised eyebrows earlier this school year by hiring a former combat veteran to patrol in military fatigues and an assault rifle.
"We are teachers. We're not intended to be like policemen and security people. We are not meant to carry weapons," said Lesly Chamate, 44, an art teacher at a small private school in Broward county who said she would probably quit if her colleagues came to school armed.
"Teachers and guns don't go together. How do you know how they're going to react in the moment? If you want to do that become a policeman, go and join the army.
"It seems crazy, an art teacher with a weapon. In middle school classes scissors are banned. How can you have weapons?"