Several are in critical condition, sheriff's department spokeswoman says, and the two shooters are in custody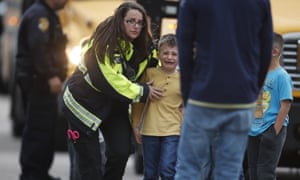 Officials guide students off a bus and into a recreation center to be reunited with their parents after a school shooting in Highlands Ranch, Colorado. Photograph: David Zalubowski/AP
One 18-year-old student was killed and seven teenagers were injured when two students opened fire Tuesday inside a charter school in an affluent community in Denver, Colorado.
Douglas county sheriff Tony Spurlock said the pair walked into the Stem School Highlands Ranch, which is located not far from Columbine High School, and began shooting students in two classrooms. Within minutes, deputies at a nearby sheriff's department substation entered the school and arrested the two suspects after a struggle.
"As officers were arriving at the school, they could still hear gunshots," Douglas county undersheriff Holly Nicholson-Kluth said.
"I have to believe that the quick response of the officers that got inside that school helped save lives," Spurlock said.
Douglas County sheriff's officials said Devon Erickson, 18, and a younger student walked into the Stem School Highlands Ranch Tuesday afternoon and opened fire on students in two classrooms, prompting students to run shouting through the halls or to hide out of sight as gunfire echoed through school. Police said that two handguns were used and the juvenile suspect is a female.
Josh Dutton, 18, told The Associated Press that he was close friends with Devon Erickson in middle school but hadn't seen him for four years as he went to a different high school. On Sunday, he spotted Erickson at a local light rail station and said he was shocked at how much his friend had changed.
Erickson wore all black, a hat and sunglasses, was significantly skinnier and didn't seem interested in talking. "He said he'd just turned 18 and he owned rifles," Dutton said.
The shooting occurred at Stem School Highlands Ranch, a public charter school with more than 1,850 students in kindergarten through 12th grades about 15km south of the center of Denver.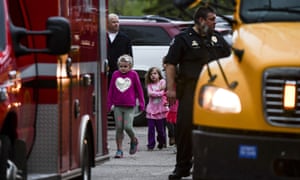 Stem Highlands Ranch students were taken to a nearby recreation center after at eight students were injured during a shooting. Photograph: Michael Ciaglo/Getty Images
Lines of firetrucks, ambulances and law enforcement vehicles from multiple agencies were at the school, and medical helicopters landed on a grassy field.
The sheriff's office directed parents to a nearby recreational center to pick up their children. A fleet of school buses arrived and dropped off students, many of them young children. Some of whom were crying and holding hands with their classmates as they were helped off. An ambulance also pulled up and let out a half-dozen children, none of whom appeared to be physically injured.
The shooting came nearly three weeks after neighboring Littleton marked the grim 20th anniversary of the Columbine school massacre that killed 13 people. The two schools are separated by about 11km in adjacent communities south of Denver.
"Tragically, this community and those surrounding it know all too well these hateful and horrible acts of violence," White House spokesman Judd Deere said in a statement. President Donald Trump had been briefed on the shooting and was in touch with state and local officials, Deere said.
The Stem school is a public charter school with more than 1,850 students in kindergarten through 12th grades.
Student Christian Paulson told television station KMGH that he was in study hall when he saw kids running and shouting, "School shooter!"
"And I'm like, 'What? Is this real or fake?' And then I just went after them," Paulson said. "And apparently, this is all real. And I tried to run with my life, but I'm out of breath."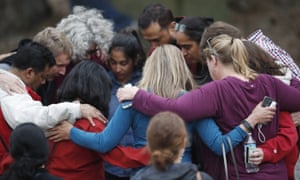 Stem school parents gather in a circle to pray after a shooting at the Highlands Ranch school. Photograph: David Zalubowski/AP
Rocco DeChalk, who lives near the school, told television station KUSA that he saw so many students running past his house that at first he thought it was a gym class. He went outside and saw a teenage boy who had been shot in the back being helped by a teacher and another student.
They brought the boy into his kitchen and alerted a police officer, who sent for an ambulance.
"He made a comment, 'Oh, I'm starting to feel it now'," DeChalk said. "I told him that was probably the adrenaline kicking in and he was going into shock."
Three area hospitals reported treating eight people in connection with the attack. Two were listed in serious condition, two were listed as stable, one was in good condition and three were released.
Colorado Governor Jared Polis said in a statement that he was making state public-safety resources available to help secure the site and evacuate students. "The heart of all Colorado is with the victims and their families," he said.
Democratic representative Jason Crow, a gun-control supporter whose congressional district includes the Highlands Ranch school, said the gun violence cannot continue.
"It is not enough to send thoughts and prayers. It is empty. It is weak, and it does an injustice to our children who are on the front lines of this violence," he said.