12 May
A Foreign Perspective, News and Analyses
Nearly all of these are English-edition daily newspapers. These sites have interesting editorials and essays, and many have links to other good news sources. We try to limit this list to those sites which are regularly updated, reliable, with a high percentage of "up" time.
Recommended:

A buzzard, elephants and yellow banded sweet lips
A chipmunk ( Tamias), part of the Sciuridae family, forages for food in Ontario, Canada
Photograph: Ryan Carter/Alamy Stock Photo
A hare looks around at the banks of the Unzha river in the Kostroma region, Russia
Photograph: Sergei Chirikov/EPA

Greta Thunberg says Dublin decision to follow British MPs' lead is 'great news'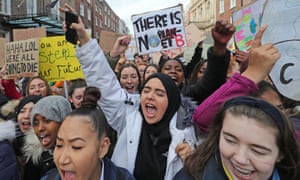 Dublin students marching for action to tackle climate change in March. Photograph: Niall Carson/PA
Ireland's parliament has become the second after Britain's to declare a climate emergency, a decision hailed by the Swedish teenage environmental campaigner Greta Thunberg as "great news".
An amendment to a parliamentary report declaring a climate emergency and calling on the parliament "to examine how [the Irish government] can improve its response to the issue of biodiversity loss" was accepted without a vote late on Thursday.
The Irish Green party leader, Eamon Ryan, who moved the amendment, called the decision "historic".
Thunberg, the 16-year-old activist who has spearheaded protests across Europe and is becoming one of the most passionate voices of the green movement, urged more nations to follow suit.
"Great news from Ireland!! Who is next?" she tweeted.
Britain's parliament became the first in the world to declare a climate emergency, passing the largely symbolic motion on 1 May. The step followed 11 days of street protests in London by the Extinction Rebellion environmental campaign group.
Extinction Rebellion's ultimate goal is to slash global greenhouse gas emissions to zero by 2025 and to end biodiversity loss, steps that have won the backing of left-leaning politicians across the world.
The British government is eyeing a 2050 target date to reach net zero emissions, which it says can be achieved without causing substantial economic damage and at a relatively low cost.

He was a master of this splendidly named figure of speech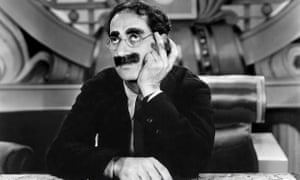 Groucho Marx: 'I've has a perfectly wonderful evening.' Photograph: Allstar/Cinetext/Paramount
As if this country hasn't had enough opprobrium dumped on its poor, benighted head, now the United Nations has decided to belabour us with its nailed cudgel.
Commenting last week on the air quality in Britain, a UN special representative on human rights and the environment chose to label us a "laggard and a scofflaw". Laggard I get, but scofflaw? Nope, never heard it before. US slang, it is defined as a person who habitually flouts or violates the law, especially one who fails to pay debts or answer summonses. I don't know about you, but I find that a touch strong, almost verging on the defamatory.
Another new word crossed my path last week – paraprosdokian – a figure of speech in which the latter part of a sentence, phrase or larger discourse is surprising or unexpected in a way that causes the reader or listener to reframe or reinterpret the first part.
For example, "I've had a perfectly wonderful evening, but this wasn't it" – Groucho Marx and: "I don't belong to an organised political party. I'm a Democrat" – Will Rogers. As it's not the most pronounceable of words, I can't see me bunging it lightly into conversation, but I'm glad to have made its acquaintance.
Finally, a story that, while strictly speaking has nothing to do with language, deserves repeating. It comes from an obituary of long-time Daily Mirror journalist John Knight, a noted bon vivant of Fleet Street.
He once went on a three-day lunch and on his return to the office was asked where he had been. "On the piss," he replied. "Oh thank goodness for that," said his editor. "We were worried in case you were ill." Ah, truly those were halcyon days.
•

Jonathan Bouquet is an Observer columnist

I'm at the cutting edge of haute couture. Eureka!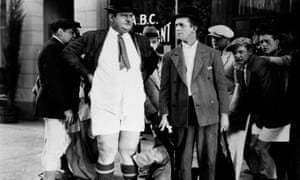 Laurel and Hardy sporting trousers of the pull-up and pull-down variety in You're Darn Tootin' (1928). Photograph: Ronald Grant
A

s those who know me will readily attest, I could never be accused of being a fashion victim. My clothes-buying decisions seldom go beyond whether I really need another linen shirt or whether or not to go for turn-ups.
Yet last week, I found myself being drawn into the curious – to me – world of high fashion and its singular vocabulary: capelet, tuxedo-jupe, paper-bag waists, cigarette-style trews, point-of-difference pencil skirt. I realise that I'm not exactly the target audience but the more I read the more mystifying it all became. And I was fully flummoxed by pull-up trousers. Pull-up trousers? What else could they be? But then I had a eureka moment. Why, all along I've been at fashion's cutting edge. I can now shamelessly parade my pull-up socks, flaunt my tie-up shoes and sport my dernier cri collection of button-up shirts.
Moving swiftly on from couture to the commonplace. How annoying can the little things be, which creep perniciously into everyday usage? Consider the following blights that have now become commonplace: ahead of; meet with; park up; fry off; back in 2005. Before, meet, park, fry, in 2005 – all are more felicitous, just as explicable, fewer words. And all the better for that.
Talking of which, I would be very grateful if politicians would stop using the following phrases: "I would just like to make clear"; and "Let me be abundantly clear". For your audience knows full well that you are about to feed us yards of flannel and acres of obfuscation about backstops, Efta, Norway-plus-plus and hard borders and that basically you are playing for time while trying to dredge up something pertinent to say. And that you never will. I hope I have made myself abundantly clear.

Residents of Tchula feel abandoned. Now, with the Rev William Barber, it's 'time to make noise'
When Tchula lake overran its banks, after heavy rains, Walter Coats's home was one of the first to succumb.
"I left that morning when I saw the waters start rising," Coats said. "When I came back I couldn't even get in the house."
The water was high. His weathered wooden steps had washed clear away.
That was in late February. It's been more than 70 days since but Coats said he has not received even a promise of help. Right now he's staying down the road in an abandoned home, without power or running water.
"Ain't got shit in there!" he said, in a gruff burst of frustration. "I gotta get a five-gallon bucket of water, fill it up and take it in if I want to take a bath."
What few things his modest trailer housed are gone, taken by looters.
"They picked my stove and they wasted all my clothes – you see that!?"
He gestured at the soggy contents of his dresser, strewn about the damp floor.
Staring into his home, its door torn ajar, his voice swelled with emotion.
"I hate this," he said. "I hate it."
We can lift what's happening here to the light … lift it until the people in power must pay attention

Rev William Barber
He was not the only one. Dozens more in Tchula, a small, 99% black town in central Mississippi, described struggles with slowly receding floodwaters and a lack of official help. They also described a more insidious devastation, produced by economic stagnation that preceded the storm clouds by decades.
According to the US Census, the town is the poorest in Holmes county, which is the poorest county in the state of Mississippi, which is the poorest state in the union. For many in Tchula, the flooding has been the last straw.
"Time to speak up, time to make noise," said Harriet Carter, out front of her still-flooded home, its windows wrapped in plastic.
On a gloomy Thursday, with more rain forecast, she stood with her daughter and granddaughter in prayer with the civil rights leader the Rev Dr William Barber, who had come to see the conditions.
"We can lift what's happening here to the light that the darkness might go away," Barber said, to amens. "Lift it until the people in power must pay attention."
'Daily ongoing traumatic stress disorder'
Flooding is not new in the Mississippi basin, into which Tchula lake drains. But this spring brought historic devastation to homes and agriculture throughout the plains states, causing billions of dollars in losses.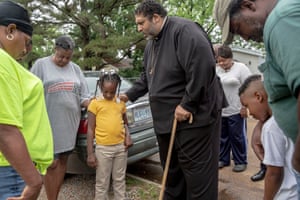 The Rev Dr William Barber prays with Akeevia Carter, seven, while visiting Tchula residents whose homes have been affected by flooding. Photograph: Andrea Morales/The Guardian
That kind of economic assessment is usually the prelude to the distribution of disaster aid and insurance payouts and the staging of emergency sessions by lawmakers seeking to appropriate funds for relief.
None of that happened in Tchula, a town of about 2,000 with three stores and one restaurant on its blink-and-you'll-miss-it main drag.
"It's one thing to face a hurricane or a flood where you go through it," Barber, co-chair of the grassroots Poor People's Campaign, told the Guardian. "It's damaging, devastating, and then there's a determination by all of the people who can do something to rebuild and come out of it.
"But it's almost as though these people have to face what I call 'DOTSD', where instead of post-traumatic stress disorder, it's daily ongoing traumatic stress disorder. It just keeps continuing."
For Marilynn Grier, Barber's words described life pretty well. Like Coats, she lives in a trailer home just off the lake that she left when the flood came on.
She described a childhood of relentless instability: an alcoholic mother, daily uncertainty about where her next meal would come from or where she might sleep, moves back and forth between Tchula and Milwaukee.
In her teens, she was sexually assaulted. By 14, she had her first child. By 16, she had dropped out of school, to take care of her children and those of other family members. She has never been employed.
"It's hard," she said, "when you ain't got an education to get a job."
I encourage all my children to get the hell out of Mississippi, period

Marilynn Grier
Now 35, she is still working towards a GED, the equivalent of a high-school education. But she said the $35 monthly fee was an impediment to completing it.
Before the floods, she said, Tchula was a place where she worried about her children's safety and schooling. She recalled nights spent on the floor, seeking a modicum of protection from shootings throughout the neighborhood.
"They be poppin' out here like fireworks," she said.
Grier wants to see Tchula change, though she isn't sure how. She has enough hope that, mid-conversation, she takes out her phone and blasts out a Facebook post, asking neighbors if they are willing to get together and clean up trash.
She has a fair dose of hopelessness too.
"I encourage all my children to get the hell out of Mississippi, period," she said. "I tell them, 'If y'all want to be somebody and have something, you got to get away.'"
'Attention violence'
The last time Tchula was inundated, help came. It was the early 1980s and the town was still somewhat integrated. As Tchula became more black, though, fewer resources seemed to be available.
"The white people are not here anymore," said Marie Nelson, a lifelong resident, "because back when black people started being able to afford homes, if you moved next door to a white person, they sold their home just not to be next door to the black people."
Now the town sits in a state of slow decay: dotted with ramshackle trailers, stray dogs roaming, paint stripping off boarded-up homes in the pervasive humidity.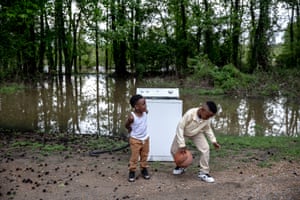 August Watts, three, and his cousin Jaikeem, seven, play with a ball that had been floating in the floodwaters in their backyard. Photograph: Andrea Morales/The Guardian
Nelson worked most of her career at a fish plant in Belzoni, the next town over. She started in the late 1980s, making the federal minimum wage of $3.35 an hour. She sees herself as one of the lucky ones.
"There is no jobs to go to and get," she said. "They got to bring work for people to go get work and right now there is no work to do."
In Holmes county the unemployment rate is 9.4%, nearly three times the national average.
"When we talk about record low unemployment in this country right now, that's not being reflected here in Tchula," said Barber.
Barber's Poor People's Campaign is a political and social movement built on the idea that political discourse in the US almost always centers around tension between the middle class and the rich but rarely mentions the poor.
The 'attention violence' that we have given to the poor is … the greatest failure of the country

Rev William Barber
Barber calls this lack of attention a form of violence, a framing he credits to the late Coretta Scott King.
"The 'attention violence' that we have given to the poor is, in my estimation, the greatest failure of the country and our political system," he said.
In the most recent flooding, 20 Mississippi counties were designated disaster zones. Holmes wasn't one of them. According to official state numbers, only two homes in the county were damaged, an undercount made obvious by even a cursory glance.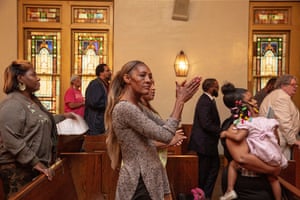 People stand and clap while singing Ain't Going To Let Nobody Turn Me 'Round at Good Samaritan Ecumenical church during a community meeting with Barber. Photograph: Andrea Morales/The Guardian
Officials from the Mississippi emergency management administration (Mema) did not immediately respond to a request for comment.
Hearing that number for the first time, the 51-year-old lifelong Tchula resident Gerry Watts could not help but walk off laughing.
"We right here!" he said. "Tell them to come see my house! Tell me it wasn't damaged."
He was one of hundreds who showed up for a rally and town hall on Thursday night, an event headlined by Barber and activists from Holmes and throughout the state.
"It was so painful to visit homes today and see what we saw. No one should have to live like this in the richest country on earth," Barber told the crowd at the Good Samaritan Ecumenical church.
"But there must be, and will be, a movement of people who say, 'That is wrong, and we can't stand for that any more."

World Politics
United States
The former vice-president has yet to put forward a plan to address global warming, which polls suggest is the single most important issue for Democrats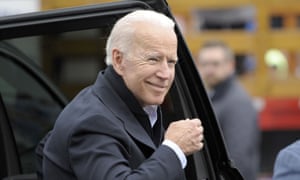 Joe Biden is believed to be developing a 'middle ground' approach but his fellow candidate Jay Inslee warned: 'Half-measures mean full extinction of millions of species.' Photograph: Joseph Prezioso/AFP/Getty Images
Climate change is transforming life by redrawing coastlines, turning vast areas of forest into infernos, stirring enormous storms and spreading exotic diseases. An indirect casualty of this upheaval could be Joe Biden's hopes of becoming US president.
Biden, frontrunner in the polls to secure the Democratic nomination, has not laid out a plan to address the crisis.
This is set to change, according to Reuters, with the Biden campaign working on a strategy to reinstate climate policies torn down by Donald Trump, such as restrictions on coal-fired power plants and vehicle fuel efficiency requirements.
The plan, which is being worked on by the former Barack Obama adviser Heather Zichal, would see the US remain in the Paris climate agreement and offer support for nuclear energy and also natural gas, which is generally cleaner than coal but still emits planet-warming pollutants. Biden is also said to favour nascent carbon capture technology, which aims to contain and store emissions from industrial facilities.
But this "middle ground" approach has been roundly attacked by environmental groups and progressive Democrats for being woefully insufficient.
More importantly, it does not appear to chime with the urgent action scientists say is required to avert disastrous climate change. A landmark UN report last year stated that "unprecedented", "rapid and far-reaching" transformations across energy, land use and transportation are needed to avoid increasingly dire flooding, wildfires, heatwaves, food insecurity and unrest.
"A 'middle ground' policy that's supportive of more fossil fuel development is a death sentence for our generation and the millions of people on the frontlines of the climate crisis," said Varshini Prakash, director of the Sunrise Movement, a youth climate change organization allied to progressive Democrats such as the New York congresswoman Alexandria Ocasio-Cortez.
"Biden's betting that a retreat to mediocrity and tepid policymaking will garner him the Democratic nomination, but climate change is a top issue in this election and voters expect candidates to put forward solutions in line with the crisis."
Ocasio-Cortez has championed the Green New Deal, which calls for a national mobilization against climate change on a par with the second world war. The concept has garnered support among some of Biden's rival presidential nominees including senators Bernie Sanders and Elizabeth Warren.
The GND, perhaps alongside the severe hurricanes and wildfires that have rattled Americans over the past two years, has helped elevate the issue of climate change to a leading priority for Democratic voters.
A CNN poll in April found that climate change was the single most important matter for Democrats, eclipsing healthcare, gun control and impeaching Trump, with 96% saying it was somewhat or very important to them.
This rapid shift in priorities threatens to cast Biden's candidacy as out of touch, even at this early stage. A climate plan deemed feeble by primary voters could harm the former vice-president in a new landscape where the Democratic National Committee is being pushed to hold a climate change-only debate and one candidate, the Washington governor, Jay Inslee, is running solely on the issue of global warming.

The Green New Deal, supported by Alexandria Ocasio-Cortez, is setting the agenda on climate change for the Democrats. Photograph: Saul Loeb/AFP/Getty Images
"We cannot simply go back to the past; we need a bold climate plan for our future," Inslee said of Biden's stance on climate change.
"Facing a crisis does not permit half-measures. Half-measures mean full extinction of millions of species and full economic damage to communities across America."
Biden has never been at the forefront of the climate movement but is positioning himself as a pragmatic operator who gets things done, including having aided the passage of the Paris climate deal.
In a recent rally in Iowa, Biden said he was "one of the first guys to introduce a climate change bill, way, way back in 87", a reference to his successful attempt to get President Ronald Reagan to set up a taskforce on the issue.
TJ Ducklo, a spokesman for Biden, tweeted that the former vice-president had called climate change an "existential threat".
"He knows how high the stakes are," Ducklo tweeted. "As president, Biden would enact a bold policy to tackle climate change in a meaningful and lasting way, and will be discussing the specifics of that plan in the near future. Any assertions otherwise are not accurate."
Proponents of the GND hope that if Biden does manage to secure the Democratic nomination he will embrace the plan due to its focus on creating high-paying jobs in clean energy generation. The worry for climate activists is that the issue could revert to being largely overlooked, much like in the 2016 election, should Biden end up facing Trump in the 2020 contest.
"If you're running to lead the nation, you need to have a plan on climate change given it will be the most catastrophic thing to happen to us," said Rhiana Gunn-Wright, policy director at New Consensus, which helped design the Green New Deal. "It's disappointing Joe Biden hasn't said more. Beto [O'Rourke], Warren and Inslee have all released a plan, so Biden in many ways is an outlier.
"The next presidential election will be crucial, but this is a movement not solely focused on that. The Green New Deal is built to exist beyond this election season. People are energized and they want to fix this," Gunn-Wright said.