18 May
A Foreign Perspective, News and Analyses
Nearly all of these are English-edition daily newspapers. These sites have interesting editorials and essays, and many have links to other good news sources. We try to limit this list to those sites which are regularly updated, reliable, with a high percentage of "up" time.
Recommended:

A Burmese python in the grass at Everglades Holiday Park in Fort Lauderdale, Florida. Along with the venomous lionfish, the Burmese python is perhaps the least welcome invasive species in the state; lacking any natural predators, it has happily chomped its way through Florida's wildlife. Photograph: Rhona Wise/AFP/Getty Images
A still from a remote video camera shows two bald eagle chicks with a parent on a nest in the Angeles National Forest near Big Bear in southern California, USA. Hatched last month, the chicks have names, thanks to a vote by schoolchildren; the older and larger one is named Cookie and the younger one Simba.
Photograph: Friends of Big Bear Valley/AP
Bonnie Kimball told student 'tell mom you need money'

Termination led to outpouring of support for worker
Lunch at an elementary school in Alexandria, Virginia. Photograph: Susan Walsh/AP
A school cafeteria worker in New Hampshire who was fired for giving a student lunch for nothing has rejected an offer to be rehired.
Bonnie Kimball said she was fired on 28 March by Fresh Picks, a vendor that supplies food to the Mascoma Valley regional high school in Canaan, a day after she gave a student lunch even though he couldn't pay for it.
Kimball said that when the student's account showed no funds, she quietly told him "Tell mom you need money", and provided a lunch.
A manager asked what was on the boy's plate, she said, then walked away. The next morning the student's bill was paid.
"His family is very well known in this town and I can guarantee that if I called his mother, she would have come right in and paid the bill," Kimball said. "But I didn't want to get her out of work. I know they would have brought the money the next day. The bill was going to get paid."
A spokeswoman for the Manchester-based company said an employee it did not name violated school and company policy and a district manager terminated the person. But the company said it had offered to rehire the employee, provide back pay and "work with the school district to revise policies and procedures regarding transactions".
Kimball, who has four grandchildren in the school district, said she had no intention of returning and accused the company of only offering to rehire her "so that it could keep its contract".
The Mascoma regional school board voted on Tuesday to use the company for another year, despite the controversy involving Kimball.
The Valley News reported that the alleged firing has angered Kimball's co-workers, some of whom quit in protest. Parents at the school said they were upset by Kimball's sudden departure and demanded she be rehired. Some even started a GoFundMe campaign for her that had raised more than $5,000 by Friday night.
Kimball said she had also received an outpouring of support on her Facebook page, including from a US Navy Seal and a professional football player.
"When I walked out of the school the day that I got fired, all that was going through my head was that I wouldn't be able to show my face again. People would think I was a thief," she said, adding the support since then "makes me feel good".
"Lord, all the support and TV stations," she added of the interview requests. "I am like 'Why are they contacting me?' I'm still in awe."
Schools across the country are struggling to deal with how to address students who cannot pay for lunch. A 2011 survey found that a majority of districts had unpaid lunch charges and that most dealt with it by offering alternatives meals.
Last month, federal lawmakers introduced "anti-lunch shaming" legislation to protect students with unpaid lunch bills. The US Department of Agriculture discourages practices that stigmatize students, but allows districts to set their own policies.
Environment
As sea levels rise, Fairbourne, sandwiched between mountains and the beach, is being returned to the waves. But where will its residents go?
World Politics
Great Britain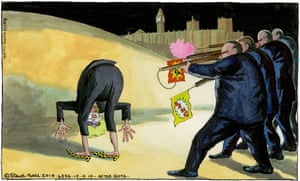 Steve Bell on Theresa Mays agreeing to a timetable for leaving office – cartoon
United States
Pro-choice men should have the guts to campaign against the rolling back of laws that benefit both sexes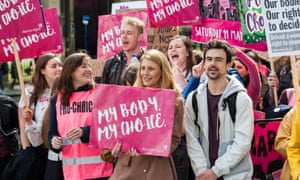 A pro-choice demonstration in Parliament Square, London. Photograph: Wiktor Szymanowicz/Rex Features
N

o woman can be free who does not control her own body. That's been the pro-choice mantra down the ages, no less true now than it ever was, and from it flows the equally fierce conviction that men should keep their noses out of reproductive rights. If it isn't your womb, your life, on the line here, then what right do you have to interfere in a grown adult's decision? No wonder that powerful image of the 25 male politicians who collectively approved Alabama's cruel new ban on terminations beyond six weeks, struck such a chord. The sight of old men desperately clawing back their lost power over women's lives still triggers a deep, visceral fear. Six weeks! That's barely a missed period, a time when many women won't even have realised they're pregnant.
True, America's pro-life movement has plenty of prominent women in it, and in the UK it's a female leader of the pro-life Democratic Unionist party who (thanks to her sensitive role propping up the British government's parliamentary majority) represents one of the biggest stumbling blocks to rolling out abortion rights in Northern Ireland. But such nuances get forgotten in the face of men doggedly arguing on Twitter that forcing victims of incest to continue their pregnancies would at least preserve the criminal evidence, or refusing to let their cluelessness about female biology get in the way of a terrible opinion.
Yet the argument that men should all shut up and leave this to women is a risky one, unless we seek a world where virulently pro-life men still feel no shame about barging in while pro-choice men hang back for fear of saying the wrong thing. I admire any woman with the courage to say publicly, as the actor Jameela Jamil did this week, that she had an abortion when contraception failed her and "I don't feel AT ALL ashamed."
But there's something uncomfortable about watching women, and only women, feel driven to bare their souls in defence of reproductive and contraceptive rights that have liberated both sexes and which both should be raising hell to defend.
We rarely read or hear about them, but there must be millions of men whose lives were changed for the better by not becoming fathers when they weren't ready. There will be men who owe their glittering careers and happy families now to the fact that 20 years ago they didn't have to drop out of university when their student girlfriend got pregnant, or weren't forced to marry someone they didn't love. And there will also be men who didn't have to raise a child in circumstances where they genuinely couldn't have coped, and whose other children are infinitely better off for it; men who haven't had to watch their partner struggle through the horror of a pregnancy where everyone knows the child is unlikely to survive, who know how it feels to hold their partner's hand in the clinic but don't feel it's quite their place to talk about it.
If one in three women has terminated a pregnancy, then men with every reason not to take abortion rights for granted, as well as older men who shudder to remember the days before it was legal, must statistically speaking be everywhere; walking down the street, sharing your office, representing you in parliament. The next leader of the Conservative party could very well be Boris Johnson, a man once sacked for trying to hide the fact that his mistress had had an abortion. So who is to say there aren't men in high public office across America furiously keeping their heads down as the abortion row rages, crossing their fingers that the non-disclosure agreement holds? Yet for every man frantically trying to save his marriage by pressuring his lover to get rid of a baby, there will be couples taking painful decisions together about a much-wanted pregnancy when the tests show something nobody wanted to see.
It's a hard truth to acknowledge, given it risks creating a dangerous chink in the argument through which pro-lifers can so easily slide. But for all that abortion should first and foremost be a woman's choice, it doesn't only affect women's lives, and it shouldn't just be women who are forced to fight do the heavy lifting in fightingfor it. There are, of course, perfectly good reasons for men to stay quiet about their personal experiences. For a man to talk openly about a partner's abortion can feel pushy and self-centred, and practically speaking risks outing a woman who might not want her reproductive history exposed to all. During the impassioned debate ahead of Ireland's referendum last year on repealing the ban, many Irish men initially hung back for fear of intruding. Male MPs similarly often defer to female ones in trying to change the law.
But the idea that the only way of galvanising change is by making a public song and dance about yourself may be one of the great curses of modern activism.
Pro-choice men worried about stealing women's thunder can relax, because they are absolutely welcome to donate to pro-choice charities, sign petitions, lobby their political representatives, and vote for politicians and parties committed to defending reproductive rights. They can stuff envelopes, make tea, go on marches – or look after the kids while their partners do – and cheer from the sidelines to their heart's content, much as the wives of male activists have done for generations. And where they represent us, they can have the guts to legislate for what they know perfectly well to be the realities of life. No woman can be free who does not control her own body. But we are not the only ones liberated by acknowledging it.