20 Mar
A Foreign Perspective, News and Analyses
Nearly all of these are English-edition daily newspapers. These sites have interesting editorials and essays, and many have links to other good news sources. We try to limit this list to those sites which are regularly updated, reliable, with a high percentage of "up" time.
Recommended:
An army of Paddy's packed onto Cork's landmark St Patrick's bridge to mark the completion of its €1.2m refurbishment.
Paddys, Pats, Patricias and even a few Patryks donned the patron saint's costume and marched from the Metropole Hotel to the bridge for a special photoshoot to celebrate the laying of the last brick in what has been a painstaking refurbishment of the historic 19th-century heritage structure, opened 158-years ago.
They were among some 200 people who responded to a public call-out by Cork City Council for people named Patrick or Patricia – in any language – to get involved in the photoshoot.
Rosie Linham, a daughter of the late former Lord Mayor, Brian Sloane, who served as first citizen in 1978, brought her son, Paddy, 12, along for the event, with his sister, Ciara.
"We live outside the city now but we're big fans of the city. Dad loved the city. We are very proud of him, and what he did for the city and I just thought it would be nice to bring him in. It was a lovely day, and in fairness, they've done a lovely job on the bridge," she said.
Three generations of the Buckley family, grandfather Patrick, his son Patrick and his son, seven-week-old baby Patrick, along with Special Olympics silver medallist, Pat Dorgan and Patrick Joseph Lynch, who was celebrating his 80th birthday, were also part of the fun.
Lord Mayor Cllr Mick Finn used the trowel which was used to lay the bridge's original foundation stone 158-years ago – an artefact normally held in the Cork Public Museum in Fitzgerald's Park – to lay the last piece of stonework yesterday.
Strawberries, spinach and kale among most pesticide-heavy

Conventionally farmed kale could contain up to 18 pesticides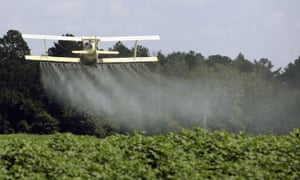 Alexis Temkin of the Environmental Working Group said: 'The Shopper's Guide to Produce is building on a body of evidence that shows mixtures of pesticides can have adverse effects.' Photograph: Dave Martin/AP
About 70% of fresh produce sold in the US has pesticide residues on it even after it is washed, according to a health advocacy group.
According to the Environmental Working Group's annual analysis of US Department of Agriculture data, strawberries, spinach and kale are among the most pesticide-heavy produce, while avocados, sweetcorn and pineapples had the lowest level of residues.
More than 92% of kale tested contained two or more pesticide residues, according to the analysis, and a single sample of conventionally farmed kale could contain up to 18 different pesticides.
Dacthal – the most common pesticide found, which was detected in nearly 60% of kale samples, is banned in Europe and classified as a possible human carcinogen in the US.
"We definitely acknowledge and support that everybody should be eating healthy fruits and vegetables as part of their diet regardless of if they're conventional or organic," said Alexis Temkin, a toxicologist working with the EWG.
"But what we try to highlight with the Shopper's Guide to Produce is building on a body of evidence that shows mixtures of pesticides can have adverse effects."
Other foods on the group's "dirty dozen" list include grapes, cherries, apples, tomatoes and potatoes. In contrast, its "clean 15" list includes avocados, onions and cauliflower.
Leonardo Trasande, an environmental medicine specialist at the New York University medical school, called the EWG report "widely respected" and said it can inform shoppers who want to buy some organic fruits and vegetables, but would like to know which ones they could prioritize.
Despite a growing body of research, scientists say it is difficult to pinpoint how many pesticides people are exposed to in their daily lives, and in what quantity. And it is also hard to say how those chemicals in combination affect the body.
One recent French study found that people eating organic foods were at a significantly lower risk of developing cancer, although it suggested that if those findings were confirmed, the underlying factors would require more research. Nutritional experts at Harvard University cautioned that that study did not analyze residue levels in participants' bodies to confirm exposure levels.
While 90% of Americans have detectable pesticide levels in their urine and blood, "the health consequences of consuming pesticide residues from conventionally grown foods are unknown, as are the effects of choosing organic foods or conventionally grown foods known to have fewer pesticide residues," they said.
A separate Harvard study found that for women undergoing fertility treatment, those who ate more high-pesticide fruits and vegetables were less likely to have a live birth.
The CDC explains that "a wide range of health effects, acute and chronic, are associated with exposures to some pesticides," including nervous system impacts, skin and eye irritation, cancer and endocrine disorders.
"The health risks from pesticide exposure depend on the toxicity of the pesticides, the amount a person is exposed to, and the duration and the route of exposure," the CDC says, noting evidence suggests children are at higher risk.
The Environmental Protection Agency sets rules for how pesticides are used, but those rules do not necessarily prevent cumulative exposure in a person's diet.
The agency is fighting a court order to ban chlorpyrifos, a pesticide that is associated with development disabilities in children.
EPA has also scaled back what types of exposure it will consider when evaluating human health risks. And President Trump has appointed a former executive from the industry lobbying group the American Chemistry Council, Nancy Beck, as the head of its toxic chemical unit.
Federal jury's decision in case of man who said he used weedkiller for decades could affect hundreds of other plaintiffs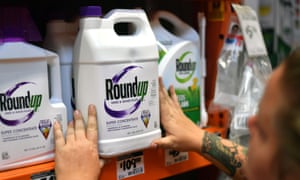 The decision in Edwin Hardeman's case comes after a historic verdict last year that said Roundup caused another man's terminal cancer. Photograph: Josh Edelson/AFP/Getty Images
A federal jury in San Francisco found Monsanto's Roundup herbicide was a substantial factor in causing the cancer of a California man, in a landmark verdict that could affect hundreds of other cases.
Edwin Hardeman of Santa Rosa was the first person to challenge Monsanto's Roundup in a federal trial and alleged that his exposure to Roundup caused him to develop non-Hodgkin's lymphoma (NHL), a cancer that affects the immune system.
In the next phase of the case, the jury will weigh liability and damages, and Hardeman's lawyers will present arguments about Monsanto's influence on government regulators and cancer research.
During the trial, the 70-year-old Santa Rosa man testified that he had sprayed the herbicide for nearly three decades and at one time got it on his skin before he was diagnosed with cancer. He used the chemical to control weeds and poison oak on his properties, starting in 1986.
Hardeman's case is considered a "bellwether" trial for hundreds of other plaintiffs in the US with similar claims, which means the verdict could affect future litigation and other cancer patients and families. Monsanto, now owned by the German pharmaceutical company Bayer, is facing more than 9,000 similar lawsuits across the US.
The unanimous ruling on Tuesday follows a historic verdict last August in which a California jury in state court ruled that Roundup caused the terminal cancer of Dewayne Johnson, a former school groundskeeper. That jury said Monsanto failed to warn Johnson of Roundup's health hazards and "acted with malice or oppression", awarding Johnson $289m in damages.
Hardeman's trial has been more limited in scope. While Johnson's attorneys argued that Monsanto had "bullied" scientists and fought to suppress negative studies about its product, the federal judge barred Hardeman's lawyers from discussing Monsanto's alleged influence on research and regulations during the hearings.
The US judge Vince Chhabria went so far as to sanction Hardeman's lawyer for bringing up Hardeman's "personal history", referring to internal Monsanto documents, and explaining the process behind various regulatory decisions about glyphosate in her opening remarks. With Hardeman's trial limited to a strict discussion of whether Roundup exposure caused his cancer, his attorneys have argued they were facing a significant disadvantage.
Monsanto has continued to argue that Roundup is safe to use and does not cause NHL.
Although the judge restricted the first part of the trial to a limited discussion of Hardeman's cancer, he issued something of a rebuke of the company in one procedural order last week, saying: "Although the evidence that Roundup causes cancer is quite equivocal, there is strong evidence from which a jury could conclude that Monsanto does not particularly care whether its product is in fact giving people cancer, focusing instead on manipulating public opinion and undermining anyone who raises genuine and legitimate concerns about the issue."
Bayer expects to prevail later in the trial, a spokesperson said following Tuesday's ruling. "We are disappointed with the jury's initial decision, but we continue to believe firmly that the science confirms glyphosate-based herbicides do not cause cancer," spokesman Dan Childs said in a statement. "We are confident the evidence in phase two will show that Monsanto's conduct has been appropriate and the company should not be liable for Mr Hardeman's cancer".
Child also argued the decision would not impact future cases, "because each one has its own factual and legal circumstances".
Jennifer Moore and Aimee Wagstaff, Hardeman's attorneys, said they were prepared to show the jury examples of Monsanto's "bad conduct" in the next phase of the trial. "Now we can focus on the evidence that Monsanto has not taken a responsible, objective approach to the safety of Roundup", they wrote in a statement.
Environmental advocates were quick to celebrate the verdict. Ken Cook, the president of the Environmental Working Group, said the ruling supported previous conclusions that "glyphosate causes cancer in people".
"As similar lawsuits mount, the evidence will grow that Roundup is not safe, and that the company has tried to cover it up", he added.
Thousands of people stranded as workers tackle devastation wrought by Cyclone Idai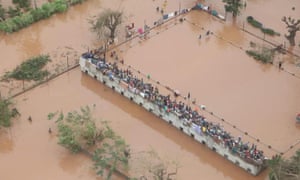 Survivors in Buzi district. There is little access to food and clean water. Photograph: INGC
Rescue teams are rushing to save thousands of Mozambicans stranded on roofs and in trees before flood levels rise further.
Mozambique, which was hit by Cyclone Idai over the weekend, is trying to rescue people from vast and deadly flooding. It has declared a state of emergency and is appealing for international help.
The South African air force and the Indian navy have arrived in the devastated port city of Beira and are supporting the Mozambican national institute of disaster management (INGC) with search and rescue missions. Boats and helicopters are rescuing stranded people but there are thought to be too few to cope with the number in trees and on roofs.
With heavy rains still falling in the region, floodwaters are predicted to rise in the coming days, meaning more people will die and need to be rescued. Mozambique's president, Filipe Nyusi, warned there could be waves of up to eight metres high.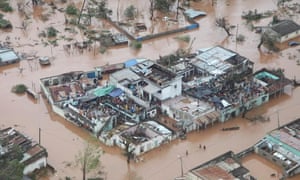 Survivors cling to buildings in the district of Buzi, Mozambique. Photograph: INGC
The scale of the disaster is so enormous that the south-east African country and the INGC, which has considerable experience and expertise, cannot cope alone. Humanitarian organisations are deploying to Beira, but because large areas are underwater and cut off, with communications down for a fifth day, no power and the main road washed away, getting supplies and staff in and information out is extremely difficult. The airport was badly damaged but is working again and some commercial flights are running from the capital, Maputo.
Aerial images released by the INGC showed survivors packed together on top of high buildings in Buzi district, which is thought to have been affected more badly than Beira. The town of Buzi, home to 200,000 people, is at risk of being partially submerged as rain continues to fall…………………
The immediate need is to rescue stranded people, though access to food, shelter, clean water and health provision are other high priorities. The centres to which rescued people are being taken in Beira are basic.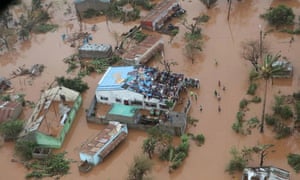 Buzi district is thought to have been more badly affected than Beira. Photograph: INGC
More than 400 square kilometres in the region are flooded, according to satellite images taken by the EU, and in some places the water is six metres deep.
At least 600,000 people are affected, according to the OCHA, ranging from those whose lives are in immediate danger to those who need other kinds of aid.

World Politics
United States
When Joe Biden attended the annual Munich Security Conference last month, the wonky foreign policy confab promised an escape from the nonstop speculation back home about the former vice president's political plans.
Instead, Biden's 2020 intentions were the talk of the conference.
When Armenian President Armen Sarkissian ran into him in a hallway, a TV camera captured him asking Biden: "Are you going to run?" (Biden whispered an inaudible answer.)
And in several conversations with European leaders in Munich, Biden heard a repeated refrain, according to a conference attendee familiar with the conversations: The world needs you.
Citing Biden's long foreign policy track record and longtime commitment to the trans-Atlantic alliance, some of the leaders — echoing views from across the continent — told Biden that his return to the White House would be a sure way to restore western alliances that President Donald Trump has dramatically fractured.