24 May
A Foreign Perspective, News and Analyses
Nearly all of these are English-edition daily newspapers. These sites have interesting editorials and essays, and many have links to other good news sources. We try to limit this list to those sites which are regularly updated, reliable, with a high percentage of "up" time.
Recommended:

2019 Whitley Award winners. Photograph: James Finlay/Whitley Awards 2019
On May 1, Princess Anne, patron of the Whitley Fund for Nature, presented the fund's awards recognising community-based conservation projects. See more at whitleyaward.org
Ilena Zanella
Ilena Zanella from Costa Rica is the co-founder of marine conservation organisation Misión Tiburón, which protects scalloped hammerhead sharks from illegal fishing. Her work is based in the Golfo Dulce, one of only four tropical fjords in the world.
.
Photograph: 2019 Whitley Gold Award
After nine years of research and tagging, Zanella proved the Golfo Dulce is a nursery habitat for young scalloped hammerhead sharks. The site was declared Costa Rica's first shark sanctuary in 2018, protecting the species from illegal fishing.
With her Whitley Award, Zanella says she will improve detection of illegal fishing and work with local communities to reduce the use of juvenile scalloped hammerheads as fishing bait. She also plans to establish an education project to engage students in conservation.
Photograph: David Garcia/2019 Whitley Gold Award
Wendi Tamariska
Wendi Tamariska is the sustainable livelihoods manager for the Gunung Palung Orangutan Conservation Programme in Borneo, Inonesia, which empowers local communities to protect their dwindling forests and the orangutans within them. The Gunung Palung national park is home to the largest population of wild orangutans on the planet.

Photograph: 2019 Whitley Award
Gulung Palung national park is home to 5,000 critically endangered Bornean orangutans and other endangered species including hornbills, pangolins and Malayan sun bears. The 100,000-hectare protected area is threatened by illegal logging, mining and oil palm plantations. In the last 60 years, orangutan populations have declined by over 50% and they could be wiped out in just 20 years if action isn't taken.
Photograph: Tim Laman/2019 Whitley Award
Illegal mining and logging have disrupted the orangutans' habitat, as local people were offered incentives for exploiting the forest's raw materials. Tamariska's organisation works to reinstate traditional weaving practices and provides local, national and international markets for the sale of woven items. As an indigenous Dayak himself, Tamariska has built a strong rapport with local people.
Photograph: Tim Laman/2019 Whitley Award

Students around the world are walking out of lessons to demand politicians take urgent action on climate change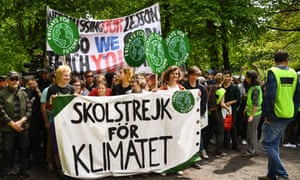 Greta Thunberg marches during the 'Global Strike For Future' movement in Stockholm, Sweden. Photograph: Jonathan Nackstrand/AFP/Getty Images

World Politics
Great Britain
Reading between the lines of the prime minister's resignation speech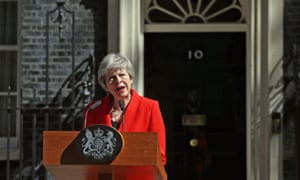 Theresa May announces her resignation in Downing Street on Friday. Photograph: Yui Mok/PA
Back in 2016, we gave the British people a choice. Against all predictions, the British people voted to leave the European Union. I feel as certain today as I did three years ago that in a democracy, if you give people a choice you have a duty to implement what they decide.
This is a familiar line from Theresa May, whose lineage can be traced right back to the "Brexit means Brexit" catchphrase of her first few months in office. But she does genuinely believe not only that the result of the Brexit referendum must be implemented – but that failing to do so is dangerous for Britain's democracy.
I believe it was right to persevere, even when the odds against success seemed high. But it is now clear to me that it is in the best interests of the country for a new prime minister to lead that effort.
This is a sideswipe at the colleagues who have been trying to bring her down for months, and were driven to fresh spasms of fury when she entered talks with Jeremy Corbyn, in a bid to win Labour support for a modified version of her Brexit deal.
Her efforts ultimately failed – but she's saying she stands by the decision that it was the right decision to keep on trying, right up until the end.
It is, and will always remain, a matter of deep regret to me that I have not been able to deliver Brexit.
May knows that whatever she hoped would be her achievements, her three-year tenure in Downing Street is likely to be remembered chiefly for her failure to achieve the central task her government was set by the electorate.
She's signalling here that she knows this failure is a burden she will carry for the rest of her life.
It will be for my successor to seek a way forward that honours the result of the referendum. To succeed, he or she will have to find consensus in parliament where I have not. Such a consensus can only be reached if those on all sides of the debate are willing to compromise.
This is the "good luck with that, Boris" passage. May has ultimately been brought down by those in her own party seeking a cleaner break with the European Union, which they believe the obligations contained in the Irish backstop will prevent.
But whoever succeeds her will have to govern with the support of a hung parliament, unless and until they call a general election. So a harder Brexit, let alone no deal, is highly unlikely to command a majority in parliament.
May is pointing out here that whoever is behind the big black door in Downing Street, the structural challenges of delivering Brexit remain – and they may become more, not less difficult, if her successor is more dogmatic.
Security. Freedom. Opportunity. Those values have guided me throughout my career. But the unique privilege of this office is to use this platform to give a voice to the voiceless, to fight the burning injustices that still scar our society.
This was followed by a list of the achievements May most prizes, and was an attempt to impose some coherence on a premiership defined almost exclusively by Brexit.
But two of the things she mentioned, the public inquiry into the Grenfell Tower disaster, and the race disparity audit, are efforts to investigate why things have gone badly wrong, in a Britain her party has run for almost nine years.
Another, ending the postcode lottery in mental health, appears more of an aspiration than a success.
I will shortly leave the job that it has been the honour of my life to hold – the second female prime minister but certainly not the last. I do so with no ill-will, but with enormous and enduring gratitude to have had the opportunity to serve the country I love.
This was the moment May's usually steely demeanour collapsed, her voice cracking with emotion as she uttered those last few words.
She may have been more low-key about it than the flamboyant Johnson, but she has long been a deeply ambitious and self-confident politician, who believed she was the right person for Britain's top job – and now it's over.
United States
Jerry Nadler, the House judiciary committee chair, told Rachel Maddow the special counsel doesn't want 'a political spectacle'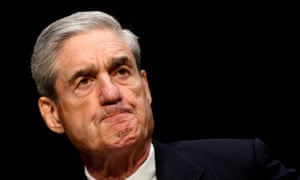 Jerry Nadler said he Mueller 'doesn't want to participate in anything he might regard as a political spectacle'. Photograph: Kevin Lamarque/Reuters
Robert Mueller wants to testify – but behind closed doors