07 Jun
Nearly all of these are English-edition daily newspapers. These sites have interesting editorials and essays, and many have links to other good news sources. We try to limit this list to those sites which are regularly updated, reliable, with a high percentage of "up" time.
Recommended:

Severe weather has spawned multiple tornadoes, flooding and even snow across America's Midwest and Northeast
Homes are severely damaged after a tornado struck the night before 29 May 2019 in Linwood, Kansas
Photograph: Kyle Rivas/Getty Images
Rain obscures the view of a tornado on 28 May 28 2019 in Lawrence, Kansas
Photograph: Kyle Rivas/Getty Images

President told Prince Charles US has 'among the cleanest climates there are'. Here's a reminder of some facts he may have overlooked

The Queen sits between President Trump and Prince Charles as they attend an event to mark the 75th anniversary of D-Day in Portsmouth. Photograph: Matt Dunham/AP
Donald Trump believes the US has a "clean climate", telling the interviewer Piers Morgan on ITV's Good Morning Britain that he had informed Prince Charles in a 90-minute conversation that the US "right now has among the cleanest climates there are based on all statistics, and it's even getting better because I agree with that we want the best water, the cleanest water".
There are a few important details the president may have overlooked in presenting a clean bill of health for the US environment, so here is a handy reminder.
1) Greenhouse gas emissions
The US is still the world's second biggest emitter of greenhouse gas emissions, having been overtaken by China more than a decade ago. In per capita terms, however, the US far outstrips China, though it comes below some Middle Eastern states with tiny populations and vast fossil fuel industries. While carbon emissions have been falling, in part because of the switch from coal to gas, Climate Tracker estimates that the US will fail to meet its carbon reduction targets set by Barack Obama, to cut emissions by 26-28% below 2005 levels by 2025.
The US is now one of the world's biggest gas producers, thanks to fracking, and about half of its oil now comes from the production method, which requires the blasting of dense shale rock with water, sand and chemicals to release the tiny bubbles of fossil fuel trapped inside. This boom has come at a cost, as the vast water requirements are draining some areas dry, and pollutants found near fracking sites include heavy metals, chemicals that disrupt hormones, and particulates. The effects range from memory, learning and IQ deficits to behavioural problems. Leaks of "fugitive" methane are an additional contributor to climate change.
3) Fossil fuel exploration
Not content with the US's existing conventional oil reserves, and the expansion of the oil and gas industries through fracking, the US fossil fuel industry is seeking new grounds for exploration – among them, the pristine Alaskan wilderness. Drilling in the Alaskan wildlife reserve is a key Trump policy.
4) Fuel efficiency standards
The Trump administration has moved to loosen regulations on fuel efficiency for cars and vans, which were already less stringent than in many other countries. Opponents fear this will increase greenhouse gas emissions and air pollution.
5) International cooperation
Trump's decision to withdraw from the Paris climate agreement of 2015 cannot legally take effect until after the next presidential election, in an irony of timing. However, the effect can already be seen, in the emboldening of other nations considering a withdrawal, such as Brazil, formerly a strong proponent of action at the UN talks, and the increasing influence of fossil fuel lobbyists.
6) Climate denial
With the president claiming climate change to be a "Chinese hoax", it is perhaps not surprising that the US has some of the highest rates of climate denial in the world, according to polling by YouGov in collaboration with the Guardian. Despite this, a sizeable majority of the US public – nearly six in 10 people – still agree with the science on climate change, and support action to stave off the worst consequences.
7) Water
Despite Trump's claim to Morgan that "we want the best water, the cleanest water – it's crystal clean, has to be crystal clean clear", his recent actions on water have been an attempt to roll back decades of progress on cleaning up the US water supply. Last December, he announced plans to undo or weaken federal rules that protect millions of acres of wetlands and thousands of miles of streams from pesticide run-off and other pollutants.
8) Air
By rolling back Obama-era measures intended to reduce greenhouse gas emissions from power plants, the Trump administration is also threatening to increase air pollution, as coal-fired power stations will be able to spew out toxins once more, according to 14 states who last year opposed the Environmental Protection Agency's plans. This is in contrast with China and India, cited by Trump – along with Russia – as having polluted air. Those nations are trying to clean up their pollution with stricter limits on what power plants and other industries can produce.

Longtime employee who helped organize global protest alleges Google's response was designed to 'have a chilling effect' on growing workplace activism

Workers protest against Google's handling of sexual misconduct allegations at the company's Mountain View, California, headquarters on 1 November 2018. Photograph: Noah Berger/AP
A prominent internal organizer against Google's handling of sexual harassment cases has resigned from the company, alleging she was the target of a campaign of retaliation designed to intimidate and dissuade other employees from speaking out about workplace issues.
Claire Stapleton, a longtime marketing manager at Google and its subsidiary YouTube, said she decided to leave the company after 12 years when it became clear that her trajectory at the company was "effectively over".
"I made the choice after the heads of my department branded me with a kind of scarlet letter that makes it difficult to do my job or find another one," she wrote in an email to co-workers announcing her departure on 31 May. "If I stayed, I didn't just worry that there'd be more public flogging, shunning, and stress, I expected it."
"The message that was sent [to others] was: 'You're going to compromise your career if you make the same choices that Claire made," she told the Guardian by phone. "It was designed to have a chilling effect on employees who raise issues or speak out."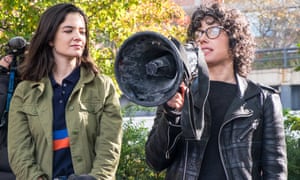 Claire Stapleton, left, was one of the organizers of the Google walkout in November 2018. Photograph: Karen Ng/Courtesy of Claire Stapleton
Stapleton was one of the core group of Google employees who sprang into action in October 2018 following a report in the New York Times that Google had paid a $90m severance package to the former executive Andy Rubin despite finding credible an allegation that he had forced a female employee to perform oral sex.
The employees organized a "Google Walkout for Change" on 1 November 2018 that drew tens of thousands of participants at Google offices around the globe. Among the group's demands were an end to forced arbitration in cases of harassment and discrimination, as well as the appointment of an employee representative to the company's board of directors.
Google executives publicly supported the employee activism, and acceded to one of the demands on arbitration.
But in April, Stapleton and her fellow organizer Meredith Whittaker spoke out in internal letters about what they said was a "culture of retaliation".
In the letters, Stapleton said that two months after the walkout, she was demoted and "told to go on medical leave" despite not being sick. The demotion was reversed after she hired a lawyer, she said.
Google did not immediately respond to a request for comment for this article, but it has previously denied that any retaliation took place in Stapleton and Whittaker's cases. "We prohibit retaliation in the workplace, and investigate all allegations," a Google spokeswoman said in an April 2019 statement responding to the Guardian's reporting on the letters. "Employees and teams are regularly and commonly given new assignments, or reorganized, to keep pace with evolving business needs. There has been no retaliation here."
Stapleton says the backlash intensified after her allegations spread both internally and in the press. Two managers emailed her entire department to rebut the allegation, she said, a move she claims was "unbelievable" and "truly unprecedented" given company norms around speaking about individual personnel issues. "In a way it showed me how powerful the organizing has been because it was truly extreme," she added.
Stapleton's departure comes amid considerable turmoil for Google and YouTube, which are facing increased antitrust scrutiny from the US government, criticism over inconsistent and controversial decisions related to content moderation, and growing activism from employees over issues including the company's treatment of temps, vendors and contractors (TVCs).
Stapleton said that in her view, all these problems were related: "The one very simple thing that connects all these issues is that it requires leadership and real accountability, and that's not something that we've seen in these very challenging, high-stakes times."
"You could connect the way that TVCs are treated all the way up to how an Andy Rubin payment happens," she said. "These are systemic imbalances."
Stapleton said that despite her decision to leave the company, she was optimistic about the future of worker organizing at Google.
"I've paid a huge personal cost in a way that is not easy to ask anyone else to do," she said. "There's a lot of exhaustion and there's a lot of fear, but I think that speaking up in whatever way people are comfortable with is having an absolutely tremendous impact."
"It's not going away," she added.

World Politics
Great Britain
Cartoon
The US president cements the special relationship… with Nigel Farage and Boris Johnson

United States
Former vice-president says he can no longer support 40-year-old Hyde amendment, which prohibits use of federal funding for abortions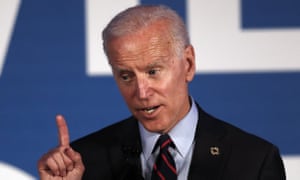 Joe Biden voiced support for the Hyde amendment on Wednesday. Photograph: John Bazemore/AP
A day after Joe Biden affirmed his support for the Hyde amendment – a measure that prohibits the use of federal funding for abortions – he reversed course and announced that he could no longer support the ban.
Biden, the former vice-president and an early frontrunner for the Democratic party presidential nomination, abandoned the position he has held for decades amid fierce criticism from his top primary rivals, lawmakers and liberal activists who said the provision disproportionately affected poor women and women of color.
"If I believe healthcare is a right, as I do, I can no longer support an amendment that makes that right dependent on someone's zip code," he told an audience at the Democratic National Committee's African American Leadership Council Summit in Atlanta on Thursday.
At a time when some Republican-led states are passing restrictions that severely curtail access to abortion, Biden said there were too many barriers to women getting care.
"I can't justify leaving millions of women without the access [and] care they need, and the ability to exercise their constitutionally protected right," he added.
Biden, a devout Catholic, has grappled publicly with his stance on abortion for decades. On Thursday he said he "makes no apologies" for his previous position, but acknowledged that "circumstances have changed".
"I've been working through the final details of my healthcare plan like others in this race and I've been struggling with the problems that Hyde now presents," he said.
The Hyde amendment is a 40-year-old provision that bans the federal government from paying for abortion care through Medicaid, the government program that provides health insurance to millions of US women of reproductive age. Support for the measure – which carves out exceptions for rape, incest and instances in which the mother's life is at risk – was until recently a noncontroversial position for the Democratic party. In 2016, Hillary Clinton called for its repeal, and, for the first time, that commitment was enshrined in the party platform.
Despite Biden's strong lead in national polls, he has faced skepticism from liberals who believe the 76-year-old is out of step with today's Democratic party. His previous position on the Hyde amendment also put him at odds with the party platform, which calls for a repeal of the amendment.
Reacting to the Biden's reversal on MSNBC, the presidential candidate Amy Klobuchar said she was "not surprised".
Supporting the Hyde Amendment "would've been a big problem for him", she said.
Leaders of major women's reproductive rights organizations applauded Biden's shift.
"We're glad that Joe Biden listened to the voices of millions of women and further clarified his position on the Hyde amendment," Ilyse Hogue, president of the abortion rights organization Naral Pro-Choice America, said in a statement following Biden's announcement. "Let's be clear, the Hyde Amendment discriminates against all women but particularly poor women and women of color."
The debate over Biden's position erupted when a video emerged of an exchange with a volunteer for the American Civil Liberties Union in which Biden appeared to say that he supported repealing the Hyde amendment. The group later posted the video on Twitter.
"Our volunteer Nina asked Joe Biden whether, as president, he would lift the Hyde amendment, which bans federal insurance coverage of abortion," the Tweet said. "He said yes."
Biden's campaign later issued a statement that said the candidate had "misheard the woman" and thought she was referring to the Mexico City rule, which bans federal aid money from being sent to organizations overseas that perform abortions.
Several of Biden's primary opponents seized on the moment to attack him.
"Under the Hyde amendment, under every one of these efforts to try to chip away or push back or get rid of Roe v Wade, understand this: women of means will still have access to abortions," the presidential candidate Elizabeth Warren said during a televised town hall on Wednesday, referring to the landmark US supreme court decision which legalized abortion across America.
"Who won't will be poor women, working women, will be women who can't afford to take off three days from work, will be very young women, will be women who've been raped, will be women who've been molested by someone in their own family," she said. "We do not pass laws that take away that freedom from the women who are most vulnerable."
The presidential candidate Cory Booker, speaking at the summit in Atlanta earlier on Thursday, called the Hyde amendment "an assault on African American women".
Khushbu Shah contributed reporting