09 Jun
Nearly all of these are English-edition daily newspapers. These sites have interesting editorials and essays, and many have links to other good news sources. We try to limit this list to those sites which are regularly updated, reliable, with a high percentage of "up" time.
Recommended:

White tiger cubs, urban deer and many millions of ladybirds
Awhite Bengal tiger cub with its mother Burani at the White zoo in Kernhof, Austria. Burani gave birth to three male cubs – Hector, Pascha and Zeus – last month
Photograph: Christian Bruna/EPA
An François' langur with its young in the Mayanghe national nature reserve in Guizhou province, China. Numbers in the reserve have increased in recent years, but the species is still one of China's most endangered
Photograph: Yang Wenbin/Xinhua/Barcroft Media
The Japanese have known for years that spending mindful time in the woods is beneficial for body and soul. Now western doctors – and royals – agree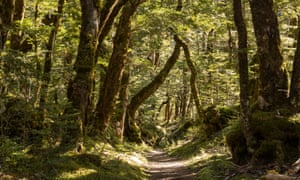 It is believed that time spent under the green canopy is critical in fighting a number of diseases and conditions. Photograph: Murdo MacLeod/The Observer
E

very day, apart from when it's raining heavily, Dr Qing Li heads to a leafy park near the Nippon Medical School in Tokyo where he works. It's not just a pleasant place to eat his lunch; he believes the time spent under the trees' canopy is a critical factor in the fight against diseases, of the mind and body.
Once a month Li spends three days in forests near Tokyo, using all five senses to connect with the environment and clear his mind. This practice of shinrin-yoku – literally, forest bath – has the power to counter illnesses including cancer, strokes, gastric ulcers, depression, anxiety and stress, he says. It boosts the immune system, lowers blood pressure and aids sleep. And soon it could be prescribed by British doctors.
"Social prescribing", a growing movement in the NHS, can include volunteering, gardening, sports activities, cookery and befriending.
"Forest bathing is an opportunity for people to take time out, slow down and connect with nature. We think it could be part of the mix of activities for social prescription," Stuart Dainton of the Woodland Trust told the Observer. "Evidence about its benefits is building."
The Duchess of Cambridge is a fan, and the garden she co-designed at the Chelsea Flower Show last month was inspired by shinrin-yoku. The Royal Society for the Protection of Birds is introducing a series of forest bathing events across the country this summer. Forestry England, which manages public woodland, has endorsed the practice as a way of regaining balance and escaping the pressures of everyday life.
Shinrin-yoku was developed in the 1980s in Japan. Although people had been taking walks in the country's forests for centuries, new studies showed that such activity could reduce blood pressure, lower cortisol levels and improve concentration and memory. A chemical released by trees and plants, called phytoncides, was found to boost the immune system. As more research highlighted the benefits of shinrin-yoku, the Japanese government incorporated it into the country's health programme.
Li – now president of the Society for Forest Medicine in Japan, and the author of Shinrin-Yoku: The Art and Science of Forest Bathing – is a world expert and has conducted numerous studies. "It's a preventative medicine, not a treatment," he told the Observer. People spend their lives increasingly indoors, he said. About 80% of Japan's population lives in urban areas, and the average American now spends more than 90% of their time indoors. But we are designed to be connected to the natural world, to "listen to the wind and taste the air".

The Duchess of Cambridge visits her garden at Chelsea Flower Show in London. It was inspired by shinrin-yoku. Photograph: Toby Melville/Reuters
His book offers this advice for the practice of shinrin-yoku: "Make sure you have left your phone and camera behind. You are going to be walking aimlessly and slowly. You don't need any devices. Let your body be your guide. Listen to where it wants to take you. Follow your nose. And take your time. It doesn't matter if you don't get anywhere. You are not going anywhere. You are savouring the sounds, smells and sights of nature and letting the forest in."
Gary Evans, who set up the Forest Bathing Institute in the UK last year, said: "People initially think they've been doing this all their lives: going for a walk in the woods. But it might be a brisk walk, or you might be worrying about where the dog has got to.
"A better way to frame forest bathing is mindful time spent under the canopy of trees for health and wellbeing purposes."
A typical session might last three hours, and begin with an explanation of the history and science of shinrin-yoku. "Then it's about sensory exercises," said Evans. "We try to hold people's attention in the present moment, to give their bodies and minds a chance to slow down. We move very slowly, touching the trees, looking at colours and patterns, and breathing deeply. We end up lying down under trees and looking up through the branches."
Shades of green and blue, the colours of the forest and the sky, were the most relaxing, he said. Looking at nature's patterns helped to stop thoughts spinning in the head.
After a slow start, interest in forest bathing had taken off, Evans said. Officials from national and local government have made inquiries, and Evans addressed 40 doctors at Frimley Park hospital in Surrey last month on the benefits. GPs in the county have expressed interest in social prescribing of forest bathing. The Forest Bathing Institute is training people to become shinrin-yoku guides.
"The rocket ship has left the launch pad," Evans said. "There is a growing recognition by the medical profession of the value of forest bathing. But we're 40 years behind Japan. We need doctors and scientists here to start some studies on the physiological and psychological impact."
'Forest bathing is mindful time spent under the canopy of trees for health and wellbeing purposes

Gary Evans, Forest Bathing Institute
One UK study, carried out by King's College London and published in January 2018, found that exposure to trees, the sky and birdsong in cities improved mental wellbeing. The benefits were still evident several hours after the exposure.
"Even just 20 minutes can help, though 10 hours a month is even better," said Dainton. "If you live in a city, you may not be able to get to a forest easily, but taking off your shoes in the park and feeling the grass will help you de-stress."
A study of 585 Japanese people published last year said that city dwellers were "constantly exposed to stressors" and that "urban living is associated with increased risk of health problems", including anxiety, depression and psychosis.
It concluded: "The psychological benefits of walking through forests are very significant … Urban planners should pay more attention to maintaining and increasing accessible greenery in urban areas. The beneficial effects of nature suggest a simple, accessible and cost-effective method to improve the quality of life and health of urban residents."
Refugee agency says risk of people dying attempting crossing is at its highest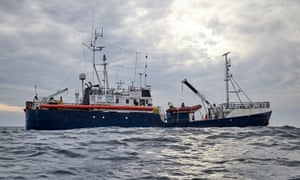 Only one of the 10 NGO rescue boats that were active in the Mediterranean is still operating. Photograph: Fabian Heinz/AP
The risk of migrants and refugees becoming shipwrecked in the Mediterranean and dying at sea is the highest it has ever been due to a lack of NGO rescue ships and the conflict in Libya hastening departures at an alarming rate, the UN has warned.
"If we do not intervene soon, there will be a sea of blood," said Carlotta Sami, the spokeswoman for the UN refugee agency, UNHCR, in Italy.
With favourable sea conditions, thousands of people are preparing to leave Libya as the country is mired in war and floods caused by heavy rain. But without rescue boats, the number of shipwrecks is likely to rise dramatically.
According to aid groups, almost 700 people have left the coast of Libya in recent days, only 5% of whom were intercepted by the Libyan coastguard and sent back to detention centres. Forty per cent arrived in Malta and 11% in Italy; it is not known what happened to the others.
Although the death toll has fallen in the past year, the number of those drowning as a proportion of arrivals in Europe from Libya has risen sharply this year. According to data from UNHCR and the International Organization for Migration, 1,940 people have reached Italy from north Africa since the beginning of 2019, and almost 350 have died en route – putting the death rate for those crossing at just below 20%.
A study by the Institute for International Political Studies (ISPI), an Italian thinktank, based on interior ministry figures, showed one in eight people attempting the crossing from Libya between January and April had died en route.
Sami said: "We are witnessing a sharp increase in departures. Obviously, migrants have no say in how or when to leave. The traffickers make that decision for them. They couldn't care less if the people arrive dead or alive. In recent days, more and more vessels have been overflowing with people. Who will save them if they [become] shipwreck[ed]?"
Anti-immigration policies introduced by the Maltese and Italian governments have driven the sharp decrease in rescue missions. The Italian ruling coalition of Matteo Salvini's far-right League and the populist Five Star Movement has described the NGO boats as "sea taxis" and accused them of doing business with traffickers. After an election campaign in which Salvini, the interior minister, pledged to adopt tough polices on migration, one of his first moves was to close Italian ports to aid group ships.
Criminalised by authorities, deflagged, struck by seizures and judicial investigations that have so far proved groundless, NGOs have been gradually forced to abandon the central Mediterranean.
Of the 10 NGO rescue boats that were active in the Mediterranean, only one – operated by the German organisation SeaWatch – remains. Three weeks ago, SeaWatch 3 was seized by authorities for carrying 47 people. The boat has since been docked in Licata, Sicily, but will head towards Libya in a few days.
Giorgia Linardi, the spokeswoman in Italy for SeaWatch, said: "Our airplanes have identified 20 dinghies carrying migrants in distress since 10 May. The situation is alarming. We sighted dinghies that waited hours and entire nights before being rescued. These are intolerable conditions. It is absurd that there is no aid in the world's most militarised and travelled maritime area."
For years, NGO rescue boats were accused of being a "pull factor" for migrants and refugees attempting to make the crossing, but statistics from ISPI tell a different story. So far this year, without NGOs at sea, about 85 people a day have tried to cross the Mediterranean in order to reach Europe. With NGO vessels present, the number is about 76.
According to UNHCR, there are about 60,000 asylum seekers in Libya. Over the past two months, 90,500 Libyans have been displaced due to the conflict in and around Tripoli. Aid groups report thousands of asylum seekers are locked in detention centres and subjected to abuse and torture.

World Politics
Hong Kong & China
Critics say law will allow China to pursue political opponents and legitimise abduction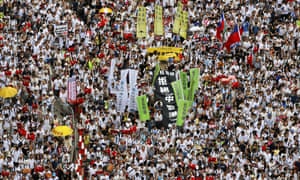 Protesters march against the proposed amendments to extradition law in Hong Kong. Photograph: Kin Cheung/AP
Hundreds of thousands of people have taken to the streets of Hong Kong in a vast protest against a proposed extradition law that critics say will allow mainland China to pursue its political opponents in the city, which has traditionally been a safe haven from the Communist party.
A sea of people, many wearing white, filled main roads stretching for almost two miles from Victoria Park in the east of Hong Kong island to the legislative council complex. Thousands more struggled to get onto packed public transport from outer Hong Kong and Kowloon on the mainland.
Police closed metro stations and funnelled people through narrow thoroughfares, prompting accusations that they were deliberately attempting to reduce the scale of the protest.
Anger grew and the crowd shouted for them to free up more space, as the march came to a dead stop for large sections, in stifling heat. Further down the road crowds jeered at a pro-China broadcast on a large outdoor screen.

The bill creates a system for case-by-case fugitive transfers between semi-autonomous Hong Kong and regions with which it does not already have agreements, including mainland China.
Critics say the proposed law would legitimise abduction in the city, and subject political opponents and activists to China's widely criticised judicial system. They fear a pro-Beijing Hong Kong government would not resist requests of a political nature.
Other rallies held around the world drew thousands of protesters, including in Australia's major cities.
Chants and placards targeted Carrie Lam, Hong Kong's chief executive, who has pushed for the amendments to be passed before July.
"This is the end game for Hong Kong, it is a matter of life or death. That's why I come," Rocky Chang, a 59-year-old professor, told Reuters. "This is an evil law."
Three 19-year-old students, who did not want their last names or photographs published, said they were worried about the impact on freedom of speech. "Maybe we wouldn't be able to post something about the Chinese government on social networking websites," said Ruby. Her friend Yoyo said: "This is about our freedom of speech and basic human rights."
Anthony, a retired lawyer, said the government had "tried to hoodwink us into agreeing much too quickly with something that has tremendous significance to Hong Kong."
The bill poses a huge risk to the rule of law would not provide Hong Kong's courts with the ability to provide proper oversight, he added. "And yet our chief executive tries to tell us there is no need to worry, the court is going to protect you," he said. "What bullshit."
Organisers raised predictions for the turnout after a crowd of about 180,000 gathered in Victoria Park on Tuesday to mark the 30th anniversary of China's deadly crackdown on protesters in Tiananmen Square. The vigil, held every year since 1989, also served as a protest against the extradition bill.
On Thursday, hundreds of lawyers and judges marched silently through the city in a protest against the extradition bill. The march was led by Martin Lee, QC, an internationally recognised pro-democracy figure and former legislator, who has said opposition to the bill was "the last fight for Hong Kong".

Martin Lee QC, a pro-democracy veteran, politician and barrister, fears he could be targeted by Beijing under the extradition law. Photograph: Helen Davidson/The Guardia
Anti-Beijing anger has been fuelled by the jailing in April of organisers of 2014 pro-democracy protests and the reduced presence of pro-democracy legislators, after six were removed from parliament in 2016 and 2017 for protesting against Beijing during their oath-taking.
Since the end of British rule in 1997, Hong Kong has operated under the "one country, two systems" regime, with a strong legal system seen internationally as its strongest asset. However, many feel the city's autonomy has been eroded by a growing Beijing influence.
"If we lose this one, Hong Kong is not Hong Kong anymore, it's just another Chinese city," Lee told the Guardian.
Lee has been branded a counter-revolutionary by the Chinese government and believes he is among those it could target under the new law. "I haven't committed any offence in China, but they don't like me for what I do," he said. "I'm prepared. I'm already 80, close to 81, so I won't leave Hong Kong, I'll continue to fight here. If they bring me there, OK. If they kill me in prison and say it's suicide, OK. I hope I go to heaven."
The Hong Kong government says the bill is needed to fight crime and that China is an important strategic partner in that regard. However, suspicions it was sought by Beijing were bolstered last month when Politburo member Han Zheng voiced his support and revealed targets included foreigners who committed crimes against Chinese national security outside China, and who came through Hong Kong.
Corrupt Chinese officials and tycoons who have fled to Hong Kong are also a key concern for the mainland government, which has never had a fugitive transfer request to Hong Kong granted in the 22 years since the end of British rule.
Human rights groups, legal alliances, and numerous governments have expressed their concern about the bill.
The US secretary of state, Mike Pompeo, warned that it could damage the rule of law in Hong Kong, and a bipartisan congressional committee urged Lam's administration to listen to the widespread concerns, saying local and foreign residents in Hong Kong had to be protected "from a criminal justice system in mainland China that is regularly employed as a tool of repression".
The Guardian travelled to Hong Kong with the assistance of the Judith Neilson Institute
United States
Biden polled at 24%, Bernie Sanders is second with 16%, ahead of Elizabeth Warren with 15% and Pete Buttigieg, with 14%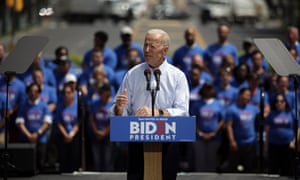 Presidential Democratic frontrunner Joe Biden. Photograph: Dominick Reuter/AFP/Getty Images
On the heels of a major Iowa poll which showed a big slip in his big lead over the Democratic field, Joe Biden was conspicuous by his absence from the guest list of a big party event in the state on Sunday.
Nineteen candidates for the presidential nomination are due to attend the Democratic Party Hall of Fame event in Cedar Rapids. Biden, attending his granddaughter's graduation, is not among them. He is due to visit Ottumwa, Iowa, on Tuesday – the same day Donald Trump will visit Council Bluffs and Des Moines.
In the poll, released by CNN and the Des Moines Register on Saturday night, the former Delaware senator and vice-president led the 23-strong Democratic field in the early voting state by eight clear points. But he only polled at 24% support, down from his usual 30%-plus.
The Vermont senator Bernie Sanders was second with 16%, ahead of Massachusetts senator Elizabeth Warren with 15% and Pete Buttigieg, the mayor of South Bend, Indiana, with 14%. The California senator Kamala Harris was the only other candidate to poll above 5%, with half as much support as Buttigieg.
The former Texas congressman Beto O'Rourke and the Minnesota senator Amy Klobuchar were the only other candidates to get more than 1% support among likely caucus participants. Both attracted 2%.
Biden's campaign has so far focused on states where he polls strongly against Trump, including his native Pennsylvania and the post-industrial "rust belt" where the president beat Hillary Clinton on his way to victory in the electoral college.
In an interview with the Guardian published on Sunday, Bruce Haines, a hotelier, former steel executive and Trump supporter from Northampton county, Pennsylvania, summed up the main issue of contention in Democratic ranks nationwide.
Should the party pick a progressive with bold policy ideas, such as Sanders, Warren or Buttigieg, or should it opt for Biden, a centrist with high name recognition in blue-collar states away from the liberal coasts?
"So I think support [for Trump] is going to strengthen as we get closer to the election," Haines said. "And as we sort out who he's going to run against – will it be a socialist, or will it be Biden?"