13 Jun
Nearly all of these are English-edition daily newspapers. These sites have interesting editorials and essays, and many have links to other good news sources. We try to limit this list to those sites which are regularly updated, reliable, with a high percentage of "up" time.
Recommended:

News Of The Day

Although the United Kingdom is the fifth-richest country in the world, 14 million people in the country live below the poverty line. The problem has grown dramatically since the financial crisis — as shown by the family of Kris Thomas.
Kris Thomas is hungry. It's the kind of hunger that can make people weak and ill — and ultimately destroy them. The 27-year old is looking for work. He has to provide for two children, and although he has the right to state benefits, that's currently not enough to keep his family fed and clothed in the United Kingdom — the fifth richest country in the world.
So Thomas heads to the Bridgeway Hall Methodist Church in Nottingham. He walks into the low-ceilinged foyer with an empty sports bag in his hand and sits down at a table with his head down, surrounded by men in tattered clothes.
A woman in a green apron sits down with Thomas and asks, "What's the reason for your visit?" She's a volunteer at Nottingham food bank, a non-profit organization that distributes donated groceries to the needy for free.
As Thomas glances up to give her his pink voucher, a tattoo becomes visible on his neck: Stacy, his girlfriend's name. She and their children — Cleo, 10, and Kaydn, 8 — are also here. They're the ones Thomas is most worried about.
He says, "The Job Center sanctioned us and cut our payments, even though we had two job interviews." The woman in the green apron shakes her head. "That's a nightmare," she says, adding, "I start ranting when I hear this. Don't get me there."
Thomas nods and says that it makes his blood boil when he thinks about it. Many others are in a similar predicament: Millions of Britons struggle to make ends meet and hunger has become rampant in the country. Over 14 million people — including workers, the unemployed and children — live below the poverty line, and more than half of them are food insecure. For them, it's a daily struggle to put food on the table. More than 4 million children are affected.
Since 2008, the number of food banks has soared from 29 to 2,000. Hundreds of thousands of people use them. Because of widespread malnutrition, children have trouble focusing in school. Parents are more likely to get sick. The old are dying earlier.
It all began a decade ago, amid the 2008 financial crisis. The British government provided 500 billion pounds to bail out the financial sector, and by April 2009, Time magazine ran an article entitled "More Quickly Than It Began, The Banking Crisis Is Over." Profits started rolling in again for financial institutions. Stock prices recovered. Shortly after that, the newly elected Conservative-Lib Dem coalition government pushed through an austerity program and made cuts to the welfare system. The specter of hunger returned.
The woman in the green apron hands a clipboard to Thomas. After he signs it, he is given several bags of noodles, bread and tomato sauce. She's also included a few chocolate eggs for the children on Easter.
Thomas and Stacy say thanks and pack the food into bags they've brought along, distributing the weight to make it easier to carry. They lack the money for the bus and have to walk for nearly an hour to get home.
On the way home, Kaydn cruises back and forth on his bicycle and keeps disappearing around corners. Stacy's gaze flickers nervously back and forth. She's been fighting panic attacks for years and busy city streets scare her. She yells at Kaydn as he rides away. Thomas tries to keep an eye on everyone while telling his story.
Things were going well at secondary school for him and he was planning to go to college. But then he met Stacy and she soon became pregnant with his child and was kicked out by her parents. The two of them decided to make a go of it on their own. He got a job at a flagship store of a sports chain and was soon promoted to deputy store manager……………………..
Tim Lang, a professor at the University of London, researches poverty and hunger in the UK. He founded the Center for Food Policy and has written 18 books and published more than a hundred academic studies. He says that when he started in 1981, the situation in the country was better. Lang says what's happening today is reminiscent of medieval times, not only because of the church meals, but primarily because poor people die on average seven years earlier than rich people, and they have 17 more years of bad health over the course of their lifetimes.
This gap between the life expectancies of the poor and the rich is the result of Conservative policies, he argues. And he says that the gap has been growing over the last 10 years. Lang calls this a disaster — one that Thomas and Stacy have to endure every day.
Under the Universal Credit program, Thomas and his family received no benefits for the first five weeks. They bridged this period with a loan, then missed a job-center appointment they knew nothing about because they had been informed of it online at a time when they had no money for internet access. The job center slashed their benefits by 40 percent.
This left the family with 480 pounds to cover food, utilities and rent for that month, says Thomas. The British Social Metrics Commission's poverty line for a family with two children is 353 pounds a week, or around 1,400 pounds a month. Without the food bank, the family would have gone hungry.
They hid their situation from the children for as long as possible, but it eventually became so obvious that even one of Kaydn's teachers approached Thomas and asked if she could buy shoes for the boy.

Photograph: Anthony Jarman/Courtesy of Extinction Rebellion
Climate activists attempt to disrupt a BP-sponsored Royal Opera House screening of Romeo and Juliet, and put on their own version of Shakespeare's play, Petroleo and Fueliet, as they called on the ROH to drop BP as a sponsor. 'BP seeks to enhance its image by sponsoring culture and research shows that this approach works,' XR said
Photograph: Anthony Jarman/Courtesy of Extinction Rebellion
Read Full Article>>

People urged to continue protests after day of violent clashes with police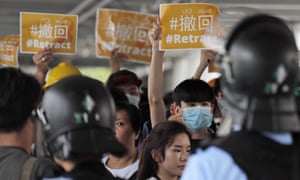 Riot police surround protesters near the Legislative Council in Hong Kong on Thursday. Photograph: Kin Cheung/AP
Activists in Hong Kong have called for a march on Sunday and a boycott of work and classes on Monday in protest against an extradition bill that could result in suspects being sent to mainland China.
On Thursday, a day after a demonstration by thousands of people was violently cleared, a group of pro-democracy politicians and activists tried to march on the residence of Hong Kong's chief executive, Carrie Lam, but were stopped by police.
"We need to come out in unity. We call on all demonstrators. We can win if all of us come out," said Lee Cheuk-yan, a politician and activist, condemning the police and Lam, who has been pushing the bill.
Debate in the Legislative Council over the bill was postponed again on Thursday. The proposed law, which critics say Beijing could use to target political enemies in Hong Kong, has brought up to a million people on to the streets to protest. Beijing and Hong Kong authorities insist the law is aimed at combating crime.
Demonstrators and observers were shocked by the violence of Wednesday, when police charged on protesters, firing rubber bullets and teargas. At least 72 people were taken to hospital, two of whom were in a serious condition.
"Emotionally, it's devastating," said Yoyo Chan, who has been staging a hunger strike and sit-in on a path just outside the government headquarters. After the protests were cleared on Wednesday, she went to help clean up rubbish left on the streets and found a backpack abandoned by a protester – a young girl, according to her ID card left behind.
"She's so young. [The protesters] are so hopeful and just want to help the city. The way they were oppressed yesterday, it's heartbreaking," Chan said.
The city was slowly returning to normal after a shutdown on Wednesday. By Thursday morning main traffic arteries had been reopened and evidence of the protests – piles of broken goggles, bottles and umbrellas – had been shunted to the side of the road. Dozens of police patrolled the central Hong Kong area. Several shops in a mall near the site of the protests were shut.
The mood was mostly upbeat on Thursday as dispersed groups of demonstrators organised supplies, cleaned up litter and chatted. In Tamar Park, outside the Legislative Council building where lawmakers will debate the proposed bill, a circle of demonstrators were singing worship songs accompanied by a saxophonist.
Others were more defiant. A few dozen protesters on an overpass leading into the government complex faced off with police blocking their way. The group stood in silence, holding up laminated signs that said "Retract" and "Go Hong Kong".
Later in the day a new group arrived and held signs that said "Stop police brutality". Secondary school students held signs up to the police that said "Stop shooting Hong Kong students". One group of protesters chanted: "Stop all violence. Peace and love come to Hong Kong." Mike Tsang, 23, a recent graduate, said: "We are coming here to show the police we won't give up."
Nearby another group was sorting bags of helmets, face masks and other supplies, and trying to find places around the city to hide the items for when the protesters return. "Today we are safe," said one of the protesters.
In Tamar Park, another group was organising stations for food and water, first aid, and legal advice from social workers. A group of secondary students had come directly from school to bring snacks and fruit to the protesters, who planned to stay there until midnight. Some would camp overnight to keep watch over the supplies.
Some worried that the postponement of the debate was a ruse to throw off demonstrators. A group of university students huddled in a shopping mall near the government buildings, texting contacts to mobilise a group to gather outside the Legislative Council and block any lawmakers in favour of the bill from entering.
"Our only chance is to stop the lawmakers from coming in," said Jason Fong, 19, who said lawmakers could go in on Thursday, stay overnight and hold the reading of the bill on Friday.
The crackdown on the protests represented an escalation of police action against demonstrators. Pictures and videos on social media showed police firing rubber bullets and bean-bag rounds from shotguns, teargassing protesters and beating some with batons.
Hong Kong police deploy rubber bullets and teargas on protesters – video report
Man-kei Tam, the director of Amnesty International Hong Kong, said: "This excessive response from police is fuelling tensions and is likely to contribute to worsening violence, rather than end it."
Two protesters treated in hospital were arrested, according to local media. Protesters have been obscuring their faces with masks and using encrypted messaging platforms.
On Wednesday as police were clearing protests, the messaging service Telegram posted on Twitter that it was facing a "powerful DDos attack", referring to a distributed denial of service attack, that originated in China.
Despite the wave of opposition, Lam remains determined to put the bill to a vote, which would be likely to pass because of the dominance of pro-Beijing lawmakers in the legislature. Speaking on Wednesday evening, Lam said: "If I let him have his way every time my son acted like that, such as when he didn't want to study, things might be OK between us in the short term. But if I indulge his wayward behaviour, he might regret it when he grows up. He will then ask me: 'Mum, why didn't you call me up on that back then?'"she said.

World Politics
United States
President claims he would have no obligation to call the FBI, contradicting bureau director he appointed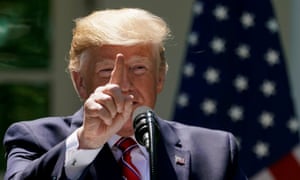 Donald Trump said there was 'nothing wrong with listening' to dirt on an opponent from a foreign power. Photograph: Kevin Lamarque/Reuters
Donald Trump has said he would be open to accepting damaging information on a 2020 election opponent from another country and would feel no obligation to inform the FBI – later attempting to justify his stance with a tweet about overseas dignitaries that referred to the heir to the British throne as the "Prince of Whales".
"I think you might want to listen, there isn't anything wrong with listening," Trump said in an interview with ABC News on Wednesday. "If somebody called from a country, Norway, [and said] 'we have information on your opponent' oh, I think I'd want to hear it."
The news prompted 2020 Democratic candidate Elizabeth Warren to repeat calls for Trump's impeachment.
Russia meddled in the 2016 US presidential election with the aim of helping elect Trump, according to a lengthy investigation by special counsel Robert Mueller. In June 2016, Donald Trump Jr, Trump's eldest son, met with a Russian lawyer who offered "dirt" on Hillary Clinton, Trump's opponent in the election.
Mueller's report didn't conclude there was a criminal conspiracy between the Trump campaign and the Russians, although there were contacts and Trump did publicly call for Russia to hack into information that would compromise Clinton.
Asked if he would accept information from a country such as Russia or China or, instead, call in the FBI, Trump said "I think maybe you do both."
"It's not an interference, they have information – I think I'd take it," Trump added. "If I thought there was something wrong, I'd go maybe to the FBI… but when somebody comes up with 'oppo research', right, they come up with oppo research, 'oh let's call the FBI.'
"The FBI doesn't have enough agents to take care of it. When you go and talk, honestly, to congressman, they all do it, they always have, and that's the way it is. It's called oppo research."
With a crucial mis-spelling, Trump on Thursday morning then posted a pair of tweets, the first saying: "I meet and talk to "foreign governments" every day. I just met with the Queen of England (U.K.), the Prince of Whales, the P.M. of the United Kingdom, the P.M. of Ireland, the President of France and the President of Poland. We talked about "Everything!" Should I immediately….."
Moments later, the tweet was taken down and replaced with one with the correct spelling of Prince Charles's title.
But his message continued with a tweet saying: "…call the FBI about these calls and meetings? How ridiculous! I would never be trusted again. With that being said, my full answer is rarely played by the Fake News Media. They purposely leave out the part that matters."
Meanwhile, Christopher Wray, the director of the FBI, told Congress last month that the agency would want to know about any election meddling by a foreign power. But these comments were dismissed by Trump when put to him by his interviewer, ABC anchor George Stephanopoulos.
"The FBI director is wrong, because frankly it doesn't happen like that in life," Trump said of Wray, whom he nominated to head the FBI in 2017.
Trump's comments immediately prompted renewed calls for his impeachment from some Democrats. Elizabeth Warren, who is running for the 2020 Democratic presidential nomination, tweeted that the Mueller report found "a foreign government attacked our 2016 elections to support Trump, Trump welcomed that help, and Trump obstructed the investigation. Now, he said he'd do it all over again. It's time to impeach Donald Trump."
Trump's comments came just a month after he pledged not to use information stolen by foreign adversaries in his 2020 re-election campaign, even as he wrongly insisted he had not used such information to his benefit in 2016.
During a question-and-answer session with reporters in the Oval Office in May, Trump said he "would certainly agree to" that commitment.
"I don't need it," he said as he met the Hungarian prime minister, Viktor Orbán. "All I need is the opponents that I'm looking at."
A small number of Republicans, such as Congressman Justin Amash, have also called for Trump's impeachment.
Trump has repeatedly claimed the Mueller report cleared him of wrongdoing, while criticizing its detailing of his attempts to obstruct any investigation of Russia's election activity.
One of several Trump advisors to be charged in relation to the investigation was Michael Flynn, the president's former national security adviser who was convicted of lying to the FBI over his contacts with the Russian ambassador to the US.
On Thursday, Trump tweeted about Flynn, who is awaiting sentencing for the crime of lying to federal investigators about conversations he had with the Russian ambassador during the presidential transition period in 2016. Trump wrote that Flynn is a "33 year war hero who has served with distinction, has not retained a good lawyer, he has retained a GREAT LAWYER, Sidney Powell. Best Wishes and Good Luck to them both!"
Last year, the New York Times reported that Trump's lawyer had raised the idea of the president pardoning Flynn and Paul Manafort, the former Trump campaign manager also convicted in matters related to the investigation and his foreign business dealings, for their crimes.