22 Mar
A Foreign Perspective, News and Analyses
Nearly all of these are English-edition daily newspapers. These sites have interesting editorials and essays, and many have links to other good news sources. We try to limit this list to those sites which are regularly updated, reliable, with a high percentage of "up" time.
Recommended:
Punching Nazis: Adam Hills Thinks White Supremacists Shouldn't Be Egged. Aamer Rahman Might Beg To Differ
Controversial Senator Fraser Anning has again drawn condemnation for repeating his claim that Muslim immigration is a lightning rod for violence. The Senator denies he is blaming the victims of the Christchurch massacre, but the major parties will combine to censure him when Parliament returns in a fortnight. All parties, except One Nation, will join in a censure of Senator Anning when Parliament returns.
The furore – if you could call it that – over a teenager cracking an egg over the head of Senator Fraser Anning – who blamed Muslims for their own slaughter in Christchurch on Friday – has cranked up a notch, or two.
A second video of Anning being confronted at Melbourne Airport has emerged. It features a very angry man following Anning to his gate, and letting him know precisely what he thinks of Anning's comments about Christchurch.
Ad campaigns hide investment in a huge expansion of oil and gas extraction, says InfluenceMap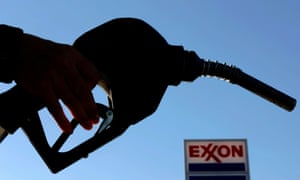 ExxonMobil leads the oil firms in spending on branding campaigns suggesting they support action against climate change. Photograph: Matt Slocum/AP
The largest five stock market listed oil and gas companies spend nearly $200m (£153m) a year lobbying to delay, control or block policies to tackle climate change, according to a new report.
Chevron, BP and ExxonMobil were the main companies leading the field in direct lobbying to push against a climate policy to tackle global warming, the report said.
Increasingly they are using social media to successfully push their agenda to weaken and oppose any meaningful legislation to tackle global warming.
In the run-up to the US midterm elections last year $2m was spent on targeted Facebook and Instagram ads by global oil giants and their industry bodies, promoting the benefits of increased fossil fuel production, according to the report published on Friday by InfluenceMap.
Separately, BP donated $13m to a campaign, also supported by Chevron, that successfully stopped a carbon tax in Washington state – $1m of which was spent on social media ads, the research shows.
Edward Collins, the report's author, analysed corporate spending on lobbying, briefing and advertising, and assessed what proportion was dedicated to climate issues.
He said: "Oil majors' climate branding sounds increasingly hollow and their credibility is on the line. They publicly support climate action while lobbying against binding policy. They advocate low-carbon solutions but such investments are dwarfed by spending on expanding their fossil fuel business."
After the Paris climate agreement in 2015 the large integrated oil and gas companies said they supported a price on carbon and formed groups like the Oil and Gas Climate Initiative which promote voluntary measures.
But, the report states, there is a glaring gap between their words and their actions.
The five publicly listed oil majors – ExxonMobil, Shell, Chevron, BP and Total – now spend about $195m a year on branding campaigns suggesting they support action against climate change.
But the report said these campaigns were misleading the public about the extent of the oil companies' actions because while publicly endorsing the need to act, they are massively increasing investment in a huge expansion of oil and gas extraction. In 2019 their spending will increase to $115bn, with just 3% of that directed at low carbon projects.
Shell said in a statement: "We firmly reject the premise of this report. We are very clear about our support for the Paris agreement, and the steps that we are taking to help meet society's needs for more and cleaner energy.
"We make no apology for talking to policymakers and regulators around the world to make our voice heard on crucial topics such as climate change and how to address it."
Chevron said it disagreed with the report's findings. "Chevron is taking prudent, cost-effective actions and is committed to working with policymakers to design balanced and transparent greenhouse gas emissions reductions policies that address environmental goals and ensure consumers have access to affordable, reliable and ever cleaner energy."
The successful lobbying and direct opposition to policy measures to tackle global warming have hindered governments globally in their efforts to implement policies after the Paris agreement to meet climate targets and keep warming below 1.5C.
More On The Environment:
Imam Gamal Fouda tells thousands that events leading to last week's massacre 'did not come overnight'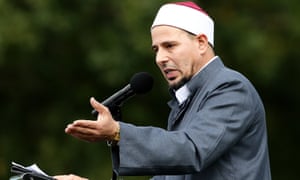 Imam Gamal Fouda leads a prayer at Hagley Park, opposite Al Noor mosque in Christchurch, New Zealand, on Friday. Photograph: Martin Hunter/AAP
An imam who survived the terror attack at Al Noor mosque has declared New Zealand "unbreakable" in a sermon attended by thousands in Christchurch on Friday and called on world leaders eliminate hate speech, saying the massacre "did not come overnight".
Speaking from a temporary stage set up in Hagley Park opposite the mosque, which is still surrounded by police tape a week after the attack, Imam Gamal Fouda said that in attempting to spread hate, the gunman who killed 50 people and injured 42 had instead sparked love and compassion.
"Last Friday I stood in this mosque and saw hatred and rage in the eyes of the terrorist," he said. "Today from the same place I look out and I see the love and compassion in the eyes of thousands of New Zealanders and human beings from around the globe."
'We are one': New Zealanders observe Muslim call to prayer – video
The service followed a public call to prayer, which was broadcast on national radio and television and followed by a two-minute silence.
Survivors who were injured in the shooting sat in wheelchairs of the front row of the makeshift venue, while at the back, thousands of non-Muslim New Zealanders, including Prime Minister Jacinda Ardern gathered wearing hijabs to show their respects. Later, Ardern addressed the crowd, saying: "New Zealand mourns with you, we are one."
Heavily armed police officers stood guard around the outdoor prayer service, while helicopters flew overhead. Under legislation announced by Ardern on Thursday, police will soon be one of the only groups able to access the kind of assault rifles they carry.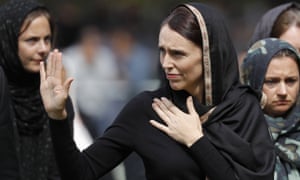 New Zealand prime minister Jacinda Ardern leaves Friday prayers in Christchurch on Friday. Photograph: Vincent Thian/AP
Fouda said: "This terrorist tried to tear our nation apart with an evil ideology that has torn the world apart but instead we have shown that New Zealand is unbreakable."
He thanked "the neighbours who opened their doors to save us from the killer" and "those who pulled over their cars to help us".
He thanked Ardern for "holding our families close and honouring us with a simple scarf", saying her leadership had been "a lesson for the world".
Ardern's gesture of solidarity was echoed by women around around New Zealand, from police officers to council workers, journalists, and the wider public. Some posted images under the hashtags #headscarfforharmony and #ScarvesInSolidarity. The event was supported by the Islamic Women's Council of New Zealand and the NZ Muslim Association.

World Politics
United States
Source: AP
Donald Trump has received widespread criticism for his comments about the late senator John McCain. The US president was speaking at a rally in Ohio when he revealed that he 'never liked' the Arizona Republican and 'probably never will'
Russia, Iran and Turkey condemn US president while Syria vows to recapture territory lost in 1967 war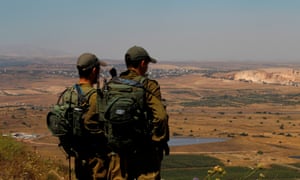 Israeli soldiers at an army base in the Golan Heights look out across the south-western Syrian province of Quneitra. Photograph: Jalaa Marey/AFP/Getty Images
Syria has vowed to retake the Golan Heights as Donald Trump's call for the US to recognise the occupied territory as part of Israel elicited strong responses from Russia, Turkey and Iran.
The president ended half a century of US foreign policy and broke from post-second world war international consensus that forbids territorial conquest during war with a tweet on Thursday that said it was time "to fully recognise Israel's sovereignty over the Golan Heights".
Trump said the territory was "of critical strategic and security importance to the state of Israel and regional stability".
Israeli troops took control of the volcanic plateau from Syria in the six-day war in 1967 and later annexed it, moves that were condemned by the UN security council and never internationally recognised.
Syrian state media said on Friday that the country was now "more determined to liberate it by all possible means no matter what," citing a foreign ministry source. Damascus said Trump's statement showed "the blind bias of the United States" towards Israel but would not change "the fact that the Golan was and will always be a Syrian Arab territory".
Syria's allies Russia and Iran also lambasted Washington. Iran said the announcement was "illegal and unacceptable", and Russia pointed out that a change of the status of the Golan Heights would be a direct violation of UN resolutions.
The Kremlin spokesman, Dmitry Peskov, told reporters the comments "can destabilise the already fragile situation in the Middle East".
The Turkish president, Recep Tayyip Erdo?an, warned on Friday that Trump's "unfortunate" declaration had brought the region "to the brink of a new crisis and new tensions".
"We will never allow the legitimisation of the occupation of the Golan Heights," he said.
The French foreign ministry said: "The recognition of Israeli sovereignty over the Golan, occupied territory, would be contrary to international law, in particular the obligation for states not to recognise an illegal situation."
In the decades since its capture, Israel has conducted negotiations with Syria to reach a peaceful solution over the Golan without success. Syria failed to retake the region by force in 1973.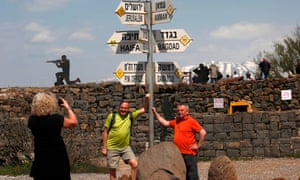 Tourists in the Golan Heights. Photograph: Jalaa Marey/AFP/Getty Images
Israel has since entrenched itself by building military bases and establishing a robust civilian foothold including multiple tourism projects. It has become one of Israel's less explosive border disputes, especially since Damascus has been distracted by its own civil war.
Iran, its Lebanese proxy, Hezbollah, and Russia have all sent forces to Syria to support President Bashar al-Assad during the conflict. Israel's airforce has conducted bombing raids on bases in Syria it believes house Iranian personnel and also on alleged weapon transfers to Hezbollah.
Last May, Israel said Iranian troops fired a barrage of rockets at its positions in the Golan. The flare-up was seen as a response to Trump's withdrawal from the Iran nuclear deal, which angered Tehran.
Dan Altman, an assistant professor at Georgia State University who specialises in territorial conquest, says the US has employed a policy of "non-recognition", for example by rejecting Russia's annexation of Crimea.
"There is generally no need to take a public position recognising a conquest that neither created nor destroyed a country," he said. "Usually, it is easier to avoid taking a position on sovereignty over the disputed territory. Silence, neutrality, and calls to cease hostilities are common policy responses."
He could not point out a clear example of the US recognising territory captured in war in recent decades but said one case was North Vietnam's conquest of South Vietnam in 1975, which Washington in effect recognised by normalising relations in 1995.
Israel has long been pressing Washington to recognise its claim over the 1,200 sq km (460 sq miles) area, arguing it needs the plateau as a high-ground security buffer.
Palestinians fear the acceptance of Israel's claim to the Golan will act as a stepping stone to US recognition of another territory it captured in the same 1967 war and continues to rule – the occupied West Bank. That move would in effect end US support for a Palestinian state as it is currently envisioned.
Trump previously broke with decades of US foreign policy in relocating the US embassy from Tel Aviv to Jerusalem.