23 Jun
Nearly all of these are English-edition daily newspapers. These sites have interesting editorials and essays, and many have links to other good news sources. We try to limit this list to those sites which are regularly updated, reliable, with a high percentage of "up" time.
Recommended:

MELTDOWN – a visualisation of climate change has opened at Natural History Museum of Vienna. Created by the climate crisis charity Project Pressure, the exhibition on vanishing glaciers uses art to inspire action and behavioural change. Unlike wildfires, flooding and other weather events, the retreat of the world's glaciers can be attributed to global warming. To incite action, Project Pressure has created a carbon footprint calculator in collaboration with ClimateHero to learn how carbon-intense the users' lifestyle is.
Illimani, Bolivia, 2013Klaus Thymann seeks to challenge conceptions of where glaciers exist, emphasising the importance of treating the climate crisis as a global issue rather than just one centred on the Arctic and Antarctica
Photograph: Klaus Thymann/Courtesy of Project Pressure

Calais-based human rights observers report 'relentless harassment' of asylum seekers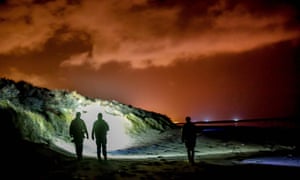 French gendarmes patrol a beach near Calais, northern France, as they try to intercept migrants attempting to cross the Channel. Photograph: Philippe Huguen/AFP/Getty Images
British and French authorities have ramped up attempts to prevent refugees reaching the UK with camp evictions in north France running at several a day, new analysis reveals.
More than 800 clearances of migrant camps near the ports of Calais and Dunkirk have been recorded since last August, a zero tolerance strategy that campaigners say is designed to stop migrants attempting to cross the Channel by boat.
French police carried out 12 evictions in Calais last July when reports of Channel crossings began to emerge, compared to 79 in May, the latest month for which figures are available.
Charities argue that the increasing tempo of evictions, a strategy backed by UK border authorities, is forcing the 1,300 refugees currently in northern France to risk the dangerous Channel crossing. Last month the number of crossings by migrants from France hit record levels.
The Calais-based organisation Human Rights Observers and French group L'Auberge des Migrants have produced a report that shows attempts to drive out refugees from northern France have increased to record levels, with 803 forced evictions recorded between 1 August 2018 and 1 June 2019.
"It's an astronomical figure which illustrates the authorities' relentless harassment of displaced people in Calais. The cadence of these operations is uncompromising, occurring on the weekends as well as on bank holidays," said Jenni Whitaker of Human Rights Observers.
The controversial "migrant management strategy" is backed by the UK-France Coordination and Information Centre in Calais, which is staffed by Home Office border officials, National Crime Agency officers and British immigration enforcement staff.
The centre, funded by the UK, shares "real-time intelligence between UK and French agencies" and is dedicated to stopping refugees trying to cross the border.
The repeated destruction of makeshift camps around the Calais port area and the town of Grande-Synthe, near Dunkirk, has forced many of the refugees to sleep without shelter and also lose their possessions.
Of 500 migrants currently living near Calais, 139 are unaccompanied minors, with another 150 children among 800 living in rudimentary camps close to Dunkirk.
The scheme to transfer vulnerable child refugees from France to Britain has reportedly been ended, leaving hundreds of lone children facing exploitation. A 10-year-old unaccompanied boy was among those recently attempting to reach the UK, where he has relatives.
"The relentless and repetitive nature of the evictions appear to deliberately exhaust the communities, and render them even more materially precarious," said the report.
Of particular concern, says Whitaker, is how police establish a "security perimeter" during evictions to prevent refugees retrieving their belongings. On one occasion last March, gendarmes are alleged to have initially prevented a mother retrieving her child from a tent.
The Human Rights Observers, set up in October 2017 to investigate allegations of mistreatment by the French authorities against refugees, also report that tents have been routinely broken and confiscated and food sprayed with teargas, and that even jerrycans of drinking water have been slashed.
"These evictions only serve to add to the accumulated trauma of refugees and migrants, and aim only to create further hostility rather than offer a dignified solution. This has led to a deterioration of both the physical and mental health of those affected," said the report.
The vast majority of evacuations occur at Calais, with clearances in Grande-Synthe more sporadic, and currently take place at a rate of two per week.
However, conditions at Grande-Synthe are said to be dire with 87% of migrants telling a recent survey they do not have access to a toilet and more than half saying they do not have enough to eat.
Charities celebrated a legal victory last week against the French authorities over alleged human rights violations at Grande-Synthe, a verdict that means the state must provide water, showers and toilets for the hundreds living there.
A Pakistani man told the report's authors: "Today police came. They take my tent. In two days, I sleep maximum two hours. It's too much difficult. The mind is not working, the brain stops working. All the refugees are so afraid now."
In October 2016 a huge semi-permanent camp in Calais, home to around 8,000 refugees, was demolished in a move by the French government to remove migrants from its northern coast.

Oklahoma is holding the drug giant with the family-friendly image responsible for its addiction epidemic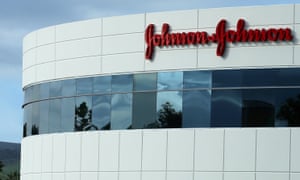 The state of Oklahoma is suing Johnson & Johnson in a multibillion-dollar lawsuit. Photograph: Mike Blake/Reuters
Day after day, the memos flashing across screens in an Oklahoma courtroom have jarred with the family-friendly public image of Johnson & Johnson, the pharmaceutical giant best known for baby powder and Band-Aid.
In one missive, a sales representative dismissed a doctor's fears that patients might become addicted to the company's opioid painkillers by telling him those who didn't die probably wouldn't get hooked. Another proposes targeting sales of the powerfully addictive drugs at those most at risk: men under 40.
As the state of Oklahoma's multibillion-dollar lawsuit against Johnson & Johnson has unfolded over the past month, the company has struggled to explain marketing strategies its accusers say dangerously misrepresented the risk of opioid addiction to doctors, manipulated medical research, and helped drive an epidemic that has claimed 400,000 lives over the past two decades.
Johnson & Johnson profited further as demand for opioids surged by buying poppy growing companies in Australia to supply the raw narcotic for its own medicines and other American drug makers.
One expert witness at the forefront of combatting the epidemic, Dr Andrew Kolodny, told the court he had little idea about Johnson & Johnson's role until he saw the evidence in the case.
"I think it's fair to characterize Johnson & Johnson as a kingpin in our opioid crisis," he said.
Oklahoma's attorney general, Mike Hunter, is suing Johnson & Johnson for billions of dollars for its alleged part in driving addiction and overdoses in his state in the first full trial of a drug maker over the opioid epidemic.
But Hunter's lawsuit has put the wider industry in the dock, too, by laying out how opioid manufacturers worked together to drive up sales by using their huge resources to influence medical policy and doctor prescribing. Hunter said the strategy was motivated by the industry's "greed" as profits surged.
The case is being closely watched by a host of opioid makers, drug distributors and pharmacy chains facing more than 2,000 other lawsuits by communities across the country to see if a court is prepared to hold a pharmaceutical firm responsible for the worst drug epidemic in American history.
Hunter accuses Johnson & Johnson of joining with other companies to create a false narrative of an epidemic of untreated pain in the US to which opioids were the solution, in part by funding front organizations such as the American Pain Society. The strategy helped drive a surge in opioid prescribing as narcotic painkillers ballooned into a multibillion-dollar-a-year market.
Purdue Pharma kickstarted the epidemic with its high-strength, long-lasting opioid, OxyContin, in the mid-1990s. The court heard how Johnson & Johnson quickly realized the potential and set about competing.
Its drug division, Janssen, was founded by Paul Janssen, a Belgian who invented an artificial opioid, fentanyl, in 1960. In the early 1990s, Janssen Pharmaceuticals was selling a fentanyl patch, Duragesic, to treat severe pain in people with cancer. But with the arrival of OxyContin, the company aggressively widened the market for Duragesic by falsely claiming there was a very low risk of addiction to the drug, according to Hunter.
Hunter brought to court 35 boxes containing thousands of subpoenaed "call notes" – sales reps reports on their meetings with doctors – that he claimed showed Johnson & Johnson was more interested in increasing demand for its drug than seeing it properly prescribed.
Johnson & Johnson hired the consultants McKinsey & Company to identify opportunities to sell more. McKinsey recommended sales reps focus on doctors already prescribing large amounts of OxyContin. McKinsey also proposed a strategy to keep patients on Duragesic even if they had an "adverse event". The broader push was to get as many patients as possible off of lower strength opioids and on to Johnson & Johnson's more powerful drugs.
As the company ramped up its drive, sales of Duragesic surged past $1bn a year. A senior Johnson & Johnson marketing executive, Kimberly Deem-Eshleman, defended the sales strategy as reps "educating" doctors.
Johnson & Johnson, which is already facing compensation payments of several billion dollars after asbestos in its baby powder caused cancer, strongly denies that it bears responsibility for the opioid epidemic.
At the core of its defense is the claim that the company was distributing drugs approved by federal agencies such as the Food and Drug Administration, and that it sold a relatively small amount of opioids in Oklahoma that cannot be tied to any specific overdoses.
Hunter is painting his case on a much broader canvas by characterizing the company as working in coordination with its rivals to change the narrative around opioids to drive up prescribing across the country so that they all benefitted from a bigger market.
Some of the most damning testimony has come from Dr Russell Portenoy, a pain specialist and influential early cheerleader for the wide prescribing of opioids who was a paid adviser to Johnson & Johnson, Purdue and other drug makers.
Portenoy told the court that painkiller manufacturers "understated the risks of opioids, particularly the risk of abuse, addiction and overdose" to boost sales. He accused the drug makers of distorting his research and that of other specialists by selectively quoting the results, including omitting information about the dangers of narcotics.
"Those messages about risk were neglected and de-emphasised," he said in recorded video testimony shown in court. "I think the purpose of doing that was to improve the sales of their products. "
Portenoy was among a group of doctors hired by Johnson & Johnson and Purdue as speakers to promote opioids to other physicians. He said the talks "generally favored the drugs created by the drug companies" even though they were ostensibly offering independent advice.
The court was shown Janssen's 2012 business plan which said that "speaker programs often trigger first use" of Duragesic.
The Oklahoma case is closely watched by other drug firms being sued by towns, cities and counties in nearly 2,000 lawsuits combined in a single action in federal court in Ohio, known as the Multi District Litigation (MDL).
Last week, lawyers for the plaintiffs in the MDL proposed that any compensation settlement cover every municipality and county in the US in order to deal with all potential lawsuits at once. The lawyers believe this will be an incentive for the drug firms to settle because an agreement will shield them from further claims, although it would not deal with actions by state attorney generals such as the one underway in Oklahoma.
Paul Farrell, one of the lead lawyers on the MDL, said he was hesitant to put too much weight on any one trial. But he said that if Johnson & Johnson lose the Oklahoma case it would be a blow to the other drug companies pursuing similar lines of defence.
"If the judge decides to rule that Johnson & Johnson is not liable in Oklahoma because of the facts in Oklahoma, then I think they're going to have to replicate that result in 49 other states and in at least 1,900 other governmental entity cases. If, on the other hand, the judge does find liability against Johnson & Johnson, despite the fact that they claim their market share was so small, you would think that that would have reverberations across the industry," he said.
Chris McGreal is the author of American Overdose, The Opioid Tragedy in Three Acts

World Politics
Great Britain

Far-right activist claimed he helped with Boris Johnson's resignation speech as foreign secretary
New evidence suggesting close links between Boris Johnson and Donald Trump's controversial former campaign manager Steve Bannon can be revealed, calling into question the former foreign secretary's previous denials of an association with the influential far-right activist.
Video evidence obtained by the Observer shows Bannon, who helped mastermind Trump's successful bid for the presidency but was later exiled from the White House, talking about his relationship and contacts with Johnson, and how he helped him craft the first speech after his resignation as foreign secretary, in which Johnson tore into Theresa May's Brexit strategy.
The revelations will pile new pressure on Johnson after the Guardian reported that police had been called to the flat he shares with his partner, Carrie Symonds, in the early hours of Friday morning after neighbours heard a loud altercation involving screaming, shouting and banging.
Reports of Johnson and Bannon's relationship were first published last summer. When asked about it at the time, Johnson said: "As for the so-called association with Steve Bannon, I'm afraid this is a lefty delusion whose spores continue to breed in the Twittersphere."
He said he had met Bannon in his role as foreign secretary and found the accusation that he was 'with Bannon' to be 'perplexing'.
The unpublished footage was shot in July last year by Alison Klayman, an American film-maker who followed Bannon over many months for a new documentary called The Brink. It sets out Bannon's account of how the two had been in close contact particularly around the time of Johnson's resignation from the May government.
The clips were shot in the week Johnson resigned over Brexit, when Bannon was in London meeting leaders of the European far right, including Nigel Farage. They are not included in the final film, which is being released in July, but Klayman passed the footage to the Observer.
The first clip shows Bannon reading a front page story in the Daily Telegraph about Johnson's resignation speech with the headline 'Let's Make Britain Great Again'. He says: "Today we are going to see if Boris Johnson tries to overthrow the British government. He's going to give a speech in the Commons."
Bannon then says: "I've been talking to him all weekend about this speech. We went back and forth over the text."

United States
President to reporters: 'I have no idea who this woman is'

Picture shows Trump with E Jean Carroll around 1987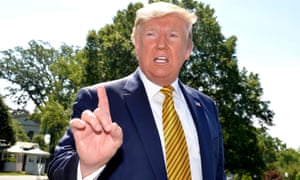 Donald Trump makes remarks to the press as he departs the White House. Photograph: Mike Theiler/Pool/EPA
The photo was included in the New York magazine article in which Carroll, a writer and celebrated advice columnist, made public her allegation that Trump assaulted her in a department store dressing room in the 1990s.
"I have no idea who this woman is," Trump told reporters at the White House, as he left for weekend meetings at Camp David.
When a reporter reminded the president that he and Carroll had appeared in a photo together, he replied: "Standing with my coat on in a line, give me a break. With my back to the camera. I have no idea who she is."
In the article – an extract from her new book, What Do We Need Men For? – Carroll alleged that in late 1995 or early 1996, Trump asked her for advice on a gift to buy a female friend.
In a dressing room at Bergdorf Goodman in Manhattan, Carroll wrote, Trump lunged at her and for the next three minutes sexually assaulted her.
"He seizes both my arms and pushes me up against the wall a second time, and, as I become aware of how large he is, he holds me against the wall with his shoulder and jams his hand under my coat dress and pulls down my tights," she wrote.
Carroll said there was then a "colossal struggle" as Trump opened "the overcoat, unzips his pants, and, forcing his fingers around my private area, thrusts his penis halfway – or completely, I'm not certain – inside me".
New York magazine said two of Carroll's friends – prominent but unnamed journalists – said she told them about the alleged assault at the time and that they had full recollection of her account.
On Friday, Trump responded to the allegation for the first time, saying in a statement: "I've never met this person in my life.
"She is trying to sell a new book – that should indicate her motivation. It should be sold in the fiction section."

Trump's claim that the two had never met was not true. The New York article included a photo of Trump next to his then-wife Ivana Trump and facing Carroll and her then-husband, TV news anchor John Johnson, at a party sometime around 1987.
More than 20 women have accused Trump of sexual misconduct. Carroll listed 15 of them in her article: Jessica Leeds, Kristin Anderson, Jill Harth, Cathy Heller, Temple Taggart McDowell, Karena Virginia, Melinda McGillivray, Rachel Crooks, Natasha Stoynoff, Jessica Drake, Ninni Laaksonen, Summer Zervos, Juliet Huddy, Alva Johnson and Cassandra Searles.
Trump and his allies have dismissed each accusation as a lie.
Related: