26 Jun
Nearly all of these are English-edition daily newspapers. These sites have interesting editorials and essays, and many have links to other good news sources. We try to limit this list to those sites which are regularly updated, reliable, with a high percentage of "up" time.
Recommended:

The toddler's arm was still draped around her father's neck after bodies were found in the Rio Grande as they sought asylum
US border: photo of drowned father and daughter highlights migrants' peril – video report
Searing photographs showing a man and his 23-month old daughter lying face down in shallow water along the Mexico bank of the Rio Grande near the US border highlights the perils of the latest migration crisis involving mostly Central Americans fleeing violence and poverty. There have been a number of other recent grim discoveries near the border such as two babies, a toddler and a woman who were found dead, overcome by the sweltering heat.

The grim reality of the migration crisis unfolding on America's southern border has been captured in photographs showing the lifeless bodies of a Salvadoran father and his daughter who drowned as they attempted to cross the Rio Grande into Texas.
The images, taken on Monday, show Óscar Alberto Martínez Ramírez, 26, and his daughter Valeria, lying face down in shallow water. The 23-month-old toddler's arm is draped around her father's neck, suggesting that she was clinging to him in her final moments.
Their bodies were discovered on the bank of the river near Matamoros, Mexico, across from Brownsville, Texas, just half a mile (1 kilometer) from an international bridge.
According to Julia Le Duc, a reporter for the newspaper La Jornada, Martínez Ramírez had arrived in Matamoros on Sunday, hoping to request asylum from US authorities with his wife, Vanessa Ávalos, and their daughter.
But when he realized that it could be weeks before they were even able to start the asylum process, Martínez decided they should swim across, said Le Duc, who witnessed Ávalos give her account to the police.
"He crossed first with the little girl and he left her on the American side. Then he turned back to get his wife, but the girl went into the water after him. When he went to save her, the current took them both," Le Duc told the Guardian.
The image underlines the dangers which mostly Central American migrants face in their attempts to escape violence, corruption and poverty at home and find asylum in the United States.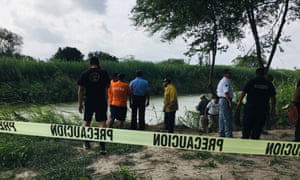 Authorities stand behind yellow warning tape along the Rio Grande where the bodies of Óscar Alberto Martínez Ramírez and his daughter Valeria were found, in Matamoros, Mexico, on Monday. Photograph: Julia Le Duc/AP
As part of a broader crack down on migration, the Trump administration has made asylum seekers wait in Mexico while their claims are considered – a process which can take years. Migrants have increasingly turned to more remote and dangerous routes across the southern frontier.
Elsewhere three children and an adult from Honduras died in April after their raft capsized on the Rio Grande, and a six-year-old from India was found dead earlier this month in Arizona, where temperatures routinely soar well above 100F.
So far this year, dozens of people have died attempting to cross the Rio Grande, where water levels are at their highest levels in 20 years and record levels of snowmelt run-off have transformed the river into a raging torrent.
Claudia Hernández, a Mexican police officer in the border town of Piedras Negras, told the Guardian: "The river is treacherous and the people who aren't from here don't know that. I grew up here along the Río Bravo river [Río Grande]. I wouldn't even go into that water to bathe or swim. There are springs and whirlpools and when the current takes you it can pull you under."
Isabel Turcios, a Franciscan nun, the director of the Casa del Migrante shelter in Piedras Negras said that local activists warn migrants not to try their luck on the river, but the US has drastically reduced the number of migrants who are allowed to request asylum each day.
"People get desperate and cannot keep waiting. They just want to cross. So they go to the river and without any form of protection – no lifejacket, nothing to save them – they go into the river. They always tell me that if God wants them to make it then somehow they will make it."
She added: "It's not how things should be. They should be able to cross at the bridges. Every human being has the right to migrate. It's a human right."
"Very regrettable that this would happen," said President Andrés Manuel López Obrador on Tuesday in response to a question about the latest deaths on the border. "As there is more rejection in the United States, there are people who lose their lives in the desert or crossing" the river.
According to reports in the local press, Martínez, Ávalos and their daughter left their home in the municipality of San Martín in April. But after two months waiting in the southern city of Tapachula – and fearful of the Mexican authorities – the family decided to push on.
"They said they were scared because of the way things were going for migrants, what with the pressure from Trump. That's why they decided to cross the river. Their plan was to hand themselves into US migration," Martínez's sister Wendy told El Diario de Hoy.
One of Martínez's cousins, Enrique Gómez, tweeted an appeal to the Salvadoran president, Nayib Bukele, pleading for help in repatriating the bodies. Gómez said the family sought assistance from the Salvadoran government but were being charged between $7,000 and $8,000 to repatriate the bodies. Bukele's office responded by asking Gómez to send a private message and promised to start the repatriations.
The photograph of Martínez and his daughter provoked soul-searching among some Mexicans, but recent polls revealed that attitudes towards migrants have hardened in recent months.
"The image of a father and the little one in the Rio Bravo… is a painful symptom of our systematic failure," tweeted author Alma Delia Murillo. "And on top of that you have idiots who blame the migrants because 'they took the risk.'"
Several Democratic presidential candidates, including Kamala Harris, Beto O'Rourke and Cory Booker, also expressed their dismay on Tuesday evening. "Trump is responsible for these deaths," wrote O'Rourke in a tweet, while Harris called it "a stain on our moral conscience".
Polling firm Parametría showed 58% of Mexicans opposing migrants entering the country from Central America. Just 32% of respondents expressed the same opinion on November, when caravans from Central America transited the country and were welcomed with outpourings of generosity.
This report includes material from the Associated Press

Julia Le Duc gives details of the father and his toddler daughter who died trying to cross the Rio Grande Warning: graphic images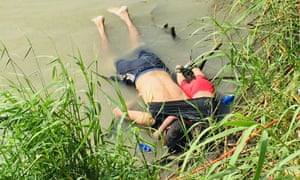 The bodies of Salvadoran migrant Óscar Alberto Martínez Ramírez and his nearly two-year-old daughter Valeria were found on the bank of the Rio Grande on Monday. Photograph: Julia Le Duc/Associated Press
Julia Le Duc is a reporter for La Jornada in Matamoros, the Mexican city directly across the Rio Grande from Brownsville, Texas.
Her shocking photographs showing the bodies of Salvadoran migrant Óscar Alberto Martínez Ramírez and his daughter Valeria cast a fresh spotlight on the migration crisis at America's southern border. Here she describes how the images came into being.
On Sunday there was an emergency call about a woman who was in a desperate way down by the river. We heard the report and went down to the river where she was shouting and screaming that the current had taken her daughter.
Later we found out her name was Vanessa Ávalos. We could hear her telling the officials that they had been in Mexico for two months and wanted to ask for asylum in the US.
She said they they'd been in Tapachula in the south of Mexico and they'd applied for a humanitarian visa [allowing them to stay and work in Mexico for a year] but they wanted the American dream – so they took a bus up to the border.
They'd arrived here earlier that morning and they went straight to the [international] bridge to ask about applying for asylum, but they were told the American migration office was closed because it was a weekend – and that there lots of other people in the line ahead of them.
A few months ago there were about 1,800 people waiting in Matamoros for an asylum interview. It's gone down to about 300 now, but there are only three interview slots each week, so they were still looking at a long wait.
So the family were walking back from the bridge when [Martínez] stopped and looked at the river – and said "Here's where we cross".
He crossed first with the little girl and he left her on the American side. Then he turned back to get his wife, but the girl went into the water after him. When he went to save her, the current took them both.
Someone called the rescue services – on this bank there are always people jogging and riding bikes on the weekend – and the search went on until after 11pm, but even with boats and lamps they couldn't find them.
The next morning, they continued in the light of day and, at about 10.15 in the morning, the firemen found the two bodies. That's when I took the pictures, before the scene was taped off.
I've been a police reporter for many years, and I've seen a lot of bodies – and a lot of drownings. The Rio Bravo is a very strong river: you think it's just shallow, but there are lots of currents and whirlpools.
You get numb to it, but when you see something like this it re-sensitizes you. You could see that the father had put her inside his T-shirt so the current wouldn't pull her away.
He died trying to save his daughter's life.
Will it change anything? It should. These families have nothing, and they are risking everything for a better life. If scenes like this don't make us think again – if they don't move our decision-makers – then our society is in a bad way.
In Mexico there has been a lot of talk about the crisis on our southern border, [where president Andrés Manuel López Obrador has dispatched more than 6,000 members of Mexico's National Guard to seal off the frontier with Guatemala].
But there is a crisis on our northern border, too – the border with the United States – and I see it every day. These are desperate families – and desperate people do desperate things.
This interview has been edited for clarity and brevity

The climate story must balance talk of urgency with hopeful and creative ideas if we are to inspire positive change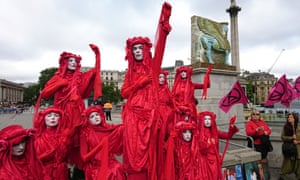 'The future of our planet – and how it is possible to save it – is a story worth telling.' Extinction Rebellion activists in London. Photograph: Jamie Lowe/Courtesy of Extinction Rebellion
"H

ell is coming," one weather forecaster tweeted this week, warning not of further political turmoil but of the hottest heatwave in decades that's advancing across continental Europe. Extreme weather events like this remind us that climate change is not a remote and distant threat – but a reality that is already taking an unacceptable human toll.
In recent months, Extinction Rebellion and the school climate strike have turned up the heat on the climate debate. They've both done an astonishing job of getting the climate change back on the public and political agendas. Their warnings of impending apocalypse, disruptive tactics and robust demands that others "tell the truth" about climate change have made huge waves. Parliament has declared a climate emergency. The Guardian has updated its own editorial guidelines to use language that accurately reflects the threat that climate change poses.
These demands and promises to tell the truth are based on a core premise: if people knew how bad this was we'd do differently. My organisation studies how we respond to and are shaped by the stories the we hear. I welcome the renewed energy within the climate movement – and the recognition of the power of language. But I fear we risk underplaying the part of "the truth" that could set us free.
Most people in the UK know climate change is a big problem. We understand it poses a grave threat to the future of our world. But we're not trying to save ourselves – at least, we're not trying hard enough.
Communications science offers some clues as to why we might be locked in this collective paralysis – somewhat able to see the problem but unable to deal with it. Our brains are hardwired to jump to conclusions without us noticing we're doing it. When faced with serious and complex challenges such as climate change, we jump to "can't be done" more readily than "let's work through this problem and see the solutions". While bleak, "nothing can be done" is a more rewarding conclusion because it's quicker and easier to think.
The tendency to think fatalistically is fuelled by the stories we hear every day. The word "crisis" appears in our media dozens of times each week, appended to everything from poverty to patisseries, climate change to chick peas. It is background noise. Stating loudly that problems exist and have reached crisis point does not help us to move beyond said crises, especially if they are hard to understand and tough to tackle.
The stories we hear and tell matter. They shape how we understand the world and our part within it. Just as hearing migrants described in dehumanising ways flips a switch in our minds and creates automatic negative responses, a steady stream of wholly negative language and ideas creates mental shortcuts to despair and hopelessness.
Research is clear that to overcome fatalism and inspire change we must balance talk of urgency with talk of efficacy – the ability to get a job done. Too little urgency and "why bother?" is the default response. Too much crisis and we become overwhelmed, fatalistic or disbelieving – or a disjointed mixture of all three, which is where most of us get stuck when anyone talks about climate change.
We are all swayed by what we think other people think and what we see as normal. In post-war Rwanda a radio soap opera succeeded where other attempts to change relationships and interactions failed. By depicting positive relationships between opposing ethnic groups, the soap made these relationships seem normal and improved dynamics.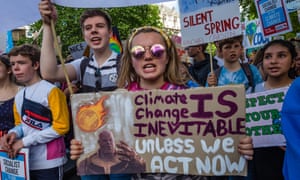 'Extinction Rebellion and the schools climate strike have turned up the heat on the climate debate.' Student climate protests in London. Photograph: Peter Marshall/Alamy Stock Photo
We need to change what's normal and what's perceived to be normal. And at the moment we think, and are constantly told, that most people don't care enough. And the ones who do care are often not relatable to most people. We're led to believe that inaction is the norm and that not much can be done. Upping the ante only by doing more to illustrate the scale of inaction and the high stakes doesn't change this, it compounds it.
When Martin Luther King inspired a nation and the world he led with the dream, not the nightmare. When JFK persuaded the American public to support the Apollo programme he balanced the need to act with the ability to do so: "We choose to go to the moon in this decade and do the other things, not because they are easy, but because they are hard; because that goal will serve to organise and measure the best of our energies and skills, because that challenge is one that we are willing to accept, one we are unwilling to postpone, and one we intend to win."
This is not the story being told about climate change. Instead we're stuck in a climate disaster movie – and it's not even a very good one. The threat is complex and can feel remote, but we're told the chances of survival are slim. There are constant warnings but few heroes in sight. Our response is predictable: we switch off or we change the channel.
The climate story can evolve from its current emphasis on chastisement and detachment. The future of our planet – and how it is possible to save it – is a story worth telling. And retelling in ever more interesting and inspiring ways.
To help us avoid the worst effects of climate change we need a steady stream of stories that bring to life our capacity to dream big and get things done. We need high doses of creativity and ingenuity from a wide range of different voices. We need stories that show real life – and real life as it could be. We need to be able to see, feel and taste what we could do if leaders led and hope triumphed.
•

Nicky Hawkins is a communications strategist for the Frame Works Institute

World Politics
United States
DNC has declined to hold a climate-specific debate even as Democratic voters rank rising temperatures as a top priority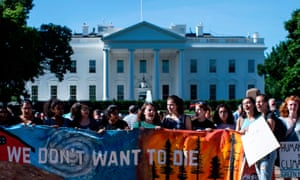 A group of teenage protesters, part of 'Fridays for Future' against climate change, gather in front of the White House last month. Photograph: Eric Baradat/AFP/Getty Images
Dozens of young climate protesters crowded outside the Democratic National Committee headquarters in Washington DC on Tuesday, demanding a debate focused on the crisis as presidential candidates prepare to face off this week over two nights in Florida.
The DNC has declined to hold a climate-specific debate, even as Democratic voters rank rising temperatures – and the worse disasters and economic instability they bring – as a top priority.
The DNC chair, Tom Perez, has warned that any candidate who participates in a climate debate will not be invited to others. Environment-minded voters worry the more general debates, like those in Miami this week, will give short shrift to climate.
"I know that the crisis I see in my community is bigger than the few sentences they're going to spend on it over the next few nights," shouted Abigail Leedy, an 18-year-old from Philadelphia protesting with the Sunrise Movement, from the steps of the DNC office.
An eight-year-old from Washington DC, Havana Chapman-Edwards, read a prepared statement.
"I am old enough to know when the adults are talking about how they care about my future but actually not taking action or passing any laws to fight against climate change," Chapman-Edwards said.
Behind her, young people held signs reading "CLIMATE DEBATE," and "11 YEARS," the amount of time scientists say the world has to limit climate change catastrophe.
The Climate crisis is sure to be mentioned in the debates on Wednesday and Thursday, in contrast to 2016 when not a single question on the topic was asked.
Over two nights in Miami – the frontlines for sea-level rise, ocean acidification, flooding and heat – the 20 Democrats will debate each other on a wide range of issues. Many will seek to charm voters and distinguish themselves as the best candidate to beat Donald Trump. They are unlikely to get into the details of their climate proposals.
But advocates want candidates to spend more time digging into the subject, talking about what specific policies they might support, how quickly they would force the country off fossil fuels and what they would do for communities already suffering, in coastal areas like Miami – where the debates are being held this week – and in the midwest where flooding is ravaging farms.
That conversation would make it clearer which contenders are serious about their plans, they say. Democratic voters broadly agree with them, according to a new poll. The online survey sponsored by the Sierra Club found that 68% of likely Democratic primary voters want the DNC to hold a presidential debate specifically on the climate crisis.
After the DNC's refusal, a coalition of climate justice and environment groups – including The Climate Mobilization, Zero Hour, and Extinction Rebellion – are launching an online petition demanding Congress declare a national climate emergency. This week a coalition of more than 70 health organizations called on policymakers at all levels to treat the climate crisis as a health emergency.
A handful of Democrats have unveiled blueprints for how they would reduce heat-trapping pollution and limit rising temperatures. Most have embraced a Green New Deal – which would include massive spending to restructure the economy to run without fossil fuels and aim to reduce inequality.
Former vice-president Joe Biden has backed the Green New Deal's concept of the world reaching net-zero greenhouse gas emissions by 2050. He would push for government limits on climate pollution.
The Sierra Club's poll found that voters who think Democratic candidates' climate plans are "very important" are mostly supporting Biden, even as some activists say he wouldn't do enough to stem warming and would allow the continued use of natural gas.
Of climate voters polled, 37% support Biden, 19% support Senator Bernie Sanders, and 15% support Senator Elizabeth Warren.
Sanders has been among the most vocal on the climate emergency, calling it an "existential crisis", a moral issue and the biggest national security threat to the country. He also backs a Green New Deal and wants to keep fossil fuels in the ground.
Warren has stuck to a pledge to ban new fossil fuel development on public lands, which many of her competitors have echoed. She would also spend $2tn on green research.
The Washington governor, Jay Inslee, who trails in national polls, has centered his campaign around climate change and released the most comprehensive plans yet – to reach carbon neutrality by 2045, spend trillions and target polluters.
In Florida, the candidates have an audience eager to hear about climate policies.
Another poll – from ClimateNexus and George Mason and Yale universities – finds a large majority of Florida voters want the government to act on the climate crisis.
Of all voters, 71% want climate policies. Among Democrats, 85% do. Most Floridians – seven in 10 – are worried about the personal risks they face from the climate crisis.
A large fire is burning in the Florida Everglades, a reminder of the hotter conditions that are making wildfires bigger and harder to fight.
Around the country, people are paying more attention to shifting weather patterns linked with higher temperatures.
Ed Maibach, director of the George Mason University Center for Climate Change Communication, said his university's polling project with Yale University has shown a "dramatic shift" in the numbers of Americans concerned about the climate.
Nearly a third of Americans – double the number five years ago – are alarmed by global warming, Maibach said. The population unconcerned or doubtful of the problem has shrunk by 40%, to about 18% of Americans, he said.
"For every three Americans who are worried about global warming, currently one isn't worried about global warming," Maibach said.