28 Jun
Nearly all of these are English-edition daily newspapers. These sites have interesting editorials and essays, and many have links to other good news sources. We try to limit this list to those sites which are regularly updated, reliable, with a high percentage of "up" time.
Recommended:

With a heatwave gripping France, charities and City Hall have mobilised to help the French capital's migrant and refugee population, many of whom live in makeshift camps without easy access to fresh water or protection from the elements.
At a Salvation Army centre outside just outside Paris near the Porte de la Chapelle, migrants and refugees from Afghanistan, Eritrea, Ethiopia and many other countries mingle, drink tea and water or take a nap.
With temperatures in Paris nearing 40°C this week amid a heatwave sweeping across the country, the relative cool of the welcome centre is a much-needed respite.
Paris's refugees and asylum seekers, many of whom live in tents along the périphérique ring road surrounding the French capital, are particularly at risk of the heat's ill-effects.
But here, they have ready access to fresh drinking water, can take a shower, get medical help, or just cool off for a while.
"It's really bad now there is the hot weather," says Khaled, an asylum seeker from Afghanistan. "There are a lot of families living in parks or in tents and they are facing a problem there with children."
With an army of volunteers and the support of Paris City Hall, the Salvation Army is doing its best to help all in need.
"We've received 1,000 re-usable drinking bottles from the city that we've started handing out to people so they can have water with them," explains Emmanuel Ollivier, Salvation Army director.
"And they have access to showers: we provide more than 300 showers a day."
Paris has seen a surge in migrants sleeping rough in recent months, according to the NGO France Terre d'asile, with more than 2,000 living in tents in and around the French capital.

In a climate crisis issue, two of the most visible campaigners in the world, Greta Thunberg and Alexandria Ocasio-Cortez, talk for the first time. Plus, experts on the changes they've made in their own lives, the arctic town warming faster than anywhere else in the world, and more than 100 ways to make a difference

Record for mainland France falls in Vaucluse département as Europe swelters in heatwave
A sign outside a pharmacy in Carpentras, south-eastern France, shows a temperature of 44C on Friday. Photograph: Patrick Valasseris/AFP/Getty Images
Mainland France has registered its highest temperature since records began as Europe continues to face a sweltering heatwave.
The temperature in Carpentras, in the south-eastern Vaucluse département, hit 44.3C (112F) on Friday, breaking the previous record of 44.1C set in the southern region of Montpellier and Nîmes in August 2003.
Vaucluse was one of four départements – alongside Gard, Hérault and Bouches-du-Rhône – placed on emergency red alert on Friday, the first time the measure has covered such a large area.
The Meteo-France forecaster Etienne Kapikian said it was "very probable" that the record would be beaten again on Friday as it was still relatively early in the day. "[The temperature] will continue to climb and, in some places, we could pass 44C," he said.
Across the country hundreds of schools were closed and others had asked parents to keep children at home if possible. Middle-school exams were postponed until next week.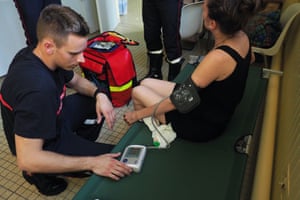 A firefighter takes the blood pressure of a woman suffering from the heat in Tours. Photograph: Guillaume Souvant/AFP/Getty Images
In Spain, a 17-year-old boy died from heatstroke in the early hours of Friday after becoming unwell while working in the countryside in the Córdoba province of Andalucía. He is reported to have had convulsions after jumping into a swimming pool to cool down. He died in hospital.
An 80-year-old man died on Thursday after collapsing from what is thought to have been heatstroke in the city of Valladolid. Two other people were being treated for heatstroke in Spanish hospitals.
With temperatures expected to reach up to 42C on Friday, Spain's meteorological office issued red alerts in parts of Catalonia, Navarre and the Basque country. Hundreds of firefighters in Catalonia were battling to bring a large wildfire under control, which has so far burned through 6,500 hectares of land and could consume as many as 20,000ha.
Larger cities on or near the French coast, such as Marseille, where sea breezes mean slightly lower temperatures, opened museums for free on Friday to allow people to seek refuge in air-conditioned spaces. Many municipal swimming pools also dropped their charges. A record high of electricity consumption for summer was recorded as homes plugged in fans.
The health minister, Agnès Buzyn, urged what she called "those in denial of extreme heat" to avoid risky behaviours. She urged people not to jog between noon and 2pm and said parents should not leave children in cars.
Other French cities have battled to deal with high air pollution levels by limiting motor traffic, including Paris, Lyon, Marseille, and Strasbourg.
The French president, Emmanuel Macron, said extreme weather was likely to become more frequent as a result of global warming. "We will need to change our set-up, our way of working, build differently," he said, stressing a necessary "adaptation of society and its habits".
This week, an independent report found France was falling behind on tackling the climate emergency and failing to reduce greenhouse gas emissions, despite ambitious promises.
In the Italian city of Milan, a 72-year-old homeless man was found dead at the main train station after falling ill due to the heatwave, the local authorities said.
As Germans attempted to cool off amid scorching temperatures, at least four people died in bathing accidents in different parts of the country on Wednesday.
Scientists have said the heatwave, like last year's, is closely linked to the climate emergency and that such extreme weather events will be much more likely over the coming decades.
More on this story: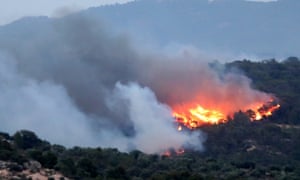 World Politics
United States
Ten more candidates battle it out in the contest to become the Democratic nominee for president. It was a strong night for Kamala Harris, who criticised the former vice-president Joe Biden's record on race. Biden also took a blow from Eric Swalwell, who suggested the former should live by what he said 32 years ago and 'pass the torch to a new generation'