01 Jul
Nearly all of these are English-edition daily newspapers. These sites have interesting editorials and essays, and many have links to other good news sources. We try to limit this list to those sites which are regularly updated, reliable, with a high percentage of "up" time.
Recommended:

France on Friday recorded its hottest temperature ever of 45.1 degrees Celsius, as Europe sweltered in an early summer heatwave already blamed for several deaths.
Several people have died around the continent in incidents that authorities are linking to the exceptional weather. A major wildfire raged Friday in Spain, sparked when a pile of chicken dung spontaneously combusted in the heat.
Several countries have reported record temperatures this week, and France hit its all-time heat record Friday: 45.1 degrees Celsius (111°F) in the small southern town of Villevieille, according to French media.
The French national weather service activated its highest-level heat danger alert for the first time, putting four regions around Marseille and Montpellier in the south of the country under special watch Friday.
Classes in the playground
Those schools that stayed open worked to keep kids cool. Teachers at the Victor Hugo Primary School in Colombes near Paris abandoned suffocating classrooms and are keeping children outside all day, spraying them with water and organising quiet activities in the shade.
"I make them go in the playground with books, in the shade, they must stay seated," said teacher Valerie Prevost. "We tell them to dampen their caps, to drink regularly."
About 4,000 schools closed because they couldn't ensure safe conditions, and local authorities canceled many end-of-school-year carnivals.
'Exceptional by its intensity and its earliness'
Some criticised the government for going overboard, but Prime Minister Édouard Philippe defended the efforts after 15,000 people died in a heat wave in 2003 that woke France up to the risks.
"This heat wave is exceptional by its intensity and its earliness," he told reporters.
"Measures have been taken for the most vulnerable people," he said. "But given the intensity of the heat wave, it's the entire population who must be careful today … both for themselves and for loved ones and neighbours."
Italy put 16 cities under alerts for high temperatures, and civil security services distributed water to tourists visiting famed sites around Rome under a scorching sun.
Heat blamed for deaths in Spain
Heat was blamed for the deaths of two people in Spain, private news agency Europa Press reported Friday.
An 80-year-old man collapsed and died in the street in Valladolid, in northwest Spain, the agency said, and a 17-year-old boy died in the southern city of Cordoba after diving into a swimming pool and losing consciousness.
Four people have drowned so far in France this week, and a 12-year-old girl drowned in a river near Manchester, England. France's health minister and British police warned people to swim only in authorised areas.
France has also seen an uptick in so-called street-pooling, or illegally opening fire hydrants. A 6-year-old child is in life-threatening condition after being hit by water shooting from a cracked-open fire hydrant in the Paris suburb of Saint-Denis, broadcaster France-Info reported.
More than 600 firefighters and six water-dropping aircraft were battling the worst fire in two decades in the Catalonia region Friday, as Spain is forecast to endure the peak of its heat wave, with temperatures expected to exceed 40 degrees Celsius (104 Fahrenheit).
In Berlin, a police unit turned water cannons – usually used against rioters – on city trees, to cool them down.
(FRANCE 24 with AP and AFP)

A red-eared slider tortoise, wild pigs, and a jaguar cooling off in the heatwave
Two wild pigs in theirs corral at the Moritzburg Wildpark near Moritzburg, Germany
Photograph: Filip Singer/EPA
A veterinarian holds an orangutan baby in the car for inspection at the Riau Natural Resources Conservation Center, Pekanbaru, Indonesia. Three orangutans were secured by officers when they were smuggled to Malaysia through the port of Dumai
Photograph: Afrianto Silalahi/Barcroft Media

Record temperatures are being recorded as warnings pile up. It's vital action is taken against climate breakdown now
'French temperature records were broken on 28 June, as Saharan air engulfed the country.' Photograph: Sylvain Thomas/AFP/Getty Images
S

everal French temperature records were broken on 28 June during this historic heatwave, including the highest temperature ever recorded in the country since records began – 45.9C. The previous high was set during the 2003 heatwave, which was the most significant episode in France's meteorological history until now.
Saharan air has engulfed the country. On 20 June, while meteorologists were discussing the projections of the American global forecast system model, a map with a disturbing resemblance to Munch's painting The Scream came to my attention. Within a few days, the media spotted this comparison and the image went viral. In 15 years of model observation I had never seen such high temperatures predicted for France, especially in June. The forecast, made more than a week in advance, proved correct: records were not just broken, they were smashed.
But summer still has a long way to go, and the fact that temperatures have risen so much so early in the season is not reassuring. With a pre-industrial climate, the probability of an episode such as the 2003 (and now the 2019) heatwave was less than 1 in 100 according to climate models. Today, the same risk is 25%. If we reach an increase in global temperatures of 1.5C the chance will rise to 40%; at +2C it will be more than 60%.
At the same time, the probability of events colder than normal in both summer and winter is decreasing. When a heatwave occurs, physical processes trigger its continuation: less ground humidity, increasingly high energy flows and increasingly hotter air masses, even at altitude. Thus we observed temperatures of up to 7C at the top of Mont Blanc, at 4,800m, which is 14C above seasonal norms.
The 2003 heatwave could have been a European trigger for global action against the climate crisis. During the very high temperatures 16 years ago, more effective health responses were put in place to limit the number of deaths were such a phenomenon to recur. But that was all. We cannot make that mistake again. The 2019 heatwave should be a warning to us: as scientists have been warning for decades, it is time for a Europe-wide response to fight the climate crisis.
We must come up with a better plan for how to deal with these heatwaves. Even if we limit the current warming to +2C, our continent will experience heatwaves as intense, and even more intense, than the one we have just lived through far more frequently. Our societies will not be able to get through such violent episodes without significant damage.
•

Ruben Hallali is a French meteorologist and founder of HD Rain

Demonstrators surround legislature as city prepares for mass protests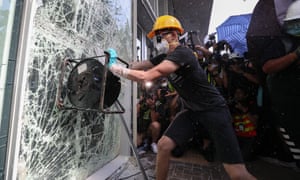 A protester breaks a window of the Legislative Council in Hong Kong. Photograph: Ritchie B Tongo/EPA
Pro-democracy protesters have attempted to storm the Legislative Council building in Hong Kong, as the city prepares for major protests across the city.
Hundreds and perhaps thousands of anti-government demonstrators surrounded the legislature in the semi-autonomous city, while a handful of angry protesters repeatedly rammed a metal trolley and poles at the glass walls at the entrance on and off for several hours.
Protesters also took over key roads before what is expected to be a huge pro-democracy rally on the anniversary of Hong Kong's handover to China.
The former British colony has been shaken by historic demonstrations in the past month in which protesters have demanded the withdrawal of a bill that would allow extraditions to the Chinese mainland.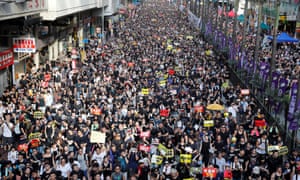 Anti-extradition bill protesters march during the anniversary of Hong Kong's handover to China. Photograph: Tyrone Siu/Reuters
Dozens of riot police were stationed inside the legislative building in full protective gear, watching on as the glass cracked but did not shatter. Officers occasionally sprayed pepper spray through the cracks to deter the protesters.
At one point, about half a dozen pro-democracy and independent lawmakers came between the demonstrators and police, and called for calm.
They pushed against the trolley, acting as human shields between it and the building. They were roughly handled by dozens of young protesters, some of whom punched and pulled their arms. They were shouted down and protesters continued pounding the glass.
"They simply wouldn't listen to me," said Lam Cheuk-ting, one of the lawmakers. "The movement at large is peaceful, but some young people are overwhelmed by a strong sense of helplessness and they're emotionally charged."
The police called on organisers of a march to consider rescheduling or shortening it, but it left just before 3pm when tens of thousands began snaking their way through the city.
The organisers, the umbrella group the Civil Human Rights Front, did change the end point of the march. Marchers who carry on beyond the approved march route could potentially be charged with illegal assembly under Hong Kong law.
Police issued a statement earlier saying they "absolutely" respected people's right to "assembly, procession and expression of opinion in a peaceful and orderly manner", but that there was "a serious safety threat" in the Admiralty and Wan Chai areas of the city, and advised the public to carefully consider whether they should join the public procession.
It is unclear whether the numbers will match the organiser-estimated 2 million who took part in a rally against the extradition bill.
Police were relatively restrained on Monday despite the damage to the legislature, having come under fire for excessive force during a smaller protest on 12 June.
China reiterated its stance against what it called "foreign interference" in Hong Kong.

World Politics
United States