03 Jul
Nearly all of these are English-edition daily newspapers. These sites have interesting editorials and essays, and many have links to other good news sources. We try to limit this list to those sites which are regularly updated, reliable, with a high percentage of "up" time.
Recommended:

Police try to disperse young protesters, who blocked traffic on Paris roads on Friday to call for more government action and media attention on climate change. About 400 demonstrators, many of them students, blocked traffic on Pont de Sully in central Paris. In an effort to stop the sit-in, police dragged and carried away protesters, arresting some of them
Colourful creatures are moving north from Europe into a warming Britain … but indigenous rivals risk being lost for ever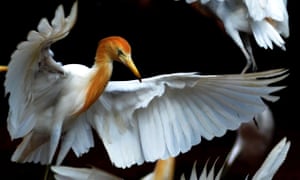 The cattle egret, a native of the Mediterranean, is now found in the UK. Photograph: Suhaimi Sulaiman/Getty Images
C

attle egrets – birds once so exotic we rarely saw them north of the Mediterranean – are now nesting in a heronry near my home in Somerset. Flocks of them often gather in the nearby fields, feeding among Jerseys and Holsteins. They look as if they are quite at home on this side of the Channel – which nowadays they are.
These small white herons, adorned with their orange breeding-plumes, are just one of several species of waterbird to have colonised southern Britain in the past decade or so, as a result of the climate crisis. These include the little egret, which has bred here since the mid-90s, and the great white egret, which first nested on the Avalon Marshes less than a decade ago.
Egrets are hard to ignore: even people who have little or no interest in birds are beginning to notice these elegant white birds in our midst. But meanwhile, a whole suite of wild creatures is colonising Britain by stealth; sometimes passing under the radar until they have established thriving populations here.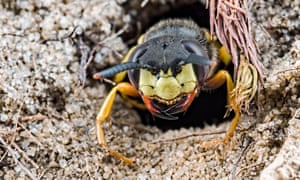 The beewolf, a wasp that hunts bees, is thriving in brownfield sites. Photograph: Peter Atkinson/Alamy Stock Photo
During the past decade or so, many species of insect from continental Europe have gained a grip in southern Britain. Other species, which have been here for much longer, are now rapidly extending their ranges northwards – again driven by temperature rises. The latter group includes two species of cricket: Roesel's bush-cricket and the long-winged conehead cricket. Roesel's bush-cricket was once a rare and sought-after species, confined to salt marshes in the south and east, but is now spreading north and west into a whole range of new habitats.
Another fascinating insect on the move is the beewolf. This solitary wasp is an ambush killer – the insect equivalent of a leopard. The female lies in wait, then pounces on a passing bee, which she drags down her metre-long nest-hole to feed her hungry young.
'If we fail to deal with the global climate emergency… only the most adaptable wild creatures will be able to survive'
Many of these insects are flourishing in those marginal, temporary habitats we tend to ignore: what naturalist Richard Mabey dubbed the "unofficial countryside", or, to give them their official name, brownfield sites.
I'm writing a book about these hidden havens for wildlife, and have spent the last couple of years travelling the country to discover what lives there, including three new damselfly species that have recently arrived in the UK.
In a ditch alongside the salt marsh on Essex's Canvey Island, I watched scarce emerald damselflies, along with a mating pair of a larger and more obvious colonist, the southern migrant (or blue-eyed) hawker. This colourful dragonfly was unknown in the UK until the first decade of the 21st century, when it began to turn up at sites in Kent and Essex. My guide, dragonfly enthusiast Neil Phillips, was one of the first people to find the southern migrant hawker here, and has followed its progress ever since.
Near the Thames at East Tilbury, we took a stroll along a public footpath next to a housing estate, where he spotted another recent arrival, the willow emerald. Later, I missed out on the third of this pioneering trio of damselflies, the southern emerald, which was reported from a small pool next to a landfill site near the M40 in Buckinghamshire.
Had a sharp-eyed observer not found the southern emerald here, we would still not have realised that this bright green insect is spreading westwards so rapidly; until recently it had only been recorded in Essex and Kent.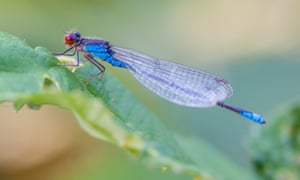 The small red-eyed damselfly was first seen
in the UK in 1999. Photograph: DenBoma/Getty Images/iStockphoto
Closer to home, on the Somerset Levels, I have recently seen two other dragons and damsels: the small red-eyed damselfly, and the scarce chaser dragonfly, whose females look like a giant, elongated wasp. The small red-eyed damselfly – with eyes like tiny cherry tomatoes – had not even been recorded in the UK until 1999. Yet since then, it has spread at a remarkable rate, and has reached Devon in the west and North Yorkshire in the north.
Butterfly enthusiasts are also looking forward to some exciting new additions in the next few years. The strikingly attractive Queen of Spain fritillary has already bred on at least one occasion in Sussex, and may soon become a permanent addition to our butterfly fauna. Other potential colonists include the continental race of the swallowtail, our largest butterfly, and the smaller long-tailed blue, which, following a major influx in 2013, successfully bred at several sites in southern England.
Many new kinds of moths are also crossing the Channel. During the past three decades, no fewer than 30 species have arrived, some managing to colonise. And one of my favourite creatures, the day-flying hummingbird hawk moth, is an increasingly regular sight in southern Britain, as it hovers by flowers to feed on nectar, just like its avian namesake.
Naturalist and broadcaster Brett Westwood points out that for many species of insect the climate crisis provides a golden opportunity to expand their range northwards. "Just look at it from their point of view: if you are mobile, and quick to respond to environmental change, you'll have the chance to do really well in the next few years."
He cites butterflies such as the brown argus, whose caterpillars have adapted to feed on annual plants such as geraniums, as well as perennials, and have expanded their range as a result. And last year's long hot summer allowed common blue butterflies to produce a third brood in September, boosting their numbers; while the Duke of Burgundy – one of our rarest butterflies – is also managing to produce a second brood in warm summers.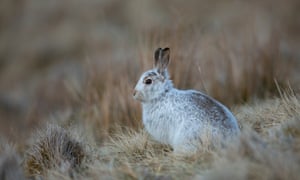 Mountain hares in some parts of the UK no longer have a white coat in winter. Photograph: www.marekszczepanek.pl/Getty Images
So ironically, the climate crisis may well benefit many insect species, at least in the short term. But we cannot afford to be complacent, for in the north of Britain, it's a very different story. One of our most specialised butterflies, the mountain ringlet, has over time adapted to life on the high peaks, in the Lake District and Scotland. But if the climate crisis permanently alters the nature of their specialist montane habitat, they will simply have nowhere to go. The same is true of many species of Arctic-alpine plants, some of which are on the very southern edge of their range in the UK. Dwarf birch is a tundra specialist, which can be found on the high tops of the Scottish Highlands. Again, if encroaching vegetation changes its habitat, it will soon disappear, along with other montane species such as saxifrages.
Some specialist creatures often associated with high altitudes may still be able to adapt. At first sight, the mountain hare appears to be a likely casualty of the climate crisis – yet in Ireland this species lives right down to sea level. However, in areas with little or no snow, such as the Peak District, mountain hares no longer turn white in winter. Could the same happen to the population in the Scottish Highlands?
The irony is that, while many exciting new species of birds and insects are colonising southern Britain – where of course the majority of naturalists live – those under threat in the north are still just about managing to hang on. But unless we find ways to reduce temperature rises – and very soon – it may not be long before we reach a tipping point, when what scientist Peter Berthold called the honeymoon period will be over.
If we fail to deal with the global climate emergency, and enter a world of runaway temperature rises, all bets will be off – and only the most adaptable wild creatures will be able to survive the devastating consequences.
Stephen Moss is a naturalist and author based in Somerset; he is course leader of the MA in travel and nature writing at Bath Spa University
More On The Environment:

Academics warn of 'success cartel' of powerful organisations seeking to influence aid evaluations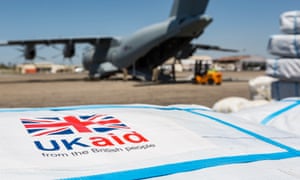 Academics have drawn attention to a DfID clause which stops the department being brought into 'disrepute'.
Photograph: Cpl Tim Laurence/MoD/EPA
A "success cartel" of major donor agencies, including the UK government, is exaggerating its impact in the world's poorest countries, hundreds of researchers have warned.
Writing in the journal BMJ global health, academics raised serious concerns about the independence of evaluations into global health and development projects, and called for greater safeguards to stop powerful bodies from influencing results.
Most aid and development projects are subject to independent evaluations. But the article warned that funders maintain a high degree of confidentiality and control over the results.
In some instances, researchers who attempted to document negative findings had been subject to "personal and institutional pressure, intimidation and censorship", the article said. The authors also warned of more subtle forms of bias, such as self-censorship on the part of academics and embellished findings.
"It undermines learning," said Katerini Storeng, associate professor at the Centre for Development and the Environment at the University of Oslo, and the lead author. "If we're not forthright about the limitations of what is being implemented or the strategies that we're pursuing it becomes difficult to learn anything."
She added that communities who are being served by health projects could also potentially suffer.
A registry for global health evaluations, similar to the one promoting transparency in clinical trials, is among the article's recommendations, which are endorsed by more than 200 researchers based in 40 different countries.
"It is well known in clinical medicine that pharmaceutical industry-funded trials are more likely to produce positive, flattering results than independently funded trials," the authors said. "It is time to debate this important issue in global health too."
Perverse incentives across the development sector encourage the use of "bad or fudged" data by agencies, it added. The article referred to previous warnings of a "success cartel" in global health, where pressure to achieve targets has led some governments and other development agencies to inflate their achievements.
Cuts to research budgets in global health have left universities increasingly reliant on funding from government departments, private foundations and industry.
The article says researchers often receive funding from donors , including the UK, US and French governments, as well as the international health body Unitaid, and the Bill & Melinda Gates Foundation. Such bodies commission academics to evaluate programmes they are funding, the researchers warn, "even though they have a stake in results that demonstrate the success of a multibillion-dollar investment".
The researchers raised concern over rules imposed on them by the UK government's Department for International Development (DfID), which state they must not embarrass the department, or bring it into disrepute.
In a statement, DfID said the clause "does not have the intention or effect of gagging any party, nor of preventing whistleblowing, which would be unlawful, and it does not prevent criticism of DfID's policy".
Donors, the editorial argued, should scrap such clauses and make it clear to NGO partners that they cannot interfere with the design, data collection analysis or sharing of findings. The recommendations also called on universities to refuse contracts that prevent researchers from sharing critical findings.
Each study should also be overseen by an independent research oversight committee, which includes representatives from the communities that are being studied or civil society organisations, researchers added.
The article was prompted by a recent paper in the Lancet, in which academics reported they had been subject to censorship when evaluating a maternal health project funded by the DfID – a claim the department denied.
DfID said it was committed to supporting rigorous research: "DfID takes issues of research ethics, independence, quality and transparency seriously. We have procedures in place that we require projects and programmes we work with to adhere to."
It added that contract clauses are designed to protect DfID by ensuring that contractors adhere to "good working practices and do not engage in activities that bring DfID into disrepute".
A spokesperson for USAid said the agency had noted the editorial, adding: "USAid is committed to the pursuit of high-quality evaluative activities that support data-driven decision-making."

World Politics
United States
Breaking with tradition, the president has decreed a military parade featuring jets, tanks – and at the centre, himself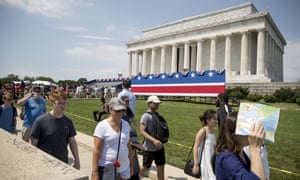 Visitors to the Lincoln Memorial are limited to a single walkway as workers set up for President Donald Trump's 'Salute to America' event. Photograph: Andrew Harnik/AP
When Donald Trump holds an Independence Day celebration with fireworks, flyovers and battle tanks at the heart of American democracy on the Fourth of July, critics fear that he will be unable to resist turning it into a vainglorious and politically divisive campaign rally.
They are also demanding that the US president foots the bill for any damage caused to Washington's roads, bridges and monuments by his "authoritarian-style" display of military pomp.
The US president will deliver an Independence Day speech in front of the Lincoln Memorial, which honours the president who won the civil war and helped end slavery and was the site of civil rights leader Martin Luther King's "I have a dream" speech a century later.
The Rev William Barber, co-chair of the Poor People's Campaign: A National Call for Moral Revival, tweeted: "Trump is creating a spectacle of tanks & missiles on the National Mall where the great protests for civil & human rights have been held at a time when 140 million Americans are poor & low income. He thinks this is the sign of strength, but it's a damn narcissistic travesty."
Trump was in exuberant mood about the event on social media on Wednesday.
"It will be the show of a lifetime!" he tweeted.
The event takes place in a politically hostile environment: Hillary Clinton took more than 90% of the vote in the District of Columbia in the 2016 election, whereas Trump secured just 4.1%. The Trump International Hotel on Pennsylvania Avenue is one of the few outposts in the capital where his supporters are conspicuous.
And for decades, presidents have kept a low profile during Washington's annual celebration of the 1776 Declaration of Independence, as typically hundreds of thousands of people gather at the National Mall for a nonpartisan concert and fireworks.
But ever the disrupter, Trump its putting himself centre stage this year. He tweeted on Tuesday: "Big 4th of July in D.C. 'Salute to America.' The Pentagon & our great Military Leaders are thrilled to be doing this & showing to the American people, among other things, the strongest and most advanced Military anywhere in the World. Incredible Flyovers & biggest ever Fireworks!"
The celebration will feature military bands and flyovers from the US navy's Blue Angels and Air Force One, the modified Boeing 747 that transports presidents, as well as M1 Abrams battle tanks. It could also include a B-2 bomber, F-35 and F-22 fighter jets and the Marine One helicopter, according to the Pentagon. Air traffic at nearby Ronald Reagan national airport will be suspended during the flypasts and the fireworks.
The fireworks display will be held near the Lincoln Memorial instead of its usual location by the Washington Monument. A ticket-only area in front of the memorial is being set aside for VIPs, including members of Trump's family, friends and members of the military.
The display of military muscle is seen by some as a show not of strength but of weakness. In response to a photo of tanks on train tracks heading to the event, Michael McFaul, a former US ambassador to Russia, posted on Twitter: "This photo reminds me of parades I used to attend in the Soviet Union. Not the right look for the 4th."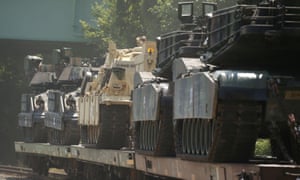 M1 Abrams tanks and other armored vehicles sit atop flat cars in a rail yard in Washington. Photograph: Leah Millis/Reuters
The White House has not said how much the celebration will cost. The Pentagon postponed a military parade planned for last November after it estimated it could cost $90m. Tom Udall, a Democratic senator, said: "The American people deserve to know how much of their money the president is spending to turn their July 4th celebration into a de facto campaign rally."
In addition, the District of Columbia council has warned of the damage that tanks could do to city streets. It tweeted on Monday: "We have said it before, and we'll say it again: Tanks, but no tanks."
The Democratic congressman Don Beyer, who represents nearby suburbs in Virginia, wrote on Twitter: "The authoritarian-style trappings he demands, including tanks, will come at a great cost to taxpayers, and threaten significant harm to local roads and bridges. I am deeply concerned by the suggestion that the President's insistence on displaying tanks could subject Arlington Memorial Bridge to strains grossly exceeding its weight restrictions."
Beyer added: "If Trump is going to turn this event into another partisan rally to boost his own frail ego, he must reimburse US taxpayers for any damage he causes."
Trump will deliver his speech as the 19ft-high marble statue of Lincoln, whose clarion call "to bind up the nation's wounds" is carved into the memorial, looks on. He previously spoke there, amid chants of "Make America great again", at a pre-inauguration concert in January 2017.
White House officials insist that he will avoid partisan politics and stick to patriotic themes in his speech, but opponents fear he will use the elevated, taxpayer-funded platform to lambast Democrats ahead of next year's presidential election. Spokeswoman Hogan Gidley told Fox Business Network on Tuesday: "That's absolutely ridiculous. This is all about a salute to America. The president is not going to get political."