07 Jul
Nearly all of these are English-edition daily newspapers. These sites have interesting editorials and essays, and many have links to other good news sources. We try to limit this list to those sites which are regularly updated, reliable, with a high percentage of "up" time.
Recommended:

Half of Europe has been slammed by a massive heat wave in recent days, with many regions experiencing temperatures never before seen in June. But it may just be the beginning. 

Hauke-Christian Dittrich/ DPA
Crowds beat the heat at a public swimming pool in Hannover.
It's starting again. After the once-in-a-century summer of 2018, with its heat waves, droughts and forest fires, another once-in-a-century summer has arrived in Germany and many parts of Europe, this time with air from the Sahara and even higher temperatures.
After a cool May, it finally warmed up in June in Germany. A lot. Last Wednesday, the thermometer near Guben in the northern German state of Brandenburg reached 38.6 degrees Celsius (100 degrees Fahrenheit). That marked the first time since measurements began in 1881 that a temperature that high was reached in Germany in June.
The record lasted for three days. On Sunday, thermometers in Bernburg, just northwest of Leipzig, hit 39.6 degrees. The average temperature for June is 20 degrees Celsius.
Almost half of the continent, from Portugal to Poland, was hit by a heat wave in recent days that was extremely unusual for this time of year. Madrid recorded temperatures of 40 degrees Celsius on Friday and Saturday, with one Spanish TV meteorologist tweeting "Hell is coming" just before the heat wave arrived. The Swiss town of Sion recorded 37 degrees on Sunday, the highest mark ever recorded in June in the country. In the Czech Republic, temperatures reached 38.9 degrees on Wednesday, also a June record for the country.
In France, where some regions saw temperatures of over 45 degrees, schools had to delay their final exams on Thursday and Friday. In Paris, many parks and outdoor pools remained open at night so that people could escape their hot apartments. The heat wave is conjuring terrible memories of the one from 2003, when almost 15,000 people died.
'Already Extreme'
The world will soon find out how much of the current temperatures can be blamed on man-made climate change. German physicist Friederike Otto at Oxford University is currently putting together a quick study about the situation in Toulouse and France generally. The results should be available this week. This June, she says, was "quite extreme."
Otto and her team has already carried out similar investigations of seven northern European cities that suffered under last year's abnormally hot summer. The results show that, depending on the geographical location, climate change has increased the likelihood of such heatwaves by two- to tenfold.
In a world without climate change, Utrecht in the Netherlands would expect temperatures like these only once every 20 years. Now, though, they will occur every five years. The same, they claim, is likely true of many German cities.
Monday saw the heat wave break, with more normal temperatures expected through early July. But it remains unclear how the rest of the summer will unfold.
The private American weather service Accuweather is predicting a series of especially long heat waves for Europe in July and August — over 38 degrees in Germany, Belgium and Poland, over 40 degrees in southern France and over 43 degrees in parts of Spain and Portugal.

A severe drought like last year is also in the cards, one of the company's meteorologists predicted in late May. He also warned of an abnormally high danger of forest fires, especially in Portugal and the Alps regions, and that the Balkans face a heightened threat of thunderstorms, perhaps even tornados, and floods. Eastern Europe and Scandinavia, he said, would largely be spared of the extreme weather.
Many meteorologists, though, tend not to take such long-term forecasts seriously. Respected members of the field make predictions for five days in advance at the most. Beyond that, they release only short-term trend predictions.

This week: a seal is released back into the wild and sparrows enjoy tarte flambée leftovers
Egrets sit on a grazing one-horned rhinoceros in the Kaziranga National Park in Assam, India
Photograph: Biju Boro/AFP/Getty Images
Greylag geese feed off scraps on a beach at Lindøya island in Oslo, Norway
Photograph: Odd Andersen/AFP/Getty Images

Activists say comments by Opec head prove world opinion is turning against fossil fuels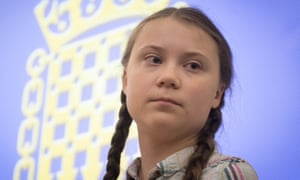 Greta Thunberg tweeted: 'Thank you! Our biggest compliment yet!' in response to Mohammed Barkindo's comments Photograph: Stefan Rousseau/PA
Greta Thunberg and other climate activists have said it is a badge of honour that the head of the world's most powerful oil cartel believes their campaign may be the "greatest threat" to the fossil fuel industry.
The criticism of striking students by the trillion-dollar Organization of the Petroleum Exporting Countries (Opec) highlights the growing reputational concerns of oil companies as public protests intensify along with extreme weather.
Mohammed Barkindo, the secretary general of Opec, said there was a growing mass mobilisation of world opinion against oil, which was "beginning to … dictate policies and corporate decisions, including investment in the industry".
He said the pressure was also being felt within the families of Opec officials because their own children "are asking us about their future because … they see their peers on the streets campaigning against this industry".
Although he accused the campaigners of misleading people with unscientific arguments, the comments were welcomed by student and divestment campaigners as a sign the oil industry is worried it may be losing the battle for public opinion.
"Thank you! Our biggest compliment yet!" tweeted Thunberg, the 16-year-old Swedish initiator of the school student strike movement, which continues every Friday.
"Brilliant! Proof that we are having an impact and be sure that we will not stop," said Holly Gillibrand, who was among the first students in the UK to join the global climate strikes.
Opec – which is made up of 14 countries with 80% of the world's proven oil reserves – is planning to expand production, which is undermining efforts to slow global heating. The backlash is not just from students, Extinction Rebellion activists and climate scientists.
Insurance companies – which have the most to lose from storms, floods, fires and other extreme weather – are increasingly pulling investment from fossil fuel assets. The governor of the Bank of England has warned of growing climate risks to the financial sector.
Earlier this week, the London Stock Exchange reclassified oil and gas companies under a non-renewable energy category that effectively puts them on the wrong side of climate crisis.
Parliaments in three countries – the UK, Canada, France – have declared a climate emergency, as have dozens of municipalities. They include most recently a first major US city, New York, which has previously filed a lawsuit against the five biggest private oil companies.
The Organisation for Economic Co-operation and Development (OECD), a group of wealthy countries, has also taken a more strident tone in calling for government to put a higher price on oil, gas and coal, to end subsidies and to rethink fossil fuel investment.
"Our policies have to be made with our children's future in mind … short-term decision-making can lock countries into expensive mistakes in financing and developing infrastructure … that will be neither necessary nor profitable in a low-emissions world, they will be stranded assets," said the OECD secretary general Angel Gurría.
Scientists are also backing a phaseout of fossil fuels as the signs of climate disruption grow more evident.
In the past two weeks, temperature records have been broken in France, Alaska and Cuba; there have been wildfires in Germany, Spain, Sweden and Anchorage; Chennai is among more than a dozen Indian cities running out of water; Russia is experiencing historic floods; Mexico experienced freak hailstorm that left Guadalajara streets more than a metre deep in ice; while the Chinese meteorological agency said records had been broken at 40 weather stations.
While Opec continues to insist oil is not responsible for climate chaos, campaigners feel they are finally winning the argument.
Bill McKibben, the founder of 350.org, which has led a series of divestment and anti-pipeline campaigns in recent decades, said the fossil fuel companies were finally losing their social licence.
"By this point, most people realise that the oil companies lied for decades about global warming – they are this generation's version of the tobacco companies. And it's clearly affecting their ability to raise capital, to recruit employees and so on. People set out to cost them their social licence, and it's working. Whether it's working fast enough – that's another question."

Developing countries must prepare now for profound impact, disaster representative says
Aftermath of the damage left by Cyclone Kenneth in a village north of Pemba, Mozambique in May. Photograph: Mike Hutchings/Reuters
Climate crisis disasters are happening at the rate of one a week, though most draw little international attention and work is urgently needed to prepare developing countries for the profound impacts, the UN has warned.
Catastrophes such as cyclones Idai and Kenneth in Mozambique and the drought afflicting India make headlines around the world. But large numbers of "lower impact events" that are causing death, displacement and suffering are occurring much faster than predicted, said Mami Mizutori, the UN secretary-general's special representative on disaster risk reduction. "This is not about the future, this is about today."
This means that adapting to the climate crisis could no longer be seen as a long-term problem, but one that needed investment now, she said. "People need to talk more about adaptation and resilience."
Estimates put the cost of climate-related disasters at $520bn a year, while the additional cost of building infrastructure that is resistant to the effects of global heating is only about 3%, or $2.7tn in total over the next 20 years.
Mizutori said: "This is not a lot of money [in the context of infrastructure spending], but investors have not been doing enough. Resilience needs to become a commodity that people will pay for." That would mean normalising the standards for new infrastructure, such as housing, road and rail networks, factories, power and water supply networks, so that they were less vulnerable to the effects of floods, droughts, storms and extreme weather.
Until now, most of the focus of work on the climate crisis has been on "mitigation" – jargon for cutting greenhouse gas emissions, and not to be confused with mitigating the effects of the climate crisis. The question of adapting to its effects has taken a distant second place, in part because activists and scientists were concerned for years that people would gain a false complacency that we need not cut emissions as we could adapt to the effects instead, and also because while cutting emissions could be clearly measured, the question of adapting or increasing resilience was harder to pin down.
Mizutori said the time for such arguments had ran out. "We talk about a climate emergency and a climate crisis, but if we cannot confront this [issue of adapting to the effects] we will not survive," she told the Guardian. "We need to look at the risks of not investing in resilience."
Many of the lower-impact disasters would be preventable if people had early warnings of severe weather, better infrastructure such as flood defences or access to water in case of drought, and governments had more awareness of which areas were most vulnerable.
Nor is this a problem confined to the developing world, she said, as the recent forest fires in the US and Europe's latest heatwave had shown. Rich countries also face a challenge to adapt their infrastructure and ways of protecting people from disaster.
"Nature-based solutions", such as mangrove swamps, forests and wetlands which could form natural barriers to flooding should be a priority, said Mizutori. A further key problem is how to protect people in informal settlements, or slums, which are more vulnerable than planned cities. The most vulnerable people are the poor, women, children, the elderly, the disabled and displaced, and many of these people live in informal settlements without access to basic amenities.
Regulations on building standards must also be updated for the climate crisis and properly enforced, she said. One of the governance issues cited by Mizutori was that while responsibility for the climate crisis and greenhouse gas emissions was usually held in one ministry, such as the economics, environment or energy department, responsibility for infrastructure and people's protection was held elsewhere in government.
"We need to take a more holistic view of the risks," she said.

World Politics
United States
2020 hopeful says 'I regret it' at campaign event after criticism over comments about working with lawmakers known for racist views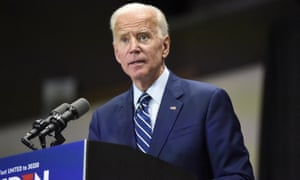 Joe Biden speaks at a campaign event in Sumter, South Carolina, on 6 July. Photograph: =2018565=/AP
As he headed towards a confrontation with Kamala Harris in South Carolina this weekend, Joe Biden took an unfamiliar step: he apologised for remarks about work with segregationist senators which attracted criticism for alleged racial insensitivity.
In remarks at a campaign event in Sumter, South Carolina reported by NBC News, Biden said: "Was I wrong a few weeks ago to somehow give the impression to people that I was praising those men who I successfully opposed time and again? Yes I was. I regret it. I'm sorry for any of the pain or misconception."
The former vice-president, 76, was attacked by other Democratic candidates including Harris and the New Jersey senator Cory Booker, who are African American, after he discussed working with "civility" with two racist Democrats, James Eastland of Mississippi and Herman E Talmadge of Georgia.
On Saturday, he asked: "Should that misstep define 50 years of my record for fighting for civil rights and racial justice in this country? I hope not. I don't think so."
Biden has been reluctant to apologize when apologies have been demanded by opponents and activists on issues including his attitude to race and his behaviour towards women.
His wide lead in early polls of the huge Democratic primary field, largely based on name recognition, has been whittled away.
In the RealClearPolitics.com national polling average, the former vice-president now leads by 11 points from Harris. The California senator has passed the Vermont senator Bernie Sanders since the first debates, in which she made headlines with an attack on Biden over his past opposition to federally mandated bussing of students, a way to integrate schools.
On Saturday Biden, a former Delaware senator who has decades-long political relationships in the south, was beginning a swing through South Carolina featuring visits to Sumter, Orangeburg and Charleston.
On his third trip to the state since he entered the race in late April, he stressed the eight years he served with Barack Obama, the first black president, and the significant change for the good he said has taken place in the country since the 1970s.
"I've worked to make that change happen, and yes, I've changed also," Biden said in prepared remarks released to the press ahead of his Sumter stop.
Harris was in New Orleans at the Essence festival, where she was among several 2020 White House candidates at the largest annual gathering of black women.
She proposed $100bn in federal grants to help close what she says is a racial wealth gap and address historical discrimination in homeownership against black families.
Announcing her plan, Harris said: "By taking these challenges on, we can close that gap. That not only lifts up black America, that lifts up all of America."
Harris said the plan would help at least 4 million families living in areas that were redlined, a segregation-era practice that limited black borrowers' ability to buy homes and set boundaries on where they could live, affecting the wealth of those families for generations.
Harris' plan would address federal policy on how credit scores are calculated to include payments made on rent, telephone bills and other utilities, in order to increase credit access for minority borrowers.
She was due to move on to South Carolina, where she and Biden could expect to be pressed on their tense debate exchange.
The South Carolina primary is more than seven months away but Biden and Harris appear destined for a showdown there, their campaigns banking on the backing of black voters.
Several Harris supporters in the state have said her attack on Biden struck a chord. Marguerite Willis, a recent Democratic candidate for governor, said when Harris spoke in the debate about her own experiences being bussed as a child, the entire room grew quiet.
"Growing up here in South Carolina, that's meaningful to us," she said. Schools were segregated when she was a kid and she recalled not meeting a black girl her age until leaving for college. "So when she talked about being bussed, it was powerful for me and I'm sure it's powerful for a lot of people here who have experiences of their own."
Harris planned to appear in Florence, Hartsville and Myrtle Beach in her ninth trip to South Carolina, having spent more time there than any other state.
In the Miami debate, Harris was unrelenting in her criticism of Biden, both for his views on bussing and the comments he made about segregationists. Biden told CNN in an interview aired on Friday that he "wasn't prepared for the person coming at me the way she came at me" and noted that Harris knows him and his son, Beau, who died of brain cancer in 2015.
Ahead of his South Carolina stops, Biden's campaign said he planned to say his lengthy public service career "will be weaponized against him by opposition researchers", would pledge to "take on those attacks directly" and would not allow his record "to be distorted and mischaracterized".
The state senator Dick Harpootlian, backing Biden, said he had heard from some voters that they felt Harris's debate attack was "disrespectful".
"I think it resonates with younger voters who get all their news off Twitter or Facebook. It's an echo chamber," Harpootlian said, adding that he believes the state's primary voters will be older and heavily African American. "Those are Biden's guys, his men and women … They want to know what they're getting. They don't want a promise of what's to come in the future.
"She can't build herself solely on tearing Joe Biden down. She took that shot. What's she offering?"