10 Jul
Nearly all of these are English-edition daily newspapers. These sites have interesting editorials and essays, and many have links to other good news sources. We try to limit this list to those sites which are regularly updated, reliable, with a high percentage of "up" time.
Recommended:

US soccer captain again rejects White House visit, saying team does not want to be 'corrupted'
'You're excluding people that look like me': Megan Rapinoe's message to Trump – video
The US women's soccer co-captain Megan Rapinoe has delivered an uncompromising message to Donald Trump, amid ongoing controversy over a possible visit to the White House by the World Cup champions.
Asked by CNN's Anderson Cooper what she would like to say to the American leader, Rapinoe said: "Your message is excluding people. You're excluding me, you're excluding people that look like me, you're excluding people of colour, you're excluding Americans that maybe support you."
Rapinoe has been outspoken about LGBT rights as well as racial and gender equality. After the US won the World Cup for a record fourth time on Sunday, Rapinoe called for progress on equal pay for the male and female teams.
She has previously said she would not be going to the "fucking White House" if her team won the World Cup, prompting an angry response from Trump on Twitter.
The US president warned Rapinoe not to "disrespect" her country: "Women's soccer player, @meganrapino, just stated that she is 'not going to the F … ing White House if we win'. Other than the NBA … teams love coming to the White House. I am a big fan of the American Team, and Women's Soccer, but Megan should WIN first before she TALKS!
"Finish the job! We haven't yet … invited Megan or the team, but I am now inviting the TEAM, win or lose. Megan should never disrespect our Country, the White House, or our Flag, especially since so much has been done for her & the team. Be proud of the Flag that you wear. The USA is doing GREAT!"
After the US win on Sunday, he backtracked on that offer, saying: "We haven't really thought about it … We'll look at that."
On Tuesday, Rapinoe said she had accepted an invitation from the Democratic congresswoman Alexandria Ocasio-Cortez, among others, for the US women's soccer team to celebrate its World Cup victory with a visit to Congress.
Rapinoe expressed regret for excessive swearing but stood by her decision to turn down a visit to the White House.
"I would not go, and every teammate that I've talked to explicitly about it would not go," she said.
"I don't think anyone on the team has any interest in lending the platform that we've worked so hard to build, and the things that we fight for, and the way that we live our life … I don't think that we want that to be co-opted or corrupted by this administration," Rapinoe told Cooper.
She added that allowing the White House to "put us on display" didn't "make sense for us at all", adding: "There are so many other people that I would rather talk to and have meaningful conversations that could really affect change in Washington than going to the White House."
The sports star added the US needed to have a "reckoning" with the implications of Trump's Make America Great Again slogan. "You're harking back to an era that was not great for everyone – it might have been great for a few people, and maybe America is great for a few people right now, but it's not great for enough Americans in this world."
She added: "You have an incredible responsibility as the chief of this country to take care of every single person, and you need to do better for everyone."
Rapinoe spoke out after the US claimed their fourth World Cup with a 2-0 victory over Netherlands in the final, in Lyon, on Sunday. England's Lionesses were knocked out by the US team 2-1 in the semi-final.
Large crowds are expected at Wednesday's ticker tape parade to celebrate the US women's national soccer team in New York.

Government's official climate advisers say there is no proper preparation to cope with heatwaves and flash floods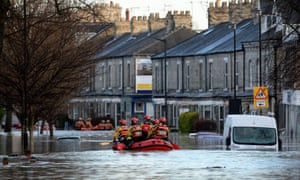 Flooding in York. Photograph: Anna Gowthorpe/PA
The government's own advisers have declared themselves shocked that the UK has no proper plans for protecting people from heatwaves, flash flooding and other impacts of the climate crisis.
The Committee on Climate Change said the UK's climate crisis preparations were being run like Dad's Army and left the population at real risk, adding that funding for programmes to tackle problems resulting from global heating had been cut.
The CCC's annual progress reports, published on Wednesday, also found that just one of the 25 emissions-cutting policies it said were vital in 2018 had been delivered in full. Lord Deben, who chairs the committee, said ministers could be sued in court if the failure to act continued.
Theresa May announced in June that the UK would be the first major economy to set a legally binding target to end climate emissions by 2050. However, the CCC said the targets for 2025 and 2030 were likely to be missed by an even bigger margin than last year.
Targets do not themselves reduce emissions, the report says, and new policies were essential to deliver cuts. It said the UK government risked embarrassing itself when, as is likely, it hosts a crucial UN climate summit in 2020.
The CCC assessed government plans for adaptation to the climate crisis in 33 priority areas. "There are no areas where government is planning properly," said Chris Stark, the CCC chief executive. He said it would be prudent to prepare for a 4C rise, a level scientists see as catastrophic.
Debden said: "The whole thing is run by the government like a Dad's Army. We can't possibly go on with this ramshackle system; it doesn't begin to face the issues. It is a real threat to the population.
"You need to make real changes to protect people here and now from the climate change that we know is happening. We are not even preparing for 2C [rise in global temperature] let alone the position we might be in if the world does not [drive emissions down to zero]".
Lady Brown, who chairs the CCC's adaptation committee, said the fact its analysis was based on the government's own assessment of climate risks made the failings "even more shocking".
The CCC said the number of policy officials working directly on adaptation fell from several dozen in 2013, when the first national adaptation plan was published, to a handful for the second publication in 2018. Government funding for services to help regions, businesses and people adapt has ceased, the report says, and ministers have failed to start communicating with the public over the need for changes in behaviour, such as eating less meat and using less water.
A government spokesman said: "As the CCC recognises, we are the first major economy to legislate for net zero emissions, have cleaned up our power sector [and] cut emissions faster than any G7 country while growing the economy.
"We know there is more to do. We'll set out plans in the coming months to tackle emissions from aviation, heat, energy and transport as well as further measures to protect the environment from extreme weather including flood protection, tree planting and peatland management."
The CCS's assessment acknowledges good progress in a few areas, such as phasing out coal burning and planning for flood protection. But its assessment of carbon cutting measures pointed out the government had held back onshore wind farms and should end the sale of petrol and diesel cars soon after 2030, not in 2040 as planned.
It said tree planting rates had missed targets every year since they were set in 2013. The one action out of the 25 requested by the CCC for 2018 that was delivered was that a carbon tax on power station emissions continues after Brexit.
The UK is already seeing seeing the impacts of climate change, the CCC said, with deadly heatwaves like the one in 2018 now twice as likely as a few decades ago, leaving a fifth of homes and buildings prone to overheating. "It is outrageous that the housebuilders have done absolutely nothing as far as I can see to ready the houses they are building now," said Deben.
Brown said the UK was getting more short, sharp bursts of rain that caused flash flooding, particularly in towns and cities, but urban green space had fallen from 63% in 2001 to 55% in 2018. "That needs to be going up," she said. "It helps absorb water, cool the urban heat island and gives us better places where our kids can go out and play, which will help with health."
MP Rachel Reeves, who chairs parliament's business, energy and industrial strategy select committee, said: "The CCC reports show the government has failed dismally to back up its rhetoric with ambitious policies which deliver the cuts in emissions the UK needs to achieve."
Doug Parr of Greenpeace UK said: "This is a truly brutal reality check on the government's current progress in tackling the climate emergency. The new prime minister really must take the government's net zero commitment and turn it into something practically meaningful."

The Guardian photographer Christopher Thomond went to the opening events at the 161st Great Yorkshire show in Harrogate, a three-day showcase of British farming and the countryside
World Politics
Great Britain
Envoy saw his position as untenable after Boris Johnson did not back him, Guardian understands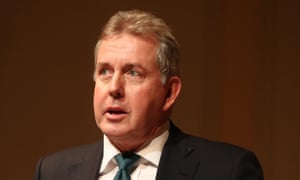 Sir Kim Darroch. Photograph: Niall Carson/PA
Sir Kim Darroch, the UK ambassador to Washington who has been at the centre of a diplomatic row over leaked cables criticising Donald Trump, has resigned.
The Guardian understands he concluded that his position was untenable after watching Tuesday's Conservative leadership debate, in which the frontrunner, Boris Johnson, stopped short of backing him.
In a letter to Simon McDonald, the most senior official at the Foreign Office, Darroch said the row, in which Trump called the ambassador "a pompous fool" and "very stupid", meant he could not continue.
"Since the leak of official documents from this embassy there has been a great deal of speculation surrounding my position and the duration of my remaining term as ambassador," he wrote. "I want to put an end to that speculation. The current situation is making it impossible for me to carry out my role as I would like."
Replying to the letter, McDonald said Darroch had been the target of "a malicious leak" and he expressed gratitude for his work. "You are the best of us," McDonald said.
The announcement came immediately before prime minister's questions. No 10 said Theresa May had spoken to Darroch directly for about five minutes at about 11.30am. By this time he had already spoken to McDonald.
May told the Commons she had told Darroch it was "a matter of great regret that he has felt it necessary to leave his position".
She said: "Sir Kim has given a lifetime of service to the United Kingdom and we owe him an enormous debt of gratitude. Good government depends on public servants being able to give full and frank advice. I want all our public servants to have the confidence to be able to do that."
In language that will be viewed as an implicit criticism of Johnson's failure to back Darroch, she added: "I hope the house will reflect on the importance of defending our values and principles, particularly when they are under pressure."
'It is a matter of great regret,' says Theresa May as Darroch resigns – video
Jeremy Corbyn called the treatment of Darroch "beyond unfair and wrong" and said he had given "honourable and good service".
"The whole house should join together in deeply regretting the feeling he's got that he must resign at this moment," he said.
Darroch's decision will put pressure on Johnson, who was criticised by some Conservatives after Tuesday night's debate for refusing to give Darroch his support even as his rival, Jeremy Hunt, said he would expect the ambassador to stay in post until his planned retirement.
When pressed on the point, Johnson gave only mild criticism of Trump and said a good relationship with the US was "of fantastic importance".
Sir Alan Duncan, a Foreign Office minister, said Johnson had thrown Darroch "under the bus to serve his own personal interests" and accused him of "contemptible negligence".
Duncan told the BBC: "I'm upset and angry. And there are a lot of people here in the Commons who are very, very angry and feel he has lost so much respect for having done what he's done. His disregard for Sir Kim Darroch and his refusal to back him was in my view pretty contemptible, but also not in the interests of the country he's trying to lead."
There is now speculation about when the new ambassador will be appointed, particularly whether the decision will be made before May leaves office in just over two weeks. Her spokesman said only that the choice would be made "in due course".
Hunt, the foreign secretary, said in a statement on Wednesday he was "deeply saddened" by the outcome, adding: "Whenever I visited Washington as foreign secretary, I was struck by Sir Kim's professionalism and intellect. I am outraged that a selection of his reports should have been leaked."
In the confidential memos, leaked to a newspaper at the weekend, Darroch said Trump's administration was seen as "incompetent", "inept" and "insecure".
Such robust assessments are routine in secure diplomatic communications, but Trump responded with fury in a series of tweets.
A day after Trump said he would no longer deal with Darroch, he used his Twitter feed to attack the diplomat, saying: "The wacky ambassador that the UK foisted upon the United States is not someone we are thrilled with, a very stupid guy."
The controversy escalated further as Hunt responded by calling the president's language "disrespectful and wrong".
In his letter to McDonald, Darroch wrote: "Although my posting is not due to end until the end of this year, I believe in the current circumstances the responsible course is to allow the appointment of a new ambassador.
"I am grateful to all those in the UK and the US, who have offered their support during this difficult few days. This has brought home to me the depth of friendship and close ties between our two countries. I have been deeply touched.
"I am also grateful to all those with whom I have worked over the last four decades, particularly my team here in the US. The professionalism and integrity of the British civil service is the envy of the world. I will leave it full of confidence that its values remain in safe hands."
McDonald wrote that he accepted the resignation "with deep personal regret".
He added: "Over the last few difficult days you have behaved as you have always behaved over a long and distinguished career, with dignity, professionalism and class. The prime minister, foreign secretary and whole of the public service have stood with you: you were the target of a malicious leak; you were simply doing your job.
"I understand your wish to relieve the pressure on your family and your colleagues at the embassy; I admire the fact that you think more of others than yourself. You demonstrate the essence of the values of British public service."

United States
Alexander Acosta accused of helping Jeffrey Epstein, charged with sex trafficking, escape justice 10 years ago by securing a plea deal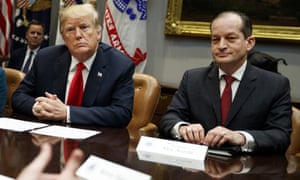 Donald Trump and labor secretary Alexander Acosta in the Roosevelt Room in 2018. Photograph: Evan Vucci/AP
Then, Epstein was suspected of similar crimes in Florida, where Acosta was a top federal prosecutor.
"I feel very badly actually for secretary Acosta because I've known him as being somebody that works so hard and has done such a good job," said Trump, who previously called Epstein "a terrific guy".
"I feel very badly about that whole situation. But we're going to be looking at that, and looking at it very closely."
Epstein was arrested on Saturday after disembarking from a private flight from France. He pleaded not guilty to federal charges brought on Monday in New York. A bail hearing is set for next Monday.
I've known Jeff for 15 years. Terrific guy. He's a lot of fun to be with

Donald Trump, 2002
Critics of Acosta said Epstein should never have been allowed to walk free after dozens of young girls began to step forward in 2005 to identify as victims of a man now charged with assaulting underage girls, paying them off with cash and inducing them to lure other young girls to his homes.
As part of a secret plea deal signed by Acosta in 2008 and criticized as "ridiculously lenient", Epstein pleaded guilty to a state-level charge of soliciting prostitution from girls as young as 14 and registered as a sex offender.
Trump said that was "a long time ago".
"He's been a great, really great secretary of labor," Trump said, speaking to reporters in the Oval Office. "The rest of it, we'll have to look at it very carefully. But you're talking about a long time ago and again it was a decision made, I think, not by him but by a lot of people."
A growing wave of Democrats called for Acosta to step down. Scattered Republicans said a review of the plea deal appeared appropriate.
"If [Acosta] refuses to resign, president Trump should fire him," the Senate minority leader, Chuck Schumer, said on the floor of the chamber. "Instead of prosecuting a predator and serial sex trafficker of children, Acosta chose to let him off. We cannot have as one of the leading appointed officials in America someone who has done this."
Acosta defended himself on Twitter, calling Epstein's alleged crimes "horrific" and saying new evidence had come to light.
"Now that new evidence and additional testimony is available, the NY prosecution offers an important opportunity to more fully bring him to justice," Acosta tweeted.
But critics argue that plenty of evidence of Epstein's alleged misdeeds, including a 53-page sex crimes indictment prepared in 2007 and built on a years-long FBI investigation, was available to Acosta and his team 10 years ago.
In a report by the Miami Herald, whose work on the case was cited on Monday by prosecutors in New York, multiple sources involved in the case at the time accused Acosta of caving to pressure from Epstein's lawyers.
I wasn't a fan … I was not a fan of his. That I can tell you. I was not a fan of his

Donald Trump, 2019
Republican senator Lindsey Graham, the chairman of the judiciary committee, said on Tuesday: "If this plea deal doesn't withstand scrutiny, then it would be the job of the judiciary committee to find out how it got off the rails."
His Republican colleague Joni Ernst added: "I do think it's imperative that we take a look at it."
Personal connections inside the Trump administration to Epstein could complicate the picture. Epstein once taught at a school run by the father of the attorney general William Barr, who said on Tuesday he would not recuse himself from the case but that he would decline to take part in any review of the Florida plea deal.
Trump himself described Epstein, who has said he made a fortune managing money for billionaires, as a friend in a 2002 magazine profile.
"I've known Jeff for 15 years," Trump said then. "Terrific guy. He's a lot of fun to be with. It is even said that he likes beautiful women as much as I do, and many of them are on the younger side. No doubt about it – Jeffrey enjoys his social life."
On Tuesday Trump distanced himself from Epstein.
"I knew him like everybody in Palm Beach knew him," the president said. "I mean people in Palm Beach knew him. He was a fixture in Palm Beach. I had a falling out with him a long time ago. I don't think I've spoken to him for 15 years. I wasn't a fan … I was not a fan of his. That I can tell you. I was not a fan of his."
The House speaker, Nancy Pelosi, tweeted that Trump had all the information he needed to make a decision about Acosta.
"Secretary Acosta must step down," she wrote. "As US attorney, he engaged in an unconscionable agreement with Jeffrey Epstein kept secret from courageous, young victims preventing them from seeking justice. This was known by [Trump] when he appointed him to the cabinet."
But Pelosi stopped short of calling for a congressional investigation.
"It's up to the president, it's his cabinet," she told reporters. "We have a great deal of work to do here for the good of the American people and we have to focus on that."