12 Jul
Nearly all of these are English-edition daily newspapers. These sites have interesting editorials and essays, and many have links to other good news sources. We try to limit this list to those sites which are regularly updated, reliable, with a high percentage of "up" time.
Recommended:

Brush fire of 1,200 hectares burns out of control through island's central valley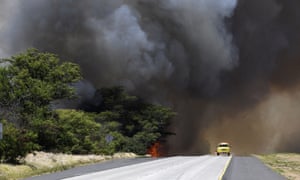 Smoke from the fire closes Kuihelani highway in central Maui. Photograph: Matthew Thayer/AP
Thousands of people on Maui have been ordered to evacuate two towns in the path of a spreading wildfire, Hawaiian officials and media said.
The 1,200 hectare (3,000 acre) brush fire in the island's central valley was uncontrolled on Thursday night, Maui's mayor, Mike Victorino, told a news conference. Firefighters were monitoring it overnight but it was too dangerous to battle in the dark, he added.
"We can't fight the fire tonight," he said. "We're not going to send any firefighters into harm's way.
A National Weather Service satellite photo showing smoke hanging over the island was posted online.
The brush fire was reported at about 10.30am and steady winds of up to 20mph fanned the flames, officials said. It jumped a highway and spread across fallow fields and more brush. Two fire department helicopters dropped water on the blaze to try to contain it.
While thousands were ordered to evacuate, it was unclear how many people had left the west Maui coastal towns of Maalaea and Kihei. Three shelters housed about 500 people late on Thursday, media reports said. Maui high school was accommodating about 200 cats and dogs moved from a local animal shelter, the Honolulu Star-Advertiser reported.
Kahului airport was briefly closed and flights were diverted because of the smoke, which also forced the closure of two major roads. Operations were back to normal around 7pm, media reported.
No injuries or damage to structures were reported, but some farm equipment had burned, HawaiiNewsNow reported.

The effort to block construction of a new shelter comes as city's homeless population surges to more than 8,000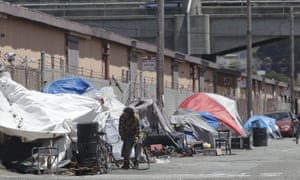 More than 1,400 wait for temporary shelter spots to open up in San Francisco each night, and the city has promised to increase the number of shelter beds by 1,000. Photograph: Jeff Chiu/AP
The wealthy San Francisco residents who launched a crowdfunding campaign to block construction of a new homeless shelter in their waterfront neighborhood are employing a new tactic: arguing that homeless people are bad for the environment.
In a lawsuit filed against the city of San Francisco and the California State Lands Commission, the residents called for the project to undergo an environmental review before breaking ground.
"This project will have a significant effect on the environment due to these unusual circumstances, including by attracting additional homeless persons, open drug and alcohol use, crime, daily emergency calls, public urination and defecation, and other nuisances," the lawsuit states.
Opponents of infrastructure and affordable housing projects often call upon the California Environmental Quality Act as a stalling ploy to delay construction. The law requires developers to explore any environmental effects a project might have, and take steps to reduce them.
Attorneys for the residents, paid for by the more than $102,000 raised through the GoFundMe campaign, argued in the lawsuit that the project did not undergo a full environmental review process.
The city has argued that the project – a 200-bed temporary homeless shelter – is exempt was from such reviews.
"I question if this a legitimate concern or a last-ditch attempt to block the shelter by any means necessary," said Kelley Cutler, the human rights organizer for the Coalition on Homelessness. "Methane emissions are bad for the environment, and this smells like bullshit."
The residents' fight against this homeless shelter comes as San Francisco's homeless population surged, with city officials tallying more than 8,000 during the last homeless count. More than 1,400 wait for temporary shelter spots to open up each night, and the city has promised to increase the number of shelter beds by 1,000. Homelessness in San Francisco has reached the level of a humanitarian crisis, fueled in part by the tech boom supercharging the housing market.
Opponents of the shelter have long said that their ultimate concern is public safety, a point that homeless rights advocates have argued was bigoted and dehumanizing. In addition to the environmental concerns, the lawsuit states that the project is "likely to decrease the fair market value" for any future projects in that location.
The city is reviewing the lawsuit, said John Coté, a spokesman for the city attorney Dennis Herrera, but the project has already undergone all required environmental review and the Board of Supervisors has denied several appeals under the California Environmental Quality Act.
"San Francisco has a homeless crisis on its hands," Coté said. "The city is ready to put roofs over people's heads and get them indoors. Others are filing baseless lawsuits to keep people out in the cold. Rather than trying to shift the problem to someone else's backyard, everyone needs to do their part."

The progressive stance of Tucson, Arizona's second largest city, is evident in the area's rich history of immigration activism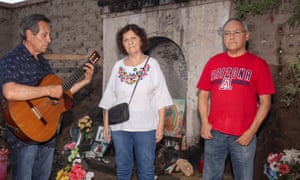 Jamie Millan, Rebecca Cartes and Ildefenso 'Poncho' Chavez at the vigil for migrants who died crossing the border at El Tiradito in Tucson on 4 July 2019. Photograph: Cassidy Araiza/The Guardian
O

n a recent evening, immigrants' rights activist Zaira Livier stood in Tucson's Historic Fourth Avenue district, clipboard in hand, as three women approached outside the popular bar, Che's Lounge. The women hesitated to stop at first, but as Livier explained her work, the mood shifted. One of them shared that her father had been deported. A second woman in the group revealed that her dad was deported as well.
"If you include me, those were three out of four brown women on a random corner in Tucson on a Tuesday night who had their families torn apart by these policies," Livier told the Guardian.
Livier's own family is "mixed status", meaning some members are undocumented, and during the Obama administration her brother was deported to Querétaro, their hometown in Mexico. He was murdered in the cartel-controlled city in June 2018, his body found dumped in the street.
She works as the executive director of the People's Defense Initiative, a grassroots group in the Arizona city that has petitioned to add a referendum to city ballots in November that would ban local police from questioning a person's citizenship through racial profiling – a notorious, nearly 10-year-old state law known as the "show me your papers" provision.
To qualify for the November ballot, the petition needed just over 9,000 signatures, and on 3 July the group submitted more than 18,000 for verification. If successful, the law would make Tucson the state's first "sanctuary city", and the first in the US to gain that status through a public vote.
Tucson, a blue dot in a deep red state, is a college town at heart but also Arizona's second largest city. Younger and more diverse than the state's "sunbelt" communities that cater to retirees, its progressive leanings are apparent in the many yard signs outside adobe houses and California bungalows in downtown that state messages like "No Border Wall", or "Humanitarian Aid Is Never a Crime". An estimated two-thirds of the residents vote Democrat, leading the Arizona Daily Star to call it a "true Democratic oasis in a Republican led state".
Some activists, including Livier, want to codify these sentiments into policy – while serving as an example for progressive activists in more conservative parts of the state. They hope Tucson's activist community will set an example for a broader regional effort, and are seizing on the current political moment, in which national and international attention are trained on the severe treatment of migrants at the border.
"We would not have been able to pass the sanctuary city initiative four years ago when Obama was in office," Livier said.
"Donald Trump has done something no other president has done. He basically took off the pretty face of what immigration policy actually is, and people cannot believe it. Most of the time when you're out there talking to people, you can't even finish saying the word 'sanctuary' before they take the pen away from you and start signing."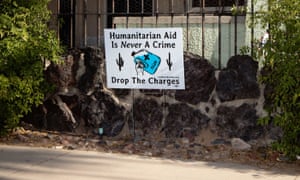 Signs in Tucson, Arizona, point to the city's progressive leanings. Photograph: Cassidy Araiza/The Guardian
When it passed in 2010, SB 1070 was the most fearsome anti-illegal immigration law in the US. It empowered police officers to consider an individual's language or clothing, and even aspects of their carload, as "reasonable suspicion" to interrogate the person's immigration status during routine stops.
When the person suspected of being undocumented failed to prove their lawful status in the country, police were required to turn the individual over to US Customs and Border Protection.
Federal courts later found that some aspects of the law were unconstitutional, and in 2016 the so-called "show me your papers" provision became optional to enforce. But Livier said the People's Defense Initiative still receives calls nearly every other day from people whose loved ones were pulled over and questioned regarding their immigration status because they spoke accented English, looked like laborers, or drove trucks full of gardening equipment, and ended up in custody of US Immigration and Customs Enforcement (Ice).
But Tucson's rich history of immigration activism far predates the current administration – notably as an outgrowth of its many social-justice oriented religious institutions. In 1982, for example, the leaders of Southside Presbyterian Church, in one of the city's oldest Latinx and Native American barrios, announced in a news conference that they would provide sanctuary to Central American migrants in open violation of US immigration law.
At the time Guatemala, El Salvador, Honduras and Nicaragua were ravaged by civil wars and violent revolutions that the US military and American corporations played clandestine roles in, yet most refugees – including political dissidents – were being denied asylum.
The undercover stings, felony charges and court battles that ensued helped inspire more than 500 other congregations around the US to join what became known as the national "sanctuary movement". It lasted into the 1990s.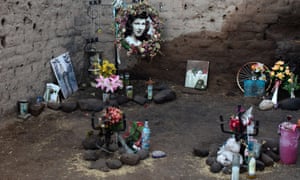 El Tiradato where a vigil was held for migrants crossing the border in Tucson. Photograph: Cassidy Araiza/The Guardian
Its legacy remains today: thousands of migrants have died crossing into Arizona through dangerously hot, arid terrain, to avoid border patrol checkpoints on highways; deaths which religious groups mourn once a month at a collective vigil with guitar playing, flowers and candles.
Some of the groups that formed out of this original movement are still active. At the bustling office of the Florence Project, dozens of lawyers and legal assistants work to provide free legal services to people in immigration custody in Arizona. The organization began in 1989, when one lawyer and a paralegal began conducting "pro se" legal clinics – teaching refugees to represent themselves in asylum hearings – at an immigrant detention center in a small prison town between Tucson and Phoenix. With a staff of more than 90 people now, the Florence Project offers direct representation to children in detention, in addition to the pro se workshops for adults threatened with deportation.
Newer organizations are also cropping up, maintaining many of the same traditions. In one high-profile case that has been a source of significant local political action, federal prosecutors charged Scott Warren, a volunteer with the faith-based humanitarian organization No More Deaths, which stashes water, food, and other supplies in parts of the Sonoran desert, with "harboring illegal aliens".
Warren allowed two undocumented men to recuperate in the small house the organization uses as a staging area. By allowing the men to rest, prosecutors argue, Warren shielded them from the border patrol. A trial last month that could have seen Warren sentenced to 20 years in prison ended in a mistrial. He is scheduled to be retried in November.
Following the legal charges, the organization was flooded with volunteer applications, said Maria Rodriguez, a No More Deaths spokesperson.
"Border residents are dealing with violence and atrocities that are happening in their backyard, and they're having a really innate human response to it," Rodriguez added. "Humanitarian aid is a commonly held community value in the borderlands, and if you've ever gone out on a 110-degree day in the desert it's really easy to understand why."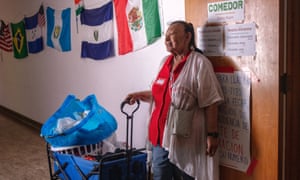 A volunteer stands outside the dining room at Casa Alitas, a center where asylum-seekers can get fresh clothes, meals and food for the journey ahead. Photograph: Cassidy Araiza/The Guardian
Casa Alitas, a Catholic Community Services program of volunteer-run "hospitality centers" in Tucson that has hosted 20,000 asylum-seekers since 2014 – 12,000 of whom have arrived since January – is another popular newcomer.
In the sanctuary's pews, as people go through intake, volunteer doctors and nurses begin initial medical assessments. Fresh clothes are available, meals are served three times a day, and nonperishable food bags are provided for the journey ahead. There are even ESL classes and an arts-and-crafts room for the kids.
"This was a way for me to step up. I think of it like an above-ground underground railroad, and I'm really happy to be a part of it," said Mary Pat Sullivan, a volunteer cook, who was pushing a cart of food donated by Trader Joes.
By providing food, free legal aid, or policy proposals, activists in the borderland city are responding to the administration's hostility toward immigrants by emphasizing a sense of community and shared humanity.
"The message we want to send is exactly the opposite of the message that SB 1070 sent to all of us who were undocumented and migrants," said Livier. "It's that we're here for you, we care for you, we value you, and we want you to be safe, and to belong, and to live your life like everyone else lives their lives in Tucson."
World Politics
United States
Raids are likely to occur in 10 major cities and would target at least 2,000 immigrants who have been ordered deported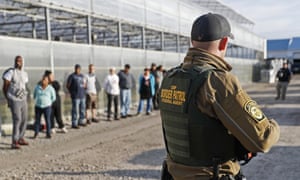 Government agents stand guard during an immigration raid in Castalia, Ohio, on 5 June 2018. Photograph: John Minchillo/AP
US immigration officials have said immigration raids targeting thousands of families will take place in major cities across the United States starting on Sunday – less than a month after delaying a similar operation.
Such a move could see parents separated from US citizen children, more detained families and has already sparked a legal challenge.
Department of Homeland Security officials from the Trump administration, speaking anonymously, told newspapers that details of the raids had not been finalized, but would probably begin on Sunday in at least 10 major cities.
The raids would target at least 2,000 immigrants who have been ordered deported and crossed the border recently, though other undocumented people could also be arrested if the Immigration and Customs Enforcement (Ice) agency intercepts them, according to the New York Times.
The operation was first announced by Donald Trump on Twitter last month – prompting immigrant advocates to increase education for migrants on their rights, including that they don't have to open their door to Ice agents without a court warrant.
Among the myriad concerns raised by advocates is that some people ordered deported may never have received notices to appear in court. Trump often accuses migrants of deliberately ignoring notices, but in the past year, attorneys have complained that documents were sent to incorrect addresses or listed incorrect hearing dates and times, including midnight, when court is not in session, and 31 November, which doesn't exist.
The US government could therefore arrest migrants who didn't know they were due in court, which would allow the arrested to reopen their cases, if they found an attorney.
Matthew Bourke, an Ice spokesman, told the Guardian the agency could not provide specific details related to enforcement operations, to protect the safety and security of agents. "All of those in violation of the immigration laws may be subject to immigration arrest, detention and – if found removable by final order – removal from the United States," Bourke said.
The American Civil Liberties Union (ACLU) filed a pre-emptive lawsuit on Thursday arguing that targeted families should be allowed a day in court, in part because of the immigration enforcement agencies' documented bureaucratic errors.
The New York ACLU and ACLU of Southern California filed the 44-page lawsuit on behalf of four not-for-profits.
"The Trump administration's threats against immigrants run roughshod over basic fairness and due process," Donna Lieberman, the executive director of the New York Civil Liberties Union, said in a statement. "For the many families who came here as refugees fleeing violence, deportation is a death threat."
Activists on Thursday ramped up efforts to prepare by bolstering know-your-rights pocket guides, circulating information about hotlines and planning public demonstrations. Vigils outside of detention centers and hundreds of other locations nationwide were set for Friday evening, to be followed by protests Saturday in Miami and Chicago.
Phil Murphy, the governor of New Jersey, said in a statement his government was reaching out to immigrant communities, highlighting legal aid and other resources.
Hillary Clinton criticized the plan on Thursday, when news of the raids emerged alongside reports that the president may try to force the US census process to include a question asking people if they are citizens.
Trump's own immigration agencies were reportedly blindsided by the president's stunning decision in late June to tweet about a law enforcement operation before it occurred. Five days later, he announced the raids would be delayed.
The Trump administration's aggressive anti-immigration policies have not yet resulted in the level of deportations seen under Barack Obama. In the last fiscal year, Ice removed 250,000 undocumented migrants, compared with 410,000 removed in 2012.
Trump, however, has done away with deportation priorities Obama put in place in his second term, and used anti-migrant rhetoric, which has created fear and instability in migrant communities.
Douglas Rivlin, the communications director of the advocacy group America's Voice, said the raids were politically motivated and cruel. "The massive and glaring failure of the Trump approach on immigration gives this deportation operation the smell of desperation," he said.